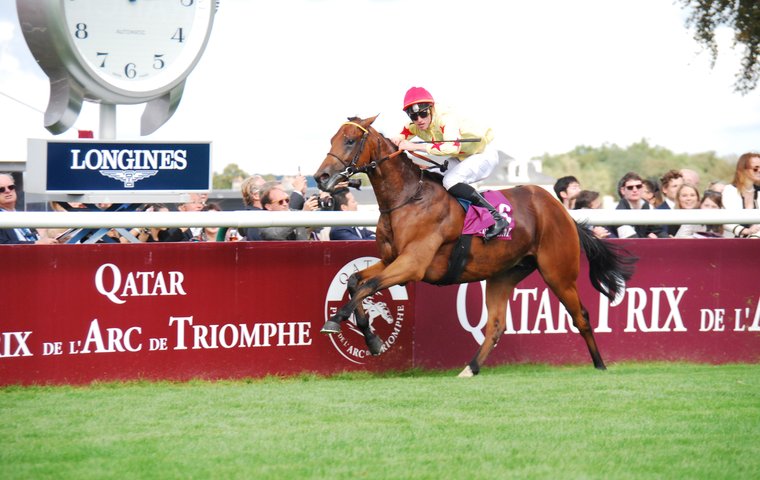 It's one of the most successful racing and breeding operations in Australia, and now it's fast becoming a force to be reckoned with in Europe. Hong Kong-owned Sun Bloodstock, which has two stud farms in Australia, has been active at all the leading sales in Europe over the past three years and has already tasted success at the top level on the track in France.

That came when National Defense, bought as a yearling at the Arqana 2015 yearling sales for €280,000 from the Ecurie des Monceaux draft, was a comfortable pillar-to-post winner of the prestigious Prix Jean-Luc Lagardere at Chantilly on Arc day last October.
The colt, ridden by Pierre-Charles Boudot (a TRC Emerging Talent) and trained by Criquette Head-Maarek, has raced just three times, winning twice, and is being aimed at the Poule d'Essai des Poulains (French 2,000 Guineas) in May.
The connection with Head-Maarek came via her former stable jockey Olivier Doleuze, who left in 2002 to ride in Hong Kong. Sun spoke to Doleuze, 44, about having racehorses in France, and as a result went to see the famed Chantilly trainer in August 2015.
Head-Maarek said: "They have bought yearlings at all the leading sales in Europe in the past two years, are good people to work with and I am pleased to have started with them. I currently have 17 of their 2-year-olds and yearlings. My brother Freddie has two yearlings."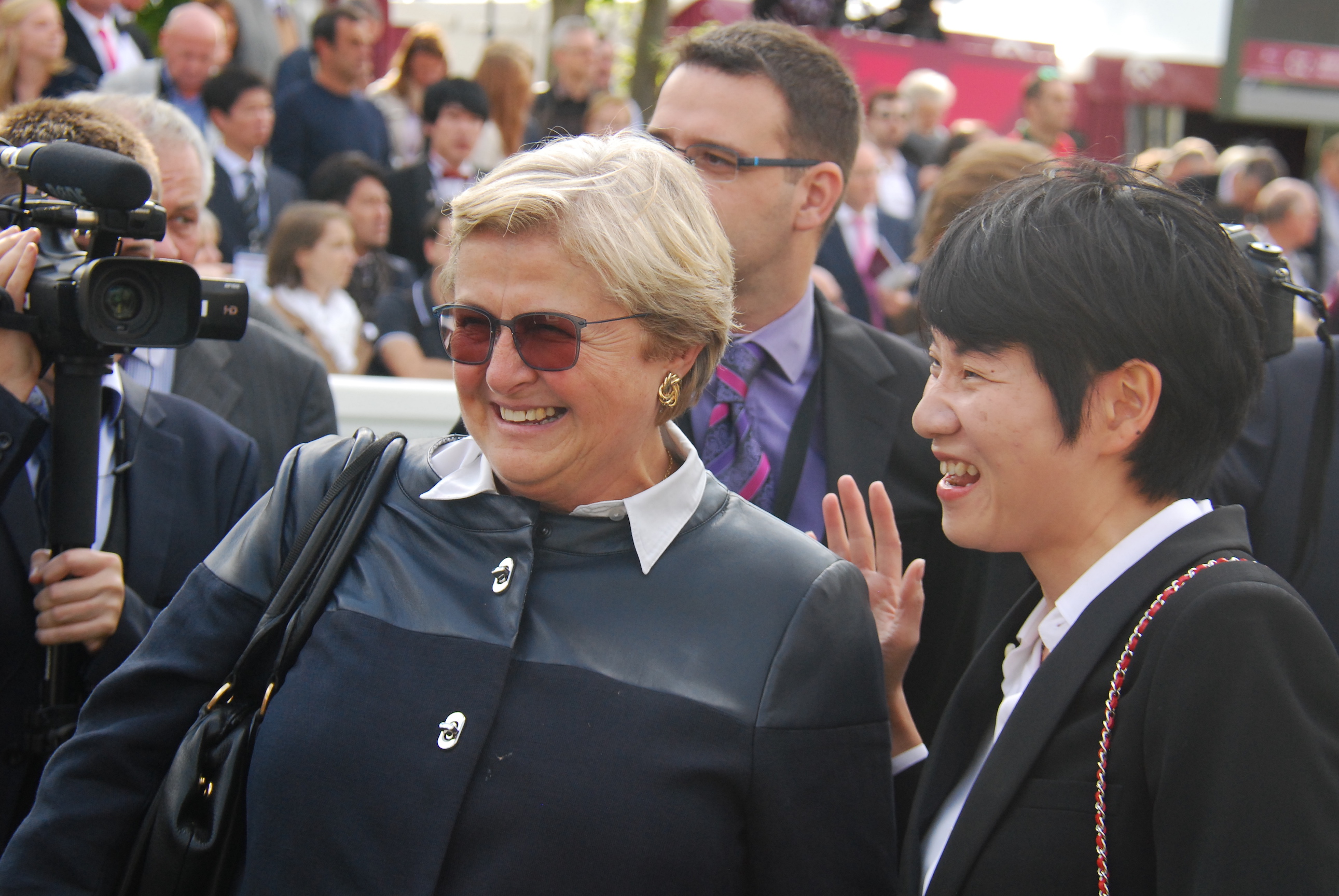 English trainer Hugo Palmer also has two of their horses.
Sun Bloodstock, part of the Hong Kong-based Sun International Resources investment group, was quickly on the mark in France. The operation paid €180,000 for 2-year-old Sans Equivoque at the Arc sales. Already a G3 winner, the filly, trained by Didier Guillemin, promptly repaid part of the outlay when winning the G2 Critérium de Maisons Laffitte over 1,200 metres last October.
But what is the extent of the group's ambitions? Danielle Cheng, Sun Stud Managing Director, told John Gilmore about about the company's racing operations in both hemispheres.
Q: What are the various areas of business the group is involved in?
A: Sun International Resources is mainly engaged in the provision of a wide range of financial services, including securities and futures trading, corporate placing, credit financing and asset management. In addition, our group is also expanded its investment and development to other business fields, such as the equine business in Australia, Europe and the U.S., professional software and IT development.
For horseracing our primary focus is the Australian operation. However we look to continue strengthening our European and U.S. breeding and racing interests.
What initially attracted Sun Bloodstock to racing in Australia and to purchase the Eliza Park International stud farm in Victoria in 2013?
Australia has the most attractive racing model anywhere. The prize money on offer and the ease of being involved in racehorse ownership at every level is hard to ignore. Every major player in world breeding and racing is involved in the Australian racing industry, and the future continues to look extremely bright.
We identified Victoria as strategically the way of the future for Australian breeding.
It's home to what is widely regarded as one of the world's top racing carnivals, the Spring Racing and Melbourne Cup carnival, and has a rich history of being the home of some of Australia's best stallions.
Eliza Park was a stud that stood Victoria's most commercial stallions, and its location was, in our view, perfect. The property itself, we saw, had enormous potential so it was a logical choice for us to try to acquire when it became available for purchase.
Sun Bloodstock operates a second stud in Queensland. Are there any major differences between how Sun operates this stud compared to Eliza Park?
Sun Stud, and previously Eliza Park, lease the Queensland property and have done so since only 2013. Prior to that, it was Racetree Stud and, in the 15 years since its development, it has been responsible for producing many stakes winners.
When it became available for lease, the opportunity to expand the operation into Queensland was particularly appealing as the 'Sunshine State' is home to a large broodmare population. Written Tycoon was the flagship horse for the Queensland operation and, from the one season he stood there, he sired his two best colts to date, Golden Slipper winner Capitalist and current star Winning Rupert.
Having the Queensland operation gives Sun Stud the flexibility to relocate stallions between states, to give a larger multitude of breeders the opportunity to send mares to our stallions.
For instance, our long-time headline stallion, Bel Esprit, was sent to Sun Stud Queensland in 2015. Bel Esprit was at the point in his career in Victoria that he had achieved all that he could. He was seven-times champion Victorian stallion and sired the freakish mare Black Caviar. We saw Queensland as a potentially new challenge for him and a sign of faith to Queensland breeders, [showing] our level of commitment to the state.
We try to model the Queensland operation as closely to our Victorian farm as possible as this has proven to be a very successful recipe.
What major stallions and mares have you introduced to strengthen the two Australian studs?
Since acquiring what is now Sun Stud, some of our major recruits in the stallion barn have been Fiorente, Fighting Sun, Jabali and Ready For Victory. This is an area of the business we will continue to develop and enhance in the future, and we are extremely excited by what lies ahead with our stallion roster.
Our broodmare band has been injected with some very important additions, particularly in the past 12 months.
Faint Perfume, Vintedge, Prairie Star, Cabernet, Yosei, Fine Bubbles, Commanding Wit, The Filly, Sabie and There's Only One are all Australian mares with quality pedigrees. U.S. mares Inventive, Amature's Prize, Fee Fi Fo Fum and Mabadi, all of whom have produced Southern Hemisphere foals by Tapit, have further strengthened the stud's mare quality.
Again, given their commercial appeal, our intention would be to offer them in the market. There are two colts and two fillies by Tapit. They are all lovely types and there's no reason why all four would not make the 2018 Easter Yearling Sale.
What major successes have you had in Australia on the track?
In 2016 we achieved the ultimate success with Palentino winning the G1 Makybe Diva Stakes over 1600m at Flemington. This is a horse we identified early in his career as having G1 potential and future stallion appeal. We purchased 50 percent of him as a 3-year-old in 2015.
Ready For Victory was a stakes winner on debut as a 2-year-old, ran an extremely unlucky fourth in the Golden Slipper in just his second start, then trained on to be placed in the sire-making Caulfield Guineas as a 3-year-old.
Jabali we purchased as a juvenile. He was G1-placed at two and trained on to win the G2 Queensland Guineas.
Just this season, we have two of the five top-rated 2-year-old colts in Australia.
Condor Heroes [by Not A Single Doubt] was a courageous second in his only start, the Breeders' Plate [at Randwick] and is on target for a Golden Slipper tilt, while [Fastnet Rock colt] Cao Cao [who runs tomorrow in Victoria's biggest 2-year-old race, the Blue Diamond at Caulfield] was also second on his track debut in the Maribyrnong Plate and has since won impressively at Moonee Valley.
Thronum [by Snitzel] is an exciting 3-year-old who has already tasted success this season in stakes company and who we hope can enhance his CV in order to add value to his already great stud credentials.
How do you decide at your two Australian studs which horses to sell as yearlings and which to keep to race (and possibly breed from afterwards)?
We are primarily a commercial operation, and yearling sale proceeds are an important part of our income, especially given that our stallion fee terms are pay-on-live-foal. We strive to produce a commercially appealing product and aim to sell the cream of our crop at the major sales.
Horses that are retained are usually those that are not up to par with our stringent sales criteria. There are exceptions where we may retain a filly with a view of continuing that breeding line, due to the death or retirement of a mare
In the past couple of years, you have purchased more than 20 yearlings in Europe. Do you envisage eventually setting up a stud operation in Europe and perhaps in the U.S.?
One of our goals is most definitely to stand stallions that have global appeal. Naturally, a horse such as National Defense would fit that bill. His sire [Invincible Spirit] is making a big impact in Australia with his son I Am Invincible [currently the 35th-ranked sire in the world], and his European stallion credentials are obvious. [Invincible Spirit is world-ranked 22 at present.]
At this stage there are no plans to have a Sun operation as such in the Northern Hemisphere; however this may well change in the future. Until then we look forward to building some strong relations with Northern Hemisphere partners in order to ensure stallions we may stand there are given every opportunity to succeed.
You have some mares in the Northern Hemisphere in foal to top-class horses there. How has this arrangement worked out in respect of boarding, and the foals produced?
Sun's Northern Hemisphere bloodstock has had a distinct focus on quality.
We board mares at the Irish National Stud and Hazelwood Bloodstock [Newmarket] in Europe, while our U.S. horses reside at Stonereath Farm [Kentucky]. We have already built strong relations with these farms and look forward to their continued support going forward.
Stallions we will breed to in 2017 or have bred to recently include Dubawi, Invincible Spirit, Dansili, Galileo, Frankel, Kingman, Golden Horn, Sea The Stars, Oasis Dream, Tapit, Medaglia D'Oro, Uncle Mo and Tiznow. Theses are many of the 'heavy-hitters' in world breeding and illustrates our focus on excellence.
You have had a G1 success in France with National Defense, bought as a yearling, and a G2 success with Sans Equiovoque after purchasing her as a proven 2-year-old. You also bought 7-year-old G1 winner Spiritjim at the 2015 Arc sale for €570,000 to race in Australia and breed from. What qualities from breeding or on-track performance are you looking for when purchasing a yearling or proven performer in Europe?
Like everyone, we are primarily looking for athletes when buying yearlings. Colts need to have a strong distaff and be by commercially attractive sires to make them potentially appealing if they are to become stallions themselves.
The purchase of proven horses is obviously an area we are keen on also. Where these horses continue their careers is often determined by their past performance and on what conditions those performances were achieved.
Our focus on success is a constant. Whether that is with our stallions, breeding and then selling top-quality horses that to go on to have racetrack success, or winning big races with our own horses.
We realise achieving our goals takes a lot of hard work and, unfortunately, the nature of the beast is such that disappointment is at times hard to avoid. But, when things go to plan, that is all forgotten. The sense of accomplishment we feel as a team is enormous and it ensures we'll continue to raise the bar for ourselves.
China is beginning to develop horse racing, though it is in the early stages of development, but the potential opportunities could be enormous. Is this something that long-term would interest Sun Racing?
Obviously if things were to change in China and the breeding industry became increasingly relevant, we, as all forward-thinking operations, would be looking to increase our involvement. The possibilities in China are endless and we hope we can be a part of the industry's development.
How important have your choices of bloodstock agents, stud staff and trainers been to the company's breeding and racing success?
Sun Bloodstock and Sun Stud is very much a team-orientated operation in which several different members contribute to the overall success.
The bloodstock side relies on valuable input from our sales team, who are extremely passionate about racing and breeding on a global scale. Value is an important ingredient when selecting horses, and this means a lot of groundwork and research goes into our purchases.
The stud side of the operation has more contributors on a day-to-day level, and their commitment to their roles and the care of the horses is amazing.
From the very first stages of conceiving, to the foaling and rearing of our young horses, then to the sale or breaking in of our yearlings, everyone plays a hugely important role in the end product.
Trainers then play a large part in nurturing the talent these horses may possess and allowing them to hopefully reach the highest level possible. We try where possible to partner our racehorses with the appropriate trainers, those who have shown they have an affiliation with a certain style of horse or a certain breed.
As Managing Director of Sun Bloodstock, what background experience did you have in racing before taking up this position? And what keeps you motivated for this challenging position in an industry that takes no prisoners?
My family has had a long-running interest in horse racing, so it was natural for me to be bitten by the racing bug. My initial close interest in racing has developed into a passion for breeding and studying bloodlines and pedigrees from all over the world.
Having a commerce degree, I have also had a deep interest in business and, as such, have been an actively involved in the running of Sun International.
Sun's racing and breeding interests require many of the skill sets I have acquired, so my previous experience has held me in good stead for running this side of the business.
I like to be closely involved in every facet of the operation. Racing and breeding a large number of horses requires you to have your finger closely on the pulse, so regular communication with my managers and trainers is very important to me. I like the operation to be as inclusive as possible for our staff, so they can also feel part of the success we have. I see their hard work and dedication when I'm at the farm and so being successful for everyone involved is a huge motivation for me.
There is no doubt that this industry can be tough, but I have found it is also an industry where there are so many good people involved and building relationships with these people is very important.
Top prices paid by Sun at European sales over the past three years
Tattersalls December Breeding Sale 2013
Moment In Time (Tiger Hill - Horatia) 350,000gns
Arqana December Breeding Sale 2013
Festoso (Diesis - Garah) €420,000
Sanjida (Polish Precedent - Sanariya) €320,000
Sea Shells (Galileo - Ionian Sea) €280,000
Tattersalls December Breeding Sale 2014
Pure Excellence (Exceed And Excel - Albavilla) 260,000gns
Arqana August Yearling sale 2015
National Defense (Invincible Spirit - Angel Falls) €280,000
Arqana October Arc sale 2015
Spiritjim (Galileo - Hidden Silver) €570,000
Tattersalls December Breeding 2015
Lady Heidi (High Chaparral - Water Feature) 200,000gns
Tattersalls October Yearling sale 2016
colt (Shamardal - Require) 230,000gns
colt (Shamardal - Chili Dip) 240,000gns
Arqana October Arc sale 2016
Sans Equivoque (Stormy River - Suissesse) €180,000
Arqana October Yearling sale 2016
colt (Invincible Spirit - Alpine Snow) €200,000