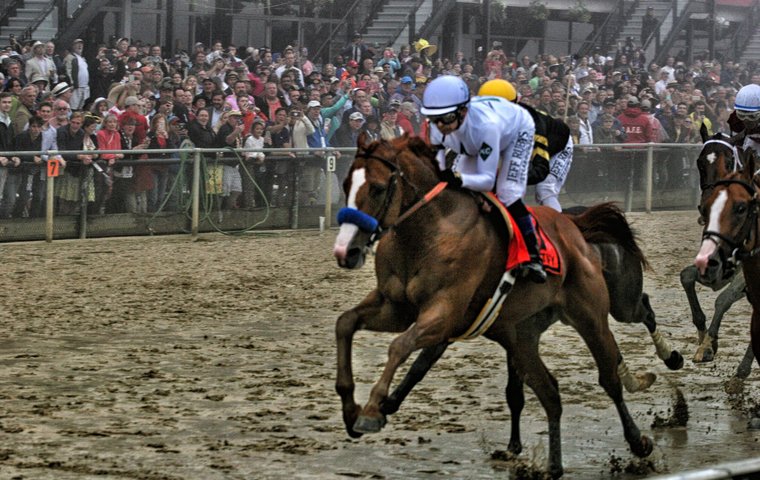 A group of talented, experienced racing industry executives formed a "racing industry think tank" in May. Their mission statement as stated on their website: "The Thoroughbred Idea Foundation (TIF) aims to improve the Thoroughbred racing industry for all stakeholders, especially its primary customers - gamblers and owners - through the exchange, curation and advocacy of sound, data-driven ideas, shared with and implemented by the sport's existing entities."

You can read more about TIF here and meet its strong group of directors - who include Craig Bernick, president and CEO of Glen Hill Farm, Jack Wolfe, CEO of Starlight Racing, Corey Johnsen, president of Kentucky Downs and others. The organization, based in Lexington, Kentucky, has appointed the highly regarded Patrick Cummings as executive director. His resume includes three years at the Hong Kong Jockey Club, one of the most successful racing organizations in the world, and a spell with Trakus, the racing technology and data providing company.
In early September, TIF generated its first report - on 'Penny Breakage', which you can read here.
The bettors among readers know very well what breakage is, how it is a way the state laws 'short pay' all betting customers on their winning bets.
Money that should go to bettors
TIF states, "Breakage is the difference between what horseplayers should receive on a winning bet and what they actually receive. The concept has been ever-present in racing since the pari-mutuel tote system was implemented - with bet-takers (in the early 20th century) claiming breakage was necessary to keep the flow of customers moving, helping betting churn, saving tellers from having to pay odd amounts (2.98), instead relying on a rounded figure ($2.80)."
Okay, I know you are saying to yourself, "So what is the big deal about an 18 cent difference on a bet?"
The TIF report lays it out very powerfully and clearly how significant it is: "From the 2018 Triple Crown races, Justify's three wins yielded a total win pool breakage of more than $1 million. The Preakness race alone generated more than $500,000 in breakage from the win, place and show pools (WPS)."
Clearly breakage retains a huge amount of money that, with today's technology, could and should be paid out to bettors holding winning tickets. In fact, TIF estimates annual breakage is worth roughly $50 million or 0.45 percent of the $10.9 billion wagered in the U.S. in 2017.
This would seem to be a compelling argument to change the breakage rules tomorrow. But where does that money go today if it does not go back to the bettor?
That's where it starts to get a little more complicated. As is often the case in racing, the rules regarding the distribution of breakage (which is, in truth, the wagering customer's money) vary state by state. A chart in the TIF article shows the distribution for a select list of states. Here are a few examples:
California: breakage is divided equally between the state, the track and the horsemen's purse account.
Florida: 100 percent to the track
Kentucky: 50 percent to the track and 50 percent to purses
Maryland: 50 percent to the track and 50 percent to the Sire Stakes breeding fund
New York: 50 percent to the state and 50 percent to the track
So what does this mean in real terms? If you review the New York Racing Association (NYRA) 2017 financial statements, you will find its share of breakage was $3,061,894 that year. Bettors can make a persuasive argument that most racetracks' takeout is too high. If that is true (and I certainly think it is), how easy would it be for the betting public to reclaim breakage, which truly should belong to bettors, back from the state, purse and breeding funds and the racetracks?
There is no question that, if the breakage was paid out to the bettors, it would be churned back into the pari-mutuel pools for the entire industry's benefit.
I commend TIF for this detailed and well written report as it surely will inform any conversation on changing breakage rules and laws. However, much work lies ahead to get these funds back to the wagering customer where they belong.
Call to change rules on interference
TIF has recently published its second report: Changing the Rules - Clarity and consistency in the adjudication of North American racing is possible with a shift to the Category 1 philosophy. Click here for an abridged version.
In the international rules of racing as outlined by the International Federation of Horseracing Authorities (IFHA), there are two different categories of rules covering interference and disqualification: Category 2, which is currently only operational in the United States and Canada, and Category 1, which has been adopted in virtually every major racing jurisdiction around the world.
TIF recommends that North American jurisdictions move away from Category 2 and adopt a Category 1 interference philosophy. The executive summary for this important report starts as follows:
"History is littered with the cries of athletes, fans, reporters and bettors who feel a sport's officials made a 'bad call'. But, whether it is real or perceived, inconsistent officiating can be maddening and has the potential to erode customer confidence and impact future participation.
"Horse racing is no different. The virulence of opinions regarding inconsistency in the officiating of racing not just from an isolated meet, but across the entire North American landscape for a considerable period, has prompted the TIF to pursue the topic."
Briefly, here is the fundamental difference in the interference rule according to the IFHA.
Per the IFHA definition, Category 2 jurisdictions are:
"Countries whose rules provide that, if the interferer is guilty of causing interference and such interference has affected the result of the race, the interferer is placed behind the sufferer irrespective of whether the sufferer would have finished in front of the interferer had the incident(s) not occurred."
In contrast, Category 1 jurisdictions are those where:
"If, in the opinion of the staging authority's relevant judicial body, a horse or its rider causes interference and finishes in front of the horse interfered with but irrespective of the incident(s) the sufferer would not have finished ahead of the horse causing the interference, the judge's placings will remain unaltered."
The detailed TIF report goes on to articulate what the impact would be for racing in North America - it would be extremely positive for racing participants and bettors. All interested parties would have a much clearer understanding on how the race is adjudicated, and there would be far fewer instances where the stewards would be called upon to review a race, resulting with fewer demotions. These changes would also come with an enhanced penalty structure for jockeys guilty of careless riding.
The TIF study uses comparable statistics from Category 1 countries such as Britain and Japan to project the changes in U.S.races. The adoption of Category 1 rules in the U.S. after a transitional period would result in a five-fold decline of demotions on the NYRA circuit, and an astounding 12-fold decline on the Southern California circuit.
Once again, I commend the TIF authors of this report for both the level of detail and the clarity of their relevant points.
United effort required
In summary, in both areas that TIF has reported on, the U.S. has a level of complexity of regulatory oversight that is massively more complicated than other racing jurisdictions have to deal with. In major jurisdictions such as Ireland, Britain, France and Hong Kong, there is just one set of rules and regulations for all Thoroughbred racing participants to deal with.
In both the report on changing the breakage rules/laws or adopting a new policy for disqualifications and demotions, change could not be accomplished unilaterally in the U.S. Changes such as these will require a united industry effort.
Any substantive regulatory changes suggested here face a decentralized and often inefficient group of state regulators.
In the report on disqualifications, the suggestion was made that, once a model rule was adopted by the Association of Racing Commissioners International (RCI), the individual states would have to fall in line and comply with it. Unfortunately, there is no national requirement that individual states have to be guided by or confirm to RCI model rules at any time.
An unfortunate and crystal-clear example of this is the general lack of regard and adoption by the individual states for the RCI model rule for out-of-competition testing. Here is a letter by Jockey Club president and chief operating officer Jim Gagliano two years ago. Not much has changed since.
It's a discussion for another day, but out-of-competition testing on and off the racetrack is the only way to insure our racing product has a strong reputation among owners, bettors and all racing industry participants.
My congratulations and thanks to the Thoroughbred Idea Foundation for their excellent work on these two important topics. As important and as good as this work is, it is meaningless if the industry does not engage those willing to advocate and accomplish real change.