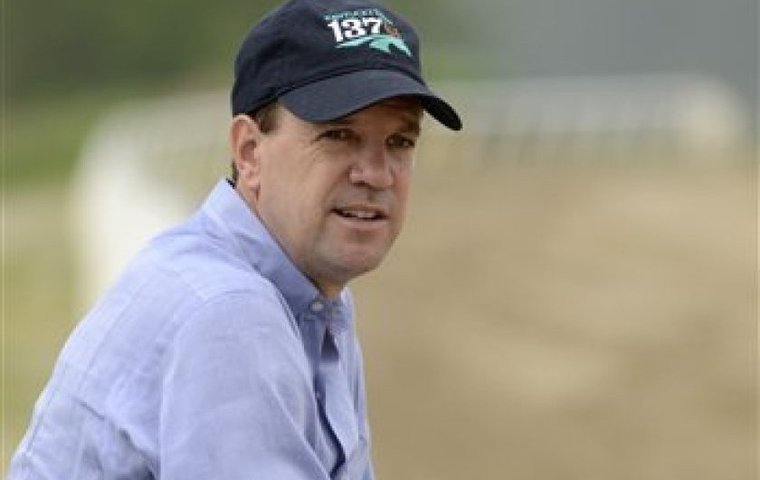 Graham Motion is one of the most respected trainers in the modern era of U.S. racing, renowned both for his spotless reputation and the exploits of several top horses, headed by 2011 Kentucky Derby winner Animal Kingdom, who went on to win the Dubai World Cup at Meydan two years later.

A British-born American citizen, Motion began training in his own right in 1993 after spells as assistant to Jonathan Sheppard and Bernie Bond in the U.S. and Jonathan Pease in France.
Based at Fair Hill in Maryland, the 55-year-old has now saddled nearly 2,500 winners, among them four Breeders' Cup successes, including Sharing, who landed the Juvenile Fillies Turf this year at Santa Anita. Motion's operation is called Herringswell Stables after the Newmarket stud operated by his parents, Michael and Jo, when he was a child before the family relocated to the States in 1980.
Who do you believe is the most important figure in the history of racing around the world?
Sheikh Mohammed, not only because of what he adds to the racing world with his own racehorses and breeding program but because of the initiatives that he has promoted from the Dubai World Cup Carnival to the Darley Flying Start program and Darley Thoroughbred Industry Employee Awards, which will influence racing beyond my lifetime.
Which is your favourite venue and race (anywhere in the world)?
Santa Anita is probably the most beautiful racetrack I have been to and the Breeders' Cup is my favourite race meet. It's the level of international competition there; it's our world championship, unlike anything else we ever see over here. You're taking on your contemporaries from all over the world, and I point my horses at the Breeders' Cup because they are the races you want to be involved in. I always feel tremendously proud and lucky to be a part of it.
I'd also love to go back to Royal Ascot, and the Coronation Stakes is definitely something we could consider for Sharing. To win a race in Europe would be a goal of mine.
What is your fondest memory in racing?
Probably winning the Dubai World Cup with Animal Kingdom in 2013 (see video below). Not just for the financial reward, which was obviously immense, but to get him there in what I felt was the best condition he could possibly be in was very rewarding – especially in a race I could never have anticipated winning earlier in my career.
Not that I could have dreamed of winning four Breeders' Cup races or the Kentucky Derby – you put those races on a pedestal. Obviously winning the Derby was also extraordinary, but I probably felt that was more about luck because Animal Kingdom was such a good horse and he handled everything so well, whereas we'd been pointing to the World Cup for two years.
What do you see as the biggest challenge racing faces today?
Public perception is so important in this era of social media. We constantly have to prove that we are a viable and ethical sport.
Everyone is aware of the issues in California, for example, and that was involved in the build-up to the Breeders' Cup at Santa Anita. We had two brilliant days in such a beautiful setting, which is why it was so devastating that Mongolian Groom got injured in a tragic accident at the end.
It's not a perfect world and we cannot avoid some of these injuries – but we have to do a better job of portraying it. We need to be able to explain it to the general public, and we need to be able to justify to the general public that we are doing everything we can to avoid them.
If you could change one thing in racing, what would it be?
In the U.S., it would be the formation of a governing body of some sort; we are a rudderless ship. We are lacking from not having a governing body that oversees our sport that we have to answer to. I think it's a big problem for us, not only when it comes to rules and regulation and oversight, but also handling the PR side of things in general and how the sport communicates with the outside world.
With the Horseracing Integrity Act, I think it's closer now than it's ever been, but that's not going to be the be-all and end-all, though it should help with regard to medication and regulation. But whether it's stewarding or PR, we need someone to oversee us and guide us; someone to answer to, quite frankly.
Honestly, if we'd had that, I don't think we'd be in the pickle we are with what's going on in California, which is very sad and disturbing.