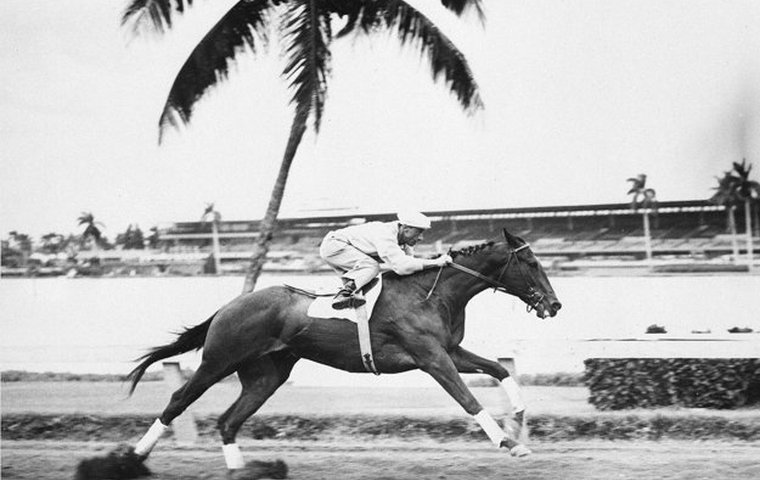 With the increasing dominance of the Northern Dancer, Mr. Prospector, and Bold Ruler male lines in American racing, one wonders if the year is coming when tail-male descendants of the three breed-shaping stallions sweep every major race in this country. In 2014, representatives of the three lines combined to win 86 percent of all graded stakes, their most by far in a single year. That figure compares with 76 percent in 2010, 68 percent in 2005, and 57 percent in 2000.

None of this is a surprise, of course, given the popularity of these lines' stallions among breeders, and of their progeny in the auction ring. It wasn't so long ago, though, when there was considerably more variety among American stallions – and in the pedigrees of horses winning the biggest races.
The table below shows the graded stakes share of a dozen sire lines at several points since the turn of the century. Northern Dancer and Mr. Prospector are the only lines that have maintained an upward trajectory. Bold Ruler and In Reality have essentially held steady, while most of the remaining lines are in serious decline.
In 2000, runners descending from Blushing Groom, Grey Sovereign, Icecapade, Ribot, Damascus, Never Bend, and Buckpasser won a collective 87 graded races. By last year, the total had plummeted to 21. During the same period, the number of graded stakes won by horses descending from sire lines not listed in the table -- "all others" -- also decreased dramatically, from 54 to 10. [Note: There were 35 fewer graded races in 2014 than there were in 2000.]
Several of these failing lines have a young stallion or two who represents some hope for the future. Blushing Groom, for example, has Animal Kingdom, while Grey Sovereign has Uncle Mo. Provided he isn't sold to South Korea or Turkey (as was his sire, Offlee Wild), Bayern should have a shot at carrying on the Wild Again branch of Icecapade.
And then there's Ribot, whose four G1-winning stallions currently standing (Nobiz Like Shobiz, Tiago, Albertus Maximus, and Albert the Great) have had to make do with mostly small books of undistinguished mares. One hopes 2013 Met Mile winner Sahara Sky, who descends from Ribot through the under-appreciated Pleasant Tap, will be given a chance to revive this important source of stamina and durability.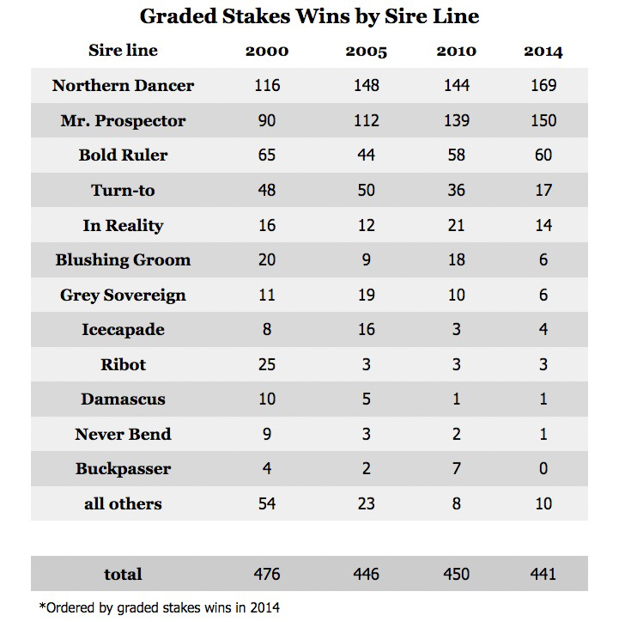 It is conceivable that a decade or two from now, only five male lines will still be turning out winners of graded stakes races: Northern Dancer, Mr. Prospector, Bold Ruler, Turn-to, and In Reality. Following are brief updates on each.
Northern Dancer (169 graded wins) – The main engine behind Northern Dancer's continued success in the U.S., of course, is Storm Cat. His line's 87 graded-stakes wins in 2014, nearly twice the total (46) of three years ago, established a new high. Giant's Causeway remains the line's most prominent stallion, and young sires Scat Daddy, Into Mischief, and First Samurai are off to strong starts. But the biggest factor in Storm Cat's continued expansion is the sheer number of his descendants at stud. Last year, 27 Storm Cat-line stallions sired the winner of at least one graded race.
Danzig's 33 graded wins in 2014 were near his average for the past decade. Like Storm Cat, Danzig benefits from having a large number of descendants at stud; 17 individual stallions, many of them standing overseas, produced his 33 graded victories. With War Front, whose popularity at the sales has yet to translate into a similar level of influence on the track, the Danzig line arguably has its best chance of enduring on this side of the Atlantic.
For years it looked like the Sadler's Wells branch of Northern Dancer would never gain a foothold in the U.S. When it finally did – through Kitten's Joy and Medaglia d'Oro – it did so in a big way. The two grandsons of Sadler's Wells, through El Prado, are among the handful of elite sires in this country. Their 15 combined graded wins in 2014 represented a decline from the previous year's 23, but the two young stallions both finished in the top six in progeny earnings.
Mr. Prospector (150 graded wins) – It testifies to the breadth of the Mr. Prospector male line that of the five individual stallions with the most graded-stakes victories in 2014 -- Lemon Drop Kid (11); Smart Strike, Candy Ride, and English Channel (10 each); and City Zip (9) – only Candy Ride descends from one of what until recently had been considered the line's three main branches, Fappiano, Gone West, and Forty Niner.
Candy Ride, a great-grandson of Fappiano through his son Cryptoclearance, has added muscle to a Fappiano line whose 48 graded wins last year were its third-highest to date. With sons of Unbridled's Song finally starting to have an impact (14 graded wins in 2014), and leading second-crop sire Pioneerof the Nile and Bodemeister to carry on for the exiled Empire Maker, Fappiano still looks to have a bright future.
Smart Strike, whose line essentially consists of the 23-year-old stallion and his sons English Channel and Curlin, was last year's second-most accomplished Mr. Prospector branch line with 27 graded wins. Gone West was next with 19. The survival of the Forty Niner branch (12) depends entirely on Distorted Humor and his sons.
Bold Ruler (60 graded wins) – It's time to officially turn the Bold Ruler male line over to A.P. Indy. In 2013, all 52 of the line's graded wins were recorded by horses who descended from the 1992 Horse of the Year. In other words, if it hadn't been for A.P. Indy, the Bold Ruler line would not have notched a single graded victory that year. In 2014, 56 of Bold Ruler's 60 graded wins descended through A.P. Indy.
With Tapit's record-breaking year in 2014, which included siring the winners of 23 graded races (the most for an individual stallion in at least two decades), the 14-year-old stallion solidified his position as A.P. Indy's heir apparent. The future of other branch lines appears less certain. Malibu Moon has yet to produce a suitable heir; Mineshaft appears to be tailing off; and Bernardini hasn't exactly set the racing world on fire – despite working from perhaps the best book of mares of any U.S.-based stallion.
Still, with a roster of young sires and sires-to-be that includes California Chrome, Constitution, Discreetly Mine, Flat Out, Orb, Stay Thirsty, Take Charge Indy, To Honor and Serve, and Tonalist – G1 winners all – the A.P. Indy line still has a lot of upside.
Turn-to (17 graded wins) – At this point, with the Best Turn and Sir Gaylord branches effectively extinct, the Turn-to male line is more appropriately named after his son Hail to Reason. Horses descending from the latter's sons Roberto and Halo have accounted for all of Turn-to's graded wins since 2011.
Despite a lack of commercial appeal, and the early deaths of Saint Ballado, Saint Liam, and would-have-been sire Barbaro, the Hail to Reason line has managed to remain viable – until now. Last year's 17 graded wins were the second-fewest in at least a quarter-century. Arch, More Than Ready and especially Dynaformer have played important roles over the past decade. And it is sons of these three stallions – Blame (Arch), Verrazano (More Than Ready), and Point of Entry (Dynaformer) – who may well determine the future.
In Reality (14 graded wins) – With his sons winning such major races as the Belmont, Travers, Whitney, Met Mile, Santa Anita Derby, Wood Memorial, and Dubai World Cup in his early years at stud, Tiznow gave new life to the fading In Reality sire line.
Although Tiznow is still among this country's top stallions, his number of "big-race" winners has declined the past two years. His son Colonel John, the 2008 Travers winner, is off to a disappointing start at stud. Another son, Tiz Wonderful, did well with limited opportunities before being shipped to South Korea.
The next group of Tiznow sons to have runners reach the track will include G1 winners Morning Line, Gemologist, and Tizway. One wishes them success. Not only because Tiznow and his sons are the only realistic hope for the In Reality male line, but because – going back another four generations – they may also be the last best hope of Man o' War.
---
Jeff Scott has written about racing for The Saratogian, Thoroughbred Times, and The Blood-Horse. He currently lives in Cambridge, New York.