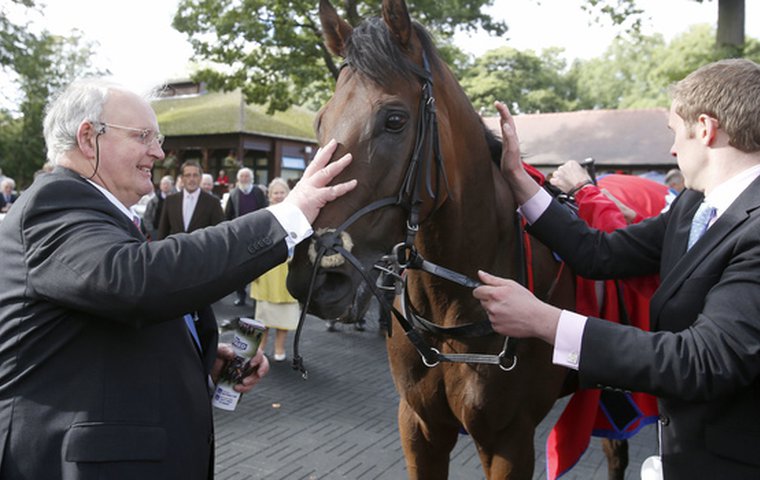 From a yearling no-one wanted, and that the owners "couldn't get rid of," to nearly being euthanised after a disastrous first start, to a multi-million dollar earner about to start one of the favourites in the world's richest mile race – Gordon Lord Byron is one of modern racing's great rags-to-riches tales.

Pinhooking is a process where an investor purchases a young horse, typically as a weanling, with the purpose of selling it later at a profit, usually at auction. And perhaps the pinhooking process has never gone so spectacularly, gloriously, and most of all - profitably - wrong, than with Irish sprinter-miler Gordon Lord Byron. It wasn't meant to turn out this way. Gordon Lord Byron cost €2,000 at auction - and as the process goes, was meant to be sold for a modest return a few months later. It didn't turn out that way at all, of course. It turned out better than anyone involved could ever have imagined.
Let's start in 2008, in the midst of the global financial crisis – and recall that "disastrous" pinhook. Jessica Cahalan, secretary of trainer Tom Hogan, went to the Goffs November Foal Sale for her first try at buying a horse, and was left with a racehorse no one else wanted - and as it turned out, a pretty good one at that.
"It was an awful lot of luck to be honest. it wasn't my skillful, wonderful eye. Everything about this is luck," Calahan admits now, rather modestly. "We had looked at a lot of horses that day, my brother Thomas has some experience at it. This is what he does, he buys horses. But we didn't even get what we were looking for, to be honest. Gordon Lord Byron didn't have much of a pedigree."
The second part of the legendary "pinhook fail" was the trip back to the Goffs Yearling Sale – where Gordon Lord Byron didn't even attract a bid. An Irish economy that had gone belly-up and a resultant crash in the Thoroughbred market didn't help. That, and the yearling's sire, Byron, had fallen out of favour. Oh, and then there was the fact Gordon Lord Byron refused to walk, but rather nervously jig-jogged everywhere he went, including in the sales ring - a trait he still carries today.
"When we went back to the sales, his sire Byron was about as popular as AIDS," Hogan said in his inimitable way. "The whole thing was a glorious failure – thank God."
A final rejection came when Gordon Lord Byron wasn't even accepted as a lot for a ready-to-run two-year-old sale. "At that stage I remember thinking, Dear God, what have I done?" Cahalan recalled.
Hogan is better known for his success in jumps racing, having prepared winners at the Cheltenham Festival, but had seen his stable in Negagh, County Tipperary, dwindle from 70-plus horses to a dozen. He was stuck with Gordon Lord Byron. Cahalan's father Morgan, a sheep farmer and cancer survivor, stepped in as owner.
Hogan said he saw something special in Gordon Lord Byron the first time he watched him canter, and when sent to the races for the first time as a two-year-old at Roscommon Racecourse he was backed with confidence. Yet another "disaster" awaited though – the then colt fracturing his pelvis upon jumping out of the gates.
"He was taken away in the horse ambulance 100 yards from the barrier and they asked whether we wanted him to be put down," Hogan said. "I said 'Definitely not'. We brought him home and stood him in a box packed with used car tires so he couldn't lay down, because if he did, he could stretch the fracture and that would have been curtains for him."
After a painstaking rehabilitation process Gordon Lord Byron was back racing again more than 12-months later, but added another dismal failure to his remarkable story with a last-placed effort – beaten 44-lengths – in a maiden at The Curragh.
From there, you could say things turned around, but it wasn't until four that Gordon Lord Byron's story became the stuff of legend – the type of stuff Hollywood movie makers would knock back for being too far-fetched.
A couple of Group race placings, a win in a Listed race and a second to Society Rock in the 2012 Group One Sprint Cup at Haydock Park had Hogan eyeing a first overseas trip for the horse, to France, and the G1 Prix de la Foret at Longchamp. But again there was still the small matter of money, and more to the point, a lack of it.
"The cost to travel there and to supplement him was €25,000 – but we didn't have the money," Hogan said. This is where Hogan's shrewd business sense kicked in.
"I went down to the sales to see if I could bump into a businessman who might put up the cost of supplementing him for a share in the horse, just for the day, and to run in his colours," he explained. "After asking everybody there, I found a Swiss businessman, whom I had never met before in my life, and I persuaded him to go for this deal. He paid the €25,000 for a third of the prize money and the horse won on Arc day carrying his silks."
That victory was the start of an amazing journey that has taken him to Dubai and Hong Kong – where the horse has twice been fourth in the Hong Kong Mile - and more success at home, including a win in last year's Sprint Cup.
It was in Hong Kong in December last year that a plan was hatched to travel to Australia for Sydney's revamped Autumn carnival, dubbed "The Championships," and a tilt at the world's richest mile race, the AUD $3 million Doncaster Handicap at Royal Randwick Racecourse on April 12. Given Australia's strict quarantine restrictions, it was a brave move to head Down Under.
"You spend two weeks in the quarantine at Newmarket, and then it is 29 hours from Heathrow to the quarantine centre at Werribee in Australia," Hogan said. "It is a long trip for anyone – human or equine."
The trip has already paid for itself courtesy of Gordon Lord Byron's biggest pay day yet – victory in the AUD $1million G1 George Ryder Stakes at Rosehill Gardens Racecourse, a race meant to be the 6-year-old's warm-up.
"He was the highest rated horse in the race yesterday and deserved to win it," Hogan told the press after the race. Perhaps it is fitting Gordon Lord Byron was sent out an 18-1 outsider in the Ryder – unwanted and underrated still, after all these years.
Since that fateful day in 2008, when he was pinhooked for €2,000, Gordon Lord Byron has won more than €1.2 million ($1.6 million). After Sydney, another trip to Sha Tin beckons for Hong Kong's Champions Mile – but first he will run in the Doncaster, where one thing is for sure, Gordon Lord Byron won't be unwanted or underrated. He will start close to favourite, and who would bet against him?