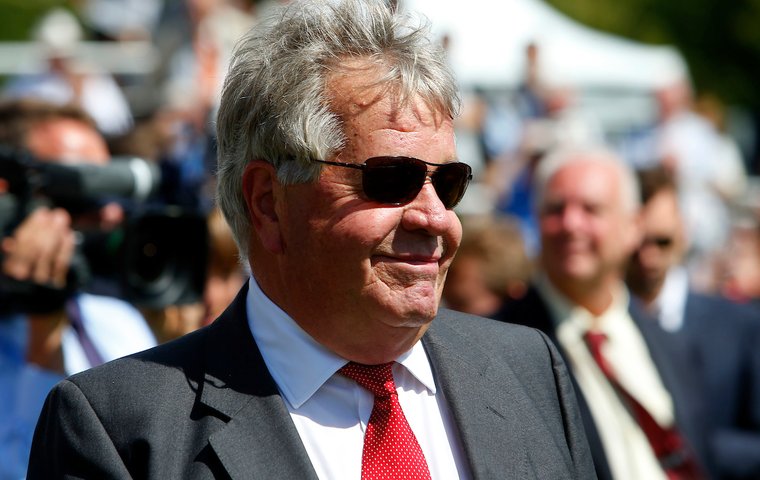 While heavy downpours and soft ground probably means the form of the G1 Qatar Sussex Stakes at Goodwood last week is largely irrelevant as regards the Breeders' Cup (the race guaranteed the shock winner, 20-1 outsider Here Comes When, an automatic place at Del Mar in November), the meeting as a whole was hugely successful and brought about a number of significant movements in this week's updated TRC Global Rankings.

1. Aidan O'Brien
Before meeting: 1069 points (#1 Trainer)
After meeting: 1069 points (#1 Trainer)
Change: none
How is no change a significant change? When it comes from Aidan O'Brien.
The #1 trainer by TRC Global Rankings, O'Brien saddled a Group 1 winner at Goodwood when the top-class filly Winter landed the Qatar Nassau Stakes on her first try at ten furlongs. But his form figures in Group races for the week were '508651458' at Goodwood and '60' in the LARC Prix Maurice de Gheest at Deauville, where Caravaggio was a costly flop.
With such a high rank going into the week, O'Brien's performance was no more than up with expectations. TRC Global Rankings use past performance in the most intelligent way to project a competitor's potency bang up to the minute. The algorithm learned nothing new about O'Brien, so he stays where he was.
2. Ryan Moore
Before meeting: 1092 points (#1 Jockey)
After meeting: 1101 points (#1 Jockey)
Change: +9 points
In contrast with O'Brien, the #1 jockey by TRC Global Rankings did improve his stock. His 11 rides at Goodwood yielded four Group wins, only one of which was for the Irish trainer - on the previously mentioned Winter.
Two of Moore's other winners came for Sir Michael Stoute. Moore was at his dynamic best on Poet's Word in the Group 3 Glorious Stakes, but had an easier time on his old boss's budding superstar Crystal Ocean in the Group 3 Qatar Gordon Stakes. And, soon after Poet's Word won, he steered home Beat The Bank for trainer Andrew Balding in the Group 3 Bonhams Thoroughbred Stakes.
On the week, Moore had 13 Group-race rides and 11 of them topped 100 on Racing Post Ratings (RPR) – indicative of the quality of the races he was riding in. Even by his standards, this is supreme efficiency, and the TRC Global Rankings reacted.
3. Sir Michael Stoute
Before meeting: 976 points (#19 trainer)
After meeting: 985 points (#15 trainer)
Change: +9 points
In common with nearly all competitors in the rankings, Sir Michael Stoute's time-series chart of rankings points shows distinct seasonality.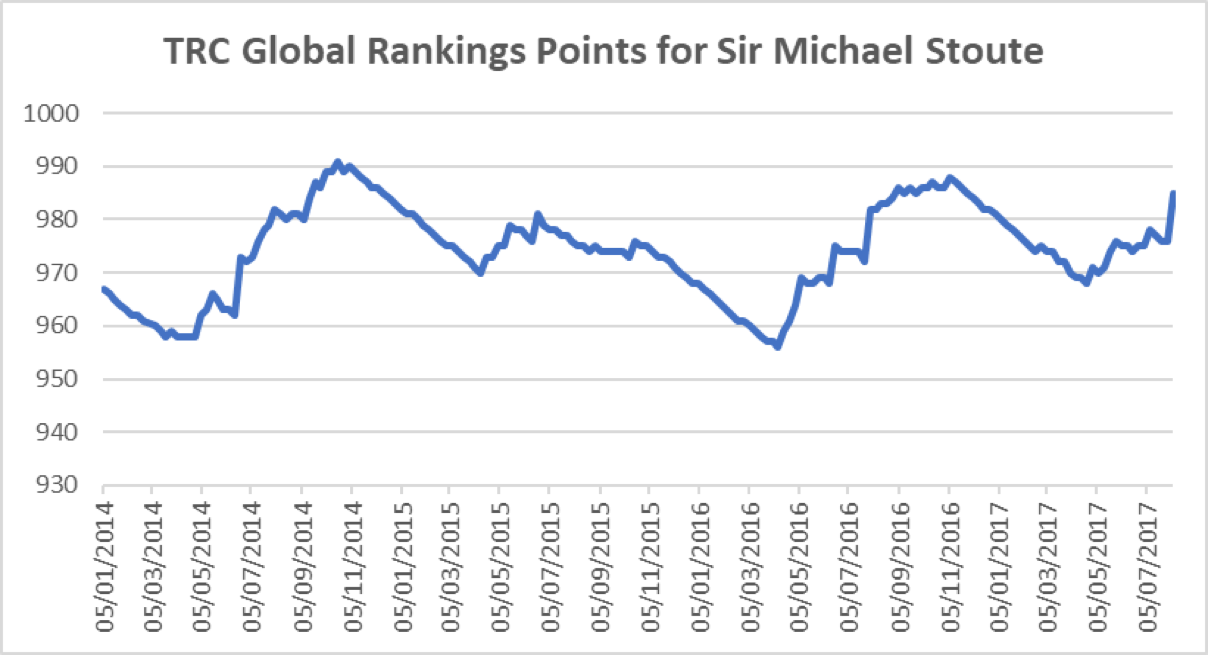 One of the greatest British trainers ever, he is enjoying another peak this summer and is now just six points shy of his best TRC Global Rankings score of 991, achieved in the week of October 19, 2014. Of course, had we been running these numbers since the 1990s, Sir Michael would have been ranked higher still.
The Newmarket trainer achieved form figures in Group races of '126161' with the wildly impressive Group 2 Vintage scorer Expert Eye the winner ridden by Andrea Atzeni and not Moore. On the week overall, his runners recorded RPRs of 116, 116, 114, 108, 108, 107 and 85. Some serious ups on the Sussex Downs.
4. Sea The Stars
Before meeting: 996 points (#6 sire)
After meeting: 1004 points (#4 sire)
Change: +8 points
Widely regarded as one of the best European racehorses ever, the 2009 Prix de l'Arc de Triomphe winner achieved his highest TRC Global Ranking as a stallion this week when rising two places to world #4.
The son of Cape Cross was responsible for four runners at Goodwood and three of them won. As well as Crystal Ocean, whose victory is detailed above, Stradivarius won the Group 1 Qatar Goodwood Cup and Endless Time the Group 3 Markel Insurance Fillies' Stakes for Godolphin.
Sea The Stars also had 1004 ranking points after Goodwood last year when he was ranked #6 behind Galileo, Deep Impact, Dubawi, Tapit and Shamardal. This time, he has only the first three above him.
With more active runners now than a year ago, Sea The Stars is expected to rate even higher in the weeks and months to come. He is currently 14 points behind Deep Impact for #3. Look out!
5. Jim Crowley
Before meeting: 949 points (#52 jockey)
After meeting: 959 points (#41 trainer)
Change: +10 points
It is interesting to compare the standing of Sheikh Hamdan's current retained rider, Jim Crowley, with that of his predecessor, Paul Hanagan. During his tenure, Hanagan earned a highly creditable peak TRC Global Rankings points of 995, via his exploits on top-notch horses like Taghrooda and Muhaarar.
Crowley has some way to go to reach that total, but Goodwood was something of a milestone for his progress this week, for he passed Hanagan in the rankings for the first time, as the accompanying chart shows: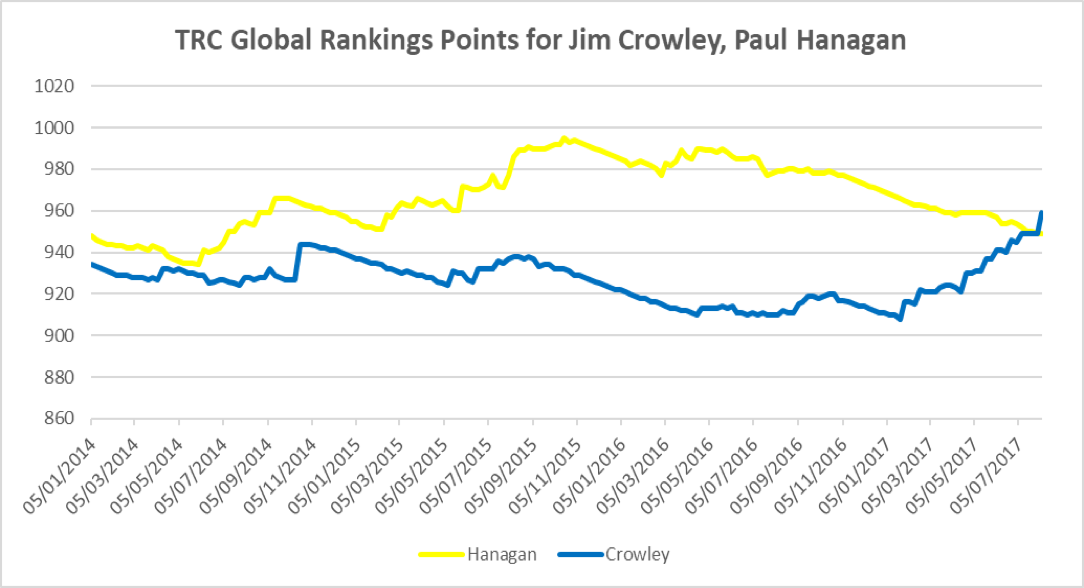 Crowley's form figures at Goodwood were '41426616'. The two wins were scored heavily by our algorithm: Here Comes When's surprise Group 1 Qatar Sussex Stakes triumph (RPR 119) and Battaash's hugely impressive romp in the five-furlong Group 2 Qatar King George Stakes (RPR 125). Sheikh Hamdan has a sprinter to match the quality of Muhaarar in the latter, who looks certain to win good races for years to come, being a 3-year-old gelding.
6. Andrea Atzeni
Before meeting: 975 points (#26 jockey)
After meeting: 983 points (#22 jockey)
Change: +8 points
Andrea Atzeni makes relentless progress towards the global elite of jockeys. The 26-year-old Sardinian-born rider – frequently in demand in big-races nowadays – racked up three big-race wins at Goodwood.
Expert Eye is detailed above in the section on Sir Michael Stoute, Stradivarius in that on Sea The Stars, but the best ride of the three came on Group 2 Qatar Lennox Stakes shocker Breton Rock.
Honourable mentions
Andrew Balding (the trainer of Here Comes When gained 10pts to climb to #64)
Acclamation (the sire of Expert Eye gained 7pts to move up to #52)