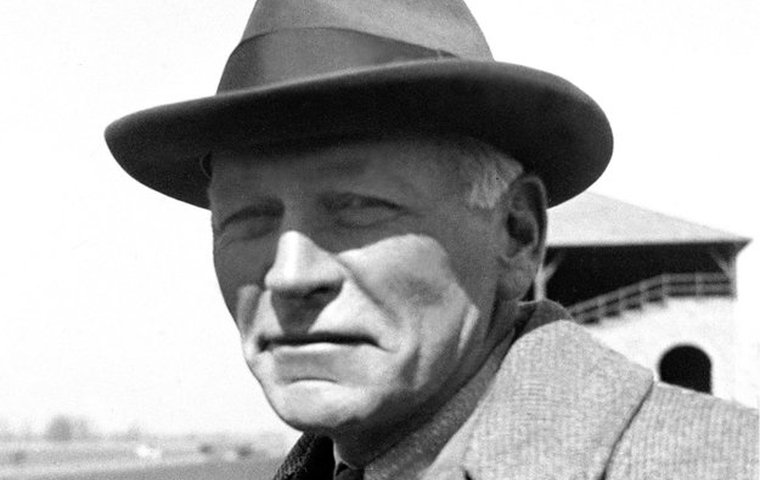 The story of Thoroughbred racing in Kentucky would read very differently were it not for Jack Keene, or, more specifically, for his financial difficulties. Here, we take a look at the trainer and breeder whose enthusiasm for the Thoroughbred laid the foundations for what would become Keeneland Race Course.

From his earliest days, John Oliver Keene (1870-1943) – better known as Jack – lived and breathed Thoroughbreds. The son and grandson of horse breeders, he grew up on the ancestral family farm just outside Lexington, known to generations of locals as the Old Keene Place. It had belonged to the family since the late 18th century, when Virginia governor Patrick Henry reputedly granted Francis Keene nearly 8,000 acres in recompense for his services during the Revolutionary War. Here, in the heart of the Kentucky Bluegrass, Jack emerged as a natural horseman, honing his knowledge at Lexington's Kentucky Association track.
By the late 19th century, Jack had relocated to Chicago, initially working as a handler of general horse breeds for a local horse firm. He cherished ambitions, though, of owning and training his own Thoroughbred stable, and it was here that he purchased his first horse, Braw Lad. With the support of Braw Lad's numerous successes on the Mid-West racing circuit, he was able to begin building his own stable, aided by his brother, George Hamlet - 'Ham'.
Keene turned his attention to the California circuit, and it was while in California that he met Jimmy Fletcher. The Canadian sportsman enticed Jack with an idea of racing American horses around the world, and by the end of the first decade of 20th century, Jimmy and Jack (soon followed by his stable) had set sail from the West Coast with the aim of advancing Thoroughbred racing on an international scale, while making a profit along the way.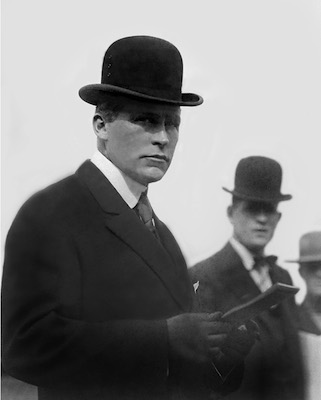 Their first port of call was Japan. Jack's horses soon proved their merit in the Tokyo races, and his gamble quickly yielded returns in purses and wagers. Their success was so notable that a local tycoon was induced to buy the whole of the stable that Jack had imported from California.
From Tokyo, Jack's next port of call was Russia. Alongside Jimmy, he had accepted the offer of a Russian nobleman to train his stable. Jack's success on the Russian turf was exceptional; however, his career there came to a sudden and dishonourable end in 1903.
One day, so it is reported, he was approached in the paddock by a Russian racing official with a chemist in his wake carrying a basket of frogs. A saliva sample was taken from his horse and given to one of the frogs, who subsequently began behaving in a suspiciously irregular manner. Following this, Jack gained the dubious honour of being the first recorded trainer to be exposed by the newly invested saliva test. Banned from racing horses in Russia, he returned home to the US, to the family Bluegrass farm.
Back in Lexington, all was not well at the Kentucky Association track. Founded in the 1820s, the historic course had sunk into disrepair, and financial woes pressed following a string of ownership changes. Jack, like many other local horsemen, despaired at its deteriorating facilities and the quality of racing. He was not a man content merely to idly lament its failings, though. Instead, in 1916, he began building his own racetrack on the land of the Keene farm.
"In planning and starting a racecourse at Keeneland Stud, it was my earnest hope to give to the Bluegrass and Kentucky, my native state, a place where sportsmen and sportswomen might some day gather and enjoy Thoroughbred racing in its finest form," Jack reminisced in 1936.
His was to be no ordinary track. It was to be a private training and racing club for him to enjoy with his friends and fellow Thoroughbred enthusiasts; it was to be a model facility dedicated to the improvement of the Thoroughbred breed in Kentucky and throughout the United States. And this unique vision gave rise to a racetrack that was unique in form.
Without the aid of any architect or any blueprints, Jack laid out a mile-and-one-sixteenth oval course. Beside this, he designed a vast structure, part clubhouse, part training centre, part mansion. It was dubbed the 'barn', but its scope far exceeded this label. Comprising living quarters, dining room, ballroom and horse stalls, it was built as a place where Jack and his friends could eat, dance and sleep, and then watch their horses gallop around the track in the morning with the sun warming their backs. This latter intention explains why Keeneland has the only west-facing spectator stands in the country. Adjoining the barn, Jack set out an indoor training circuit, measuring a quarter of a mile, inspired by his experience as a trainer during Russian winters.
All was built from limestone, quarried from the Keene farm and hand cut by local stonemasons. It was the ancient limestone bedrock that created Kentucky's fertile soils, and limestone fences had long been a quintessential feature of the Bluegrass landscape. To this day, Keeneland's physical environment continues to be characterised by the use of this native stone, hand chiselled and laid in a 'two-to-one' pattern, reportedly copied by Jack from examples he had seen Russia.
For the most part, Jack oversaw the building works personally, and insisted on the highest standards of construction. "If he had engineered the Pyramid of Ceops, he would have decided that two or three more 20-foot layers of stone would have made it better, and he would have got them too, whatever objections the Egyptian treasurer might have made," it was recalled of Jack in the 1950s in This Was Racing.
His perfectionist nature and high ambitions, though, were to prove the downfall of his project.
Never a tremendously rich man, Jack was plagued with money shortages. Over a two-decade period, construction on the Keeneland Stud rumbled on in fits and starts, proceeding whenever he could amass enough from winnings or sales of his bloodstock. Finally, the Great Depression put an end to his dream. By 1935, with the facility less than half finished, despite having lavished $400,000 and more on it, Jack concluded that he would now never have resources enough to see the project to completion.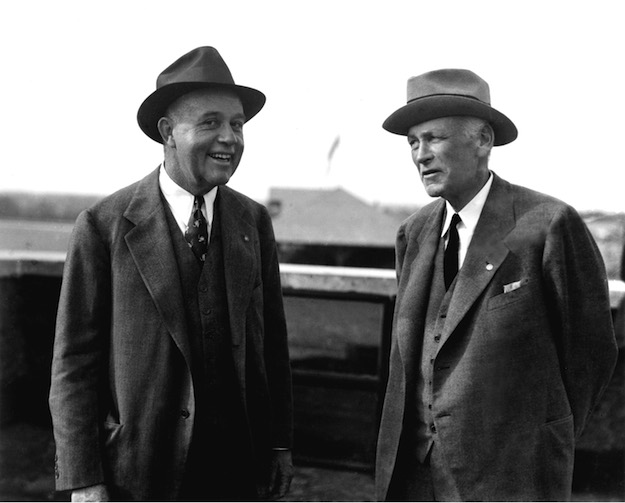 On August 29, 1935, for a price of $130,000, Jack sold his limestone barn, track and 148 surrounding acres. The purchasers were a committee of forward-thinking horsemen in whom Jack recognised a shared purpose. They had banded together following the closure of the old Kentucky Association track in 1933 to search for a new home for racing in Lexington. Out of a possible 20 sites, they selected the partially built Keeneland Stud, and with that the Keeneland Association and Keeneland Race Course were born.
After a breakneck period of construction, Keeneland Race Course held its first meeting in October 1936. Jack Keene may never have been able to bring his dream to fruition himself, but he had the consolation to know that, under the aegis of the Keeneland Association, his aspiration for a model racetrack dedicated to the perpetuation and improvement of the sport would be realised and, what is more, would be thriving eight decades later.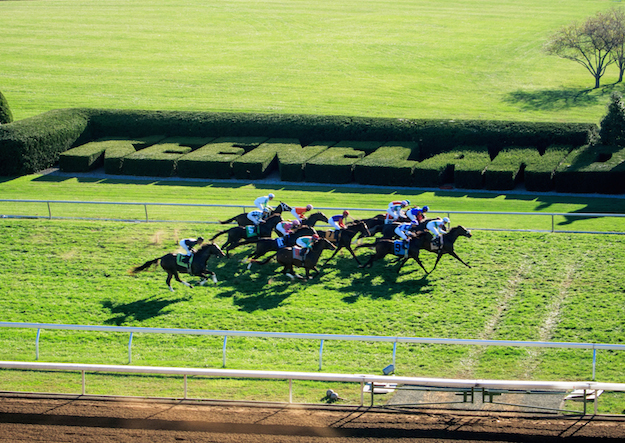 SOURCES
S. Carmony, 'A model racing plant: founding and economic history of Keeneland racetrack', unpublished thesis, University of Louisville, 2004
Chicago Tribune, April 26, 1967
Keeneland: A Thoroughbred Legacy, Lexington: Blood Horse Publications/Keeneland Association, 2010
J. Palmer, 'Keeneland, With Keene', in R. Smith (ed.), This Was Racing, New York: Barnes, 1953
K. Raitz, Rock Fences of the Bluegrass, Lexington: University Press of Kentucky, 1992
P. Roberts and I. Taylor, Racecourse Architecture, New York: Acanthus Press, 2013