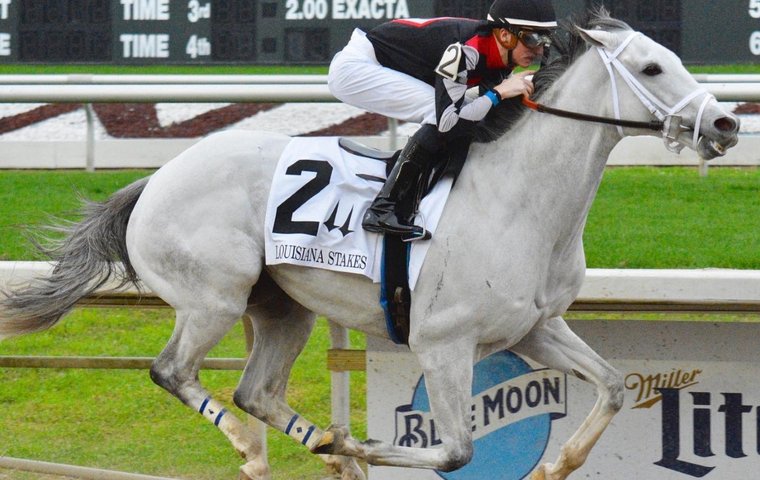 Jack Gilligan has flourished since he joined the U.S. jockey ranks after moving from England five years ago. The now 23-year-old, who was the subject of an acclaimed book - Around Kentucky with the Bug - written by his father, former Newmarket trainer Patrick, about their first year in America, has been plying his trade at Fair Grounds in New Orleans this winter.

So mid-January seemed like a good time for his father, a regular TRC contributor from his home in Lexington, Kentucky, to hop on a plane and spend some time with his son. Here he tells of the enjoyable and rewarding few days they had together, albeit with a sting in the tale …

Jack Gilligan, my son, has spent the past two winters racing at Fair Grounds in New Orleans, Louisiana. He spent his early years in Newmarket in England, where I trained a few horses. He started racing there, was apprenticed to Sir Mark Prescott. He was four from 25 in the UK, when he emigrated to the States, aged 17.
In one week, he went from early mornings mucking stables, tacking up, riding a few lots, sweeping the yard, to arriving at barns in Lexington, Kentucky, the horse tacked and pulled out for him. Up away, breeze back in, and onto the next one. He hasn't mucked a stall or handled a broom since he arrived in the States over five years ago – and that suits him just fine.
Most jockeys in the UK will tell you about the driving, the traffic. Two meetings a day often, the M25, snarling tailbacks, time pressure. Seven days a week.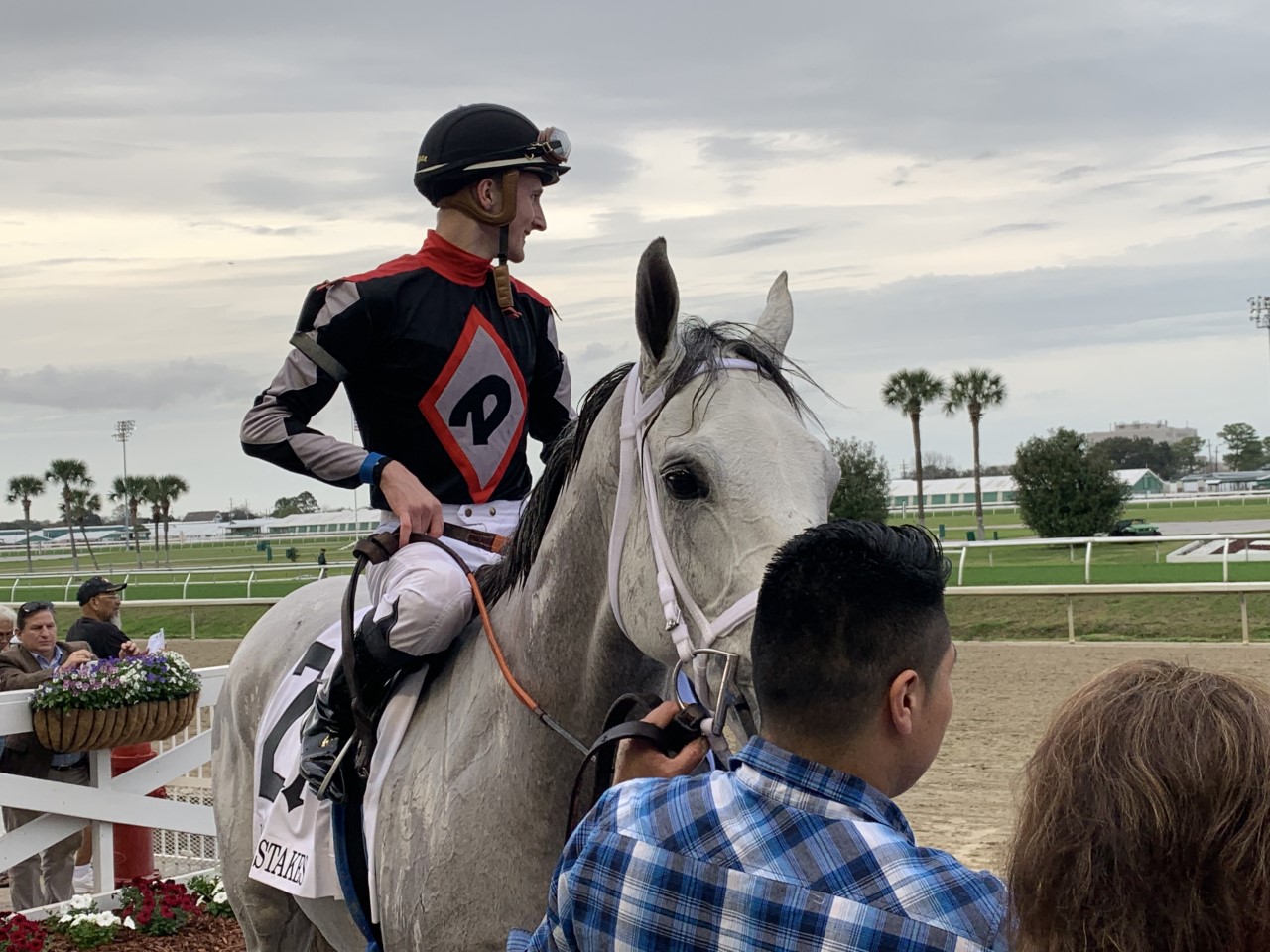 It must be a relief sometimes to get banned for a few days. It is tough to ride seven days a week. And it seems unnecessary to me, considering there is also jump racing running each day over there.
I didn't appreciate the pressure on a rider's shoulders when they are racing. It is intense - quick decisions, risk, getting it right. Time after time. No-one gets it right all the time, and that can weigh on the rider's mind.
A couple of days off gives the rider a chance to recharge, regroup. It is okay if a rider is winning all the time maybe, adrenaline is carrying them along, and nice paychecks. But most riders aren't winning all the time. I have seen the days off benefit Jack after a disappointing weekend.
Fair Grounds races four days a week through the winter, Thursday to Sunday, November through to the end of March. That is enough, he says. He likes the work-life balance here and the minimal driving. He lives a stone's throw from the track. Thirty-five minutes after his last race, he is showered and sat with his feet up at home.
Quite a difference from the UK - and to Jack here also when he races spring to autumn in Kentucky. Three-hour drives home after a disappointing day at the races is wearing. And they are mostly disappointing days, for everyone, everyone in the sport, loses more than they win.
We covered 72,000 miles the first year Jack rode in Kentucky. He doesn't do that anymore, but riders in the UK don't have a choice, and, even if they have a driver, that is a lot of hours spent in a car.
Monday is quiet at Fair Grounds, a few morning breezers, go see some trainers, touch base with his agent, Richie 'The Rat' Price.
Jockey agents are much more hands-on with the riders here. They may have one rider on their book, no more than two. They charge the rider 25 percent of their weekly paycheck, and they go around the barns, see the trainers, hustle for new business, try to maintain existing business, and work on getting the rider as many winners as possible.
Riding fees and minor place percentages are low here. It is that ten percent of the winner's purse that the riders all want. Maiden races and allowance races here are running for around $46,000. Sixty percent of that goes to winning connections, and ten percent of that to the winning jockey, who then passes 25 percent to the agent and five percent to his valet.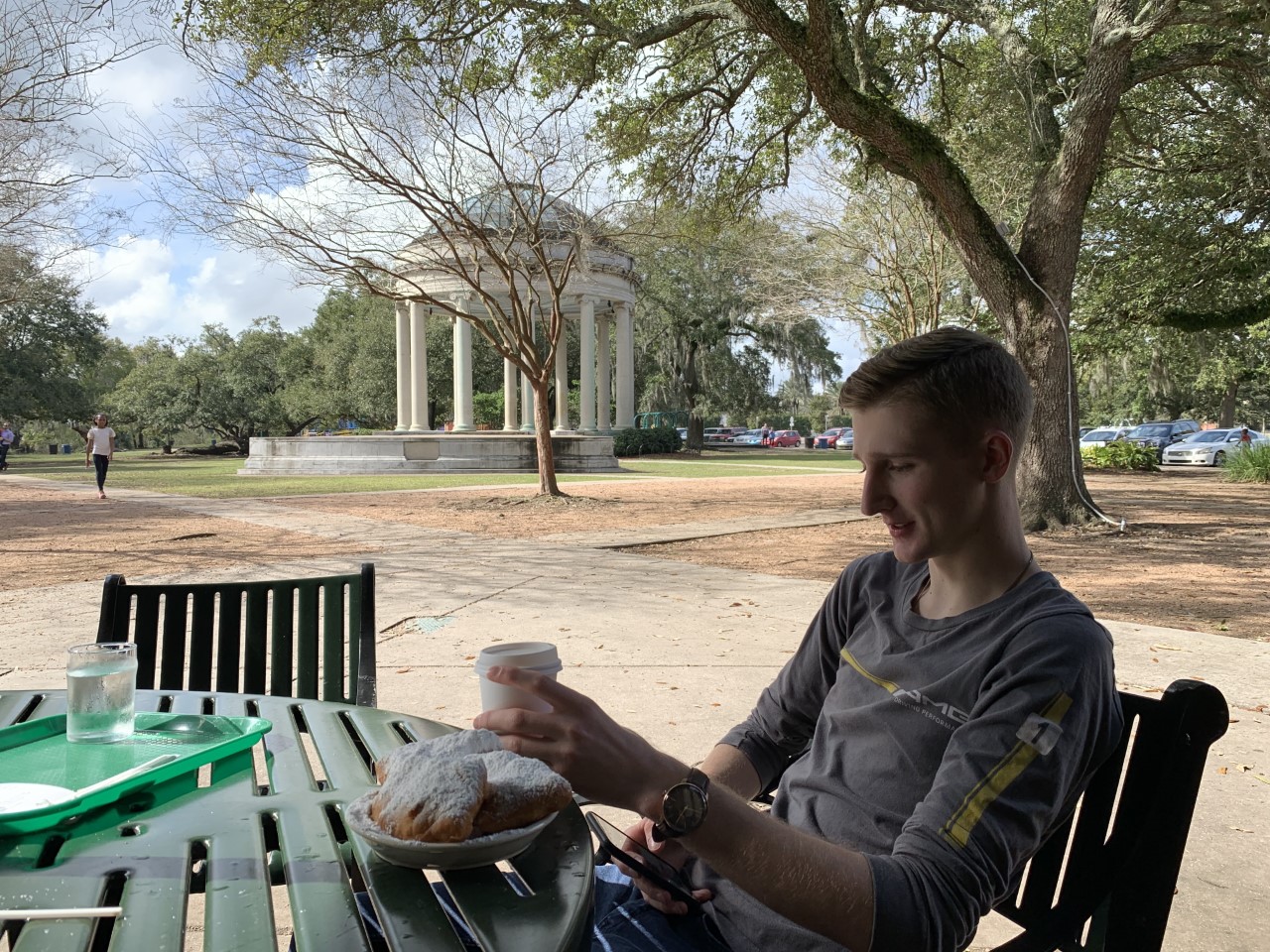 Jockeys have to win here. A rider who has a dozen rides in a week without a winner in the UK is probably still making a living. Over here, a dozen rides and no win is McDonald's wages
Sunday and Monday is when Jack eats what he pleases. And in New Orleans, there is good eating to be had.
Sunday is Mid-City Pizza straight after racing, feet up, relax at home - he introduces me to a Netflix series, the Haunting Of Hill House – whatever you do, don't watch it. I never had the hair on my legs stand up before.
Monday, it may be Santa Fe, a big racing hangout around the corner from the track, or maybe Adolfo's down in the quaint and historic French Quarter. But there are so many. Drago's for seafood, Lola's for paella. Neyows for chargrilled oysters. And then there are the jazz bars and clubs dotted all over if you want to dance a few calories back off.
Almost every day, Jack takes a run in City Park or hits the gym. Weight is not easy for him here, even without so much temptation. He has to be able to ride, with his tack, at 118lb to stay competitive for mounts. That's 8 stone 6 pounds dressed, with his saddle. He is five feet nine inches, one of the three tallest riders in North America. So, after eating, well, comes the famine, literally. Tuesday and Wednesday, he doesn't eat really. A yoghurt and a protein bar and that is it both days.
I don't like it, but he says it's okay. It is the hardest part of his job, he says, but after two days he says he feels light and alert and good.
Laid-back city
I flew down to see him, to spend a week with him. New Orleans is a great place to visit, a free spirited, laid-back city, mighty oaks draped with Spanish moss line the streets. You can happily spend an afternoon just wandering past the grand old homes, no cookie-cutter houses here. They are all shuttered windows and balconies and greens and pinks and blues, and it all works.
He had 13 rides booked over the weekend, which included a rare Monday card as it was Martin Luther King Day, a holiday. Three rides on the Thursday resulted in a close second, caught close home in the mile-and-an-eighth turf race.
We picked up some fish from Canseco's, the local store, after racing, walked home, realized it was frozen, so put it to defrost in the fridge and headed to Santa Fe around the corner for some Latin fusion food. There was a time when second was something to be excited about. Now it just sucks.
Friday, Jack was at the track breezing from 5.30 onwards. Jockeys don't get paid to breeze horses here, but they do expect to get the ride in the afternoon. So, it is good to be busy in the morning.
Straight after training, he went for a quick jog around City Park, then a shower and back to Fair Grounds. He likes to get to the track around two hours before his first race, to study his rides, to warm up and stretch and to share some banter with the jockeys and valets.
Two rides, races one and four, nothing to shout about. Straight in the shower and, like clockwork, he is back in the car 30 minutes after his last ride. We would have fish tonight, with broccoli and French stick. We went to the movies after, saw 1917. It was good, but I find war movies tough, all the wasted lives. We are lucky. I try harder as I get older to remind myself of that.
Saturday brought more breezes, I went to the track after the break, grabbed a coffee at CC's on the way and got some pictures of Jack breaking from the gate with Robby Albarado.
Home, shower, back to the races again. Three rides on the Saturday card, including Silver Dust in the Louisiana Stakes, a $100,000 Grade 3. Silver Dust provided Jack with his first two Graded Stakes last year. A difficult horse, he was rank to gallop, tough to breeze, and prone to rearing in the gate. At Saratoga, before Jack was associated with him, he reared over in the gate and got himself in such a tangle underneath the starting stalls that they had to be moved before he could get back up.
Jack had built up a good relationship with him, though, and the horse had talent. He would be favorite today, but this was his first start back after a break.
Streak of gray
His first mount of the day didn't do much, neither did his second. It was turning into a quiet weekend. He looked well in the paddock, Silver Dust. He walked around like a prize fighter, the pale gray son of Tapit. He looked ready.
The jockeys came out in their silks, greeted the owners, talked to the trainers, then they were up and led out under the stands to the sound of the bugler.
Silver Dust warmed up well, kept on his leash by the pony rider. He loaded good, stood good. He broke fine from the inside stall, but three broke with him. Jack didn't want to lead – the horse can take it easy when he hits the front – but he didn't want to be pinned in by the other riders either. Silver Dust is tough, though, big and mean if he needs to be. Jack let him bully his way out as they came out of the first turn. Second now, just to the outside of the leader. Perfect. Now it was just a question of if he was good enough.
He was good enough. He joined the leader entering the stretch and drew away, they couldn't touch him today, a streak of gray, the rider's black and red silks laid along him, the stick flashed, keeping the old warrior to his task.
They came back to the winner's enclosure, the trainer relieved at a good job done, everyone smiling, laughing. Mission accomplished. It all went right, it all went good. It has to, to win. He might be better than ever this year, Dusty.
Big deal
Margaritas at Santa Fe was the order of business after racing, dinner with Jack's friends. I drank too much, he was sensible. That is usually how it is in our family. We went down to Frenchmans Street afterwards, listened to some jazz bands in some dimly lit bars.
By the time I woke up the next day, Jack (now up to world #236 in the TRC Global Rankings thanks largely due to the win) was already at the track. He came back during the break, picked me up and we headed to Bret Calhoun's barn to feed Silver Dust his mints. He took them as his due, ears pinned back by way of thank you. He was born April first, the same day my best horse was born, Rushcutter Bay. He is a grouch too, even now at age 27.
Sunday yielded a third, Monday was two unplaced runners followed by Mid-City Pizza again, Jack's treat to himself.
Stakes winners are a big deal to a young rider. Graded Stakes victories are not easy to come by. He has picked up three in the last 12 months, a sign of good progress for the rider, still only 23, already over 300 wins to his name.
He has worked hard since he left school, and indeed rode out every day before school since the age of 14. He is reaping some rewards now. He drives his big truck, has just bought a nice apartment here in New Orleans. The living is good down here in the Big Easy, for the kid from Newmarket in the UK. Who would have written that?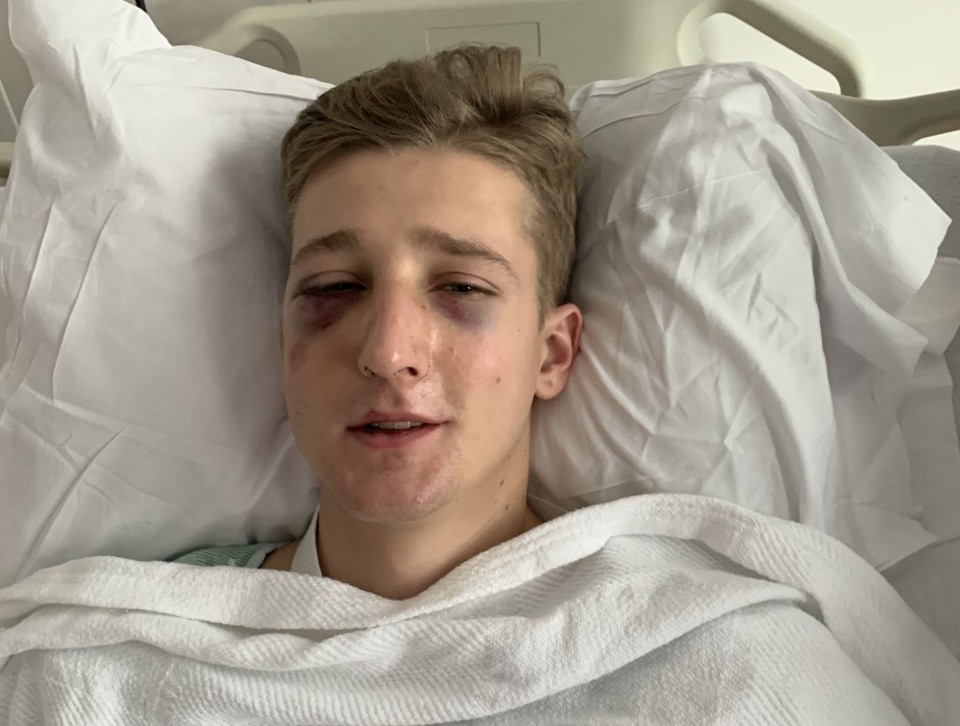 Just three days after leaving New Orleans, I was back - to visit Jack in hospital.
It was the last race on the Friday, problems on the last turn, a horse swung out, knocked Jack's mount off balance and it went down.
I was watching the race at home in Lexington. One second it was a normal race, the next everything had changed. It was faster than the human eye could see - he just disappeared from the screen, a horrible fast fall, fired into the ground. His collarbone instantly snapped.
A horse and rider from behind couldn't avoid them, the animal tried to jump the horse on the ground, half made it, but its foot struck Jack in the face as it galloped by. The rider returned devastated, scared. It broke Jack's eye sockets, his nose. They will have to operate to realign his jaw. Wires for six weeks, no solids.
You wouldn't normally consider that lucky, but no head injury, full movement except in that left arm. Not in extreme pain. Six weeks out though, possibly on the sidelines for Silver Dust's next race. That may be the worst pain of all.
I wonder if Shaun Bridgmohan, the other rider downed, when he was flying through the air a seeming good dozen feet off the ground at over 30 miles an hour with his horse no longer beneath him, had pause to reconsider his career choice. Probably not. Jack is already starting to grumble about missed mounts. It takes years off you, days like this.