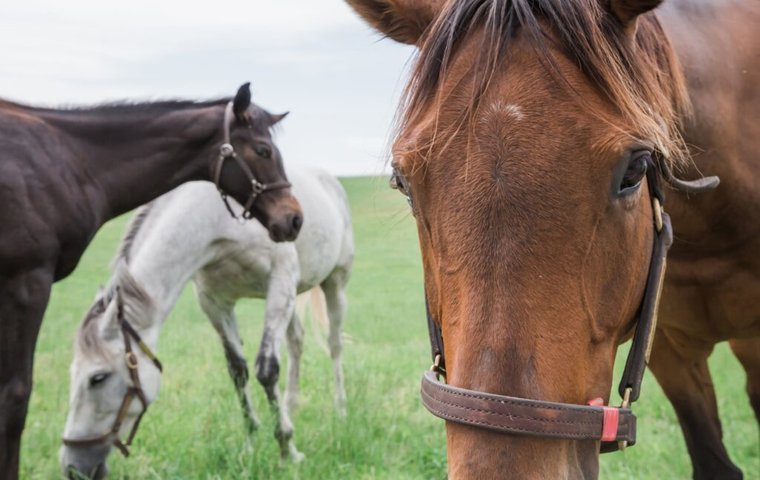 The 2020 pandemic has affected the world in innumerable ways, and horse racing certainly has not been immune to it. Some of the impact has been obvious and some more subtle, but for Horse Country, Covid has undoubtedly been a tough turn of events.

Launched in 2015, Horse Country aimed to make the Kentucky Bluegrass more accessible to fans and newcomers alike, while educating them on the sport. Farms, tracks, veterinary clinics, feed mills, and more threw open the gates and let people see beyond the stone fences. Everything from meeting famed stallions to petting champions like Beholder to getting a private farm tour was on offer.
Modeled in part after the incredibly successful Bourbon Trail, Horse Country was making a name for itself, and the results were telling. At a time where the social license given to horse racing in America was being questioned, based on multiple surveys, it was clear visitors to Horse Country were leaving with wildly improved opinions about the sport and the welfare of the horses. Additionally, it was starting to lure new owners to the industry.
"One of our greatest metrics was measuring perception pre- and post-experience and seeing that every time people come through an experience, they left with a better perception than when they booked the experience," said Anne Hardy, Horse Country's executive director. "We're seeing that trend continue. We've also seen ownership develop from tours, which so much of the industry is trying to crack. How do you get new owners to the game?
"I think our answer is love. Investment prospectus, sure; great experiences, yes; but to truly love the game is to love the horse, and that's inspiring. More than $1 million has been invested in breeding stock, racing partnerships and more as of last September. So, we know this is a way to walk that path."
However, all of that forward momentum changed in March, when an organization based entirely on travel and mingling with strangers had no choice but to close.
"The reality of Covid for us, as an organization whose revenue stream is based on in-person tour revenue, has been stark," said Hardy. "We incurred massive pre-admission refunds beginning in March that have cascaded over the intervening months as experiences necessarily were cancelled in the interest of public health concerns. Between experience cancellations and the lost sale opportunity of our biggest time of the year, we missed more than half of our entire annual budget.
"We're still pretty new — not quite six years of existence and really only about 3.5-4 years of touring on a regular basis — so this comes at a tough time. For the first half of our fiscal year (July 1-December 31, 2019), we exceeded aggressive projected growth of 36 percent and were on track to exceed 40 percent growth over the previous year."
Virtual tours
Horse Country did not shutter completely, however. Instead, members turned the internet and began to reach an entirely new audience through creative and interactive virtual farm tours.
"The amazing part is that, almost immediately, we started working with our members to offer free virtual experiences on social media and our website," said Hardy. "To be able, especially in March and April when the lockdown was new and severe, to reach out to people from our beautiful Bluegrass and open the gates in that way has been incredibly rewarding and helped us continue to accomplish our mission of inspiring love of the horse and our sport."
That's not just wishful thinking. As viewers tuned in, the numbers continued to climb, leading more members to virtually allow visitors into their farms and businesses while also providing a bit of happiness to those struggling in the pandemic.
"We've had more than 3 million views at last count, and endless comments and engagements on these tours," said Hardy. "Everyone from healthcare workers who found us by chance and let us know that these tours were their moments of calm during tough times to kids and parents and school groups who shared with us they were having watch parties while stuck at home, we've reached a whole new audience. And we've even started to see folks making plans to come or telling us they're watching racing for the first time because of the virtual tours."
While the success of the virtual tours is certainly a bright spot, the reality is Horse Country was fully shutdown to in-person tours from mid-March until June 15 and is still in the process of slowly reopening. Losing that much revenue is a blow for any organization, much less one as young as Horse Country.
"More than half of our budget for the year was either refunded or just didn't exist because of lost sales opportunities due to closures," said Hardy. "There's not a way to just roll on with that kind of impact. Our team has been furloughed back to part time for a few months and that continues. We've vacated our office at least temporarily, and we've halted all non-essential spending.
"As a C6 organization, we didn't qualify for the PPP program, and we aren't able to take on loans, so we must rely on our industry, community, members and some kind of recovery in the tourism sector to survive."
The horse industry has a reputation for helping its own, and Horse Country has been a benefactor of that generosity. It has also set up a fundraiser for individuals who want to help the cause (click here for more).
"It's been encouraging to see folks reach out to us with financial support from the industry to help us make it through this crisis," said Hardy. "Fasig-Tipton, Breeders' Cup, Keeneland, and the Jockey Club have all stepped up with contributions. Several members have donated tour proceeds back to the organization. We've also started a 501C3 fund at the Bluegrass Community Foundation that will help fund the educational and charitable portions of our mission, and community members, tour attendees and more have supported us there."
Significant changes
For those interested in taking a tour, several members of Horse Country have started allowing visitors again, but, as with most everything this year, there have been significant changes to how things are done.
"Not all members have reopened at this time, so our selection is a bit smaller," said Hardy. "Also, there are just technical things that needed to change to ensure the safety and security of guests and farm staff — masking, reduced group sizes, and social distancing. All the things we're adjusting to in every area of our lives right now.
"Things certainly look different than they did before. Even before the Governor's mandate, we were requiring guests and guides to wear masks. All experiences currently on offer are conducted outside, and we've reduced tour capacity. We're also offering more private tours than ever before, as families and 'pods' of associated people are more comfortable with touring on their own than with others."
Since reopening, everyone with Horse Country has also noticed a change in who is coming on the tours, and it might be a silver lining in such dark times.
The other side of the crisis
"More than 30 percent of our business was group travel both domestically and internationally before all this," said Hardy. "We've obviously seen a lot more individual drive traffic and an increase of Kentucky-based visitors. That said, we're also seeing even more people who are completely disconnected to racing. We're reaching entirely new audiences of 'staycationers' and folks just looking for something healthy and fun for the family to do. This will be a new audience for racing."
As with so much in 2020, everything is still uncertain, but Hardy remains hopeful that Horse Country's value to the sport and efforts to stay afloat will help it continue to exist.
"Day to day, week to week, things change," said Hardy. "We're doing the best we can to make the best decisions we can with the best information we have, but the reality is, if we survive, we'll probably look different than we did heading into 2020. Like so many other folks, we're really just trying to navigate how to be here on the other side of this crisis.
"The organization was founded to create fans — and we know, quantifiably, we do that. It's encouraging to see how the industry has responded to stand up with us and support that this work is important."