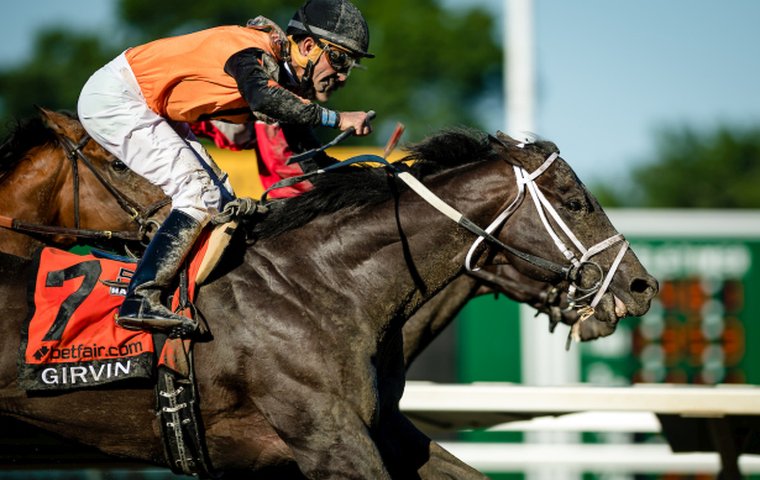 It seems almost fitting that the winner of Sunday's $1 million Betfair.com Haskell Invitational was named after a town in Texas that has a population of 11.

Yes, 11.
One more than 10 and one less than 12.
In the town. The whole town.
"Honestly," said Brad Grady, who grew up nearby and named one of his horses after the family ranch there, "I can say there's not a lot there."
Those very same words might also be applied to this year's Triple Crown class of colts and geldings - depending on your perspective.
On Saturday, it was an 8-1 shot named Good Samaritan, who had previously been a turfer, who won the G2 Jim Dandy at Saratoga, with Kentucky Derby winner Always Dreaming third and Preakness champ Cloud Computing fifth and last.
Then on Sunday, it was Girvin's turn. Grady's namesake for a small town in the Lone Star state sprung a 9-1 upset in the Haskell in front of a crowd of 35,303 at Monmouth Park, beating McCraken by a scant nose and leaving the chase for the 3-year-old title as muddled as ever.
"Some would say it's a weak 3-year-old crop," said Joe Sharp, who trains Girvin.
Yet don't include Sharp in that group as he quickly added, "but I think it's a pretty even [division] and there's a lot of horses that are getting good at different points of the year."
Nor should anyone put Grady among the detractors, even though three different horses won the Triple Crown races and the summer campaign started with a pair of upsets.
Right direction
"I think there's a lot of depth in this 3-year-old year crop. I really do," Grady said. "There's no American Pharoah is what people are saying."
Yes, there's surely no American Pharoah among this bunch. Nor has anyone even faintly resembled Arrogate.
Yet it should be noted that at this point in 2016, Arrogate was just a highly touted allowance horse in trainer Bob Baffert's barn. So perhaps once again the best is yet to come from a sophomore class.
And, if that's the case, then Girvin, McCraken and Good Samaritan are trending in the right direction after this wild weekend.
Good Samaritan had raced only on turf in his six career starts before the Jim Dandy, but he surely showed an affinity for dirt as he took charge in the stretch and drew clear to win by 4¾ lengths over two classic winners.
"He confirmed our belief that he is a very good horse, probably the best 2-year-old grass horse in the country last year," said trainer Bill Mott. "We went into this year thinking maybe he was the best grass 3-year-old, now, I guess, his future for the present times will be on the dirt. If we would have had the opportunity, we would have tried the dirt last fall, but he got banged up in the Breeders' Cup [when was third in the Juvenile Turf]. We didn't get the chance."
Proud of Always Dreaming
While Good Samaritan is on the fast track to the $1.25 million Travers at Saratoga on Aug. 26, the status of Always Dreaming and Cloud Computing is in limbo.
Always Dreaming, with wins in the Florida Derby and Kentucky Derby, was a tenuous leader of the division heading into the Jim Dandy. A case could be made that those two G1 wins are still enough to keep him atop a group with so much parity - or mediocrity - but at best he's in front by default.
In the Jim Dandy, the Derby winner made his first start since a disappointing eighth-place finish in the Preakness and sprinted away to a 3½-length lead after an opening half-mile in a modest 48.53 seconds. Yet he wound up 5¼ lengths behind Good Samaritan.
"I was proud of him from the quarter pole to the wire, he kept digging in and kept fighting and he actually galloped out pretty well back in front after the wire," trainer Todd Pletcher said on Sunday. "We'll see how he trains and take it from there."
Hoof woes
Girvin paid $20.20 but was a much more logical winner than Good Samaritan. In his six starts before the Haskell, his only poor showing came in the Kentucky Derby after he battled a hoof issue. He also had a horrible trip in the Run for the Roses and didn't seem to care for the wet track that day which Always Dreaming relished.
"He was my first Kentucky Derby starter and people have had better introductions to the Derby," said Sharp, the husband of former jockey Rosie Napravnik.
By winning the Haskell by a nostril, it atoned for a loss by an equally slim margin to Irap in the G3 Ohio Derby on June 24 – his first start since the Kentucky Derby. It also confirmed Sharp's belief that, thanks to a brief freshening and some outstanding work by blacksmith Zach Richards, Girvin's hoof woes are behind him and the colt's best days are ahead of him.
"I had more confidence in him today than ever before," Sharp said about his Louisiana Derby and Risen Star winner, who was 13th in the Kentucky Derby. "I think he's going to finish out the season very strong. I'm confident of that."
A victory in the Travers or the Pennsylvania Derby at Parx Racing could be enough to swing the Eclipse Award voting in the favor of Girvin and several other candidates, but at this point year-end voting is the last thing on the minds of Sharp and Grady.
"A championship doesn't occupy much of my thoughts. I have no idea of what an Eclipse Award would feel like," said Grady, whose colt also locked up a spot in the Breeders' Cup Classic through the Haskell's 'Win and You're In' status. "Girvin needed to move up from the Louisiana races and he did that today. He's just gotten better and better. Kudos to Joe and his team. He told me he had him better than he ever did before and it showed in the result."
The betting favorites in the Haskell, the undefeated Timeline (9-5) and Belmont Stakes runner-up Irish War Cry (2-1) contested the early pace, but faded in the stretch to finish fifth and fourth, respectively, in the competitive field of seven.
It was McCraken who capitalized on their fatigue first and surged to the front in the upper stretch of the mile-and-an-eighth race. He seemed headed toward the winner's circle with a length lead at the eighth pole, but Girvin's strong rally from last carried him to the finish line first in the final stride, with Practical Joke a half-length behind in third.
Ridden by Robbie Albarado, Grady's son of Tale Of Ekati covered the nine furlongs in 1:48.35.
Belief in McCraken
For McCraken, it was a sharp performance that underscored a win in the G3 Matt Winn in his last race and his previous Graded wins in the G3 Sam F. Davis on Feb. 11, defeating subsequent Belmont Stakes winner Tapwrit, and the G2 Kentucky Jockey Club last year.
"It's a tough beat, especially in a Grade 1," trainer Ian Wilkes said. "I thought the horse got back to where he belongs. He belongs with these horses. That's why I believe in him."
After the Haskell, Wilkes' belief in his horse is surely understandable. Yet he's hardly alone. With a month to go before the Travers, there's a rather large group of owners and trainers who believe they have the horse that can finally assert himself in the coming weeks and become the dominant player in the division.
How many? Let's just say they definitely outnumber the residents of Girvin, Texas.