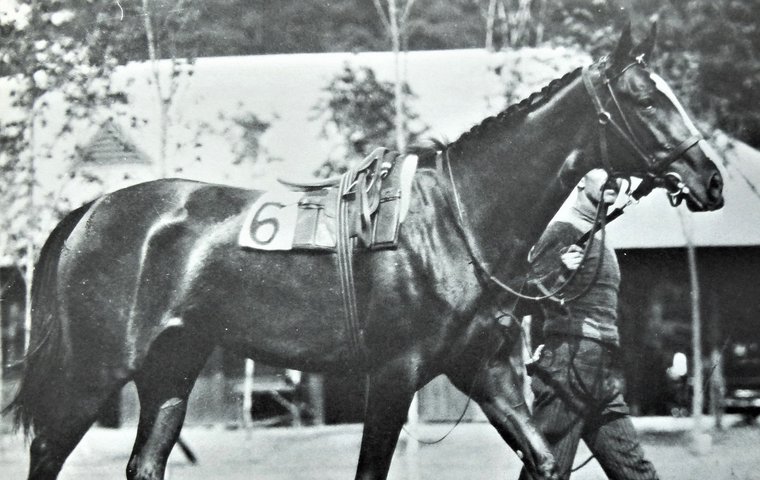 The first decade of the 20th century was something of a golden era for fillies. Champion Beldame, juvenile sensation Endurance By Right, and the 1905 Belmont Stakes winner Tanya lit up the racetrack. As bright as any of these shone Artful. In her brief career, she is best known for one race, in which she defeated a superstar colt of the time.

A bay with a refined head and a long blaze, Artful was by leading sire Hamburg, winner of 16 of 21 starts. Her dam, Martha, was herself a stakes winner at two and three.
Due to owner-breeder William Collins Whitney's death in early February of her 2-year-old season, Artful and all the Whitney horses ran in the green and white colors of Herman B. Duryea.
Her trainer, John Rogers, was described by noted breeder Colonel Phil T. Chinn as "a prince of trainers, a big Texan with a big black hat. He had the loveliest-mannered horses of any man living".
Rogers began his career training Standardbreds. After moving to Thoroughbreds, he saddled Modesty to win the first American Derby in 1884. In 1901, he succeeded Sam Hildreth as trainer of the Whitney string. After Whitney's death, he continued training for Whitney's son, Harry Payne Whitney. He was inducted into the American Racing Hall of Fame in its inaugural year, 1955.
Something special
Artful's first two career starts came at Saratoga, in races where she was coupled in an entry. It was standard practice back then for an owner to 'declare' which part of an entry was intended to win. In both cases, it was Artful's stablemate.
Her debut came on August 10, 1904 in a 5½-furlong maiden, with the declared Dreamer finishing two lengths in front of her.
Six days later she ran second again, this time behind Princess Rupert. The chart states that Artful "got away poorly, but went through like a flash into second place, where she stayed to the end under a pull".
Her placing apparently fooled no-one. It was widely speculated that her owner and trainer knew that she was something special and were intentionally saving her maiden allowance for her run in the Futurity 11 days later.
She would never lose a race again.
The 17th running of the $42,130 Futurity at Sheepshead Bay lived up to its name, boasting a future Kentucky Derby winner in Agile, and a future Belmont winner in the filly Tanya.
Undefeated Tanya had won the Spinaway and the Hopeful. The field also included Oiseau, winner of eight stakes, and the also undefeated filly Tradition. All 16 runners had won stakes. It was as solid a field as turfistes of the time had ever witnessed.
But the heavy favorite was the unbeaten Sysonby. Owner James R. Keene's colt had won his debut by ten lengths, the Brighton Junior Stakes by four, and the Flash Stakes and Saratoga Special both by ten.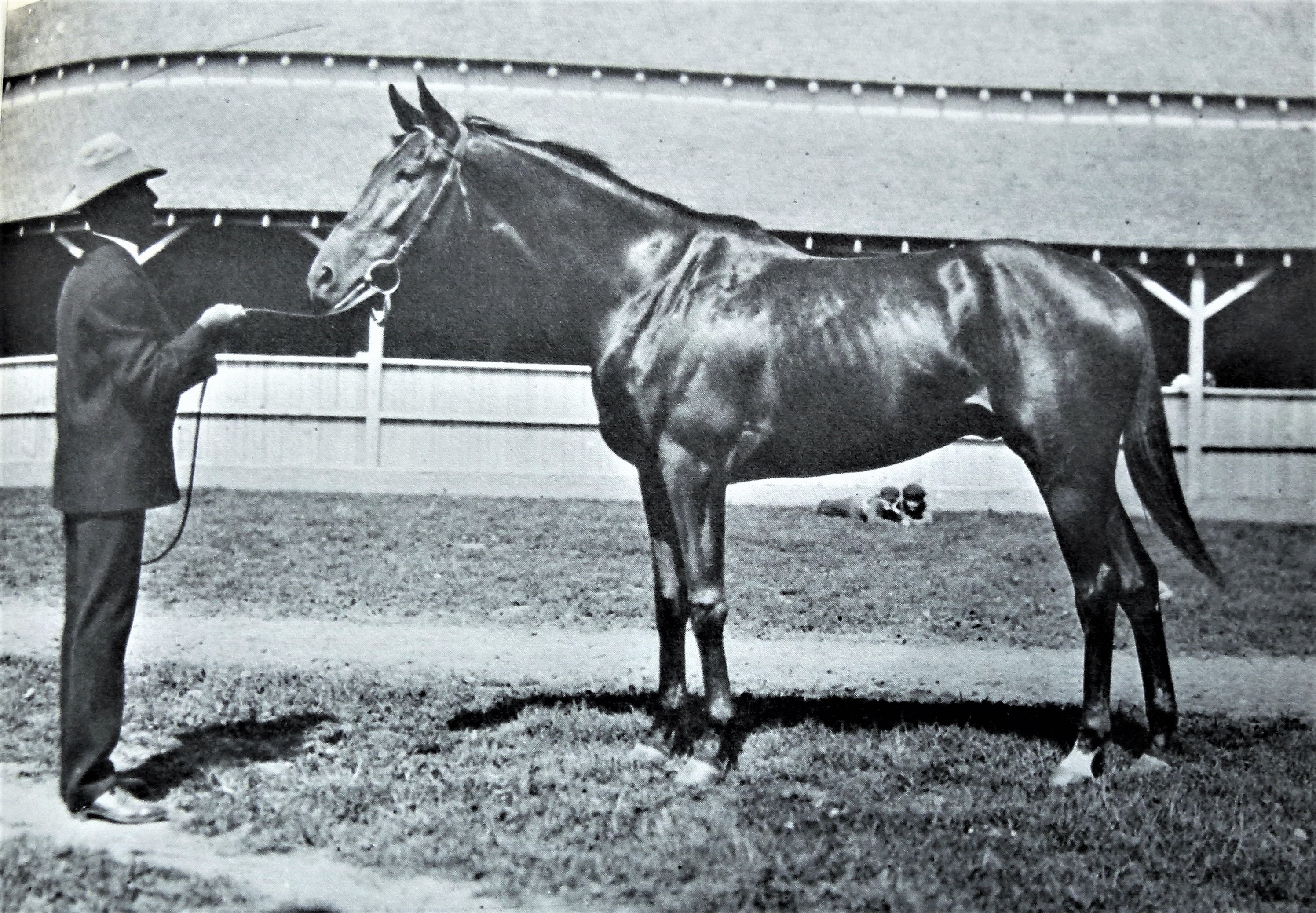 Sysonby was in utero when his dam, Optime, along with the rest of the stable of his late owner-breeder, Marcus Daly, were brought from the UK to the U.S. to be auctioned. She was purchased by Keene for $6,600 and foaled Sysonby at his Castleton Stud in Kentucky. Sysonby was named for a hunting lodge Keene's son Foxhall leased near Melton Mowbray, England.
Early in his juvenile year, Sysonby was due to be shipped to England to race but, when Keene went to see his horses prior to traveling, trainer James Rowe Sr brought Sysonby out in a blanket with bandaged legs and informed the owner that the colt was too sick to make the trip. It was all a ruse. Rowe had obviously seen something in Sysonby to want to keep him for himself.
A clue to Artful's chances in the Futurity lay in her jockey booking. Gene Hildebrand, who would become her regular rider, was champion jockey in 1904, the year he set a new world record for number of wins in a season, with 297. That year he won the Preakness, run at Gravesend, on Bryn Mawr, and was aboard Tanya for her Belmont victory the following year. He died of pneumonia aged just 34 in 1921.
The Futurity was an 'undeclared' race. Owners didn't have to announce beforehand their intended winner. Artful carried 114. Sysonby and Tradition both had 127. The three-horse entry of Artful, Rose Of Dawn and Tanya were the 2/1 second choice.
As they faced the starter, Sysonby, on the extreme outside, broke sideways but was rushed up to an early lead by jockey Arthur Redfern, who was recovering from a broken collarbone. Hildebrand settled Artful just behind Sysonby and the filly blew by him at the eighth pole to a convincing five-length win. Tradition was second, a head in front of Sysonby. Tanya, under 124 pounds, was fourth, with Agile,117, sixth, and Oiseau, 122, 11th. She went the slightly-under six furlongs in 1.11 4/5.
It would be Sysonby's only defeat in a 15-race career, and it's likely he had a valid excuse.
The story goes that Foxhall Keene disclosed that two days after the Futurity trainer Rowe had caught Sysonby's groom with "a roll of bills as big as your arm" and succeeded in making the groom confess that he had drugged the horse before the race.
Artful came back four days after the Futurity, beating a small field in the $10,245 Great Filly Stakes over the Futurity course at odds of 1/15 under 124 pounds. She then was sent on a six-week break.
On October 15, the last ever day's racing at Morris Park, she won the White Plains Stakes "going away" by two lengths with 130 pounds, giving 29 pounds to the runner-up, the colt Dandelion, winner of the following year's Travers, in a new world record time of 1.08 for six furlongs. There's a caveat to this time, however.
The 'Toboggan Slide'
It was run over the straight six furlongs of Morris Park's Eclipse course, which was described as having "a marked descent to the finish". Journalists of the time dubbed it the Toboggan Slide, and management perpetuated the nickname by staging the first Toboggan Handicap in 1890, a race that is still run today at Aqueduct.
Artful's record stood for exactly 50 years. On October 15, 1954, it was bettered by another filly, Vestment, carrying a comparatively lightweight 115 pounds, down the straight Widener chute at Belmont Park in 1.07 4/5.
The day after the White Plains, Artful and the 14 other horses in training that had been leased to Duryea, along with 19 Whitney yearlings, were auctioned at Morris Park.
Whitney's son, Harry Payne Whitney, purchased Artful for $10,000. He also secured Tanya for $7,000.
Artful won her first two starts at three, on June 28 in a six-furlong allowance at Sheepshead Bay where she scored by three lengths, and five days later over the same trip by two lengths.
Considered by some strictly a sprinter, in her next race she tackled a route of ground for the first time.
She triumphed in the $25,000, 1¼ mile Brighton Handicap over champion filly Beldame, Lawrence Realization winner Ort Wells, and the 1904 Belmont winner Delhi. The only 3-year-old in the field, she carried a featherweight 103 pounds, to the 4-year-olds Ort Wells and Beldame, both under 125. After being forced out from the rail by Ort Wells on the first turn, she went to the lead and stayed there, holding off Ort Wells by a length at the wire, with Beldame, who endured a troubled trip, ten lengths back in third. Delhi, top weight at 126, was last of the seven runners.
Hildebrand said after the race, "I knew she would win at the end of the first quarter. Ort Wells tried to pass me on the paddock turn but I just spoke to Artful and she went away from the field like a bird."
Brighton Beach management tried to arrange a match race between Artful and Sysonby, offering $20,000 over a distance of 1¼ miles or 1⅛ miles. Sysonby would be required to carry 114 to Artful's 109. A third horse would need to be nominated as match races weren't legal in New York then. The Daily Racing Form reported:
"Mr Whitney was abroad at the time, but in answer to a cable he announced his willingness to make the race for $10,000 a side and leave the distance to the judgment of his trainer. John Rogers was a man of few words and when approached he said, 'Let them name their own distance and terms, I am not only willing but anxious to make the match.'
"The matter of superiority between the great 3-year-olds was never decided. Mr Keene, after some consideration of the proposal, declined, saying that his colt was well engaged."
Attacks of fever
Was he afraid of being beaten by Artful again? We'll never know for sure.
The Form reported that Artful "suffered from recurring attacks of fever", which prevented her from filling her later engagements that year.
The Brighton Handicap proved to be her last race. She was retired to Whitney's Brookdale Stud in New Jersey, where she had been bred.
She finished her career with six wins and two seconds from eight starts, and earnings of $81,125.
Sysonby won what would turn out to be his last race, the 2¼-mile Annual Champion Stakes, in September 1905. He died in his stall at Sheepshead Bay of septicaemia in June 1906. He was buried there, but only briefly, as his body was exhumed and his skeleton placed on display for several years at the American Museum of Natural History in New York.
Breeding record
Artful produced four foals in consecutive years, three in the U.S. and one in England. She failed to produce any more foals in spite of being bred every year through age 23.
Through Paintbrush, her 1911 filly by Broomstick, Artful is the fourth dam of stakes winner Be Fleet (by Triple Crown winner Count Fleet), winner of the 1951 San Juan Capistrano. Paintbrush is also the fifth dam of Specify, a multiple stakes winner in California in the 1930s.
Runaway Groom, winner of the 1982 Travers, traces back to Artful. She is his seventh dam.
Artful's full sister, Artless, left an even bigger legacy in the breeding shed.
Foaled in 1907, Artless won one stake in England. She became the third dam of Legendra. A foal of 1944, Legendra was in turn the third dam of Mrs Warren, winner at two of the G1 Spinaway and G3 Schuylerville.
Legendra was also the dam of Rich Tradition, winner of the Selima, Spinaway and Schuylerville; and of Mrs Peterkin, the dam of stakes winner Dancing Champ. Dancing Champ sired Au Printemps, dam of 1987 Breeders' Cup Juvenile winner Success Express.
Mrs Peterkin is the second dam of stakes winner Mizzen Mast, sire of two-time Breeders' Cup Turf Sprint winner Mizdirection. She is also the third dam of Horse of the Year Zenyatta.
Mrs Peterkin is also the dam of Sweet Alliance, winner of the Kentucky Oaks and dam of Irish Derby winner Shareef Dancer.
Artful died in 1927. Along with Beldame, she was inducted into the Hall of Fame in 1956, the first two fillies to be enshrined in what was the second year of its existence.
Sources
Daily Racing Form online archives, various dates
National Museum of Racing and Hall of Fame website
New York Tribune, August 27 & 28, and October 16, 1904; and July 9, 1905, Chroniclingamerica.com
Pedigreequery.com
Racing in America 1866-1921, Walter S. Vosburgh, privately printed for The Jockey Club, Scribner Press, 1962
The Great Ones, Kent Hollingsworth, The Blood-Horse, 1970
The History of Thoroughbred Racing in America, William H. P. Robertson, Bonanza Books, 1964
The Original Thoroughbred Times Racing Almanac 2005, Thoroughbred Times Co., Inc., 2004
Thoroughbred Champions, Top 100 Racehorses of the 20th Century, The Blood-Horse, Inc., 1999