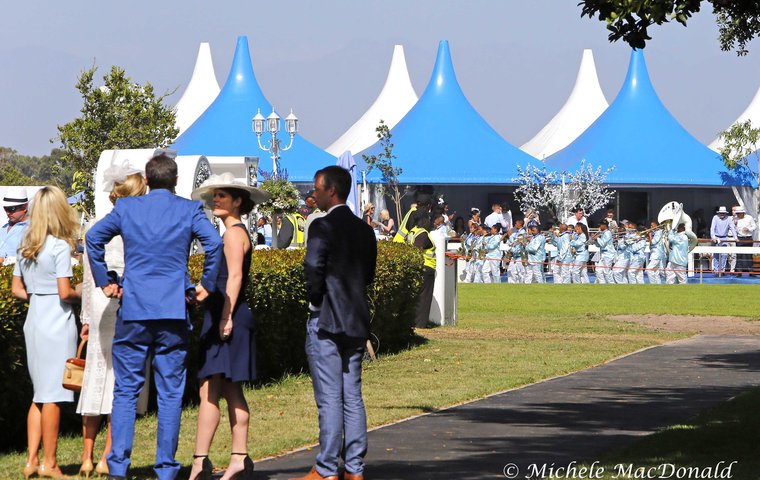 A gallant champion, a vivid display of fashion and refined elegance and the tinge of international scandal will collide as one of the most compelling dramas in the racing world unfolds at Kenilworth Racecourse near Cape Town, South Africa, on Saturday.

Two-time South African Horse of the Year Legal Eagle, a razor-sharp competitor on track who has never been beaten at a mile but who is so quietly gentle that visiting journalists occasionally have walked him after trackwork, will try to win his third consecutive L'Ormarins Queen's Plate.
Not only does the prestigious Group 1 race over 1600m offer entrée to the 2018 Breeders' Cup Mile, it also carries a distinctive history as Africa's oldest race, dating back to 1861, when Queen Victoria donated a silver plate as the winner's trophy and 500 sovereigns as the purse.
When he strides out of the paddock for this landmark test, which could establish him as a legend of his era, Legal Eagle will carry more than four-time South African champion jockey Anton Marcus on his back. He also will bear new silks, the day-glow yellow and purple dots of Braam Van Huyssteen, following his sudden sale in December.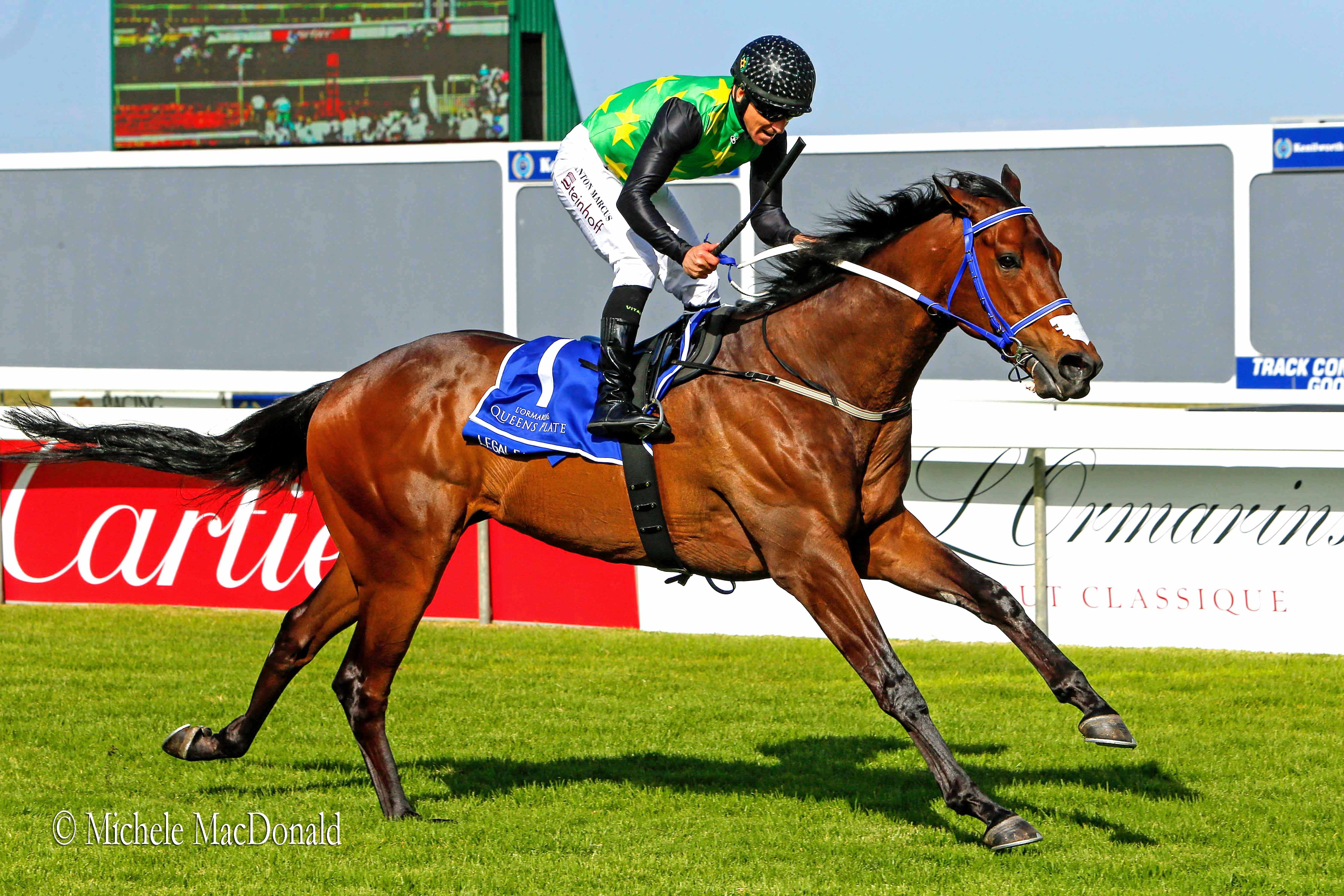 Markus Jooste, South Africa's leading owner for a decade and a partner with Coolmore and others with expensive bloodstock interests on four continents, sold Legal Eagle soon after resigning as chief executive of major furniture retailer Steinhoff International following the discovery of accounting irregularities that sparked ongoing investigations.
Under stiff financial pressures following the crash of Steinhoff shares by over 80 percent and concurrent published reports about a connection with a blonde polo-playing socialite, Jooste has negotiated terms with his bankers and is in the process of selling his South African runners from a stable numbering between 150 and 250 horses.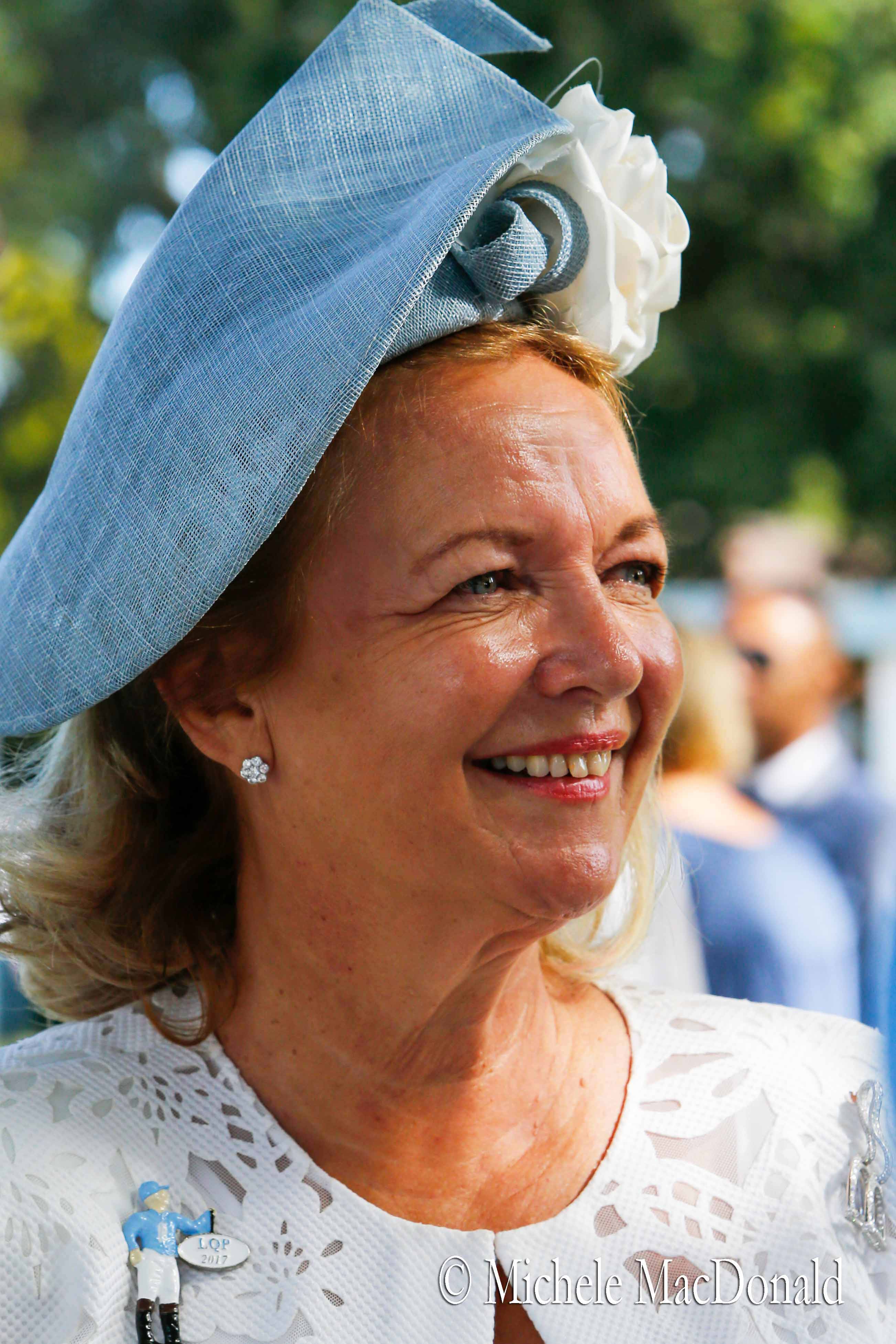 Yet even the specter of this sporting pillar's apparent collapse is not likely to cloud the lovely garden party atmosphere created for the two-day L'Ormarins racing festival by Gaynor Rupert (pictured left), who has made a huge investment in South African bloodstock with her Drakenstein Stud.
While Legal Eagle is definitely the star on the concluding festival program that will draw the interest of racing aficionados worldwide, there is no question that this is Rupert's stage, although the soft-spoken hostess would probably not say that herself.
Through an evolving sponsorship that features her family's wines and luxury brands such as Cartier that fall under the umbrella of husband Johann Rupert's Swiss-based Richemont conglomerate, Gaynor Rupert has artistically designed a racing celebration unlike any other in the world.
Those attending, from global dignitaries and even royalty such as Princess Eugenie in 2017 to the most casual racegoers, are asked to wear the Drakenstein blue and white colors. VIP stands are decorated in blue and white and even a ceremonial marching band dons blue and white uniforms while blue and white flowers adorn entrances and tables around Kenilworth, a jewel of green ringed by rugged mountains jutting across the horizon.
Edgy attire
While the presentation is upscale all the way, there is nothing stuffy about this occasion. Some of the attire is edgy during fashion contest judging, and champagne cocktails served in hollowed out ostrich eggs help fuel the intensity of fun.
"I got involved in racing and breeding horses and just wanted to give something back to the sport," Rupert said in an interview prior to last year's festival regarding the beginning of her involvement with the Queen's Plate.
"They approached me about sponsoring a race, which was about 12 years ago. Initially, I thought I would just pay the sponsorship fee, which is basically 50 percent of the stake, which I did. Then they said you are entitled to name the day and do whatever you like because there was no-one at the races other than maybe 20 people in shorts."
That's when Rupert began to imagine what might be possible. She envisioned that a colorful extravaganza celebrating racing in the African summer sun might appeal to a broad spectrum and thus be a good investment on several levels, including increasing public interest in racing.
"I thought I wanted to do something a little bit different to make it fun. At that stage, people weren't doing anything with color and I thought it might be interesting to ask people to wear something blue and white," Rupert recalled. "It would be easy: everyone has something white in their wardrobe and something blue."
The fact that Cape Town is known for its stunning azure skies against white beaches and the deep blue waters where the Atlantic and Indian oceans mingle just made the colors even more meaningful and appealing to all generations.
"The youth like it, and everybody likes looking throughout the year for something [to wear] that is the same theme every year," she said. "It's very easy. If you see a beautiful blue dress, you buy it!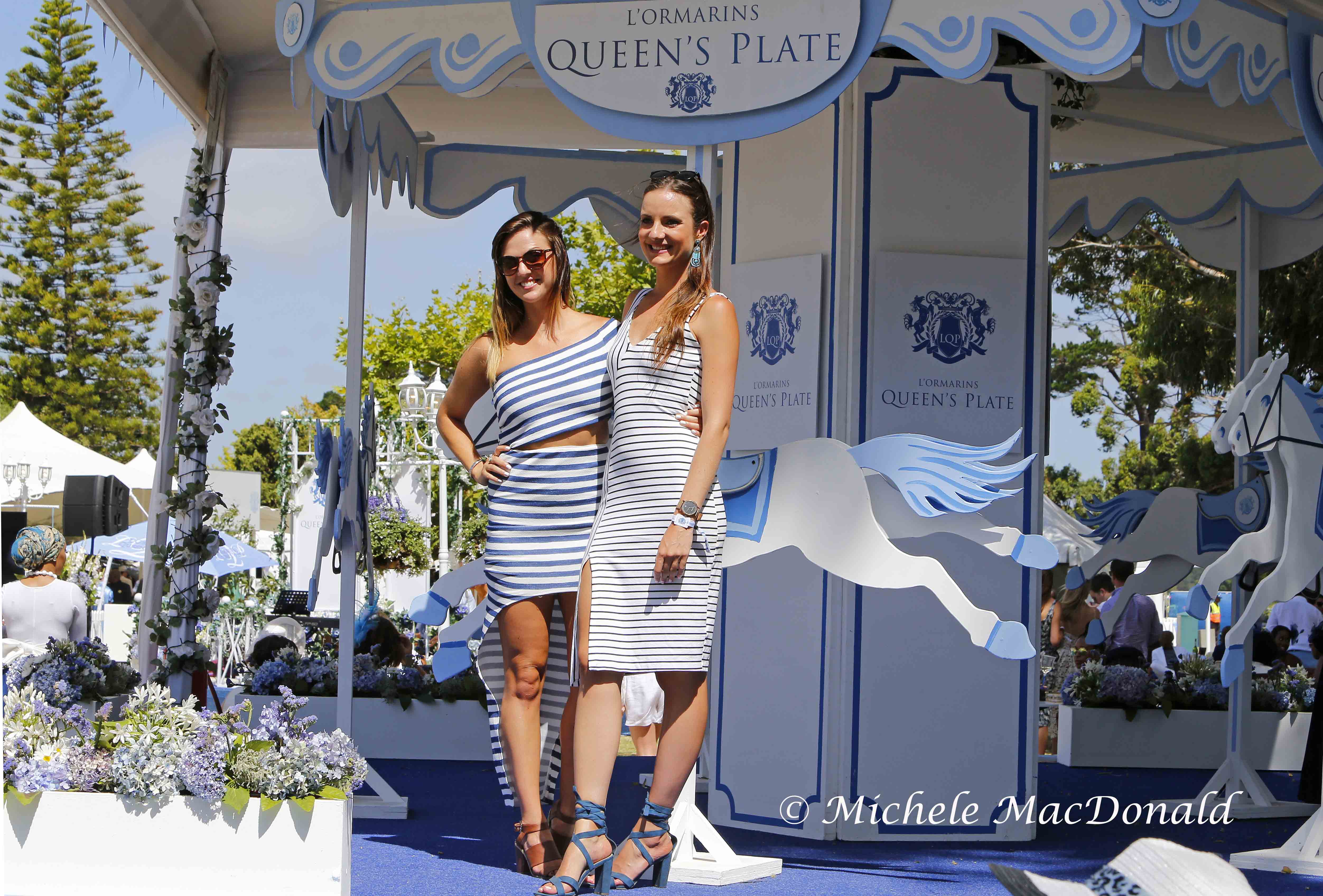 "We find that people who come to the Queen's Plate are like a huge party of people who know each other — people who love horses, people who have the right spirit. It's all about embracing what is good in the Cape from sun, fun, the beauty of the racehorse, the silks, the bugles, the romance of racing."
The Queen's Plate also features musical entertainment, but Rupert said her main goal has been to introduce more people to horses and the sport.
"Few people know how wonderful [racing is]. We all know because we're involved, but many people do not know the highs and lows of racing that are much more than in any other sport. I just wanted to try to show other people a little bit of that. I thought that one in 100 that come to the races might also fall in love and perhaps eventually buy a horse," she said.
"They certainly will have a lot of fun, whether they are betting or whether they are there to see the horses, and a lot of them do fall in love," she added.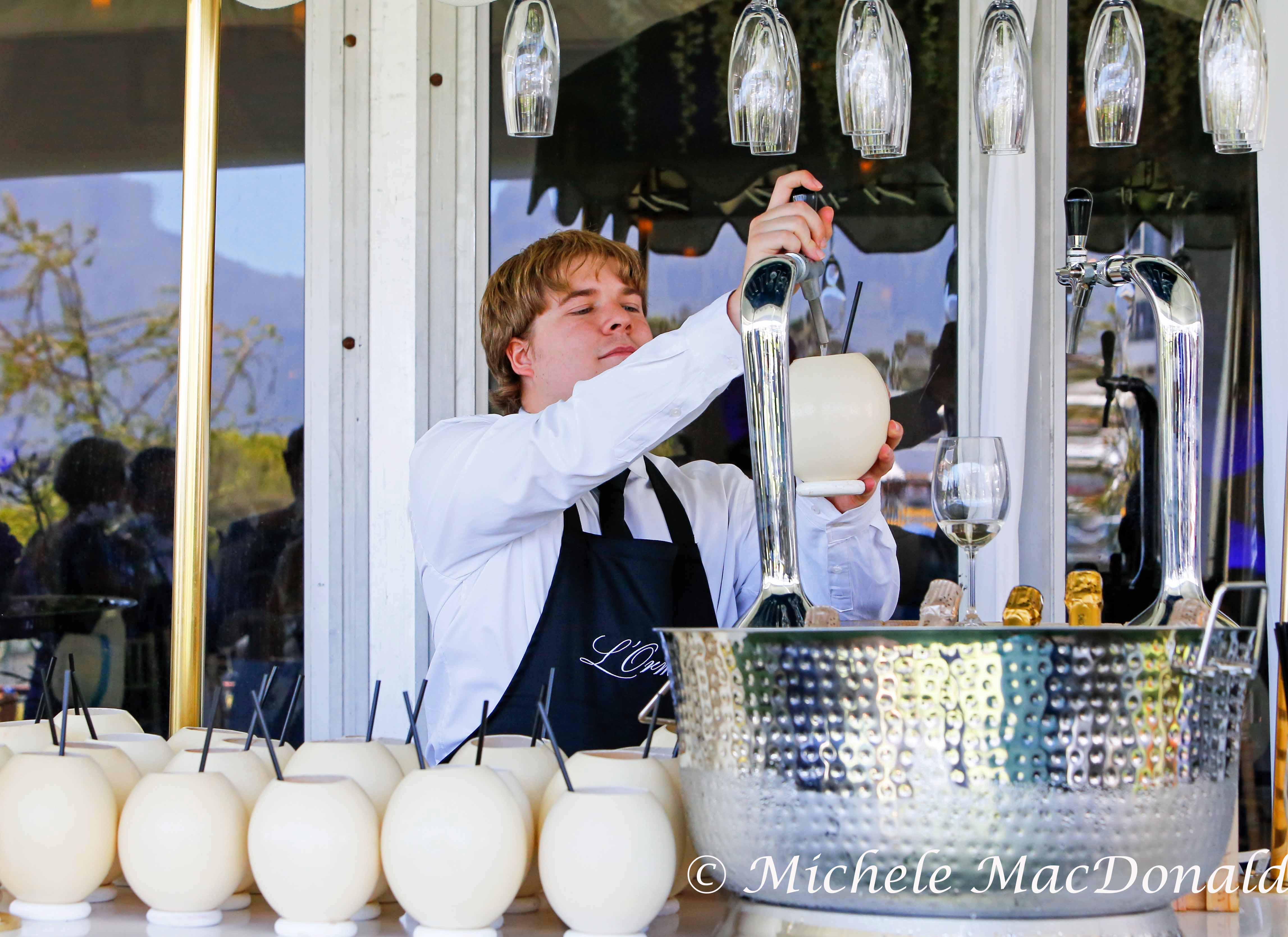 Rupert herself began to be drawn to racing and horses early in life.
"My grandfather had racehorses so I knew about them. He, in fact, banned his children from ever betting on horses because he had lost money betting, but of course that made his children immediately fascinated with it," she related with a smile.
"About 15 years ago, I went to a yearling sale in Johannesburg with a group of friends. My husband was there and all the men were looking at the horses and it just appealed to me so much."
Johann Rupert, whose net worth is estimated by Forbes to be over $7 billion, encouraged his wife to get involved with horses and she bought her first filly at that sale.
"That's how it happened," Gaynor Rupert said, adding that after her husband took over a family wine estate following the tragic death of his younger brother, Anthonij, he suggested they turn part of the land over to horses.
"He said, 'Why don't you bring your horses to L'Ormarins?' "I had a total of 12 and they were on Micky Goss's farm, Summerhill, so I think we didn't realize that 12 or 15 years later there would be seven stallions [standing under the Drakenstein banner] and 96 broodmares, and that we would have another farm in the Karoo [named Camdeboo] where the weanlings go to strengthen up. It's grown, and it's been an absolute pleasure."
Storied history
The sponsorship of the Queen's Plate also has been revelation while linking the storied history of the race with the even more venerable tapestry of the estate.
"I thought, 'My husband makes wine and our farm's name is L'Ormarins and we sell wine, so we might as well call [the race] L'Ormarins and then we can promote our wines,' which we did," Rupert said.
While L'Ormarins was a somewhat difficult name for many South Africans to pronounce, it proved an ideal candidate for a role with a high-profile sporting event and the result has been that now "it's a name that everyone knows," she said.
The name derives from the village of Lourmarin in Provence, France, which was the home of Jean Roi, who emigrated to the Drakenstein Valley of the Western Cape in 1688 and was among a group of French Huguenots who received land grants from the Dutch East India Company. Roi named his land after his hometown and planted thousands of grape vines in 1694.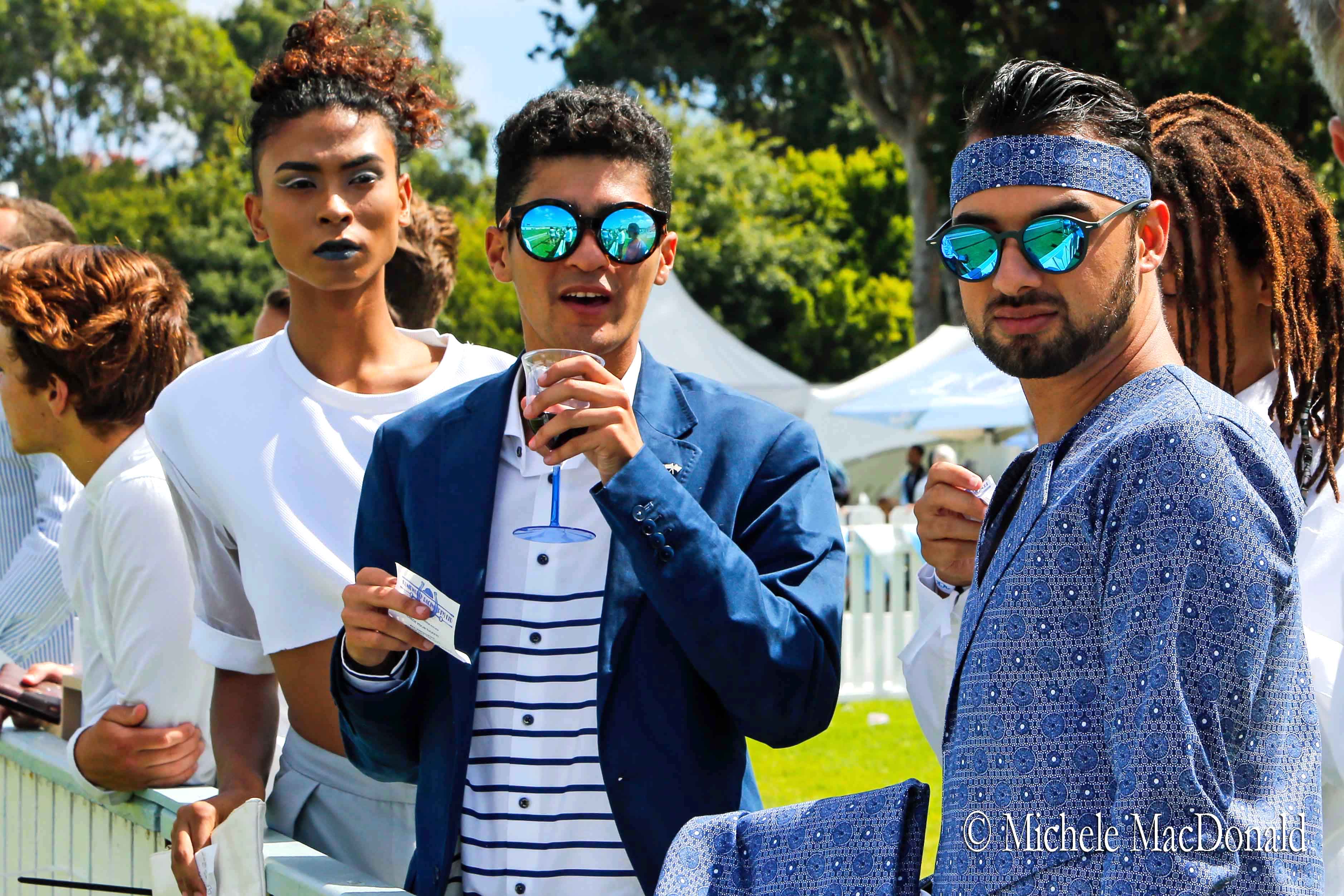 After centuries of winemaking on the land, the estate was purchased by the Rupert family in 1969. In subsequent years, parts of the property were restored and state-of-the-art facilities established, and L'Ormarins has earned more than 70 trophies and 450 medals for its wines.
Meanwhile, not only has Gaynor Rupert woven L'Ormarins into the sporting and entertainment culture of South Africa, she also has managed to tie the wine and South African racing to Britain as she continued to develop the sponsorship.
L'Ormarins now is involved with the Glorious Goodwood festival in August each year through sponsorship of a Group 3 for fillies; in addition, the winner of a promoted fashion contest during the festival receives a trip to the Queen's Plate.
Impressive résumé
Reciprocally, the British festival sponsors the G2 Glorious Goodwood Peninsula Handicap on the Queen's Plate program, and that race has drawn 15 runners this year. Tattersalls also is sponsoring a pair of races on the festival programs on Friday and Saturday, and Cartier is backing the G1 Paddock Stakes and the Group 2 Sceptre Stakes.
Rupert has named other festival races after her stallions, including 2015 Queen's Plate winner and Horse of the Year Futura.
Many top South African runners have won the Queen's Plate, including champion and later leading sire Jet Master, who prevailed in 1999 and 2000. Jet Master's phenomenal son Pocket Power won the Queen's Plate four times, from 2006 through 2010.
Legal Eagle brings his own impressive résumé to this year's race. Still a 6-year-old under Southern Hemisphere rules, the gelded son of Greys Inn bred by Avontuur Thoroughbred Farm has won 11 of 20 starts and over 9.65 million rand (about $780,000).
In 2017, Legal Eagle and Marcus defeated ten tough rivals — including eventual Durban July victor Marinaresco, 2016 Durban July winner The Conglomerate, Triple Crown winner Abashiri and multiple G1 winner Captain America — with a withering stretch run.
In this year's race, 11 challengers topped by Marinaresco and Captain America are set to take their place in the starting gate. Legal Eagle has drawn post two, which would allow him to repeat his rail-oriented, forward trip from 2017.
Legal Eagle prevailed in his Queen's Plate prep on December 2, taking the G2 Green Point Stakes at Kenilworth by a half-length over champion and Cape Derby winner Edict Of Nantes, another former runner for Jooste's Mayfair Speculators (currently 12th in the world owners' rankings). Also caught up in Jooste's woes, Edict Of Nantes was recently sold to race in Hong Kong.
Despite his own ownership shift, Legal Eagle has remained with champion South African trainer Sean Tarry. After the Green Point win, Tarry declared simply: "It is a privilege to train horses like this."
Future goals for Legal Eagle could include racing in Hong Kong or Singapore, Tarry indicated. So far, a Queen's Plate winner has not made it to the Breeders' Cup, with quarantine restrictions involving South African horses a barrier to extensive international competition.
Ambitious goals
While Legal Eagle is the king of this year's Queen's Plate field with a top South African rating of 123, it is intriguing to see that Rupert is co-owner of two runners that will try to bring the sponsored trophy home to Drakenstein: Argentine-bred Hat Puntano, by Hat Trick, and Gold Standard, a son of Drakenstein's Trippi, South Africa's leading sire in 2015-16.
Rupert will be at the forefront of Queen's Plate festivities as hostess of racing's most genteel party for owners, bloodstock agents and others from around the world, but her focus will undoubtedly include the racecourse. She has made it clear, through the development of both the racing festival and Drakenstein, that she has ambitious goals — and that she can reach them.
"Everybody would love to breed the perfect racehorse, but I also just really try to break even, so I do run the farm commercially as well as try to breed and race," she said in her disarmingly low-key manner. "We do well — I'm very pleased. Every year we improve."
It is not difficult to imagine even more blue and white in the winner's circle at Kenilworth if Legal Eagle is unable to find his wings and soar for the third time. But, regardless of who captures the Queen's Plate and of the drama injected into the proceedings by the Jooste situation, Rupert can be counted on to make the festival a winning weekend to remember.