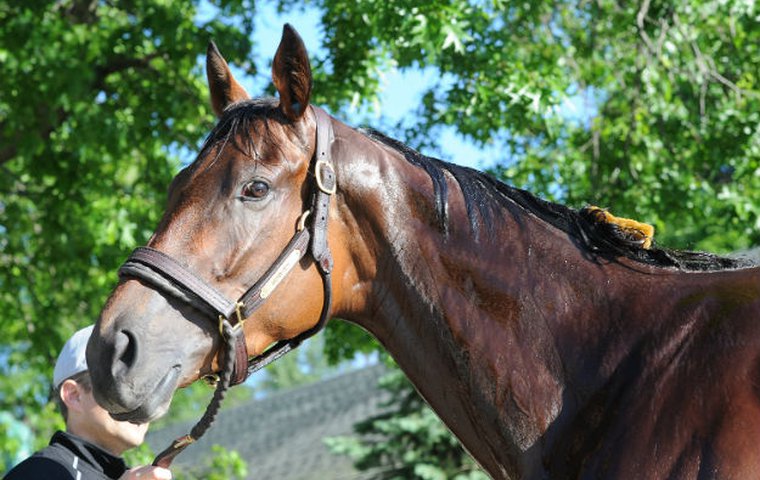 "It was the best performance of any horse I've ridden – by far. She's in her own league."

These words tumbled from the lips of Gary Stevens, perched at the foot of the Santa Anita grandstand, while he watched the sun push clear of the bright crimson slab of the San Gabriel Mountains facing us.
The jockey's renown for overstatement isn't lost on him. "People say, 'oh, it's Gary Stevens, the last horse he rode is the best horse he ever rode, blah blah blah.'" But he remains unrepentant.
"She's in her own paddock," he said. "She breaths different air to any horse I've ridden. No matter what happens from here till tomorrow, she's the best that I've ever sat on, or ever will sit on. Anything. Grass. Dirt. Sprint. I don't care."
The horse in question is Beholder – the 5-year-old mare who is seeking to become only the second female (after Zenyatta) to win the Breeders' Cup Classic, which will be run at Keeneland a week on Saturday (October 31). And Stevens' idea of the performance to top them all occurred in the G1 Pacific Classic in August at Del Mar. This was the race in which Beholder not only beat the boys, she put them to the sword in a manner rarely seen since the days of Boadicea.
To put Stevens' comments into some kind of context, he places Beholder's Pacific Classic performance ahead of Silver Charm's 1998 Dubai World Cup victory against a field chock-full with greats. Better than Teflon-tough Serena's Song becoming the first filly to win the G1 Haskell Handicap against her male cohorts in 1995. Better than Royal Anthem's 1999 G1 Juddmonte International success at York, when the Henry Cecil-trained colt catapulted away from his nearest pursuers to garner a Cheltenham-like margin of victory in one of Europe's most prestigious contests.
'I couldn't believe I was so far in front'
Not that Stevens expected Beholder to lose at Del Mar that day. "I think we would have been highly disappointed if she didn't win." It was the manner of her victory that shocked. At the wire, she'd put just over eight lengths between herself and the runner-up, Catch a Flight.
"Neither myself nor Richard [Mandella, trainer] expected for her to win like she did," Stevens said. "I was literally in awe coming around the far bend. When she opened up on them, I hadn't asked her to do anything until we straightened out into the stretch, and when she switched onto her left lead I chirped to her one time and that was it. I looked up at the big screen and couldn't believe that I was so far in front. I let out a war whoop just out of excitement and she hit another gear with me."
Given Beholder's race record, Stevens and Mandella had every right to expect the best. Beholder already has two Breeders' Cup victories to her name - the 2012 Juvenile Fillies and the following year's Distaff. Two Eclipse awards sit on her mantle-piece, one for Champion Two-Year-Old Filly and one for Champion Three-Year-Old Filly. And she has already notched nine G1 and 15 overall wins during a 20-race career spanning three seasons. She has finished worse than second only once. Even then, she left the track that day with bloody war-wounds.
But, despite this long laundry list of accomplishments, Beholder had yet to compete outside of her own sex until she lined up in the Pacific Classic. Before the race, therefore, many doubted her ability to fend off the boys. For Stevens, those fears had been quashed nearly two years before.
"I rode her [when she won the 2013 BC Distaff] and I rode the winner of the Breeders' Cup Classic the next day. Had she run in the Classic, she would have given those boys everything they wanted. I'm not saying she would have won because that would discredit the horse I won on [Mucho Macho Man], but she would have given them all they could handle."
'The potential Classic rivals that scare me'
Beholder's Distaff win came when she was still only three. Now five, Beholder is reaching the pinnacle of her powers, said Stevens, which is bad news for her potential rivals in the Classic. Not that Stevens underestimates the task ahead.
"We've got a job to do. I've got full respect for the competition. Honor Code, he scares me. Tonalist, too. Gleneagles scares me. Gleneagles I think is very interesting. It's a great race."
Gleneagles, Aidan O'Brien's challenger, is the horse that Stevens lingered on the longest. The 3-year-old son of Galileo ticked off a hat-trick of G1 victories earlier this year — in the English and Irish 2,000 Guineas and the St. James's Palace Stakes at Royal Ascot — after which he was repeatedly benched as a series of big-race targets came and went, soft ground each time torpedoing plans to run.
O'Brien eventually took the plunge on Saturday, letting the horse take his chance in the Queen Elizabeth II Stakes, one of the highlights of British Champions Day at Ascot. Gleneagles finished sixth, about two and a half lengths behind the prolific Freddie Head-trained winner, Solow.
O'Brien said afterwards: "We had an eye on the Breeders' Cup Classic and, if he was to go there, he needed to run so we took a chance. The race was messy as well. He is a fast-ground horse and a fast horse and that's what we've always thought.
"We probably shouldn't have run him but it is a big day and there were a lot of pros to running. We'll have to take him home and see how he is over the next couple of days before thinking about the Classic."
O'Brien almost pulled off a famous victory in the Breeders' Cup Classic when dual Classic victor Tiznow narrowly edged out Giant's Causeway in 2000.
"He considers [Gleneagles] better than Giant's Causeway," Stevens added. "And they damn near beat me two years ago [with Declaration of War, third to Mucho Macho Man]. Gleneagles has got speed - they'll be using me for their target. I know right now what they're thinking and what Ryan Moore's going to be thinking. I think it's great."
Then there's the not inconsiderable prospect of a certain Triple Crown winner making the line up. Stevens said: "American Pharoah, I respect the hell out of him, but he hasn't faced what she has faced. And don't forget, I was second to him on Firing Line in the Derby, and [Firing Line's] a very good horse. However, if back in May American Pharoah was to run against Beholder, I would take two seconds to choose Beholder."
If all the leading contenders make it to Keeneland — Stevens added American Pharoah to that list — he anticipates a Classic run at a helter-skelter pace. If so, an upset could be on the cards, he said. "It could very well set it up for a horse like Honor Code or Tonalist to come running because we're all going to be rolling."
The worry about racing outside California
As for Beholder's Classic preparations, her prep in the G1 Zenyatta Stakes at Santa Anita — "a maintenance race" — couldn't have gone more seamlessly.
That day, she coasted three-and-a-quarter lengths clear of the second horse home. "It was the perfect workout five weeks before the race. I'm sleeping pretty easy right now – probably better than Richard. She's fit. She looks happy. And I've got the greatest trainer on earth taking care of her."
Everything has gone smoothly in her training since, confirmed Mandella. "She's doing great. Her last race was probably as easy as a horse could run and win. She came out great. I don't think she could be better at this point."
It's the issue of traveling that gives some of her fans butterflies (she was due to fly to Kentucky yesterday). Beholder's only two appearances outside California have met with defeat. The first time, in the 2013 G1 Kentucky Oaks at Churchill Downs, she threw a tantrum in the paddock.
"She had a tough time in the warm-up. She actually fell down, got up, we put the rider up, and she still ran her heart out to be second [to Princess of Sylmar]. I couldn't have been more proud of her, to be honest," Mandella said.
The second time was in the G1 Ogden Phipps Stakes at Belmont Park last year, when she finished fourth. "That second time, she was cut very badly on her hind pastern by another horse near to the bone, real deep. That wasn't her fault. We can forgive that."
A victim of circumstance? Certainly. But those memories are hard to shake off. As such, Mandella is keeping his options open, with the Breeders' Cup Distaff a fallback if things don't go according to plan after she settles into her Kentucky digs.
Mandella: 'Sometimes she can be a monster'
"You never know," he said. "She is a filly, so if I ship her and she gets a little too sensitive from the shipping and I feel that she isn't at the level she was at Del Mar, then I can always go to the Distaff. It's hard to resist a Breeders' Cup race that looks so good for her. But, after 42 years of training, and [owner] Mr. Hughes having done all that he's done, it's exciting to think that we can take a shot and try to beat the Triple Crown winner. This is why we do this."
Because of the injuries she sustained in the Ogden Phipps, Beholder trains with a protective sock on her left-hind fetlock. That old injury is still a headache – as Beholder's unladylike antics can be. She's a "very sweet, wonderful mare 95 percent of the time," Mandella said. "The other five, she's a monster."
Janeen Painter, Beholder's exercise rider and a long-time fixture at the Mandella barn, said that one of Beholder's favorite tricks is to double-barrel with both hind feet - "and see what she can nail, whether it be human or a wall or a horse, it doesn't matter. She's just so mad in the moment."
According to Mandella, it's just aggression.
"It's not nervousness like a filly that you would ordinarily deal with. She's aggressive, like a colt. When she's bad, she's real bad. But nothing mean - just feeling good. She's a lot to deal with at some points, but most of the time she's very nice … That's what makes the difference of her being so good."
That she is good is beyond question. But how does she compare to some of Mandella's other champions?
"I've had some very good horses," he said, very matter-of-fact. His 2003 Breeders' Cup Classic winner Pleasantly Perfect, for example, was "as good as they come." Halfbridled, the same year's Breeders' Cup Juvenile Fillies victor, was a "hell of a Champion Two-Year-Old."
Why Beholder may race on next year
"But it's [Beholder's] longevity to stay so good for so long that sets her apart," he added. "She's a Grade 1 winner at two, three, four and five. And it looks like she's reaching her peak at five. You can't find too many that have done that. She's in her own little spot. She's on a par with anybody – if not better, maybe."
Mandella has long suspected that the full reach of Beholder's abilities are vast, and like Stevens, he thinks that her Breeders' Cup Distaff victory against Royal Delta and Princess of Sylmar as a 3-year-old "raised her to another level." But it wasn't until the Pacific Classic that his suspicions were confirmed.
In his quest to find out, Mandella turned over every stone that crossed his path. And the Beholder who eyeballed the boys that day at Del Mar was tuned to a concert pitch unseen in previous races, he said.
"I did tune her up another notch going in there," he said. "We hadn't had to do that against the fillies where she was already pretty much the best. But we put more pressure on her going into that race, and she responded like the champion she is, gave a bigger race with it."
As Mandella talked, one eye followed the horses that passed in carousel fashion by the office door. Something caught his attention, and he took off down the shed-row for closer inspection. It's this meticulous attention to detail that prompts someone like Stevens to consider Mandella "the greatest trainer on earth." It's also an integral component of Beholder's enviable longevity as a racehorse at the top of her game.
When Mandella returned, there were only minutes before the next set headed to the track. And so I turned to Beholder's future beyond the Breeders' Cup, should her good form continue to hold.
"Mr. Hughes is seriously considering, if she looks as good as she does now, racing her next year," he said. "And the reason would be this: you couldn't name the amount of money it would take to find another like her. You couldn't name it – there is no answer. You could spend all the money in the world and not find one like her again. So, if she's sound and healthy, why not? It keeps me off the streets and out of the welfare line."