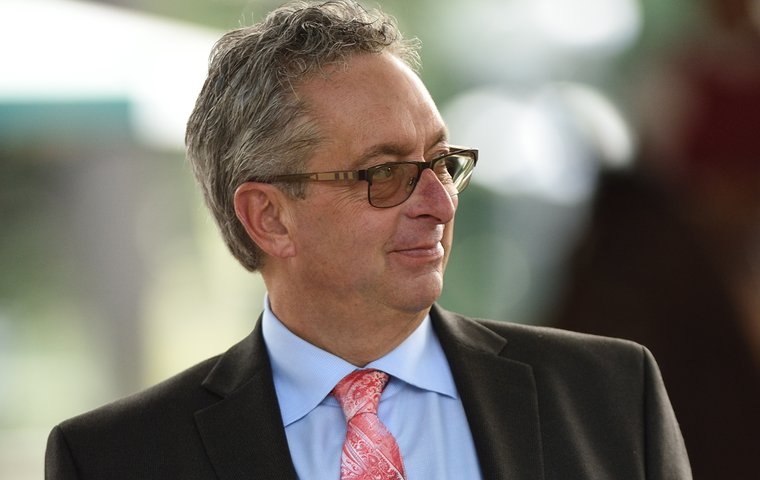 Last week, the U.S. Thoroughbred racing industry lost a major figure when Gary Contessa announced he was discontinuing his training business after 35 years.

Contessa has been a major force on the NYRA circuit since he moved to New York from New Jersey in 1993. During that time, he was the leading trainer at 17 of its meetings, was a three-time NYRA trainer of the year (2007-2009), and set a record for most wins in a year at NYRA (157 in 2007).
He was also recognized on four occasions by the New York Thoroughbred Breeders as their trainer of the year and participated in numerous industry organizations, including 20 years on the board and ten years as president of the Exceller Fund, and ten years on the board of the New York Thoroughbred Horsemen's Association.
I spoke to Contessa about his many contributions to the industry and to learn more about his plans to stay involved in the racing industry.
CEH: Gary, I know you have had a long involvement with our sport and a passion for the Thoroughbred racing industry. What were the major factors behind your decision to stop training?
GC: Since 2012, I have had a burning passion to bring my expertise, my ideas and work ethic to the management side of racing. I see things that other people do not see. Through my many positive interactions with my owners, I believe I can help build programs for track management that will provide better customer experiences for a day at the track. When I look at something, I think, "How can I make that better."
I think racetracks have to embrace the fact that they are sports and entertainment venues. A racetrack is not just a place where people come to gamble. Quite the opposite, it is a place where people come to be entertained. I aspire to have the opportunity to work for a racetrack and use my background to enhance the customer experience as well as the experience for our owners, trainers and jockeys. I have proven ideas about equine safety, and a strategy for developing programs to reach out to the local communities around the tracks to bring people to the racetrack.
As for my decision to leave training, the creation of super trainers has made it very difficult for smaller trainers to make a living. With the H2B visa limitations, the cost of securing good labor has soared, while following the regulations set forth by the Department of Labor is difficult and arbitrary. All things considered, I believe that this is a great time to follow my desire, and seek a track management position. I am certain that I can make a difference at any racetrack, and I am making plans to realize that goal.
Can you tell us some of the most rewarding experiences that you have had in your 35 years in Thoroughbred racing?
The most rewarding moment I had as a trainer was my very first Grade 1 winner [in 1991] with a filly called Do It With Style. It was also the first Grade 1 winner for my jockey, Shane Sellers, who had just lost his bug [his apprentice allowance]. Shane went on to be a phenomenal journeyman, one of the best in the game.
In her previous race, Do It With Style, ran in the Comely Stakes at Aqueduct against Meadow Star, who was the undefeated 2yo Eclipse Award winner, owned by Carl Icahn, and the prohibitive favorite. Julie Krone was my rider and I told Julie that the horse hated the whip and under no circumstance, please do not use the whip. In the race, turning for home we had a four-to-five-length lead, but Meadow Star was rolling. Inside the sixteenth pole, Julie saw Meadow Star closing and she went to the whip on our filly and that was it. Do It With Style flattened out her ears, switched back to the left lead and pulled herself up and we finished second.
For her next race, we shipped to Keeneland for the Ashland Stakes. For three-to-four weeks before the race, I tortured myself: Do I run with the whip or take it away.
A few days before the race, I had dinner with my owner, Leonard Green, and, with a little assistance from a glass of bourbon, I told Leonard that I was planning to run the filly without the whip and waited for his response. Leonard surprised me and said 'you're the expert, do what you think is right'.
The last thing that I had to do before the race was go to the stewards and get their permission for my rider not to carry a whip. I walked into the stewards' office, which was the first time I had met any of them. I told them that I am requesting to have my jock ride without a whip in the Ashland Stakes. The first words out of one steward's mouth were: "Who the hell are you." I told them that I was Gary Contessa and they asked for my drivers' license before they would approve my filly running without a whip.
The rest is history. At the time, Do It With Style was the first Grade 1 stakes winner to win a race without a whip.
Another important rewarding experience was bittersweet. It was in 2007, when I set the record at the time for the most wins in a year at NYRA. As it came down to the end of the year, there was part of me that did not want to break the record. Why? Because the record holder was none other than Hall of Fame trainer Frank Martin, who was an important mentor for me as I was his assistant trainer for many years before I went out on my own. Frank was a gentleman, so he warmly congratulated me, but I knew deep down that it upset him as he was a very proud and fiercely competitive man.
Finally, I have had a lot of rewarding experiences in my many efforts to introduce racing customers and fans to the racetrack experience. More on that later.
The Thoroughbred racing industry as a whole does not rate very high in promoting the customer experience, which is perhaps the most important area where we can truly grow the reach of sport. What are your thoughts on this?
I have very strong opinions in this area. Racetracks have to realize that they are sports venues and people that come to a sports venue want to be entertained.
I am a die-hard Mets fan. When I go to a Mets game, I am keenly interested in the game, but I want to be thoroughly entertained between innings. That can include putting television shots of fans' pictures up on the jumbo screens, running contests in the seats for fans, shooting T-shirts into the crowds, etc. Customers are thoroughly and constantly entertained at sports venues.
Racing needs to make a much stronger, concerted effort to engage the customers beyond just providing the betting. Racing fans also need to be acknowledged and catered to.
I am a very strong advocate of providing the customer good food at a decent price. Currently, at most racetracks, the food is sub-par in quality with a very limited menu, and the prices are often ridiculously high.
People are very locked into their kids and providing a good experience for them. Saratoga is the rare racetrack that provides the opportunity to bring a family to the track and have a number of experiences available for the parents, the children and the grandparents.
Betting customers are important, but your customer service activity cannot be solely focused on the bettors. Kids that get a jockey's signature or a pair of goggles, who walk down to the rail to watch a race or see the favorite jockey or horse in the paddock are building a positive attitude toward racing, which can make them fans for a lifetime.
One huge opportunity that is underdeveloped at most tracks is to focus on getting the communities to come to the races.
Most of your employees are members of the communities surrounding the racetrack. Engage these employees and strategize on what cultural events, festivals, local sports team etc. can be brought into the track. Plan a series of events hosted by the track for a winning sports team or a community organization which has been recognized in the region and invite them for a celebratory day at the track. Use your on track television capability to promote these community events at the track and broadcast some profiles of these organizations and take live shots throughout the day's festivities.
How are your plans going in transferring your horses to new owners. I know that you have a highly regarded longtime assistant, Amira Chichakly, who is opening her own barn. Could you share with us some of your thoughts on her strengths and her contributions to the Contessa barn.
Assistant trainers are always the first line of defense in any training outfit. A good trainer will mentor their assistant, and that is what Frank Martin did for me. When I went out on my own, I thought that part of the role of a trainer was beating up jockeys and screaming at the help, because that's what Frank Martin did. More importantly, Frank taught me how to be a phenomenal horseman as he was one of the greatest horsemen that I have ever worked around. Frank would look at a horse standing 100 yards away and would say something like "that horse's left shoulder is bothering him", and he was always right.
Working as an assistant for a number of years for a top trainer is where good trainers come from, and there are many examples: Todd Pletcher was an assistant trainer for D Wayne Lukas, Kiaran McLaughlin was an assistant for Lukas, and Chad Brown was an assistant for Bobby Frankel.
I have a lot of respect for Amira and appreciate all of the good work that we accomplished. She is an excellent person, but it is still tough for a woman starting out on her own. However, if she could put up with me for ten years, she will be able to work with anybody. She is setting up her own barn, and I would project that somewhere around half of the 40 horses that I currently train will go to her barn and the others will move to trainers that already have horses for that owner.
I do think that this is a good opportunity for Amira, and the relationships that she has developed with owners in the Contessa barn should serve her well.
When I went out on my own, I went to Monmouth with three 'nickel' claimers, and I think that I owned all three. I was very fortunate in my early days as a number of New York trainers sent me three to six horses to run at Monmouth outside of New York.
Gary, you have been outspoken about the need to engage the customer, the communities, the New York professional sports teams, etc. Could you discuss a few examples of what opportunities the racing industry might be missing out on?
Candidly, it seems to me that the racing industry misses out on almost every opportunity. Racing is laser-focused on issues related to the gambling dollar, the bettor and the bottom line. In my view, there are almost unlimited opportunities on the other side of the racetrack fence.
There are many opportunities to sponsor car shows and other trade events. There are many people in the communities that surround Belmont and Aqueduct that would be very keen to attend sponsored events for retired high-profile athletes from the Yankees, the Mets, the Islanders, the Rangers, the Knicks and the Nets.
Specific team celebratory events would be scheduled on a regular basis throughout the year. An effort then would need to be made to encourage these sports fans to get involved in racing activities. This would be especially important if the New York legislature grants Aqueduct and Belmont Park the opportunity to take sports betting currently being discussed.
On a more granular note, NYRA should cultivate relationships with the local high school and college athletic programs. For example, Floral Park (which is one of the towns in which Belmont Park resides) just won an important national championship for their high school football program.
When Belmont Park opens in April, it should host an event for family, friends, the team, school officials and Floral Park government officials. Invite the local press, television stations and broadcast some of the events on the in-house NYRA television feed. There will be similar community sports opportunities throughout the year.
You have spoken about your passion for Thoroughbred racing and your interest in pursuing opportunities in racetrack management. You have raced at racetracks around the country and have some things that have impressed you. What are the types of activities and skills could you bring to the management side of racing?
Since 2012, I have had a passion to end up in a management position of a racetrack. I have a razor-sharp focus on how I would propose to improve the racing experience for the customers, owners, trainers, breeders jockeys and other racing participants. This gets back to my original point: racetracks have to think of themselves as sports and entertainment venues and give people an experience that transcends betting on horses.
Here is a simple example. I have never gone to Disney and not had the time of my life. Disney has shown us that making people feel good goes a long way. If people leave your venue after having a good time and are treated well, they are going to come back and bring family and friends.
This experience should start as soon as they enter and last the entire day. Demand excellence and the very best in customer service from your employees. When I go out for an entertainment experience, if the first person I encounter is dismal and unhappy, it sets the tone for the entire day.
My mantra is customer service, and at the racetrack that includes the customer as well as the owners, trainers, jockeys and their families.
Another strategy that can be done on a very low budget is the use of the in-house television capability. At a recent Saratoga race meeting, I suggested to the in-house television network that between races they have a traveling cameraperson that walks around the grounds and takes television footage of people enjoying themselves in all parts of the track: clubhouse, paddock, backyard, top of the stretch hospitality areas, etc.
These upbeat video clips are entertaining and also introduce other areas of the track that people may not be familiar with. These television clips were a big hit. My simple, but disciplined strategy for the racetrack operator is: "Once you get people to come to the track, you want to figure out how to get them to come back."
Here are a couple of simple and excellent examples of increasing customer engagement from the two Florida racetracks.
Tampa is a very well run track with an excellent management team that pays attention to everything from racing surfaces to the entire customer base.
As an example, they have two small but effective programs for the customer. On Saturdays at Tampa Bay Downs, throughout the early races, the track announcer tells the customers that, at the end of the sixth race, all children of a certain age are invited to come to the winner's circle to have their picture taken with all of the jockeys that rode in the sixth race as well as a small gift celebrating the event.
The parents, their kids and friends are having a great time and many will be coming back. In a similar vein, I am training a string at Tampa this winter and was invited to join the track announcer, Richard Grunder, for a Saturday morning conversation before the races in a discussion with well over 100 racing fans in attendance, from serious bettors to newbies.
Gulfstream Park, because it is in a much larger market, offers a very lively carnival atmosphere and a range of entertainment options. The facility is set up to cater to a broad range of customers in different locations and attracts a much younger and more enthusiastic crowd than you will see at most racetracks.
Finally, I do not just talk about enhancing the racing experience at the racetrack, I have undertaken two unique racing experiences for the casual or serious fan that wants to know more about the many aspects of the game that I experience as a trainer. Both of these programs are underwritten by the Contessa barn with no support from the racing association.
The first that I have developed over the years is a YouTube series on a wide variety of topics. In all, I have produced over 40 YouTube videos, most of them done during the Saratoga race meeting. Here are two videos that I think you will find interesting:
Anatomy and motion of a horse
How Can We Do it Better
For the remaining Contessa videos, you can google Gary Contessa YouTube Videos.
The second initiative that I do during the Saratoga race meeting is I donate barn tours of my barn at Saratoga for a broad range of charitable organizations that sell tickets or secure sponsors for their event. I arrange all of the details and receive no underwriting for these events from any source. Here is a link to a barn tour for Equestricon, which was a major national Thoroughbred trade show in Saratoga in August 2019.
Gary, thanks for taking the time to share your thoughts with us and I am certain that our readers will find your insight informative and helpful.
Thanks for your time and interest.