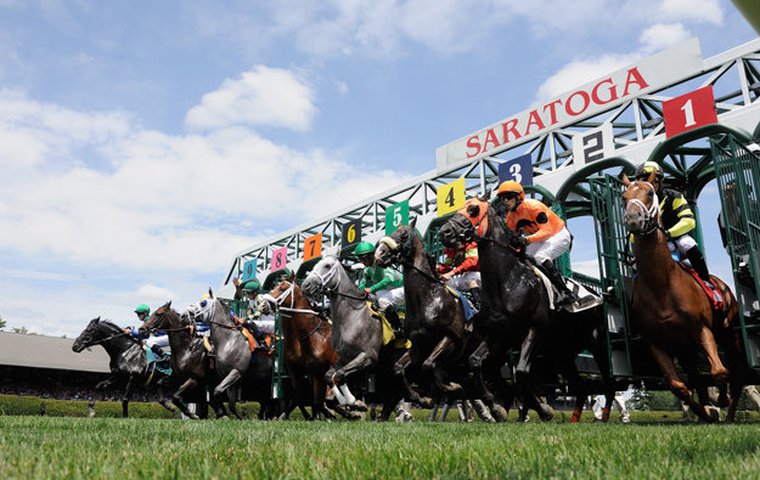 Frank Gabriel Jr. returned to the United States earlier this year after nine years as the Dubai Racing Club's CEO to accept the position of racing secretary at The New York Racing Association (NYRA) for both Belmont Park and Saratoga Race Course.

Gabriel, 59, has a long and distinguished career as a racing official, including 16 years at Arlington Park as executive vice president of racing and racing secretary, and a stint as NYRA's director of racing in the late 1990s.
A native of Pennsylvania, Gabriel's racing office experience also features positions held at Atlantic City Race Course, Hialeah Park, and The Meadowlands, among other East Coast venues.
Karen Johnson interviewed Frank Gabriel on July 9.
----------
What was it about the Belmont Park/Saratoga racing secretary position that appealed to you?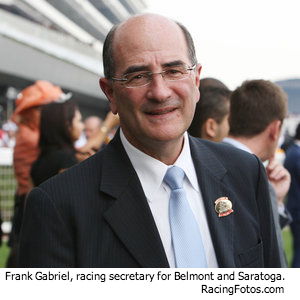 "It was an opportunity to come back to America. It was intriguing because it is great racing, a fantastic organization, and an opportunity to get back into the American racing market. I appreciate the opportunity that was given to me."
Was the transition made easier by the past racing official positions you held on the East Coast, and your previous connections to horsemen in the region?
"I was born on the East Coast in Pennsylvania. So, I've always been on the East Coast until I moved to Chicago. And working at Hialeah for six years in the '80s, I did have a connection to New York horsemen. Even when I was in Atlantic City, our main races, the United Nations and Matchmaker, relied on a lot of the New York shippers.
"You do make a connection, so it makes it a little bit easier of a transition. And like I said, being born on the East Coast, it was easy for me to adjust to that."
Did knowing that you would be working with Martin Panza [NYRA's senior vice president of racing operations], who came to NYRA last fall with some new ideas for the racing product, have a bearing on accepting the position?
"Absolutely. He's creating these big events and these big days. He is kind of redeveloping the race program from the old days. It's not easy, definitely, trying to improve the quality, which sometimes affects the quantity in field size. Eventually, hopefully, that can grow into expanding that field size with maintaining the quality.
"New York has had great racing for all these years...[before Panza's arrival]. It is just Martin wants to go in a new direction, and [the racing office] is here to service that."
With the first meet as Belmont Park racing secretary nearly in the books, how would you evaluate the day-to-day racing product, not taking in account Belmont Stakes Day or Stars & Stripes Day?
"I think we changed a little bit of the scope of it. One of the things is we increased the open claiming races. It has probably increased 30 to 40 percent, those written open claiming races versus the beaten claiming races. It was just a direction that Martin wanted to go, to develop the claiming program and expand that, and increase the quality of the races.
"So it was a matter of evaluating and still maintaining some of those [claiming races with conditions], but maybe reducing some of them, and creating open claiming races for horses who are in for a price with no condition tied to that.
"It's a direction that takes time to [grow]. You've got to get that program created [first] to start to get more people engaged."
There will be fewer races [estimated 15 to 20] run at Saratoga this year. Why was that decision made?
"Well, I think this falls into what we are doing here at Belmont. You are reducing races from the program, which are the beaten claiming and things like that. And with the [declining] foal crop, there are only so many horses for so many races.
"And I think that is part of the theory [at Belmont] that you are not trying to decrease the value of the program, you are just trying to bring more emphasis to the program you are writing. That just means a reduction in some of the races. Hopefully, it will work its way through.
"We've had a reduction here at Belmont. Some of the race programs, 11 [races] to 10, 10 to nine. And some days you will see there is a leveling of [handle], almost the same handle, and some days you see a reduction. It is just a matter of how you look at the numbers overall. But those things are part of changing a program."
So, what is the anticipated result on business at Saratoga with fewer races?
"That we don't know until we see how the existing races you are writing fill in field size. Like I said, when you try to write more allowance races and more open claiming, you could have a tendency to have a shorter field down the road because of the program you are writing. You are just starting out. It will have to build.
"But we are seeing some growth in our races as we have gone through the Belmont meet. When you go through some changes, everyone has to go through some adjustments, and so everyone is starting to make the adjustments."
If turf races are lost due to rain, will more grass racing be added?
"Weather plays its part in Saratoga with the storms that sometimes come through there. It is just managing so you don't disrupt the whole program by making drastic moves. Ideally, what you always look at, if you get a good field and it does rain and you lose the majority of the field, then somehow you want to be able to get them back to the sink because [trainers] have kind of positioned themselves to run during that period of time. You have to think about training and everything. If they have to wait another two weeks it kind of puts them behind the eight ball. You try to make it up as best you can.
Twelve steeplechase races, three more than 2013, will be offered. These races traditionally are not popular with the seasoned bettor. Why add more?
"That was the decision of Martin working with Bill Gallo [director of racing for the National Steeplechase Association]. I think it was more of an idea of being consistent in what they were doing. They have scheduled the first steeplechase race at 12:25 p.m. as not to be part of the so-called program, but again it is there and consistent and the people who are engaged in steeplechase racing will be focused that it is the first race every Wednesday and Thursday. Steeplechase racing is part of Saratoga."
Have you recruited new stables for the Saratoga meet?
"The stables are consistent with what they have been the last several years. From the Kentucky outfits to the regulars here. And I think in terms of recruiting, the main focus of course is the main two days, the Travers and Whitney. There will be a focus to get the best handicap horses for the Whitney and, of course, the best 3-year-olds for the Travers."
"The good fortune of Saratoga is that it's on everyone's mind, so recruiting is not something you do all the time. It's [already] a focus for people who have the right horse. The thing with places like Saratoga and Del Mar, you got to make sure you have the right horse, because you do have to have your running shoes on when you run in these events. That's an important part of it.
"Hopefully, the two big days of the Travers and Whitney will add to the exposure of the 40 days overall."
Both the Whitney and Travers received purse boosts this year [Whitney doubled to $1.5 million; Travers from $1 million to $1.25 million.] Two G1s [Alfred G. Vanderbilt and Test], which previously held different spots on the Saratoga calendar, and a new stakes [the Lure], have been added to this year's Whitney card. What is the hope for these days?
"I think Martin's focus was to make it a big day. And to make it a big day, you have to impact the race card and Martin did by adding stakes, and [increasing the purse] of the Whitney itself to bring exposure.
"I think with the Whitney, his focus is to try to bring the California horses there. To make it a mini-prep for the Breeders' Cup Classic. That's Martin's intention there.
"The Travers he knows is a focal point for the meet and for Saratoga, and there again, he was making sure that race got addressed as well [with a purse increase.]
"I think Martin's intention is to [duplicate] what he did for Belmont Stakes Day and Stars & Stripes Day, and hopefully bring some more attention to the simulcast market and wagering, and, of course, horsemen participating in it."
How will NYRA build on the international participation they attracted on Stars & Stripes Day?
"You get interest by getting people starting talking. The European visitors who came for the Stars & Stripes offer a good way to bring that exposure back home. To talk about how great of an experience it was.
"Getting some more horses to run at Saratoga from overseas is what engages people. So, you can do all the marketing you want, but actually getting someone to physically run and use the facilities and race here, and then go back home and talk about it, that is your best advertisement and marketing for it."
Is there European interest in the Saratoga meet?
"There is. It's kind of a tough time because Deauville [Racecourse] in France gets looked at, and there are some races in the U.K. But, yes, there is some interest. One is Marco Botti who is considering the Lake George with Euro Charline [3rd in the G1 Coronation at Royal Ascot in her last start]."
What will horsemen find in Saratoga's 2014 condition book that differ from years past? What races have been eliminated from the overnight schedule? What ratio of "book" races to "extra" races do you anticipate filling?
"The extras we write are usually only the races that didn't fill the day before and got close to [filling]. We try to bring them back.
"We've eliminated a few of the lower turf maiden beaten claimers because that is the program we are initiating here. Maiden 40 is the [lowest-priced] claiming race we have on the grass. Where, I think, maiden 20 was [the lowest in prior years.]
"Basically, what you see here at Belmont is what you are going to see at Saratoga. It's a continuation of that program. Just different distances because of the circumference of the track."
What opportunities await New York-breds at Saratoga?
"New York-breds have their [new] showcase day, the day after the Travers, which is something Martin wanted to create. It was a big day here at Belmont at this meet, and the one at Saratoga will be good because it is right after the Travers, and will make for a big weekend.
"There were also some New York-bred stakes added. Overall, they will still have the same opportunities they had here at Belmont.
"Any state-bred program is important, and especially in New York. They are good fields and horses. And what I think is important is that they are competing against open company and doing very well."
Racetracks traditionally employ one racing secretary. Martin Panza chose to divide duties between you and Dan Edison, who is the racing secretary at Aqueduct. How is it that working for you?
"I think when you go year-round racing it's a tough battle. Many people, who have been here through the years, Tommy Trotter, Kenny Noe, Mike Lakow, P.J. [Campo], know it's a long haul, and they will tell you probably they are tired after a full year. I've done it before, too. [This way] does keep you a little bit fresh."
A condition book is written for trainers, but the racing product must also appeal to the horseplayer. How does a racing secretary strike that balance?
"It's always a tough battle. Ideally, you are trying to mix it up by offering different distances, different categories. But there's some basic repetitiveness to races, and you just have to live with that. But if you can create some different distances, and different spread of races…Because that is probably the biggest task, trying to figure out how much time to spread between the races from point to point, to maximize the field size, yet be able to make nine races a day.
"One [trainer] will say he can run back in three weeks, another four and a half weeks. And one person says they can run back in two weeks. You try to find a balance with each race. It just takes time to get it down to a science.
"Then weather plays into it, and things change. Horses get injuries and races get missed. All that falls into evaluating and adjusting. That's all part of it."
Among your responsibilities in Dubai was overseeing the building of Meydan Racecourse. What was that experience like?
"It was a fantastic experience and a great opportunity. Lots of hours and a lot of work, but our main goal there was building a place for the Dubai World Cup while creating an experience and an entertainment destination. It was also about creating safety for the horses because they are No. 1 [in Dubai racing]."
Meydan is replacing its synthetic surface with dirt for its upcoming meet later this year. What was the impetus for this? Will American-based trainers begin to return as a result?
"Well, that decision happened after I left, so it would be difficult for me to say, but you always want horses from around the world. And, of course, North American horses are very important to the program, too.
"There was a phase where synthetics were coming into play [in North America]. Now, of course, there is the removal of synthetics. When I was there we did see some reduction of starts from the North American contingent, but we were still getting horses, and it was still a great program. [American participation] probably will increase with the dirt definitely. The decision to go to the dirt will grow in value."
What place does Dubai racing hold in the global scene?
"Well, I think it holds a very important place. First of all, the Asian market is fantastic. If you look at the Asian Racing Conference, [Dubai] is quite dominant in handle and the quality of their racing programs. Dubai is a small country, but very powerful, and very proud of their racing. They offer a fantastic program; a Carnival that is above and beyond for 10 nights. It's always going to be program that will grow in leaps and bounds. It definitely holds a focal point in the world of racing. And on that night of the Dubai World Cup, it is a place where you get so many countries competing on one night. It's a great destination."