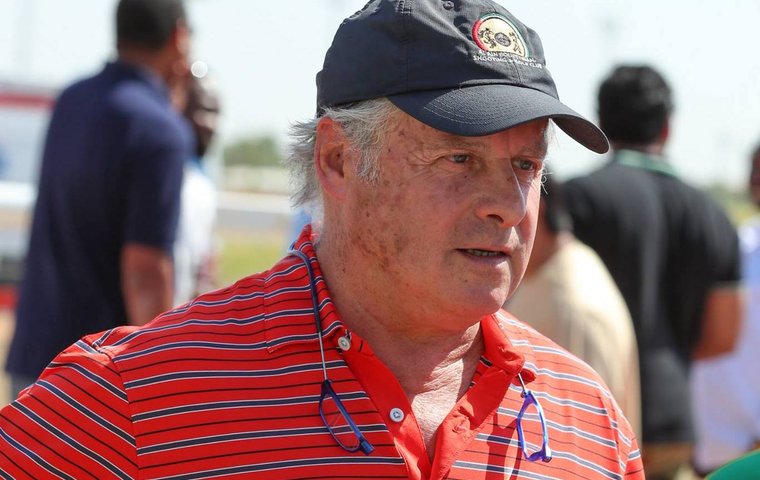 At the age of 63, most people's thoughts are turning towards retirement, or at least of slowing down a little. That's not the case for trainer Jean de Roualle, who, after more than 30 years with a license, has embarked on another fresh challenge.

After 28 years as a G1-winning trainer in Chantilly, followed by four in the fledgling racing nation of Morocco, de Roualle has moved to the UAE, where he has been based inland at Al Ain Racecourse, near the border with Oman, for a little more than a year.
He has 18 Purebred Arabians in his new barn, all of which are owned by Sheikh Mansour Al Nahyan. He made a promising start last season when, just a few weeks after sending out his first runner, Dhamin scored for him in a conditions event at Abu Dhabi. It was a victory that, judging by his reaction when reminded of it, clearly released a bit of pressure.
Like winning the Arc
"It was like I won the Arc," he laughs, in typically easy-going fashion. "The horses arrived in November, which was a bit late as the season was already on. They came from the French campaign so they were also a bit tired, so I had to give them a bit of time. There was no reason to push them so we fixed a few problems and now we are in really good shape."
De Roualle didn't manage to win the Arc itself during his time in France, but his CV still makes impressive reading. It numbers more than 1,200 winners, including 11 G1s, of which the 1991 Prix de Diane with Caerlinato and the 1997 Prix Vermeille with Queen Maud are among the highlights. His final top-level success there came in 2007, when Satwa Queen took the Prix de l'Opera.
"For me, a champion horse is a classic horse, a 3-year-old," says the trainer, who started out as an assistant to Francois Boutin before spending two years as a stallion manager in Kentucky. "Caerlinato, who won the French Oaks, was one of the best I had, although I don't like to say one horse is better than the others as it isn't nice for the others.
"I also had Gorella, who almost won the Breeders' Cup at three [when trained by Patrick Biancone], and she won a G1 in France as well. We also had Satwa Queen, who we had a lot of fun travelling with."
Joking that his compatriots at Al Ain called him "the old French trainer", de Roualle looks back at his career to date with plenty of satisfaction.
The Purebred Arabian who changed my mind
"When you win a Group 1, you feel on top of the world," he says. "That's why we're getting up early; why we're doing this job. I always say to my wife, "If one day I get to the track in the morning and say it's boring, I don't want to see the horses, then I must quit."
Quitting far from his mind, he moved to Morocco in 2011, training successfully for Jalobey Stud, which was where he first came into contact with Purebred Arabians.
"I'll be honest with you, when they were running in France, I wasn't keen on Arabian horses," he says. "Those of us used to Thoroughbreds can be a bit snobbish. Then I had a lovely horse in Morocco called Djarnizam Mamoora, who won a Group 3 and was second in a Group 1 at Newbury. He won 13 races and gave me a new opinion of Arabian horses.
"You can't treat them the same or train them the same as Thoroughbreds; they don't take the work the same way - they're different horses - but now I love them."
De Roualle and wife Marie have embraced life in Al Ain, which is 90 minutes' drive from the centre of Abu Dhabi. A hands-on trainer who doesn't take a day off, he kept his string in work right through the UAE summer, training early in the morning to avoid the heat. He's already seeing the endeavours pay off, with two wins from his first three runners this season, both on Abu Dhabi's turf track.
Competitive streak
"Al Ain is where the Al Nahyan family are from, so it means a lot to them to make it something special and to train Group 1 horses here," he says of his employers. "I'll be honest, I would have preferred Abu Dhabi from a social point of view, or Dubai, as my friends are there, but that's not the point; I'm here to work.
"The UAE is very different because you have to adapt to a five-month season," he continues. "If you're not ready then, the game is over, so it's very different to what I was doing before."
Ebullience and modesty don't often go hand in hand, which makes de Roualle somewhat unusual. Outwardly cheerful, bordering on mischievous, the competitive streak is nevertheless still very much there. Results matter.
"Obviously to win a Group 1 would be an achievement," he says of the current season's objectives. "But it's more important to train as many winners as we can. I've been told to be extremely patient – which isn't my best quality, to be honest – but I will be."
His team includes the 6-year-old mare Loraa, a dual Group 1 winner in France, who began her local career with a ninth-place finish in the world's richest Arabian race, the valuable Jewel Crown.
"I have great expectations for her, so I waited a whole year before running her. I want to make a classy programme for her because she's a good mare," he says, before reminding us once again that he is taking nothing for granted.
"Racing is the school of humility; one moment you're up and the next you're down, so you have to be very modest in this job. I realize that people were here before me and winning races, so I am watching, I'm learning. I want them to adopt me and I hope they will. I will do my job as well as I can – as I always have."