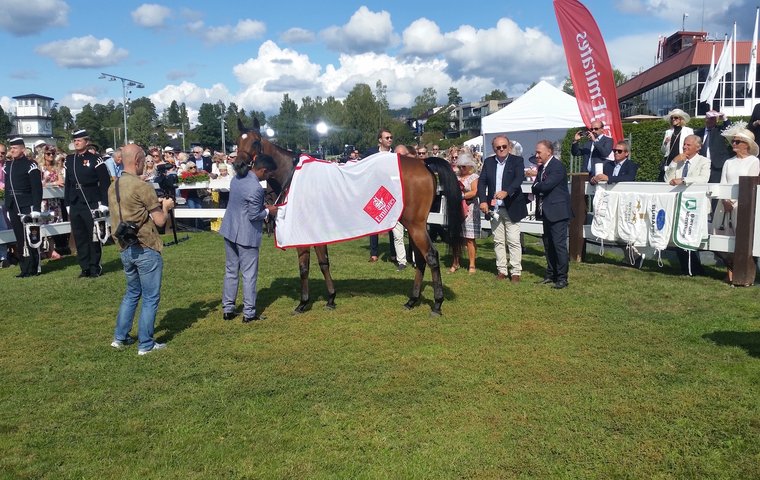 Norwegian trainers, owners and breeders recently received an unpleasant surprise. Leading up to the new season, which began behind closed doors at Øvrevoll, the country's only Thoroughbred racecourse, on April 23, the ruling Jockey Club announced further cuts in prize money.

Last year, reductions of 20 percent were made in two stages, and the final raceday was cancelled due to lack of funds. Further cuts are hitting breeders particularly hard - the total pot for homebreds has been halved, and some races have been scrapped. The Norwegian Jockey Club appears to be working towards a phasing out the breeding of Thoroughbreds.
Yet trainers say they can't operate without homebreds.
Ironically, the decision to snub homebred horses in this way came just weeks after the Jockey Club released a 32-page publication promoting Norwegian Thoroughbred breeding. They wrote, "Races restricted to Norwegian-breds are being conducted at Øvrevoll. Races for horses bred in Norway offer larger purses."
Only weeks later, two of the races they were referring to had been scrapped.
Drastic U-turn
Last year, Øvrevoll Galopp, which runs the racecourse, conducted a workshop with home breeding on the agenda. The invitation to the meeting promised, "Every stone shall be turned in our attempt at improving Thoroughbred breeding in Norway."
There seems to have been a drastic U-turn in approach since then.
Veteran trainer Hallvard Soma is one of several professionals unhappy with the new measures. "I believe these cuts will mean the end to breeding in Norway," he says. "And I think it is a big mistake. Homebreds are the bread-and butter-horses that keep racing going. Cuts should not hit them so hard. In Sweden, they just announced 17 percent cuts in all stakes races that had not already been entered, but they make no cuts whatsoever in the lowest division. That is a much better way to go, in my opinion.
"Our Jockey Club has decided to cut 50 percent in races for Norwegain-bred horses, while they are only cutting about four percent overall. This is an insult to breeders and simply means strangling them. One could of course decide to no longer support homebreds, and move towards a Hong Kong model of racing, with only imported horses, but such an announcement should then be announced years in advance so one could prepare for such a change – not overnight, as has happened now.
"I would not be in favour of a Hong Kong model, though. Far from it, as the days when we could get horses at reasonable prices from horses-in-training sales abroad are long since gone.
"Also, buying from such sales often means that you get horses with hidden problems. When I get homebreds in, I get them as yearlings, they are sound and healthy, and most of them stand up to racing really well. They can run more often and thus contribute more to the betting turnover than many imports do."
Part of the Scandinavian circuit
Towards the end of the 2019 season, Øvrevoll staged racedays with very few runners. The cards simply did not fill sufficiently. Fields with four to five runners only were not uncommon and, in the end, the decision to cancel the final fixture was made.
With cuts in prize money, many professionals fear that Thoroughbred racing will die.
Norway is not alone, however, as racing is struggling financially also in Denmark and Sweden. And these three Scandinavian countries form a racing circuit – and rely heavily on each other's success to keep the show on the road.
On several racedays in recent years, around 30 percent of all runners at Øvrevoll were shipping in from Sweden and Denmark. It would simply be impossible to stage racing without these visitors, who are paid travel allowances by the racecourse. With 20 percent in prize cuts in 2019 resulting in smaller fields, hurting the overall turnover, which may trigger even more cuts, the number of such shippers could now drop.
Indeed, that trend has already begun. For the three last racedays of 2019, the shippers made up just 15 percent of the fields at Øvrevoll, half as much as normal. The average field size at these three fixtures was just seven runners.
Which is why Soma voices his concern. "I can't see how anyone would want to breed up here now," he says. "We need these horses very badly. Actually, I can imagine a future with fixtures staging just three to four races."
It is hard to envisage how trainers would be able make a living if that prediction turns into reality. Most trainers in Norway are up against it as it is, with only 30 racedays through a season that runs from late April to early November. What they badly need is incentives to attract new owners. Offering homebreds, at prices mirroring the level of racing and prize money, might help trainers recruit new owners.
Although harness racing has a long history in Norway and happens year round at ten trotting parks, that sport is also under financial pressure. All these venues are supported by the state-run tote, Norsk Rikstoto, a company that has not been performing as one would have hoped in recent years.
Norway, Sweden and Denmark all have tote monopolies, but they are not entirely protected. Online bookmakers based abroad advertise on television and other platforms, and they are giving operators like Norsk Rikstoto more and more competition, which it seems ill equipped to meet as it operates high takeouts mostly between 35 and 40 per cent.
Vicious circle
Punters in Norway, be they wagering on English Premier League matches or local horseracing, are very conscious of these matters – and, when there is poor value in betting products, such products will become less popular and turnover will continue to drop, causing cuts in prize money, which in turn adds pressure on racing professionals.
It is a vicious circle, and it is easy to understand Soma's frustration. "We are working hard to try and do something about this," he says. "We [the trainers] were not even consulted before these cuts were announced and are now trying to make the Jockey Club see sense, before it's too late."
Of course, all this was happening before the coronavirus crisis, and before the new season began. The situation is much, much worse now.
Three racedays have been held so far since April 23, and another 27 are scheduled up to November 11. Now administrators have been forced to cut purses still further, slashing another 15 percent off Øvrevoll's stakes races.
Betting turnover has been on a par with recent years so far - no surprise as a run-of-the mill day gets fewer than 200 through the gates. This Sunday (May 17) will be different. It is Independence Day in Norway, and one of Øvrevoll's biggest days of the season. Normally this would mean a large crowd and a party atmosphere on course.
Not this time.