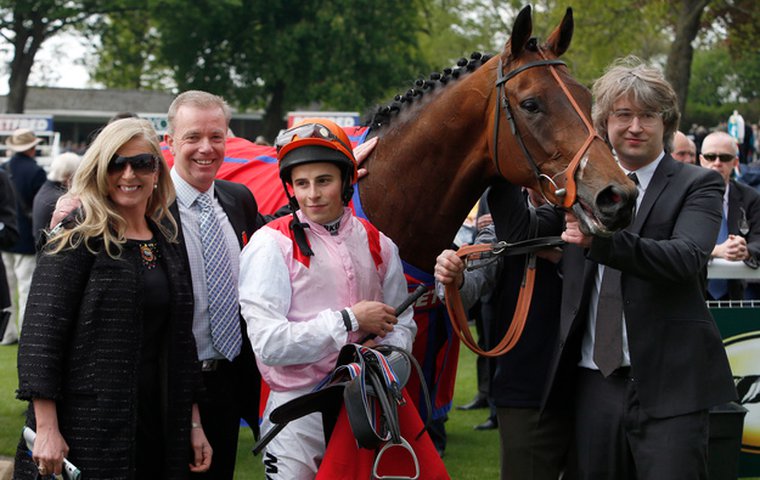 In the second part of his investigation into the harsh realities of life for trainers away from the elite level of racing in Britain, John Gilmore discovers a number of them have found one way of potentially improving their bottom lines is to compete for vastly superior prize money across the Channel.

Part I: Why making ends meet is such a struggle for Britain's non-elite trainers
For a number of enterprising British trainers, the alternative to poor prize money at home for medium- to lower-level races has been to send some horses across the English Channel to race in France.
French handicap, maiden, and claiming flat races offer prize money two to six times higher than in Britain, depending on whether the track is Parisian or provincial. For the Parisian tracks, the minimum total prize money just for 2- or 3-year-old maiden and conditions races is €16,000 ($21,700), though most start at €25,000-34,000 ($34,000-46,000). Handicaps begin at €23,000 ($31,300), while even claiming races are attractive for British runners, having three different prize money levels - at €19,000 ($25,800), €23,000 ($31,300), and €27,000 ($36,700).
This level can be maintained because France Galop, which runs French racing, receives €432.5 million ($588.5m) from the PMU - around 4 percent of turnover in 2013 - to finance its running costs, distributing around €266 million ($362m) of this in prize money and owners' and breeders' premiums for flat and jump racing.
One of French racing's biggest revenue-generators is the daily Quinté + handicap race, with a minimum €52,000 ($70,700) daily in prize money. Punters are given the chance to pick either the first three, four, or five home for a couple of euros initial stake, with daily €1 million ($1.36m)-plus pools. They can place their bets easily in one of France's 11,200 café bar outlets in a low-cost extension to the café bar meals service. There is nothing like this in Britain.
Not surprisingly, the Irish Tote has signed up since June 2013 to take pari-mutuel bets linked to the French pari-mutuel pools, joining Germany, Switzerland, and Belgium, who have similar arrangements.
Training in France is very different from Britain. The horses tend to be late developers rather than precocious early-season 2-year-olds and are geared more toward a 3-year-old career. As a consequence, the training programme, particularly in the early months of the season, may have only a handful of juvenile races each week, unlike in Britain, where there will be at least one 2-year-old race on every card.
A number of trainers in the south of England – including Paul Cole, Richard Hannon, and Stan Moore – often send runners to France, especially for the Normandy coastal summer meetings in August at Deauville and Clairfontaine, and not only for the 2-year-old races. Others come from much further afield.
Benefit of owners' premiums
Karl and Elaine Burke, who run a 75-horse yard at Spigot Lodge, Leyburn, Yorkshire, have been sending runners to race in France for several years.
"You're looking at around £2,000 ($3,400) a round trip, setting off the day before and coming back the day after for one horse, though if we send a horse trailer with two, it cuts the cost down," Karl Burke said. "We like to give our 2-year-olds their first run or two in England and assess their level before considering sending them for a race in France.
"We are constantly looking at the French racing programme and the whole thing has to be priced out, but in most races you're in front, even with the transport costs, finishing fourth."
The key is not only to run horses in France, but also to buy French-breds in order to qualify for the extra French premium owner allocation for open races. This works out at 64 percent of prize money for 2-, 3-, or 4-year-olds and 45 percent for 5-year-olds and up.
"During the last few years, I have bought 12 French-breds at the Arqana sales and one at La Teste in South West France for my owners, the highest price paid being €26,000 ($35,400)," Burke added.
"Of these horses, six have won, including two Listed winners, and four have yet to race. Last year, the stable had 11 runners in France, winning once and having seven placed, taking home over €60,000 ($81,600) prize money plus premiums, with 3-year-old Odeliz – not a French bred – capturing a Listed race in September at Longchamp."
Moving to France
The Burkes considered moving their yard across the Channel, but French employment laws and other issues made it difficult.
"I had considered the idea of possibly moving to France, but the rigid employment laws of 35 hours a week for a job that requires flexibility, plus the 70 percent social costs per employee, made it impractical. And prize money at some British tracks for lower-grade races has improved in the past couple of years."
Last year, 333 horses from English stables ran in French races, 32 won and 129 were placed. The total number was up on 2012, when 278 ran for 40 successes and 118 places.
Undoubtedly, if it wasn't for the higher employment tax and working practices, a lot more English trainers would have considered moving to France. One of the most recent additions has been Irishman Eoghan O'Neill, who had been training in England for 10 years before deciding in 2010 to move from Newark near Nottingham to Emlasa Farms near Le Mans, in the Orne region of France.
"I had been having winners, but the prize money didn't pay much of the training bills and the owners wanted me to try France, where the prize money was a lot better," O'Neill said.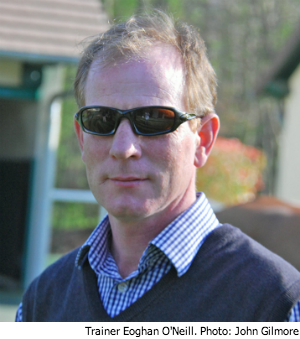 In the first year, the 2-year-old Broox, who was bought for €18,000 ($24,500) at the Arqana sales, finished fourth in the G1 Prix Morny at Deauville to Dream Ahead, and then won the G3 Prix Arenburg at Maisons Laffitte in September, giving O'Neill and owners Geoffrey Lucas and Helen Marsh a first Group success in France. O'Neill has never looked back since, and has now won €3,400,000 ($4,625,000) in prize money during the past four years. Both he and his wife and their four children are now well settled.
"Last year was a bad year. The stable's horses won only €500,000 ($680,000) in prize money, the year before, I won around €1 million ($1.36m)," O'Neill said. "I have a stable of 50 horses this season and 10 lads. All my horses are English-owned by individuals or groups. The majority came with me from England. They like to come racing here and the relaxed style. Sure the taxes are higher and working practices are different, but overall France, with its far better prize money and premiums, is the place to be, though I could live anywhere if I had to in this job."
Minimising the 'black hole'
Derek Lodge lives in Eastbourne, Sussex, on the south coast of England, and first became interested in buying a horse with a couple of friends through regular annual trips to Deauville in October.
"My pals and I play golf in the morning, go racing in the afternoon, pop into the sales for a bit, then go…for dinner," Lodge said. "It is always great fun and I think was a huge factor in getting me interested in buying the racehorse Bank On Benny in 2005 and first deciding to venture in France through purchasing Bank on Beau at the [Arqana] St Cloud Breeze-Up Sale in 2007. At that time, we did not know all the financial benefits, but even in France you still need to have a horse that can win or be placed a few times. If they do, you will certainly minimise the black hole."
Lodge and his friends currently have shared ownership in three horses, Babaway, Great Surprise, and Melrand, trained in France by Nicolas Caullery, Marine Henry, and Gina Rarick, respectively.
Lodge considers the distance factor and time available are two major reasons why more English owners do not have horses trained in France despite the considerable prize money advantage at the lower level.
"I am pretty much retired and my son runs our business, so I have the time," Lodge said. "Also it is pretty easy for me to get to the Parisian tracks from the South coast. But for a working man living north of London, it is much more difficult to get to see the horse run in France. If it is a hobby, then you want to be able to enjoy it, and I think this is why many British owners are not interested in French racing. Also, it is not the same spectator sport that it is in England. A French trainer once said to me - on seeing the 60,000 crowd at the Cheltenham Festival: 'Doesn't anybody work in England?'
---------
Part I: Why making ends meet is such a struggle for Britain's non-elite trainers