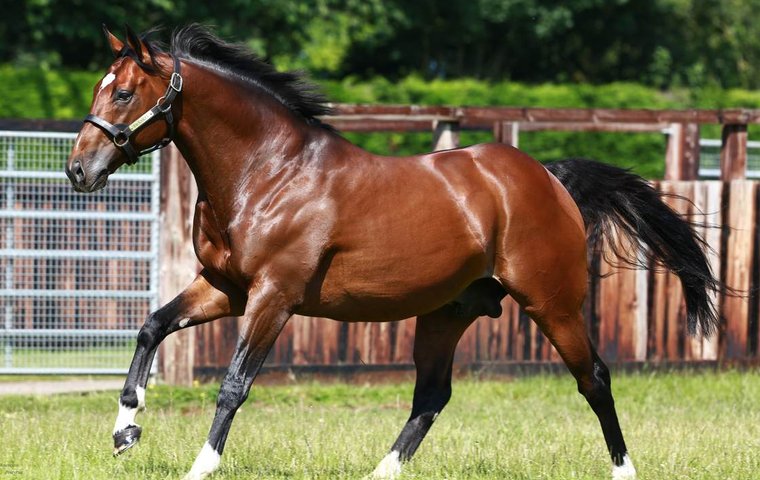 One of the joys of following racing, compared to inferior sporting alternatives, is that many of the equine stars exert an influence long after they have been retired from the arena itself. So it is that Frankel – the flat racehorse with the highest rating in Timeform's long history – comes round again a few years after his unbeaten racing career for consideration as a sire of possible stars of the future.

That Frankel will be some sort of a success at stud has always been long odds-on. He not only possessed the right athletic material, and much of the right genetic material, he has been given every opportunity by the humans around him at Juddmonte's Banstead Manor Stud near Newmarket.
His initial stud fee was £125,000, and, inevitably, the mares who visited him were among the crème de la crème. One of them – the English and Irish 1000 Guineas winner Finsceal Beo – was responsible for the Frankel filly who broke the Irish foal record when sold for €1.8 million.
Realistic objectives
Such big business spawns big expectations, of course. It is not difficult to imagine investors in other walks of commercial life setting out "objectives" and "Key Performance Indicators" for such a valuable asset.
To persevere with the management jargon for a bit longer, it seems reasonable to ask the question "what would success look like?" and "where would you like to be in five years' time?" where Frankel is concerned.
In five years, presumably it is hoped Frankel will be sitting where Galileo, his father, is now sitting, as the pre-eminent sire of European racing, but getting there almost demands that he makes an immediate impact. Defining his objectives as a first-season sire in Britain and Ireland in 2016 is a bit more realistic.
As with all such appraisal processes, there need to be updates. The end of June may be halfway through the calendar year, but it is more like the end of Q1 for a sire of exclusively 2-year-olds.
Off-the-scale rating
The verdict so far is favourable. Mostly.
We are only just beyond Royal Ascot, and the juvenile season is some way from hitting top gear, but Frankel has already sired a G3 third (Queen Kindly) and a listed third (Cunco).
Remarkably, all his representatives to have run in Europe have won (the latest, Majoris, scored at Brighton on Tuesday), and the median Timeform rating of those runners (not including Tuesday's result) is an off-the-scale 98. How that compares with a selection of other highly-rated first-season sires from 2011 to 2015 is shown below.
SELECTION OF FIRST-SEASON SIRES IN UK/IRELAND TO THE END OF JUNE
| | | | | | |
| --- | --- | --- | --- | --- | --- |
| Sire | Year | Runners | Runs | Wins | Median rating |
| Frankel | 2016 | 5 | 8 | 4 | 98 |
| Dream Ahead | 2015 | 11 | 20 | 4 | 77 |
| Lope De Vega | 2014 | 12 | 23 | 4 | 76 |
| Mastercraftsman | 2013 | 15 | 28 | 5 | 64 |
| New Approach | 2012 | 11 | 22 | 8 | 65 |
| Teofilo | 2011 | 14 | 25 | 6 | 76 |
SELECTION OF FIRST-SEASON SIRES IN UK/IRELAND TO END OF THE YEAR
| | | | | | |
| --- | --- | --- | --- | --- | --- |
| Sire | Year | Runners | Runs | Wins | Median rating |
| Frankel | 2016 | 21? | 64? | 15? | 92? |
| Dream Ahead | 2015 | 35 | 118 | 17 | 74 |
| Lope De Vega | 2014 | 36 | 108 | 17 | 78 |
| Mastercraftsman | 2013 | 55 | 204 | 29 | 73 |
| New Approach | 2012 | 30 | 87 | 18 | 80 |
| Teofilo | 2011 | 51 | 123 | 18 | 73 |
Never mind the width, feel the quality. Frankel's offspring to have run by the end of June are a quality bunch – of that there is no doubt – but where have all the other Frankels gone?
It is worth remembering that the Weatherbys Return of Mares had Frankel responsible for 96 living produce in 2013, though a small number of those were abroad and a few more have gone abroad since. Five individual runners is a remarkably small representation at this stage.
It is early days for Frankel, but the number of runners, runs and wins in Britain and Ireland by the end of June for a first-season sire correlates well with the same for the end of the year, as can be seen from the graphs on the left, taken from all such sires with significant representation from 2011 to 2015 inclusive.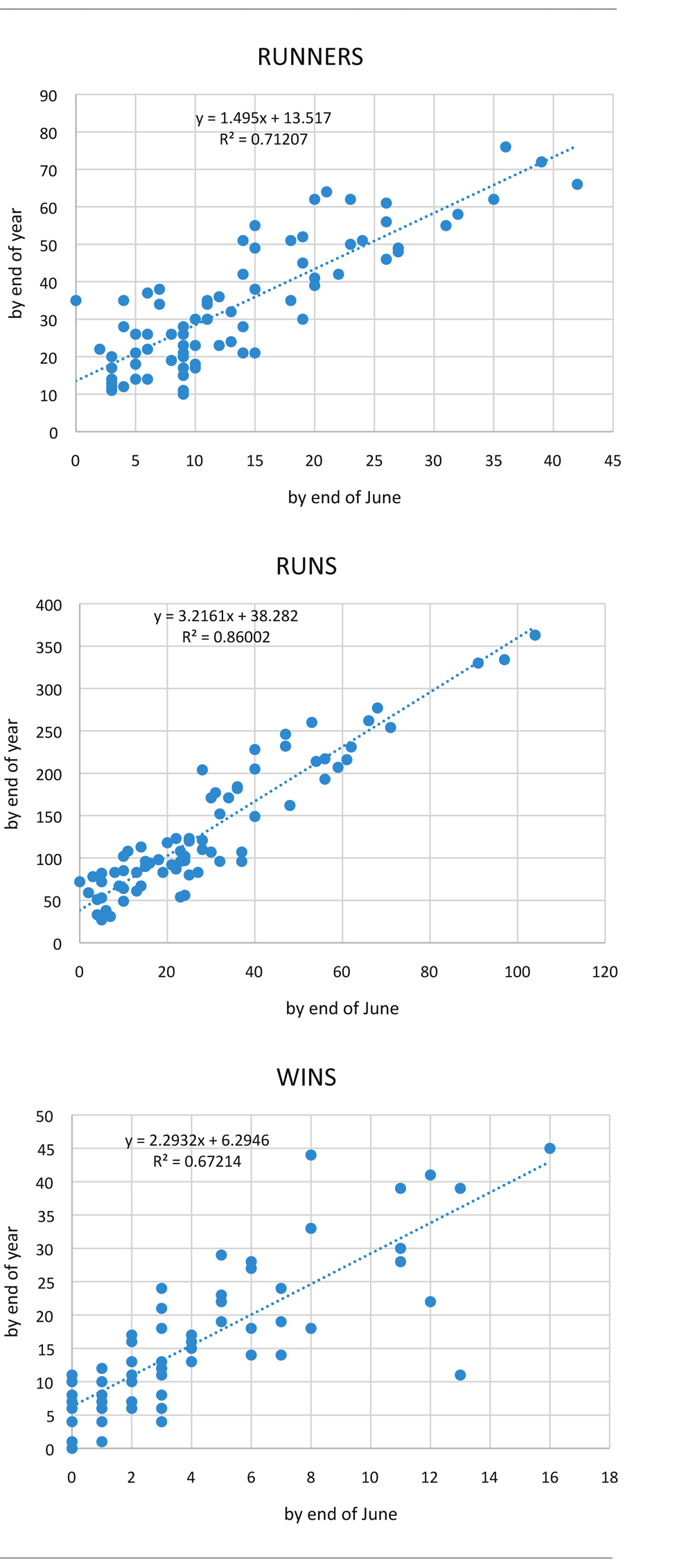 By these measures, and extrapolating from the present, Frankel's first season as a sire could see him responsible for something like 21 active individuals, who between them run 64 times and record 15 or 16 victories. Numerically, that would not be setting the world on fire.
The upside, besides the clear possibility that the sizeable contingent who remain on the sidelines for now will set the world on fire next year, is that such quality should translate into some big wins even from such a small cohort.
A median rating of a heady 98 at this stage translates into one still into the 90s by the end of the year. No first-season sire has exceeded 80 at the half-year stage in recent times. With a bit of further extrapolation, we might expect five of the 21 to be of Group-winning standard, with two of Group-1-winning standard.
Likeliest high achievers
The largest number of Group wins in Britain and Ireland by a first-season sire from 2011 to 2015 inclusive was four, shared by New Approach in 2012, Mastercraftsman in 2013 and Frankel's old rival Zoffany in 2015, with the first-named claiming two wins at the highest level (both from Dawn Approach).
Some regression to the mean – slightly less quality, slightly more width – is at least possible, but surpassing those sorts of Group-winning achievements seems far more realistic for Frankel as a freshman sire than him sweeping all before him through strength of numbers.
Identifying the likeliest high achievers as 2-year-olds from Frankel's first crop is not especially easy, either, as not many more of them have been named than have run.
However, it seems well worth looking out for the Roger Charlton-trained Fair Eva (a highly promising winner of her only start to date) and the unraced trio of Lightening Fast (trained by Ger Lyons), Occurence (Roger Charlton) and Rainbow Legacy (Sir Michael Stoute), all of whom have big-race entries.
So, Frankel's "Q1" achievements could be summarised as "top-quality work, but attendance is not all it could be". He has a little more to prove before he gets "Employee of The Month", let alone of The Year or of The Decade. But the signs are promising, for sure.