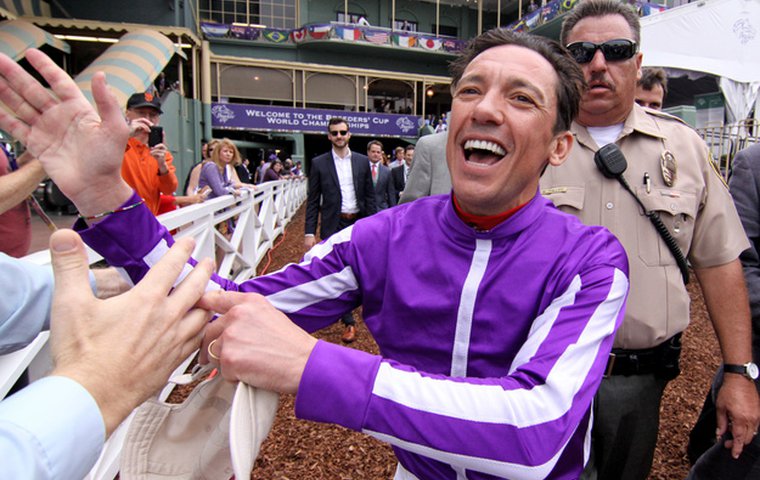 Frankie Dettori's fame transcends racing's narrow boundaries. The son of a multiple champion jockey in Italy, he has held the sport in thrall for the past 35 years. He has won just about every turf race of significance in a career punctuated by extreme highs and lows.

Dettori is a natural showman. His exuberance has propelled him into the national conscience in Britain; so much so that when he rode seven winners from as many rides at Ascot in September 1996, he cost bookmakers an estimated £30 million. He has won every British classic at least once, and four of the five classics in both France and Ireland.
Dettori has also landed the Prix de l'Arc de Triomphe three times and the Japan Cup three times. He has ridden winners in 24 different countries and is well known in the United States, where he has won 11 Breeders' Cup races – including the Classic aboard Raven's Pass in 2008. He is easily Europe's most successful jockey at the Breeders' Cup.
In 2000, Dettori was fortunate to survive when he boarded a light aircraft that crashed soon after take-off at Newmarket. The episode had a profound effect on his life. And his career encountered turbulence in 2012 when he parted company with Sheikh Mohammed's Godolphin operation after two decades as stable jockey. In September that year he tested positive for a recreational drug and was banned from riding for six months.
Soon after his return to the saddle Dettori's fortunes transformed when he became Qatari Sheikh Joaan Al Thani's retained jockey – although he missed riding Treve to win the Prix de l'Arc de Triomphe at the behest of the filly's trainer, Criquette Head-Maarek. And he broke fresh ground in March, when Dodging Bullets, a horse he bred, won the Queen Mother Champion Chase at the Cheltenham Festival.
Dettori, 44, is recognised as a talismanic ambassador for his sport. In 2000, he was made a Member of the British Empire (MBE) for his services to racing. He has always worn his heart on his sleeve, and was in a particularly contemplative frame of mind when Julian Muscat caught up with him at his home near Newmarket.
----
It's been quite a career to date. Who has been the biggest influence on it?
"Definitely my dad. He was champion jockey in Italy 13 times and, when I was growing up, I saw him at his best. I was five or six when he rode for Carlo d'Alessio, who was like the Sheikh Mohammed of Italian racing and dominated the scene. My dad was riding good horses, winning three or four races a day.
"I followed his career and, when I looked at him, he lived in a villa, he had a Mercedes in the drive and I thought: 'This is what I want to do.' My first love was football. At seven or eight I was okay, but by the time I reached 10 everybody was at least a foot taller than me. I was getting pushed off the ball quite easily."
There have been tremendous highs and lows throughout your career. Which of the highs resonate?
"Without a doubt, riding seven winners in a day at Ascot. That would never happen in anybody's wildest dreams, including my own. It took me 15 years to win the Derby, so that was special when it happened. Winning all the [British] classics has been another high, but to have those seven winners at Ascot surpasses everything. Professionally, it changed my life."
And the lows?
"The plane crash [in a light aircraft at Newmarket in 2000, when the pilot was killed] was the lowest of the low. Another low point was the split with Godolphin. I rode for them for 20 years and I never expected it to end like that. I expected to finish my career with them but a lot of new factors had come into play. Godolphin went from having one trainer to having two, they also employed another jockey alongside me and it became very complicated. In the end I felt I didn't have much choice. Our parting was more like a divorce; it wasn't pleasant for anyone."
Soon after that relationship ended you signed a retainer to ride for Sheikh Joaan Al Thani. What ambitions do you entertain together?
"The sheikh is young, new to the game, and very ambitious, so we are all going to have to work very hard to keep him happy. He has had a great start and he's in it for the duration. I am very lucky to be part of the journey he is taking us on. He has given me a new motivation, a fresh start, and I can pass on my knowledge. I am getting great satisfaction from it. I am just starting on my third season and what we have achieved so far has been beyond our dreams."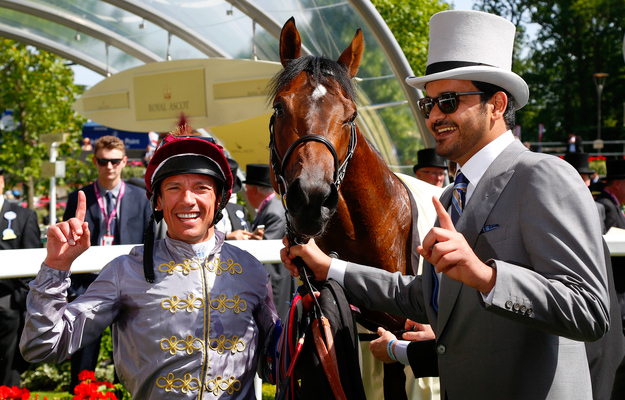 The job came at precisely the right time for you, having served that six-month suspension for failing the drugs test in France. Those first few months back [in June 201] weren't at all easy, were they?
"I'll be honest with you, coming back was much harder than I thought it would be. A lot of owners and trainers retain their own jockeys these days and I really struggled just to get one half-decent spare ride. The honest truth is that I was very close to actually hanging up my boots. Until Sheikh Joaan contacted me I couldn't see the point of carrying on. I couldn't get any rides with a chance of winning. It was demoralising, but I had to face the facts.
"I had a spell when I went 50 rides without a winner over the course of a month, and the press was on my back. It wasn't so much that I'd lost my sparkle, I just didn't have any decent horses to ride. So in the middle of 2013, I said to myself that if nothing had changed by the end of the season, I would have to retire.
"When I joined Sheikh Joaan's team, it was very small. There were 10 horses [in training] in England and 40 in France. I had a chat with my dad about taking the job and he hit the nail on the head, as usual. He told me 50 decent horses were better than none at all. Of course, the sheikh's team has grown a lot since then, but at that time I never expected it to become so big."
Let's go back to the beginning: Didn't you spend some winters in California when you were in your teens?
"I was 14 when I came to England on my father's advice, and I joined Luca Cumani when I was 16. He sent me to California to improve my timing and riding style. But you needed to be 18 to work at the track, so I had to find my way in somehow. Some mornings I'd sneak in [to Santa Anita] early, dressed like a Mexican work rider. Other times I'd hide underneath the car seat.
"Once I'd blown my cover at one gate, I tried the other, and when I blew that I went over to Hollywood Park, where it was the off-season. It was all part and parcel of my riding education. Even now, it still feels special when I take out a licence to ride in America. I wasn't allowed to have one until I was 18, so looking at my ugly photograph on that piece of plastic brings back great memories for me."
And there's more, because your trademark "flying dismount" was inspired by Angel Cordero...
"Yes. I spent four winters in California from 1987, and they were happy days. They had the best horses in California – I remember Alysheba and Jack van Berg very well. It was just a brilliant scene: Wayne Gretzky and MC Hammer owned horses at that time and the best jockeys rode there: the likes of Bill Shoemaker, Chris McCarron, and Gary Stevens. And Cordero would come over from New York to ride there on weekends for [D. Wayne] Lukas. That's when I saw him do his flying dismount.
"In those days, Cordero was like the king. I was too much in awe to even think of talking to him, much less try to hang out with the guy. Then, in 1990, I spent a week in New York ahead of the Breeders' Cup at Belmont Park when my boss [Luca Cumani] had some runners for his American owners. Luca was very friendly with Cordero, who'd ridden Embla to win the Cheveley Park Stakes for him [at Newmarket in 1985], and one night we all had dinner at Angel's house.
"Obviously I was fascinated to meet my hero. He had a mechanical horse in the house and in those days I used to ride European-style, with my feet pushed firmly into the stirrups. That very night he made me change to having just my toes in the irons. When I got back home I started trying it out more and more until I was comfortable with it. I have ridden that way ever since, as do most European jockeys these days."
And of course, in Europe it wasn't the done thing to celebrate from the saddle when you started doing your flying dismount...
"Absolutely not! I started doing it in the mornings at Luca's for a bit of fun. The first time I did it on a racecourse was when I won the [1994] Breeders' Cup Mile on Barathea at Churchill Downs. As I came in, Luca said to me: 'Come on: do it.' So I did. But when I got back to Britain, I got a proper slating in the newspapers. It went on for months afterwards, with some people believing the stewards should ban me for it.
"Then I won the [1996] 2,000 Guineas on Mark Of Esteem and did the dismount out on the track. That provoked another wave of criticism: people said I should have been disqualified and all sorts of things. So it didn't go down very well for a while.
"It was like that everywhere except America. When I rode in the [1993] Melbourne Cup, we were told by the stewards not to take our hands off the reins, not to celebrate; we weren't allowed to express any kind of emotion from the saddle. And when I went back 10 years later, they actually encouraged us to celebrate."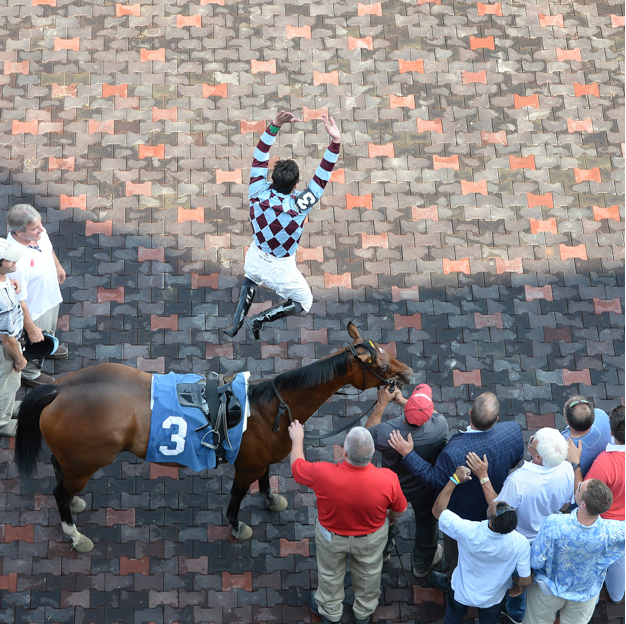 A lot has changed from your early riding days...
"I came into the game when it was in vogue for jockeys to look cold and be miserable. Then Sky Television arrived and took over broadcasting many sports in Britain with a fresh approach. Racing was being left behind, so we were suddenly encouraged by the racing hierarchy to make our sport look entertaining. I got told off for it when I started and now I'm told I cannot show enough exuberance."
Which American jockey did you find the hardest to beat?
"Steve Cauthen. He is another of my heroes and I worshipped him when I started in England. He took me under his wing. We went to the races together; listened to a load of Fleetwood Mac. He was a legend, a gentleman, and I learnt so much from him on and off the racetrack. In a race he'd have you beaten somewhere between the start and the two-furlong marker, not at the winning post. His brain and judgement of pace was great. I was only a boy but he used to run rings around me. He was the master."
You have experienced emotional extremes in the Breeders' Cup Classic, having won it aboard Raven's Pass (2008) and thrown it away on Swain (1998). What sticks in your mind most about each race?
"Well, getting beaten on Swain was a horrible experience. I wasn't very well that weekend; I had a bad cough and it was a miserable day weather-wise. Before the race, I made a mental note to take my horse away from Silver Charm, who was such a fighter. I purposely made my challenge wide but I used the stick too much on Swain and he hung badly away from it. But for that, I'm sure I'd have won the race, because I lost a lot of ground [Swain finished third, beaten three-quarters of a length and a neck by Awesome Again and Silver Charm]. I was trying too hard to force the horse to win, and that never works. My wife, Catherine, was with me on that trip and she'll tell you that I cried all the way back home on the plane.
"But luckily, God paid me back 10 years to the day later. I woke up in the morning [in 2008] and told Catherine I had a good feeling. I told her Raven's Pass would win. And, after what happened with Swain, it was a magical feeling – especially winning at Santa Anita, which has such special memories for me, and winning for John Gosden, a great mentor and friend to me. That one win buried all the skeletons from 10 years earlier."
You also rode for Wesley Ward at last year's Breeders' Cup. Was that a one-off or are you expecting to team up with him again, maybe with his 2-year-olds at Royal Ascot?
"I rode Undrafted for Wes in last year's July Cup. The horse is owned by the NFL star, Wes Walker, and he ran really well to finish fourth on ground that was much too soft. I then went over to Saratoga in summer to ride three horses for Wes and it was a nightmare trip. The flight was late arriving and they lost my luggage. I missed my first ride, finished second on the second, and won on the third, which earned me a hero's welcome from the crowd. All the riding kit I used was lent to me by the other jocks. It turned into a brilliant weekend, and Wes and I got on really well.
"Then we teamed up with Hootenanny to win the Breeders' Cup Juvenile Turf and we just got beaten with No Nay Never in the Turf Sprint. That was another great afternoon. I love Wesley, he's a very positive guy and he's very good at his job. You might not think it to look at him now, but he used to be a jockey himself. Sometimes you just click with somebody and I definitely clicked with him. I'd happily ride for him whenever he wanted."
How have you fared in the Kentucky Derby?
"I have only ridden in the race once, when China Visit finished sixth behind Fusaichi Pegasus [in 2000], which remains the best placing achieved in the race by a Godolphin horse. I rode in the Oaks, the previous day, and the whole trip was an amazing experience. It is indescribable; the only way to do it justice is to go there and feel it for yourself. China Visit was a nervy horse and the noise on the day overwhelmed him. He never moved, he just froze. But wow, when they start singing 'My Old Kentucky Home,' it's unbelievable."
Which other big races around the world fire you up?
"Without a doubt, the Breeders' Cup means a lot to me. Every year it feels as though it's a personal challenge for me against the American jockeys. For some years, I have carried the European flag and both sets of jockeys [European and American] had criticised each other so much, so I felt an extra burden at the Breeders' Cup to prove that we are as good as them, and perhaps ask that they shouldn't be too harsh on us because we are actually not that bad.
"I have a bit of a chip on my shoulder about it. I take it quite personally when I ride at the Breeders' Cup. It gives me that extra drive, that extra motivation. But now I have become friendly with quite a few American jockeys. The edge is still there out on the track, but I feel they show us a bit more respect.
"I have also ridden in 12 or 13 Melbourne Cups. I've had a lot of great experiences in that race, and a lot of bad luck, too. I was runner-up on Central Park [in 1999]; I was beaten half a length even though the horse broke down in the home straight. But really, I'm very much in tune with the big races in Europe. The Derby and the Arc are always in my sights every year. I think the best racing in the world is in Europe."
Which is the most competitive riding environment in the world?
"I would say that is here in Europe. I have noticed that every top jockey in the world comes over to England at some point in their careers and tries to crack it. It isn't easy; we have so many different tracks and every one rides differently. And this is a very good generation of French jockeys, too. It's tough out there, believe me."
How do you reflect on having lost the ride on Treve before she won a second consecutive Arc in October?
"Well, I rode her twice last year and she didn't perform the way she could. Even when I was replaced [by Thierry Jarnet] for the Prix Vermeille [three weeks before the Arc], she didn't run very well. But when a trainer [Criquette Head-Maarek] has made up their mind to have somebody else, you are only fighting a losing battle by getting involved in an argument.
"Obviously I was disappointed not to ride her in the Arc. I spoke to Sheikh Joaan about it, but I could see he was the man in the middle: I was his retained jockey but one of his trainers wanted somebody else. It hurt when she won, but I was pleased for my boss."
How much longer can you carry on riding?
"For another five or six year, no problem. I am still quite fit, I haven't run myself into the ground over the last 15 years. I did that when I was young, as everyone does, but since then I have picked and chosen where to ride every day and I'm still healthy. Gary Stevens is 51 and Kieran Fallon is 50. Mick Kinane stopped at 50, my dad was 51, and Willie Carson was 53, so to ride on to that sort of age should be well within me [Dettori is 44]. After that, if I can find a role within Sheikh Joaan's operation, perhaps riding out or managing one aspect of it, that would be great."
But not training horses?
"No way! I'm doing a bit of work for Channel 4 Racing now; I'm slowly grooming myself for when I do retire, and I definitely want to stay involved with the sport."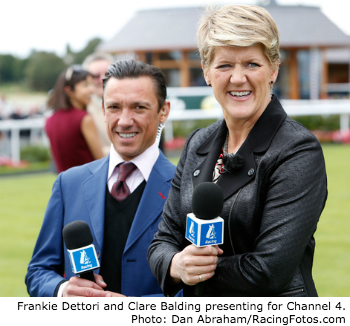 And now, after Dodging Bullets won at the Cheltenham Festival, I suppose we have to call you a champion National Hunt breeder…
"That came as a pleasant surprise. I was there to watch and it was great. The amazing thing was that Dodging Bullets was so incorrect as a foal I felt he would never stand up to training. But [trainer] Paul Nicholls worked his magic on the horse; I went to stay with Paul in the build-up to Cheltenham and I really enjoyed the whole experience."
And finally, you mentioned the plane crash earlier – how much did that tragedy change your perspective on life?
"I should have been dead. How I survived I don't know, but I should have been killed twice: the first time in the crash itself, and the second time when Ray Cochrane [the former jockey who subsequently became Dettori's agent] pulled me out of the wreckage moments before the plane exploded.
"I went into post-accident depression for two years after that. It was only when it passed that I realised the experience had changed my life. Now I try to go out and enjoy every day."
Do you still not travel in light aircrafts?
"I did for the first time last year, because it was the only way I could get to Deauville [in France] to ride. I didn't feel at all comfortable and will do it only when there is no other option. In some ways, it changed me for the better, and in some ways for the worse. The better side is that you don't get upset by stupid things; it just isn't worth it. The worse side is that if it hadn't happened, perhaps I would have achieved a bit more in life, broken a few more records, maybe won another jockeys' championship or two.
"I was more selfish before that plane crash. It made me realise the extent of my responsibilities to my wife and children. So, while I could have done better, career-wise, I am very content in myself. To be rich in money is nothing compared to being rich in mind."