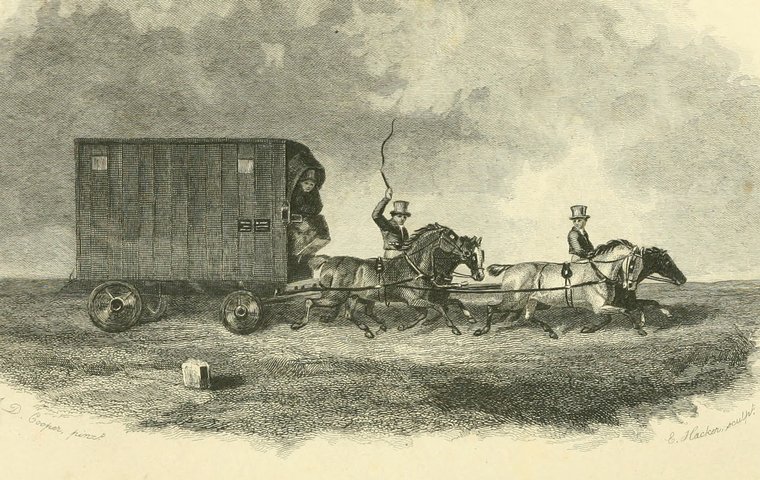 Few sports are so rich in tradition as Thoroughbred racing. And yet racing has not been devoid of technical innovations. This article looks back through history to explore some of the inventions that have changed the Sport of Kings and the often-colourful stories behind their genesis.

Horseboxes - and His Lordship's bid to deceive the bookies
Among the first of these breakthroughs was the horsebox. Up until 1836, horses were made to journey to meetings on foot, typically entailing day after day of trekking across the country. Not only would these journeys have wearied the horses, but it also meant that it was public knowledge when and where they were travelling. It was the latter fact that the man hailed as responsible for the development of the horsebox, Lord George Bentinck, cannily appreciated.
Bentinck was then one of the most influential and colourful figures of the British Turf. The story goes that, unable to get the odds he desired on his horse, Elis, for the 1836 St Leger, Bentinck made no apparent steps to have him walked the 200-or-so-mile journey from Goodwood, where he was stabled, to Doncaster. Accordingly, bookmakers assumed Elis would not be racing and his odds lengthened.
It was then that Bentinck made his move. Five days before the St Leger, Bentinck placed a bet on Elis at odds of 12-1, which were much longer than would otherwise have been the case, and covertly conveyed him to Doncaster in a custom-made, horse-drawn carriage. Arriving unhurried and in prime condition, Ellis galloped to victory and Bentinck's horsebox henceforth entered racing practice.
Less well known in the tale is the role played by Elis's trainer, John Doe.
It was, in fact, Doe who is believed to have first presented the idea of a horse-drawn trailer to his employer, inspired by an episode that happened two decades previously.
In the 1810s, Doe was working for a Worcestershire cattle farmer, and occasional man of the Turf, who delivered his bulls to auction on a horse-drawn float. Upon Doe's suggestion, the floor of the float was removed and substituted with one with springs underneath and its interior was padded to transform it into a conveyance to take the farmer's colt, Sovereign, to Newmarket in 1816.
Sovereign didn't win the race, but the novel mode of sending him to the meeting planted a seed which, 20 years later, germinated in Bentinck's favour.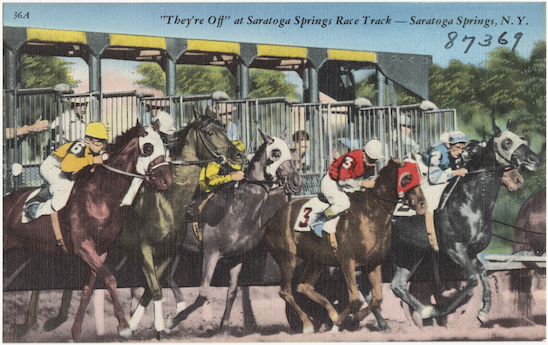 Starting gate - and an unfortunate runner in the Kentucky Derby
Bentinck also had a role in imposing regulation upon the start of races. By the mid-19th century, race starts were at best haphazard, and at worse heavily corrupt affairs. With growing field sizes, no saddle cloth numbers and no barrier draws, jockeys vied for a spot on the starting line. It was not uncommon for the viewing public to wait over an hour for a legitimate start. And what counted as legitimate was anyone's guess.
Jockeys and owners seized opportunities to profit from the general chaos. False starts were frequently engineered to throw out the favourite, as allegedly occurred at the 1827 St Leger, which racked up 27 false starts as participating jockeys orchestrated the defeat of heavily backed Mameluke.
Bentinck, as a steward of the Jockey Club, pioneered a dual flag system of starting and fines for jockeys who flouted the rules. But these had only a limited impact.
The solution did not come until 1894. The Australian trainer Alexander Gray was so infuriated when his jockey son was fined upon prematurely crossing the starting line that he devised a starting barrier. This comprised a spring-loaded wire that withdrew as the race began.
Gray's invention spread overseas in the early 20th century. It was not without faults, though. The 1924 Kentucky Derby was notable for one of the runners finishing with a large part of the starting barrier clinging to his leg.
In 1939, the American Clay Puett invented the electric starting gate that has since become the norm for all major racecourses. The first gated start occurred in July that year in British Columbia, Canada, and the success of this model saw it gradually adopted across the world.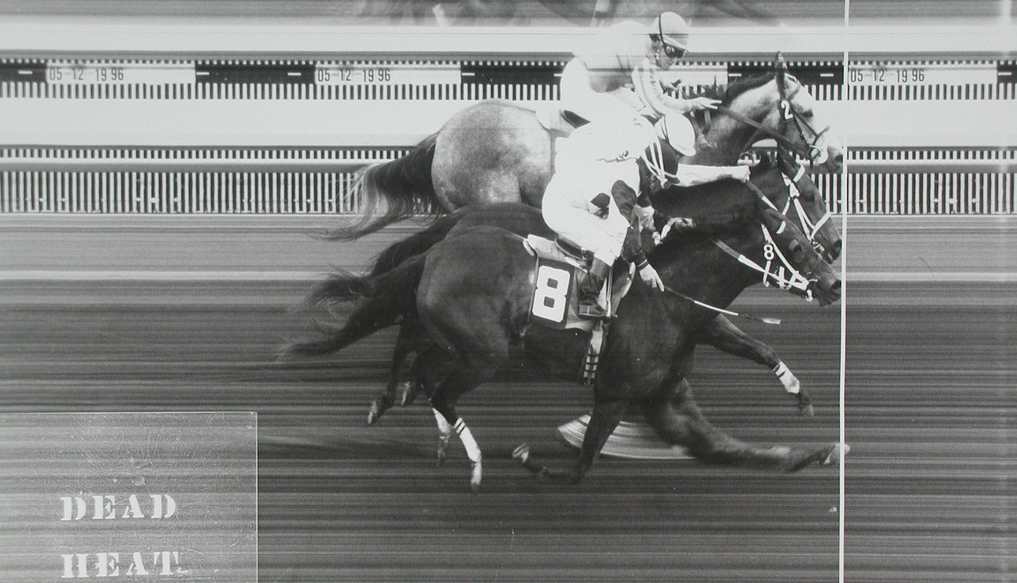 Photo finishes - our debt to Bing Crosby and friends
It was not only the start of races that required regulating, however. The finish was also a matter of regular uncertainty. The development of photography in the 19th century, though, augured a conclusive means of determining race outcomes. As early as 1881, photography was being used at a course in Plainfield, New Jersey.
It took, nonetheless, a further five decades and a dash of Hollywood flair for the technology of the photo finish to be perfected.
When Bing Crosby and partners launched the glamorous Del Mar Thoroughbred Club in 1937, they were determined to go to all efforts to ensure it was the best. It was on Del Mar's opening day that the strip camera was premiered.
Newly invented by Lorenzo del Riccio, an engineer at Paramount Studios, the strip camera had a vertical shutter and quick capture rate. Placed overlooking the finish line, an exposure was created every time a horse entered the field of the lens, with further exposures taken for every subsequent horse.
The photo finish's popularity immediately flourished and its distinctive images – of horses straining for the line with background a blur – have become enmeshed in the myth and language of horse racing.
Saliva test - it almost led to revolt among Florida trainers
Today, the sport is periodically rocked by doping scandals, but this problem is, in fact, of no modern genesis. The issue first came to the fore at the turn of the 20th century.
At this time, certain drugs were administered to racehorses in America as a matter of course. In Britain, meanwhile, the practice was more or less unheard of. In the early 1900s, though, American trainers and horses were coming to Britain with ever-greater frequency, and they brought their culture of doping.
When the two worlds of transatlantic racing collided, doping quickly became racing's concern de jour.
By 1903, one trainer, George Lambton, was so frustrated that he took matters into his own hands. He announced his intention to dope several of his own horses to demonstrate the unethical advantage that the practice gave. Horses that had previously shown no form achieved four wins and a second place.
Lampton had proved his assertion that doping led to unfair race results. A year later, doping was criminalised. The difficulty that he – and the wider racing industry – now faced lay in the fact that there was no way of testing for doping.
This changed with the invention of the saliva test in 1910 by Professor Siegmund Frankel, of the University of Vienna. Within two years, it had played its first role in determining a major race when Bourbon Rose won the 1912 Gold Cup at Maisons-Laffitte but was subsequently disqualified after testing positive for banned stimulants. Soon, dope testing became accepted practice in Europe.
Joseph E. Widener introduced the saliva test to America in the 1930s, where it was met with initial opposition.
Indeed, when Florida introduced a stimulant ban in 1933, trainers threatened to boycott that year's Florida Derby at Hialeah Park. Only an intervention from Widener himself – in which he bemoaned that training had 'become a question of formula' – convinced them to change their minds.
SOURCES
R. Goldberg, 'A History of Drugs in Racing', Thoroughbred Daily News, May 2, 2013
J. Harmon, 'The Man Who Gave Racing a Fresh Start', Sports Illustrated, October 29, 1990
M. Karmalek, 'Winning in a Snap: A History of Photo Finishes and Horse Racing', 7 May 2013: https://blogs.scientificamerican.com/anecdotes-from-the-archive/winning-in-a-snap-a-history-of-photo-finishes-and-horse-racing/ [accessed 6 January 2017]
National Museum of Australia, Annual Report 2003-2004
R. C. Samuelsen, 'Invisible Finish Line', Life, 23 August 23 1937
G. Tattersall, Pictorial Gallery of English Race Horses, London: Henry G. Bohn, 1850
W. Vamplew, The Turf: A Social and Economic History of Horse Racing, Allen Lane: London, 1976
W. Vamplew and J. Kay, Encyclopedia of British Horse Racing, Routledge: Oxford, 2005