California Chrome may be tucked snugly away in peaceful tranquility in a box somewhere in Newmarket just now, but the U.S. Horse of the Year will have nowhere to hide when post time comes around at Royal Ascot in June.

A picture is beginning to emerge of the probable strength of the international challenge for the great meeting (June 16-20), and it is abundantly clear that some truly outstanding turf performers from Europe, the Far East, and Australia are being lined up to take him on.
No matter which of two possible G1 targets he eventually goes for, the opposition will be formidable.
Lying in wait in his preferred objective, the hugely prestigious mile-and-a-quarter Prince of Wales's Stakes, are likely to be Spielberg, one of the most potent middle distance forces in Japan, and Criterion, awesomely impressive winner on Saturday of the world's richest 10-furlong turf race, Sydney's AUD$4 million Queen Elizabeth Stakes.
And that's not to mention a European contingent expected to include last year's French Derby and Irish Champion Stakes winner The Grey Gatsby, Dermot Weld's exciting and progressive 4-year-old Free Eagle and Aidan O'Brien's globetrotting Cox Plate and Secretariat Stakes winner Adelaide.
Chrome's other Ascot option is the Queen Anne Stakes, over a straight mile, but Nick Smith, Ascot's head of international racing, believes that may prove even more testing for the Kentucky Derby and Preakness winner - largely because of another major international star who could be in the field, the Hong Kong super-miler Able Friend.
"If California Chrome were to run at Newbury [in the G1 Al Shaqab Lockinge Stakes on May 16] and handle the straight track there okay, then they could look at that [the Queen Anne], but honestly, if Able Friend comes over, they wouldn't want to take him on, I wouldn't have thought," Smith said.
"Able Friend and Solow [impressive French-trained winner of the $6 million Dubai Turf at Meydan last month] would be quite tough, whereas in the Prince of Wales's he'd be at his trip against really good horses but probably more in his comfort zone and racing round a bend."
Wherever he ends up, California Chrome's mere presence in England (under the care in Newmarket of trainer Rae Guest) is a massive coup for Ascot, for Newbury, and for British racing as a whole, possibly the biggest since Ascot's international era began in earnest 12 years ago with Australian sprinter Choisir's landmark successes at Royal Ascot.
It has been achieved thanks to the efforts of Smith, his U.S. adviser Stephen Nagler (a former HRTV and ABC producer), and Martin Talty, international racing manager for the Dubai Racing Club, which regularly plays a significant role in the process when an international contender that has run at the World Cup meeting has Royal Ascot on its subsequent agenda.
The seeds were sown at the Breeders' Cup last November during a meeting with Chrome's trainer, Art Sherman. "We thought we'd try to introduce the concept of a plan that would take the horse to Dubai as a sort of starting point but open up the idea of going to Royal Ascot too," Smith said. "Obviously it was very early for them [California Chrome's connections] to have that in their mind, but Art was fairly amenable to the idea of travelling generally and our meeting was really just a social thing."
The next step came in February during Smith's annual world tour, when he seeks out potential Ascot challengers in Japan, Australia, and America, and sometimes other countries (Argentina was added to the itinerary this year). During his stop-off in the states, Smith and Nagler took a detour to Sherman's base at Los Alamitos in California, by which time it had been decided the horse would run in the Dubai World Cup.
"We had a chat again," Smith said. "It was probably much more of a social thing again. The hard sell is not really the style anyway. All you can ever really do is lay out the options and be there for people and help them. So it was agreed that we'd meet with the owners in Dubai."
After Chrome's gallant second in the World Cup on March 28, Smith, Nagler, and Talty met owners Steve Coburn and Perry Martin. "I think it's been well publicized that it wasn't the easiest decision to send him to the U.K., but he's here now and they're both very happy," Smith said. "Steve Coburn is looking forward to coming over and watching the horse run now. Whether that will be in the Lockinge first or straight to Royal Ascot, we don't know.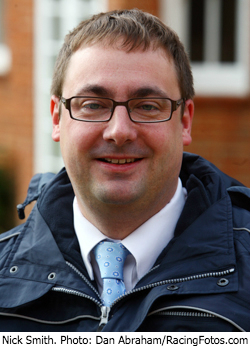 "This has been a real team effort. It was 100-1 plus when we went to the Breeders' Cup. They weren't going to make any rash decisions. They were going to want to see if he could run without the Lasix first, in the Dubai World Cup. That's why it all moved so quickly after the race [because he proved he could run well without Lasix]."
Smith acknowledges that Martin is the keener of the two owners. "He's very realistic about the fact that if he were to fail here he's lost nothing. His potential as a dirt sire would not be reduced in any way by running at Royal Ascot, but if he can show himself to be a Royal Ascot winner then his stallion value as a Kentucky Derby winner will go into a different stratosphere.
"Perry and Steve both see that. It is a hugely ambitious thing to do really, but he is a Grade 1 winner on turf so it's not as though we're going to find out if he handles turf. We've seen he handles turf. The question is, does he handle turf against horses like Adelaide and Spielberg and the others."
The California Chrome team have received no more financial help with the trip than any other international runner. "Our travel allowances fund about half the trip and California Chrome is in exactly the same boat as all the others," Smith said. "Our firm policy is that, if a horse is coming here, we want to help them financially but there has to be a commitment from the owners too because we're not an invitational meeting in the same way as, say, Dubai or Hong Kong."
In California Chrome's case, part of the cost is being borne by Newbury Racecourse, home of the Lockinge. "The Lockinge is perfectly positioned," Smith said. "It's a Group 1, the track's perfect, you can't send an American horse to a better place to have a trial than Newbury."
Indeed, Smith doesn't see a downside in the whole venture. "It's great for us all," he said. "Even if he runs in the Lockinge and wins it and for some awful reason doesn't run at Royal Ascot, everyone will know that it's been a joint venture between us and Newbury and everyone will know that it's better that he was here, we saw him, than not at all. So nobody's going to lose. In an ideal scenario, he'd win the Lockinge, he'd win the Prince of Wales's and we'd all be happy."
California Chrome will be the second Kentucky Derby winner to run at Royal Ascot in three years -- Animal Kingdom finished down the field when favourite for the Queen Anne after winning the Dubai World Cup in 2013. "It was just one of those things," said Smith. "It happens. He wasn't the first horse to down tools at a race meeting."
Able Friend: Could this be another major coup?
Animal Kingdom's appearance was a also a huge coup for Ascot, and another of almost equal magnitude would come this year if Able Friend, currently the highest rated miler in the world on any surface, makes the trip from Hong Kong.
"The Able Friend thing has been two years in the making," Smith said. "When I spoke to the owner at the Hong Kong international meeting before last [in December 2013], it was like, 'Not this year. We still feel like we've got a lot more to do at home, but it's definitely on our minds.'
"I think they've taken the view that he'll make one trip, or no trips. Obviously the race in Japan [the $1.7 million Yasuda Kinen over a mile at Tokyo in June] is quite an appealing option because the prize money would be huge. I think John Moore [Able Friend's trainer] wants to get a Royal Ascot winner. He is up there with the likes of Bob Baffert, the late Henry Cecil, and Gai Waterhouse as one of the world's great trainers and they would like, all these great trainers, to have a Royal Ascot winner. It's a good sort of box-tick. And he's not going to get a better opportunity than he is with Able Friend."
Smith feels the chances are fairly high. "They've made site visits, they've taken it very seriously. It's not just a question of chucking the entry in on April 21 [closing date for entries in the Royal Ascot G1s] and seeing how it is. He'll definitely be entered. Then he'll run in the Champions Mile [in Hong Kong on May 3]. If he comes through that well and it's a reasonably easy performance, then I think that the indications are that they're going to go somewhere. Let's just hope it's us."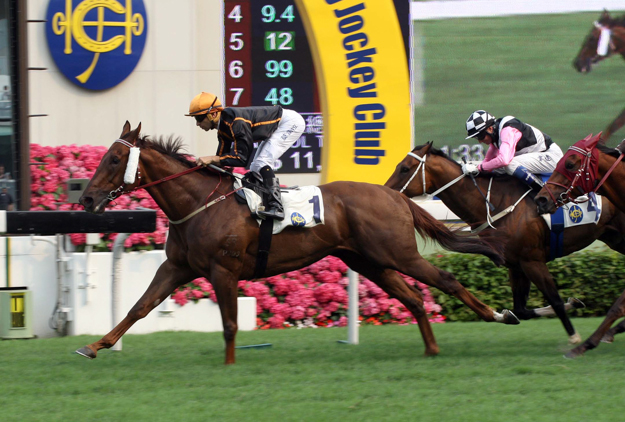 New 3-year-old G1 sprint has plenty of appeal for Americans
Hootenany (trainer Wesley Ward) is a probable runner at the royal meeting but his target has not been decided. Smith believes the G1 Commonwealth Cup (June 19), the new six-furlong sprint for 3-year-olds, could be ideal for the Breeders' Cup Juvenile Turf winner, who also won at Royal Ascot last season. And he's hoping it could develop into one of the races of the meeting, with the enticing possibility of Hootenanny locking horns with last season's leading juvenile filly, the super-fast Tiggy Wiggy.
First, though, connections of both horses will have to decide whether to try them over a mile for the Guineas on the first weekend of May - and whether to persist with that more conventional plan when there is now an attractive alternative over a shorter, and possibly more suitable, trip.
"The good thing is that we're getting really serious thought in the states now [for the Commonwealth Cup]," Smith said. "Even talking to people like Kiaran McLaughlin and Bob Baffert, who you wouldn't imagine really would have Royal Ascot on their mind, they're aware of these things.
"Todd Pletcher wants to run a horse in the Commonwealth Cup. He hasn't got one unfortunately this year but he loves the race. I mean, a 3-year-old turf sprint over six furlongs, there's nothing for them in the states. Nothing close to that level. If you want to run round in stakes races and wait for the Breeders' Cup, fine, but this is a Group 1 race in June. But you've got to have the right horse."
The Commonwealth Cup has been introduced -- with a race program mapped out to give horses a route towards it -- to increase the profile of sprinting in Britain in the hope of making the best domestic runners more competitive internationally.
The Ascot team are working hard to promote the race long term, not only to Europeans and Americans for 3-year-olds, but also to Australians for their 2-year-olds, who are aged three under Northern Hemisphere regulations.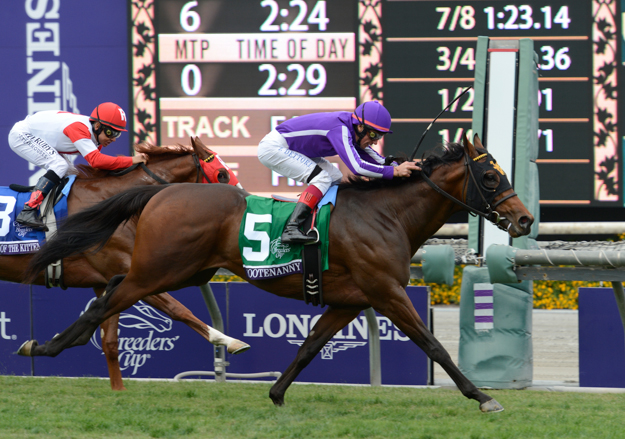 Other Ascot possibles:
UNITED STATES
Undrafted (trainer Wesley Ward) is a probable for the G1 Diamond Jubilee Stakes (6f, June 20). Wes Welker's 5-year-old finished fourth in the July Cup at Newmarket last year.
Wesley Ward's 2-year-olds. "He's got a whole army of them," Smith said. "He'll work out nearer the time which are the three, four or five best and stick 'em on the plane."
Big Macher (Richard Baltas). Smith is hopeful he will be sent over for the Diamond Jubilee. "He was unbelievably unlucky in the Dubai Golden Shaheen," Smith said. "He missed the break completely and finished like a train. Another 100 yards and he definitely would have beaten Secret Circle. The track would be ideal for him. We're not sure what he'd be like on turf, but a demanding six furlongs is exactly what he needs."
Luck Of The Kitten (Wesley Ward). Owner Ken Ramsey's colt, runner-up to Hootenanny at the Breeders' Cup, is a possible for the G1 St James's Palace Stakes for 3-year-old colts over a mile on June 16.
AUSTRALIA
Brazen Beau (Chris Waller). The dual G1-winning 4-year-old, who is vying for the title of fastest horse in Australia, is all set for at least one of the G1 sprints at the royal meeting (5f King's Stand on June 16, 6f Diamond Jubilee on June 20).
Shamal Wind (Robert Smerdon) is another top Australian sprinter expected to take her chances.
Criterion (David Hayes) is a probable for the Prince of Wales's (June 17) if all goes according to plan when he competes in the Queen Elizabeth II Cup at Sha Tin on April 26. Trainer Hayes said after his win at Sydney at the weekend: "It is one of my dreams to take an Australian older horse over there [in Europe] and do what they've done to us, which is win all of our staying races.''
HONG KONG
Peniaphobia (Tony Cruz) and Amber Sky (Ricky Yiu), second and fourth behind Sole Power in the five-furlong G1 Al Quoz Sprint on turf in Dubai on World Cup night, are strong possibles for the King's Stand. Smith said: "Peniaphobia, I think, is the more likely. He seemed to operate well on a straight track. Hopefully we'll get that rematch with Sole Power."
JAPAN
Spielberg (Kazuo Fujisawa), who beat a star line-up, including the world's all-time leading money-earner Gentildonna in the Tenno Sho at Tokyo in November, is an intended runner in the Prince of Wales's. "Mr Fujisawa has spent a bit of time in the U.K. and knows a bit about British racing," Smith said. "He's another one who has the right horse and feels it's one of those things he wants to do. They might bring a few more horses with them, including Lelouch for the Queen Anne."
One And Only (Kojiro Hashiguchi), last year's Japanese Derby winner, who finished third in the Sheema Classic in Dubai, is being aimed not at the royal meeting, but at the richest and most important race at Ascot all year -- the King George VI and Queen Elizabeth Stakes, over a mile and a half at the end of July.
"This is a seriously good horse," Smith said. "The Japanese know that One And Only needs a mile and a half and then some, the way he fought on in a vintage Sheema Classic. He was close enough to Flintshire, who would be favourite for the King George at this stage, on a track that wouldn't have suited him as well to rate a very serious prospect for this.
"I went to see the owner in February. We sat down and it was very much 'if we finish in the first three in the Sheema Classic, we will come for the King George.' And that appears to be what's going to happen."
SOUTH AMERICA
Liberal (trained in Peru by Camilo Traverso II), who won the continent's top weight-for-age race in Argentina in March (the Longines Gran Premio Latinoamericana), is another possible for the King George, or possibly the Prince of Wales's at the royal meeting.
Smith said: "We did a partnership with LARC, the Latin American Racing Channel, who are very influential in how the racing industry in that region works, and they want to showcase the horse on the world stage. They want to find their Choisir. He's rated 115 and he's good enough to run."