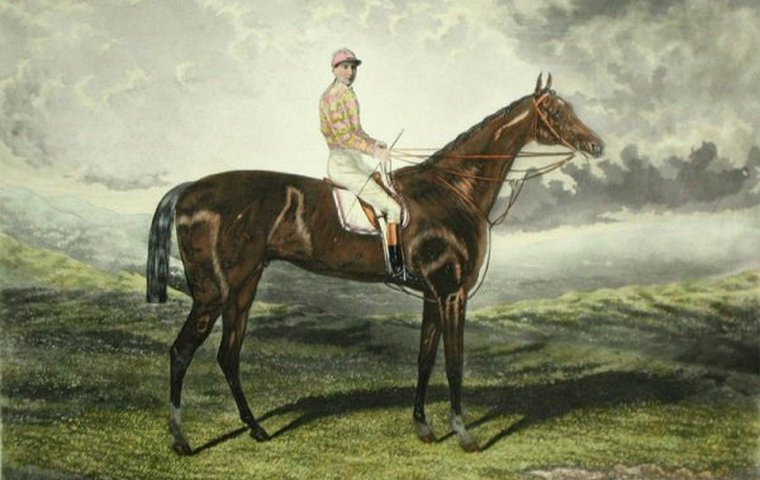 Renowned bloodstock writer Tony Morris with the 18th in his series celebrating 100 horses instrumental in shaping the modern Thoroughbred.

Hampton, b, 1872, Lord Clifden – Lady Langden, by Kettledrum
Hampton's route to renown as an accomplished racehorse and important stud influence was extremely unusual. As a 2-year-old, he ran twice in selling races, winning both, and after his flat engagements at three and four he competed over hurdles, achieving a win and a second place.
Bred in Oxfordshire by Montagu Arthur Bertie, Baron Norreys, who would become the 7th Earl of Abingdon on the death of his father in 1884, Hampton had excellent pedigree credentials, but his want of size was held against him in his early days. It was understandable that he was not entered in any major races, but it still seemed odd that his connections formed such a low opinion of a youngster related to many of the best runners of his era.
The colt, who would never measure above 15.2 hands, was by Lord Clifden, a St Leger winner and Derby runner-up who was beginning to make his mark as a sire when Hampton was conceived. He was the first foal of his dam, Lady Langden, a half-sister to St Leger heroine Caller Ou, their dam being Queen Mary, dam of Derby and Oaks winner Blink Bonny, herself the dam of Derby and St Leger victor and multiple champion sire Blair Athol.
Regarded as a poor specimen of a good breed, this colt made his debut in August 1874 in a five-furlong maiden plate at Oxford worth just £50 to the winner. Carrying the colours of a Mr Ireland, he started a warm favourite in the field of six and won by a short head. That result seems to have done little for his reputation, as his next appearance, at Hampton in October, came in a selling race in which he was entered to be sold for 100gns. He won again, this time by a length, and at the ensuing auction he was purchased for 200gns by James Nightingall.
Having run unnamed on his first two outings, the colt was promptly named after the course where Nightingall had bought him, and at the start of November he turned out for a selling race over half a mile at Brighton. As he was receiving weight from all seven of his rivals, it was not surprising that he completed his hat-trick, prevailing by a neck. Nightingall was able to retain the colt for 150gns at the auction.
Hampton had two more races as a juvenile, contesting nursery handicaps at Warwick on consecutive days in late November. In the first, over five furlongs, he was favoured with a very light weight and managed to register third place, beaten a neck and a head. The following afternoon, trying six furlongs for the first time, he finished unplaced in a field of 11.
Hampton came back stronger and better as a 3-year-old, enhancing his reputation significantly in April, when he ran three times. He began with a head victory in the Great Welcomes Handicap over a mile and a quarter at Croydon on the first of the month, a performance that brought him a five-pound penalty for the time-honoured Great Metropolitan Handicap over two and a quarter miles at Epsom's spring meeting.
The colt had nine rivals there, some of them of higher class than he had encountered previously, but he was still on a low mark with 6st 3lb. He won by a head from another lightweight, Temple Bar, his purse of £860 by far the richest in his career to date. On the following day, he reappeared under a ten-pound penalty in the Claremont Handicap over a mile and a half at Sandown Park. The extra weight there cost him, as he was beaten a neck by the 5-year old Snail.
Mammoth coup
Hampton was not seen out again until the autumn. In mid-October, he ran unplaced in a 36-strong field for the Cesarewitch over two and a quarter miles at Newmarket, and in early November he finished out of the places again in the Brighton Autumn Handicap over a mile. No odds were quoted about his chance, the distance presumably thought to be inadequate for him.
The colt's first experience of racing over obstacles came at Croydon in December 1875. The Grand National Handicap Hurdle (two and a quarter miles, over nine hurdles) provided a stiff introduction to the new branch of the sport, and Hampton delivered a credible effort to finish ten lengths behind the experienced favourite Chandos, fresh from a victory at Warwick, and en route to recognition as the finest hurdler of his era.
Hampton had been continuing to race in trainer James Nightingall's name, but his real owner at this time was a man named Harvey, who suffered a spell of ill luck and had to borrow money in order to pay the training bills. But he was convinced of Hampton's merit, moved him into the care of Robert Peck at Lambourn and began backing him at long odds in the ante-post market for the Goodwood Stakes.
By the day of the race, the colt was a firm 6/4 favourite, and he duly landed a mammoth coup for Harvey, though now carrying the colours of Fred Hobson. Hampton's new high reputation resulted in his starting favourite for the Doncaster Cup, but he disappointed behind Craig Millar, the previous season's St Leger winner. After that, he carried top weight on his second appearance in the Cesarewitch, but, unquoted in the betting, he was presumably a non-trier.
The public may have assumed he would not be busy again in the Great Maiden Hurdle at Sandown Park in December, as he was allowed to start at 10/1, but with his owner in the saddle he came home a ready six-length winner.
Four races in five days
Hampton earned much more respect as a 5-year-old and consolidated his reputation at six before retiring to stud.
In 1877, he began with victory under top weight in the Northumberland Plate, securing the £1,190 prize by a short-head over Glendale, who was receiving 13 pounds. His bid for a second win in the Goodwood Stakes failed, unsurprisingly, as he was conceding huge lumps of weight to most of his rivals, but on the following day he won the Goodwood Cup by a length and a half, with St Leger hero Petrarch among his beaten foes.
Hefty weight concessions proved Hampton's undoing again in the Great Ebor Handicap at York, but he was not to be beaten again as a 5-year-old. A win in the Doncaster Cup as a 7/4 on shot was followed by a spell in Scotland, where he appeared four times in five days. On October 1, he proved an easy winner of the Kelso Gold Cup, then moved on to Edinburgh, where he walked over for the two-mile Queen's Plate on the 4th, then notched a double on the 5th in the two-and-a-half-mile Queen's Plate and the Caledonian Centenary Cup (two miles). Those races were run an hour apart, and both were won in a canter.
On his way home, Hampton beat two rivals for an easy success in the two-mile Queen's Plate at Newmarket, and that was his last appearance in Fred Hobson's colours. Over the winter, he was sold to the 30-year-old 3rd Earl of Ellesmere for 7,200 gns, a tall sum reflecting his relentless rise to stardom.
Hampton began his 6-year-old campaign with victory in the Queen's Plate at Northampton, then accounted for the top-class French-bred Verneuil in the Epsom Gold Cup, forerunner of the Coronation Cup. Verneuil exacted revenge in the Gold Cup, with Hampton last of four, but the latter soon proved he was no back number, failing by only a length to concede 25 pounds to Norwich in the Goodwood Stakes, then notching an easy success in the Queen's Plate at York before a bold run behind Pageant in the Doncaster Cup.
Hampton preserved his unbeaten 'pot-hunting' record in Queen's Plates, walking over for the one at Lichfield, then leaving Verneuil in his wake when recording his second in the Newmarket version. Two further races at Headquarters brought his racing career to a close.
He seemed an unlikely candidate for the Cambridgeshire Handicap, run over a mile and a furlong, the shortest distance he had attempted for three years, but he gave an outstanding display to reach fourth place, while conceding 30 pounds to the winner, 24 to the second, and 42 to the third, beaten two lengths, half a length and a head. The winner was Isonomy, a champion in the making.
Two days after that sterling effort, he was asked to shoulder ten stone in an all-star field for the Jockey Club Cup, and the task proved beyond him. No matter, Hampton had fully earned the right to a stud career, and he was promptly installed at a fee of 30gns at Worsley Hall, near Manchester.
So, while he was not big, he had other valuable attributes, including consistency (19 wins from 33 career starts on the flat), resolution, durability, stamina, and – as became widely recognised during his 5-year-old campaign – class.
Contrary to early expectations, Hampton had thoroughly lived up to his fine pedigree, which would read better than ever during his first season at stud, when Sir Bevys, his half-brother by Favonius, won the Derby.
Increasingly popular
There were 15 live foals in Hampton's first crop, seven of them out of mares owned by Lord Ellesmere, including the pick of the group, Highland Chief, who notched five wins, ran second in the Derby and took third place in the St Leger. Another of note was Ladislas, winner of the Dewhurst Plate, the Ascot Derby and the Jockey Club Cup. Hampton ranked tenth on the sires' list with his first juveniles in action, and the first 3-year-olds advanced his status to seventh place.
The best colt in the second crop was Duke Of Richmond, who was famously second to St Simon in their match as 2-year-olds at Newmarket, and was runner-up on two other notable occasions, in the Stewards' Cup at three and the Champion Stakes at four. Among the fillies foaled in 1881, Belinda won the Park Hill Stakes, and Perdita the Ayr Gold Cup, but the latter attained much more distinction as a broodmare in the Royal Studs, where she became dam of three celebrities by St Simon – Goodwood Cup winner Florizel, dual Classic hero and important sire Persimmon, and Triple Crown victor Diamond Jubilee.
In 1885, Lord Ellesmere moved the increasingly popular Hampton to his Stetchworth Park Stud, near Newmarket, where his fee was raised from 50gns to 100gns. In that year, his son Royal Hampton finished third in the Derby, and for the third consecutive season he ranked seventh on the sires' list. In 1886, there were winners among all five of his racing crops and he progressed to third place, headed only by Hermit and Bend Or.
Hampton was crowned champion sire for the only time in 1887, when successes in three Classics were key to his capture of the title. His daughter Rêve d'Or, a three-time winner as a 2-year-old, collected nine victories in her second campaign, including the 1000 Guineas by a head and the Oaks by three lengths, having started an overwhelming favourite for both.
More remarkably, Merry Hampton won the Derby on his first appearance in public, and he remains the last horse to have broken his maiden in the Classic. If that achievement suggested that Merry Hampton was destined for greatness, it turned out not to be the case. He subsequently ran fourth in the Grand Prix de Paris and finished second in the St Leger, a race he might have won but for traffic problems. However, time would show that of Hampton's three Derby winners, the first was the least gifted.
Star descendants
There were 24 live foals in Hampton's sixth crop, the foals born in 1885. Ten were colts, and two of them became significant achievers. The Duke of Portland bred Ayrshire, who won both the 2000 Guineas and the Derby, and trained on successfully to add the Eclipse Stakes at four, when he also reached third place in the Champion Stakes. He would have a fruitful spell at stud, and Sheen, bred by Prince Soltykoff, would make a minor mark in that role, having scored his best wins in the Ascot Derby at three and the Jockey Club Cup at four.
Quiver, just a modest performer on the racecourse, but an important broodmare for Queen Victoria, had two consequential dates with St Simon, producing daughters (Mimi and La Flèche) who won five Classics between them. She also visited Hampton on two occasions, and though neither product managed to win a race, the second was Maid Marian, whose liaison with Cyllene in 1905 delivered an outstanding racehorse and sire in Polymelus.
Hampton featured among the top 15 sires for 17 consecutive seasons, ending in 1899. He topped the list just the once, but was once second, three times third and once fourth. He was in his 20s, still in demand from prominent breeders, when his last two important sons came along.
One was Ladas, champion as a 2-year-old and still unbeaten when he added the 2000 Guineas and Derby to his laurels, but he was never to win again. None of Hampton's Derby winners earned real and lasting distinction at stud, though Ayrshire and Ladas both had their moments, and a daughter of Merry Hampton would become grand-dam of Man o' War, but a colt from his 14th crop would endure in pedigrees.
That colt was Bay Ronald, who won a Hardwicke Stakes as a 4-year-old, but just missed higher honours as runner-up in two editions of the Champion Stakes and third in the Eclipse Stakes. He would exceed all expectations at stud, getting the mighty Bayardo and another sire of real consequence in Dark Ronald.
With descendants like Persimmon, Polymelus and Bayardo enjoying sustained success in the breeding ranks, Hampton's impact would not be fast forgotten. He stood at the head of several male line branches which continued to thrive until well into the late 20th century, but even the one through his great-great-grandson Hyperion eventually lost its potency.
But we know that the male line constitutes just one of many potentially important areas of a pedigree. The fact that Hampton is rarely found on the top line in current pedigrees cannot detract from the sterling contributions the former selling-plater and hurdler made to the breed.