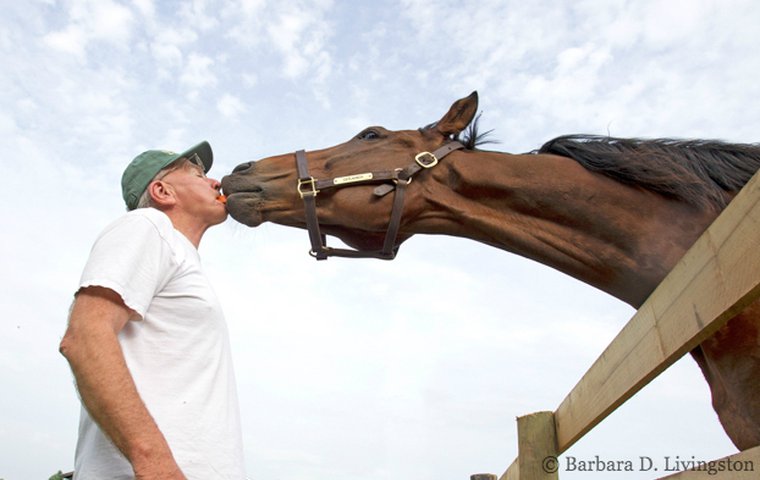 One freezing January morning in 1997, on his way to Suffolk Downs, Michael Blowen saw a stray cat on the side of the road. "Stop the car," he commanded his friend, Tony Meola. Blowen jumped out, scooped up the frightened feline, and thus Rossi became a lifelong pet.

This act of kindness is tiny in contrast to what would become his later life's work: creating Old Friends, a home for retired Thoroughbreds. At the time, it was measure of this unique individual, who combines the compassion of Mother Teresa with the promotional skills of P.T. Barnum.
Blowen founded Old Friends in 2003, after taking a healthy buy-out as the Boston Globe's movie critic and moving lock stock and barrel to Kentucky. At first, the hardboot breeders and owners would have little to do with him. "I don't blame them. They probably thought it was just a fly-by-night scheme to get money out of them by some kooky guy," he said.
"He'd go to breeders when horses were retired and they'd say 'Who are you?'" said Meola, a former colleague at the Globe. "But then he'd get one horse, another horse, and once they started seeing others do it, they'd say – 'Wait a minute he's getting them from Three Chimneys - maybe I should give him a horse just to be included."
Blowen had to earn the respect of the Kentucky horseracing community and to convince skeptics of the "pure joy of going around and feeding carrots to these amazing athletes who raced before 75,000 and 100,000 people."
Through hard work, door-to-door salesmanship, aggressive social media use, and uncanny good luck, Blowen has turned a 136-acre Georgetown farm (plus a New York state branch) into homes for more than 160 retired Thoroughbreds ranging from $5,000 claimers to stakes winners. Old Friends relies on donations and grant funding, but receives no public funds. Tours are $10 each, and from April through October, the farm typically attracts 12,000 visitors.
A sure draw for 2015 is Old Friends' newest resident - 1997 Kentucky Derby and Preakness winner Silver Charm, who spent most of his stud career in Japan before being pensioned and returned to the U.S. Dec. 1.
After an 18-hour flight, the 20-year-old grey arrived at Old Friends to much fanfare, reflecting the persistence, hard work, and generosity of Blowen, the Clay family of Three Chimneys, the Japanese Bloodhorse Breeders Association, and the family of the late Bob Lewis, in whose green and gold colors Silver Charm earned nearly $7 million. The horse has settled in nicely and is drawing up to 50 visitors a week, during a normally slow time.
"He's very intelligent and gentle. You could lead him around with dental floss," Blowen said.
Blowen began his pursuit of Silver Charm five years ago and since the Lewis family had first right of refusal when he retired from stud, the breeder honored that commitment and he headed home. The Lewis family paid for his transportation and will fund his upkeep at Old Friends.
"There wasn't any question in our mind that dad would have liked this," said Bob Lewis' son Jeff, who oversees the family finances and Thoroughbred operations.
Lewis said throughout the negotiations Blowen was "incredibly enthusiastic and professional," terms frequently used to characterize this 68-year-old man. His efforts will be recognized Jan. 17 when Old Friends will receive a special Eclipse Award for its contributions to Thoroughbred aftercare.
"We have several Eclipse Award winners already at the farm; I can't wait to show them mine," Blowen said when he learned of the award.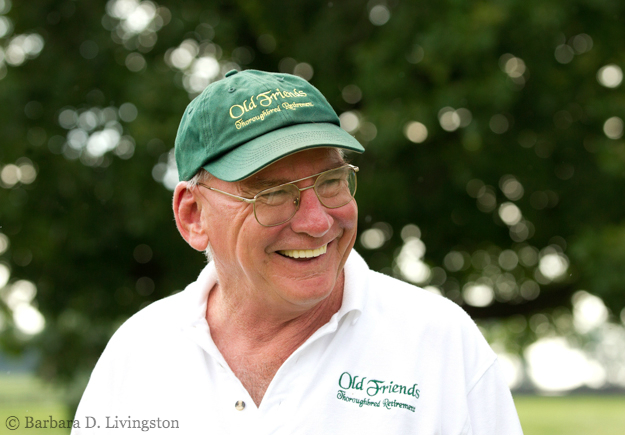 Blowen's original connection with horseracing was as a handicapper, with regular trips to Suffolk Downs with Meola, a retired Globe ad executive, and Alan Berger, a retired editorial writer.
"At the time, we were both reviewing movies and I saw this guy with a racing form in his pocket," Berger said. It was the beginning of a long friendship.
Berger and Meola recall almost the exact instant when Blowen's involvement with Thoroughbreds moved from the betting windows to the backstretch.
He had taken a big hit on a DQ and during a walk to get over it, bumped into veteran Massachusetts trainer Carlos Figueroa. Figuring his handicapping would improve, he asked the trainer if could hang around his barn to learn more about horses.
The next morning and from then on, he was there at 6 a.m. (colleagues recall him coming to the paper with horse manure on his sneakers). Over time, he learned everything there was to know about the care, feeding, and work habits of Thoroughbreds.
It didn't come easy.
"At first I was absolutely terrified of these horses," Blowen said. But with determination and experience, soon he was bathing, bandaging, walking, taking them to and from the track.
Did his wagering luck improve?
"The exact opposite: I fell in love with the horses and that was the end of handicapping." He was especially drawn to the bottom-level claimers of which the Massachusetts fair circuit had its share.
One day, when he asked a Suffolk trainer what happened to an unsuccessful horse, he was told the animal was sent to a riding academy in Maine.
"I knew there were no riding academies in Maine so that's not where he was going," Blowen said, hinting at a dire end. The idea of horse rescue entered his mind: "I always knew if the opportunity presented itself to better their lives, I'd do it."
He briefly dabbled in horse ownership; his JJGittes stable was named after the Jack Nicholson character in Blowen's favorite film, "Chinatown" and the silks had a cartoon of Nicholson on the back.
Ownership, however, pointed to his ultimate calling.
One of his horses, a grey Massachusetts-bred called Fly Magrue, only made it to the track once. "He was a little tiny horse … I was the only one dumb enough to buy him," Blowen said. Eventually he sold him for a buck to a woman, who promised he wouldn't end up on a plate, Five years later, he spotted that fine grey sailing effortlessly over jumps at an equine fair.
Another, a gelding called Summer Attraction, broke his maiden impressively at Suffolk and then was quickly moved up to the 1997 Sanford Stakes. "I remember standing in the paddock at Saratoga and the tiny little horse was shaking," Blowen said. He finished last; a year and half later was still eligible for non-winners of two.
Blowen heard that "Summer" was running in a $3,500 claimer at Rockingham, headed to New Hampshire and won him back on a shake. He's still at Old Friends.
Yet another horse, Auctioneer Billy, was less fortunate. Despite promises from a woman to make him a pet, Billy ended up in a slaughterhouse. "The only answer is to keep them yourself or work for an organization that screens owners," Blowen said.
Another fortuitous turn of events pushed him toward his Old Friends destiny when in 2002, the Thoroughbred Retirement Foundation offered him the position of managing director in Kentucky.
"I knew little about managing and nothing about being a director but I thought this could be fun,' Blowen, said, and after convincing his wife, former prominent Globe columnist, Diane White – a constant support -- to join him, they headed to the Blue Grass country.
Berger said he wasn't surprised Blowen took the job. "He's very unusual – he's not unworldly but he's not a cynic. He always had this kind of moral direction and he loves the horses; they are his friends."
After about a year with TRF, Blowen went out on his own. His first horse was a retired filly, with the ironic name, Narrow Escape, who he took as a favor to a friend. But there was a hitch: he had no place to put her. At the time, prospects were so bleak he was ready to move to Saratoga, hoping his aftercare plan would take off there.
Then Betty Sue Walters, who owned a farm in Midway, agreed to lease him a paddock "and that's how we got started," he said.
This transpired around the time of the brutal death of 1986 Kentucky Derby winner Ferdinand in a Japanese slaughterhouse, which ramped up worldwide interest in aftercare.
"We went from getting five emails a day to hundreds," Blowen said. "We knew such a death should never happen again, and so the plan became to bring at-risk racehorses to Old Friends and provide them with the dignified retirement they deserve."
Blowen believes "the horse is the center of what otherwise could be a cruel business," Berger said. "These are the athletes; they have to be taken care of."
Blowen swung a mortgage for the Kentucky property after a tour with the president of a local bank, who owned a racehorse, Fight Over, who was regularly beaten by Old Friends' resident, Taylor's Special.
"Is that Taylor's Special?" the banker exclaimed. "That horse has cost me millions."
"Yes, and if you loan us the money, you'll own a piece of a good horse," responded Blowen, who was rewarded with the financing.
Taylor's Special, who died in 2006, is part of a list of past and present residents that resembles a Racing Hall of Fame roster: Afternoon Deelites, Black Tie Affair, Bull inthe Heather, Commentator, Gulch, Kiri's Clown, Ogygian, Thunder Rumble, Will's Way, Williamstown, and Zippy Chippy, who was 0-for-100, but became a fan favorite.
Late last year, the 8-year-old gelding, Game On Dude, who banked $6 million (including three Santa Anita Handicap victories) joined the crowd. He is so laid back "when he first got here I thought he might have been tranquilized," Blowen said.
But of all the horses, two, now deceased, have special places in his heart.
In 2004, the 1988 Eclipse Award winner Sunshine Forever was the first horse Blowen got from Japan. His death at 29 a year ago was unexpected. "I don't think I've ever been sadder," he said when the horse was discovered one morning "lying motionless on the coldest, hardest ground imaginable."
Another favorite – although it took some doing – was Ruhlmann, trained by both the late Charlie Whittingham and Bobby Frankel. The dark bay, donated in 2005 to Old Friends by owners Jerry and Ann Moss, was a mean fellow when he first arrived, so mean, in fact, Whittingham's widow told Blowen he was the only horse her husband ever feared. The Cabin Creek, New York branch is named for Frankel, who was a big supporter, who left money to Old Friends in his will. "Apparently in his racing career, Ruhlmann took exception to being bossed around," said Blowen. "He didn't suffer fools gladly and unfortunately I fit into that category."
Ruhlmann never become cuddly but man and horse reached a compromise. Blowen realized Ruhlmann preferred a lead rope to a shank over his nose, and when he had a certain look in his eye, he wanted more carrots. He had that look on Christmas Eve 2008, the day he died.
"I didn't really want to go back to the house but there was something in his expression that made his request irresistible. Of course, he got his carrots. And, as always, I was glad I listened to him," he wrote on the Old Friends website.
What the horses quickly realize is that "when they come here, nothing's asked of them," Blowen said. "All they have to do is look around and say 'There's the grass,' and they figure that out very quickly."
What Blowen has realized is that his years as a horseplayer and his involvement in aftercare are inexorably linked.
"The same personality that makes you a horseplayer allows you to take certain risks," he said. "And if you don't take risks, nothing pays off. In life, you have to make yourself available to new things and new adventures."
The Eclipse Award, and others like it, are a true acknowledgement of the importance of aftercare, he said.
"But there's still a lot to do."