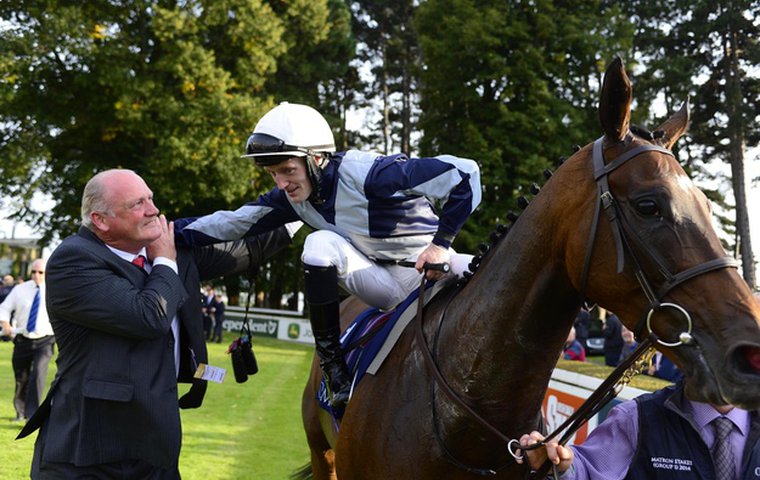 Willie McCreery has Arc day on the horizon after Fiesolana's dramatic G1 triumph on Irish Champions Weekend.

Willie McCreery watched the Matron Stakes from the Leopardstown stands with his wife. He wanted to be away from the public glare, away from cameras, just watch it on his own with Amanda. No pressure.
There was no pressure anyway. Or, if there was, he didn't feel it. All the pre-race attention was on the 3-year-olds Rizeena and Tapestry. They dominated the market for the mile G1 for fillies and mares on the first day of Irish Champions Weekend - and the headlines. Fiesolana was the oldest in the race, a 5-year-old, no better than third in the betting.
Also, Fiesolana had already been placed in a G1 - she had finished third in the Prix Maurice de Gheest at Deauville on her previous run. She had already taken a step forward this season, and she had already gained G1 black type for her owners, the Niarchos family. On top of all that, truth be told, the seven-furlong G1 Prix de la Foret at Longchamp on Arc day had always been her primary objective for 2014. The Matron Stakes was just something to do in the meantime.
"I thought that we should let her take her chance in the race," McCreery said. "I figured, why not? And the owners were great about it. They put me under no pressure. I wanted to be sure that Billy [Lee, her rider] knew that too. Drop her in, relax on her, ride her patiently, make sure that she finishes her race."
To that end, her draw in stall four of 10 was perfect. The key was to miss the break, allow her settle in among horses. She was a winner over six furlongs and a G2 winner over seven, and the Matron mile was always going to be toward the outer limit of her stamina range in G1 company. On fast ground though, around a bend, there was every chance she would get it, as long as she was ridden patiently, as long as she settled.
McCreery figured the Ballydoyle filly Palace would want to make it or be handy, and that she would go forward from her outside draw and move in. That would create the accordion effect that would allow Fiesolana to settle back in among horses from her middle draw, as long as she missed the kick. That was imperative. She doesn't always miss the kick.
And so it happened. Fiesolana missed the break and tucked in. Palace was ridden up the outside to adopt a handy position, and moved inward. After they had gone a furlong, Fiesolana was second to last along the inside and settled, a bank of horses in front of her. Perfect.
Willie watched the runners make their way down the back straight through his binoculars, sideways on, as Amanda watched on the big screen.
"She's going well," the trainer said as he kept his eye on Fiesolana.
McCreery trained Fiesolana to win five of her eight races last season. He got her as a 93-rated handicapper from Jean-Claude Rouget's yard in France, leased from her owner for a year, and he turned her into a 114-rated G2 winner.
When he sent her to the December Sale last year, he said goodbye. In the book of his career, he had turned the page on the Fiesolana chapter. He didn't even go to the sale. He heard that she sold for 960,000 guineas ($1.6 million) and he thought, fair play. Then he received a call from Alan Cooper, racing manager for Fiesolana's new owners, asking him if he would train her again in 2014.
The mare moved easily under Billy Lee, clad in the famous Niarchos silks. Lee had never before ridden a G1 winner, but he is a top rider who knows Fiesolana well. He rode her to three of her five victories in 2013, including when landing the G2 Challenge Stakes at Newmarket, and he rode her to finish third in the G1 Prix Maurice de Gheest five weeks earlier.
As well as that, he had ridden Agnes Stewart to win the G2 May Hill Stakes at Doncaster for Eddie Lynam the previous day. He went into the race on the crest of a wave of confidence.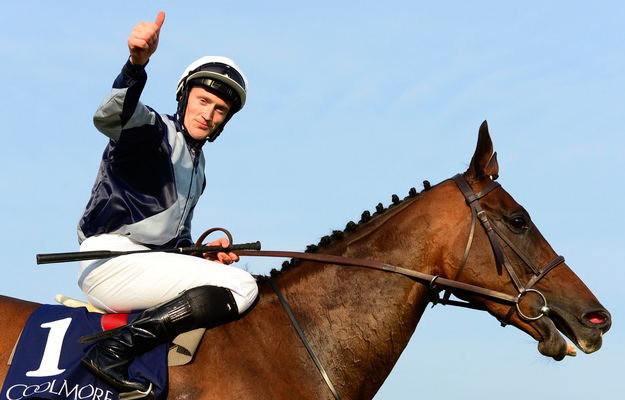 Fiesolana and Lee got to the end of the back straight and started to turn.
"She's still going well," McCreery said. Like his rider, he had never before had a G1 winner.
When McCreery knew horses first, it was National Hunt horses he knew. A nephew of Arkle's rider Pat Taaffe, Willie's dad Peter trained some top-class hurdlers and chasers. Best among the steeplechasers was Hilly Way, who won the Queen Mother Champion Chase at Cheltenham in 1978 and 1979, while best among the hurdlers was Daring Run, who won the Irish Champion Hurdle at Leopardstown in 1981 and 1982. When Willie's brother Peter took over the licence, he trained Son Of War to win the Irish Grand National in 1983.
Willie's route to training was more circuitous. He did the course at the Irish National Stud, then spent six years as assistant trainer to Charles O'Brien. It was during that time that he became a household name in Ireland as one of the key members of the Kildare Gaelic Football team that won the Leinster Championship in 1998 and 2000. He was voted man-of-the-match in the 1998 final.
Fiesolana was still third last as they turned for home. Far from being despondent, however, her trainer was starting to grow in hope. He remembered Michael Kinane saying that they were still a long way from home when they entered the home straight on this track. That they still had about 2 1/2 furlongs to go from that point, up the hill. His mare still had a wall of horses in front of her as they flashed past the two-furlong marker, but Billy Lee was the only rider still standing up in his irons.
"She just needs a gap."
The rider moved the mare toward the outside. Inside Rizeena, outside Tapestry. Watching from side-on, you weren't really certain if there was actually a gap there. Yet Fiesolana threaded the needle through flailing whips and shouting jockeys. Lee sat down to drive her forward and, as he did, his mare picked up. She joined Rizeena with a hundred yards to run and surged to the front.
As she did, high in the stands, her trainer and his wife celebrated. McCreery is not sure what he shouted or when he shouted, he just knows that there was lots of shouting and jumping and plenty of back-slapping afterward.
"They are the days," he said thoughtfully. "You need your bread and butter days, but the big days are the days in which you want to be involved. I am used to going racing on the big days with a runner in one of the handicaps and thinking, wouldn't it be great to have a runner in the G1. Then we had a runner. Then we had a winner. Unbelievable."
The Prix de la Foret is still on Fiesolana's radar. Another G1 target with a G1 prize already in the bag. Still no pressure.