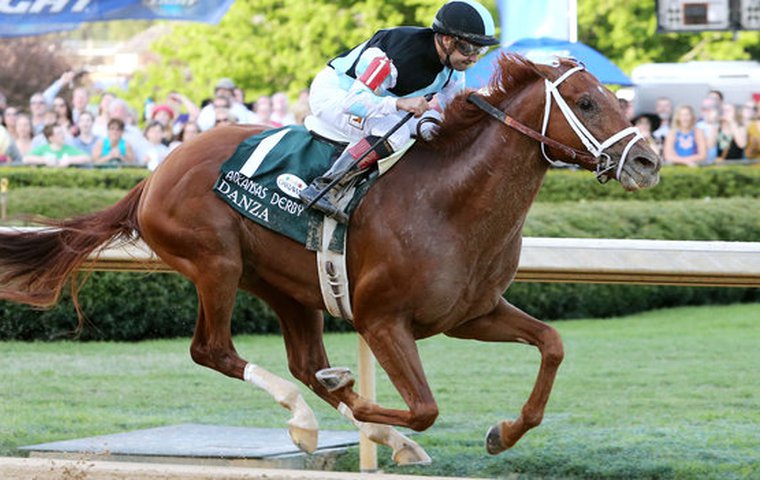 For the first time last year, Brandywine Farm's owners Pam and Jim Robinson watched a horse they had bred compete in the Kentucky Derby. On Saturday, they will watch the second as Eclipse Thoroughbred Partners' Danza represents their breeding program in the Run for the Roses. Teresa Genaro caught up with the Arkansas Derby winner's breeders and owner ahead of the race.

When Danza crossed the finish line first in the Grade 1 Arkansas Derby on April 12, he had plenty of people cheering him on at Oaklawn Park.
He also had a serious, albeit smaller, cheering section at Henry Clay's in Lexington, Kentucky, where Pam Robinson was having dinner with Ressa Harris, one of the clients of her and her husband Jim's Brandywine Farm, which bred Danza in partnership with Frank Whitely's Liberation Farm.
The Robinsons had said goodbye to Danza in September of 2012 when he sold for $105,000 at the Keeneland September sale, and arranging to watch the race wasn't easy, coming as it did smack in the middle of a client visit and breeding and foaling season, but a little maneuvering put Pam in front of what she called "a very small TV" when the horses went to the post.
"My husband and I didn't watch it together," she said. "We had a couple of mares very close to foaling, so we couldn't both be gone from the farm at the same time, and we had some clients that wanted to go to dinner."
So Jim stayed home and Pam went out, and the folks at Clay's were good enough to turn the sound up so that Pam and Ressa and the other diners, many of whom were Pam's friends, could watch as the colt that the Robinsons raised sneaked up the rail to steal the Arkansas Derby by 4 3/4 lengths at odds of 41-1.
"I thought he'd make a respectable showing," said Pam, "but to win like he did…that was impressive."
The Robinsons and Whitely had purchased Danza's mare, Champagne Royale, in 2006 at the Keeneland January sale for $29,000. Jim likes French Deputy mares, and Whitely had had an interest in Champagne Royale's family at one time. Pam remembers Champagne Royale as a pretty gray mare, and following the dissolution of their partnership with Whitely, Pam and Jim bought out his interest; they are expecting at any moment Champagne Royale to deliver a Shackleford foal.
By Street Boss, Danza was purchased by Eclipse Thoroughbred Partners, whose president Aron Wellman said that the Robinsons' stamp is one of the main reasons he was attracted to the horse.
"You don't hesitate to buy a horse bred and consigned by Brandywine, and Rob Whitely as well," he said, standing outside trainer Todd Pletcher's Churchill Downs barn Thursday morning. "Their reputation is fantastic and you know that they've been brought up the right way by the right people at the right place."
Danza's physical and mental presence also impressed Wellman.
"He was an extremely athletic individual," he observed. "He had size and strength in all the right places. He seemed like he was extremely healthy at the sale, which would come as no surprise because he came from such a wonderful operation."
Pam Robinson remembers Danza as a "correct, athletic, very nice foal."
"He had an attitude from day one," she said, "probably inherited from his mother.
"He had an edge, and he was very business-like. He was great to prepare for the sale because he did everything right. He was easy to lunge, he responded to voice commands and signals. He was smart and good-looking."
"He handled the entire sales week extremely well for such a young horse," said Wellman with admiration. "When you have the luxury of being able to monitor a horse for several days while they're at the sale, it's always good to keep an eye on them to see how they handle the proceedings, because some horses unravel due to the stress of the sales environment.
"This horse seemed to thrive throughout the week. He just really took it all in, no matter how many times he was dragged out to be shown. He was always happy and willing to do it."
At Churchill Downs this week, Danza is showing the same aplomb.
"You can see that he is just absolutely taking in the frenzy that is Derby week," marveled Wellman. "A lot of these horses will get hot and bothered and worked up, and he just seems to take a deep breath, prick his ears, and love the moment. He's really just thriving in the atmosphere."
It's tempting to compare Danza's poise to that of an actor on stage, particularly given his name, which came about as a result of brainstorming sessions at Eclipse Thoroughbred Partners' office.
"One of the fun things we do as company is that when we buy an unnamed horse, we allow the staff to brainstorm names and throw their names into the hat," explained Wellman. "Because he's by Street Boss, the theme of 'boss' came around, and Lee Midkiff, our chairman, asked, "What about 'Who's the Boss?'"
The suggestion, a reference to the popular American sitcom from the 1980s starring Tony Danza, struck a chord, and the team ultimately submitted to The Jockey Club the name of Danza's character on the show, Tony Micelli. The name was rejected.
"So then we said, 'Why don't we try Danza?' You have a lot of stress when you name a horse after somebody, particularly somebody famous, because you want it to be a good horse, and in this case thankfully it worked out."
So well, in fact, that the actor will be heading to Louisville to watch his namesake run on Saturday afternoon.
The Robinsons will not; they'll be home in Lexington, for the second consecutive year watching a horse that they bred run in the Kentucky Derby. Itsmyluckyday ran 15th last year, but came back two weeks later to finish second in the Preakness; in 2011, the Brandywine/Whitely-bred Ruler On Ice won the Belmont Stakes. Other stakes winners that the Robinsons have foaled, raised and sold are Secret Compass, Jody Slew, and the multiple Grade 1 winner Champagne d'Oro.
They also own a full sister to Danza in Champagne Sparkle - her first foal is a 2014 Dialed In filly, and she was recently pronounced in foal to 2011 Breeders' Cup Classic winner Drosselmeyer.
Their operation also includes a mare and foal with pedigrees not quite as dazzling as their blue-blooded neighbors; in January, they privately purchased a no-bid mare and the foal to which she had given birth that morning on the Keeneland grounds for Ressa Harris, the client with whom they watched the Arkansas Derby.
"That foal is no longer what I would call a small, frail, knock-kneed foal like he was when he went through the sales ring," Pam said. "He's got good bones, and he's stout with a lot of substance, quite correct. Our little guy is not so little anymore."
His dam, Leaving Virginia, is in foal to Hold Me Back.
On Saturday, Danza will break from post 4; his morning line odds of 8-1 put him as the third betting choice, along with Intense Holiday, behind Wood Memorial winner Wicked Strong and favored California Chrome.
"All those things that you think you saw way back in January of 2012 when he was just a baby, now they're coming to fruition here on the world's biggest stage," said Wellman.
"You're wrong a lot; everybody thinks when they buy a horse that he has quality and class and the physical make-up to be a good horse.
"And in this case, thankfully, we were right."