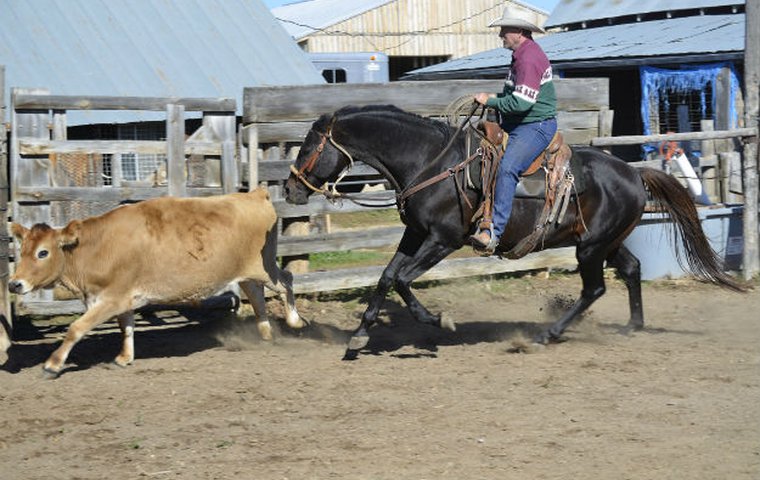 Dale Simanton has heard it all. The co-founder of Gate to Great Geldings, a South Dakota-based organization that retrains racehorses for new careers, gets a lot of heat for his favorite breed in his Quarter Horse-dominated hometown. But, after 48 years of training Thoroughbreds, and a few champion Quarter Horses too, he doesn't seem to mind.

His thriving Gate to Great (GTG) organization has seen many graduates find success in a number of disciplines, including eventing, trail riding, and barrel racing. Although the training program is based on a foundation of ranch work, Simanton says many buyers come to him looking for their next fox hunter or eventer.
In addition to retraining and selling off-track Thoroughbreds, GTG also works to make sure the horses and their new owners are enjoying their lives together. Through the GTG "Enjoyment" Program, owners can win awards through a point-based system. Points are recorded by owners and earned for the hours they spend riding, training, and showing their horses. There's also an annual GTG "Class Reunion" at Simanton's ranch for owners to get an inside look at their training process.
Thanks to his horse Rikim, a "war horse" with 75 starts and $92,476 in earnings, Simanton has become a well-known and respected character at Retired Racehorse Project's annual Thoroughbred Makeover events. At last year's Makeover, Simanton and Rikim showed off their top-notch ranch and roping skills in America's Most Wanted Thoroughbred competition, and he will be back with another ranch horse to compete at this year's event from tomorrow to Sunday (Oct. 23-25) at the Kentucky Horse Park.
Simanton recently talked to Erin Shea about his GTG program, defying the stereotype that Thoroughbreds can't be excellent ranch horses, and what he thinks racing can do to help the aftercare industry.
----------
How did you start the Gate to Great program?
"The Gate To Great program was hatched from what we already knew how to do. I've been retraining racehorses for 48 years.
"Anyway, we had quite a string of mares and in 2008 the market fell apart and we just had to start selling off our mares. So I started watching for horses on TVG. I'd watch for horses on the lower end and if I saw something that was maybe 35-1 at a bottom-claiming level, I would try to find them and I'd trade them a weanling, a mare, anything.
"And then I met [the late trainer] Dan Hays' wife, Carole, over the phone and she asked 'Well, what do you do with [the horses]?' I said, 'I make ranch horses out of them and then I sell them.' And then she said, 'My husband helps train for a big trainer and they are looking for geldings to send somewhere.' So I told her to have him call me, and he sent a bunch of horses to me, and that's kind of how it all started. Now we get calls all the time."
When you started using your Thoroughbred race horses for ranch work between race meets, how did these horses take to this work?
"I was asked a similar question at the Thoroughbred Makeover about retraining a racehorse, and I guess I take a lot of things for granted because I've been doing it for so long. I said 'How hard is it to train a horse who has already been ridden a thousand times? You just get on and ride him.' I guess I over simplify things because it just doesn't work for a lot of people.
"I have a big Jersey steer that terrifies a lot of these horses. And the worst part of it is, you can see his eyes from a long way off -- he's got a real light-colored face and black eyes, and I can see where he'd be scary to some of these horses. And sometimes I have to sic the dog on the steer to move him away, and sometimes it'll take a week to get them over being scared of 'Jersey Joe.'"
You've said before that when you look for horses on the track, you look for ones that have had more starts. Why?
"Well the people who don't want a horse with a lot of starts are not real horsemen. A horse that's had a lot of races, they've kept him around for a reason. Usually if [the horse is] crazy, they don't hang around until they get 30-40 races, and they don't get crazier with every race. So if they have five races or if they have 50, their mind is no different. A horse with a lot of races, he probably stayed sound and you know he's been ridden at least 50 times.
"I know people out here who've bought horses from cowboys and they said, 'Oh he's only got 60 days of riding on him," and he may only have 10 rides, but it took them 60 days to do it. I can't remember the last time [an off-track Thoroughbred] bucked with me. My main clientele are women, 40-65, who maybe rode really well at one time and gave up their horseback fun to raise a family or have a career or something like that, and now they can afford a horse and they want to get back to riding and they don't want to get bucked off.
"I found that these racehorses, once they realize that you'll let them relax, they will. I hardly ever tighten a rein on these horses. When I get on a horse, the first thing I ask for is a couple steps backward because they have forward motion -- that's something they learned at the racetrack. I take over the minute I step on, we back up a couple of steps and then we ride off, and I never let them choose the gait. If they decide they are going to trot, I bring them back to a walk. Even if I don't care how fast we go, I pick the gait because I want to be in control. And it doesn't take them 15 minutes to realize that they are the follower and you are the leader."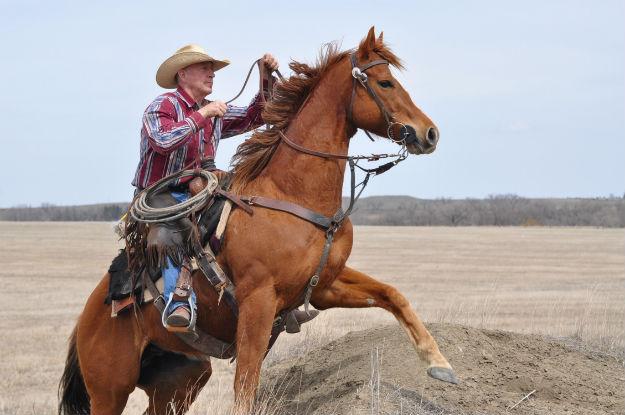 What is your process when you get a horse off the track?
"If they are fairly sound, I'll take them out for just a little ride. I'll take them out around the hay field and just walk around. If I can just get them to walk, I'm satisfied with that. And then I turn them out for two to six months. I let them get completely out of shape … and they just get to stand around and be a horse. I've had horses turned out here for two years before I rode them. And they get completely sound. It's surprising what time will do for a horse that is crippled up."
Do you think there's a stigma about Thoroughbreds in the riding world? If so, what can be done about it?
"You just have to use them and prove it. The Warmbloods and Quarter Horse people say "Oh the Thoroughbreds are crazy," well they did that by design because they are trying to sell something.
"I've been to horse shows around here. My wife shows horses and she's always on Thoroughbreds, and worst acting horses that I've come across in my life have been the Quarter Horses. I've never seen a Thoroughbred flip upside down because they were standing there looking at him -- barrel horses have to have someone lead them in and out of the area. Thoroughbreds, it happens, but if you watch a day of Quarter Horse racing, I bet you'll see at least 10 horses flip in the gate and you don't see that with Thoroughbreds. You might see one in a day, but it's not the Thoroughbreds that have the bad minds. But you put a gun in the wrong hands and you'll be shot. You get a Belgian Warmblood in the wrong hands and he'll be hard to handle."
It seems that ranch work and western pleasure competitions are dominated by Quarter Horses. What's it like competing on a Thoroughbred?
"I've heard every insult in the world about Thoroughbreds. I've heard every insult that you can imagine, but never from a horseman. I had a Quarter Horse guy tell me "Oh with Thoroughbreds, the reason you gotta take them to the track everyday is because they'll forget where it is." And a couple years ago, he switched to training Thoroughbreds at Los Alamitos. He couldn't win with the Quarter Horses so he had to move to Thoroughbreds to make a living."
Do you think there could ever be a connection between the racing industry and the western pleasure industry?
"We need more people to try it [western pleasure/ranch work on Thoroughbreds]. I would like to put together a complete ranch-rodeo team with just Thoroughbreds. I tried once, but I didn't have enough cowboys to match up with the Thoroughbreds - I had [Hall of Fame jockey] Chris McCarron ride one. I could put a ranch-rodeo team together right now if I could find the hands to ride them."
What about the community where you are now, is it mostly Quarter Horses?
"It's about all Quarter Horses. I took off after a bull that was raising hell when I was riding one day last fall, and I was riding a Thoroughbred - that's all I ride - and this bull was sneaking off in the brush and we put him back in the herd six or seven times but he spun around and took off. I went after him and we went up through cut banks and the timber, and this bull couldn't shake this horse for probably a full minute. So the bull runs back in the herd and stays there. I was helping this guy out whose wife was there and she goes, 'My god, why would anybody not want to ride a Thoroughbred?'
"And I've had some good Quarter Horses, I've trained a couple of champions, but my heart has always been with the Thoroughbreds. And I've got no reason to change now."
What other qualities do you look for when evaluating an off-track Thoroughbred?
"I try to find horses that are 16 hands or less. That's one of the first things I ask people when they call me about a horse, 'How big is he?' And I like to know the pedigree. Sometimes I can look them up and find a race to get an idea of what they look like."
What do you think the U.S. racing industry should do to help horses that are finished racing?
"The biggest problem that I run into is if somebody wants to send me a horse, it's hard to find shippers, and I can't always find a place to keep a horse until I can find a shipper. I've had horses that were just loaded up and sent to somebody, maybe sent to kill, I don't know, because I couldn't find a shipper when I was looking for one.
"Sometimes it'll take me a month or two to find something. I've had horses that they've sent back to the racetrack [in that time] and have broken down. I once bought a horse, I put a check in the mail, and I found out that about two weeks later they ran the horse again and he broke down.
"I know a lot of these people are against a wall. When a horse isn't running they got to get him out of the stall, but we need some kind of safe houses or some place for these horses to go. Maybe even some help with shipping."
What can Thoroughbred Makeover attendees expect to see from you this year?
"I hope they see a really well-broke horse. My main makeover horse, I don't think I have 60 days on him this year … it was just one thing after another.
"He's really got a lot of talent in him … when you're roping cattle, the faster you get working, the horses can get excited and that's when they want to run past the cattle. I just started working pretty fast with him and he settled down instead of getting more excited. I've never had a horse do that. They usually get more excited, he got quieter. He might be the most trainable horse that I've ever been on."