AP McCoy will receive a lifetime achievement award at the prestigious BBC Sports Personality of the Year presentation evening on Sunday, December 20, 2015.

"What's the narrative?" It's a question that seems constantly to be bothering those whose job it is to promote horse racing in Britain as they search for the storyline that will lead those who enjoyed Event A to care about Event B and save the entire season from being just one damn race after another.
On Feb. 7, those public relations workers suddenly found they could put their feet up for the next three months. Tony "AP" McCoy, the most successful jump jockey there ever was after riding more than 4,000 winners, announced he would retire at some point before the summer. What was left of the jump season would inevitably become about him.
This was not just the view from inside the sport, whose devotees struggle to remember what it was like the last time someone other than McCoy was champion jump jockey, two decades ago. Those with a wider perspective also saw this as a momentous occasion.
"He is, in terms of longevity, resilience, success, popularity, humility, the greatest sportsman in Britain over the last 20 years," wrote the award-winning sports writer Sue Mott. The Daily Telegraph published its list of the 10 greatest living sportspeople in the UK and made McCoy No. 1. His credentials for that honour were "near impossible to argue against," said the accompanying blurb, describing the jockey as "unbeatable, unbreakable."
This was particularly generous of the Telegraph, which had quietly stopped using McCoy as a columnist just three months before, after an association of many years, missing out by mere weeks on the chance to scoop their rivals with an exclusive announcement of the imminent end to his career. In the event, McCoy broke that news live on Channel 4 after winning his 200th race of the season. Shortly thereafter, he was snapped up by The Times.
But, even when he has had such commitments, McCoy has been conscientious about talking to as many media outlets as he can find time for. While he may have made himself hard to approach in his early days, he long ago accepted that a bit of talking was a fair exchange for what he got out of racing.
With that in mind, he agreed to a press conference in early March at which he would discuss his various chances at the Cheltenham Festival, the extraordinary four-day race-meeting at which Britain and Ireland's jump racing's champions are identified. This would be McCoy's final Festival and there was much speculation about whether he would be able to mark his retirement with at least one more winner there.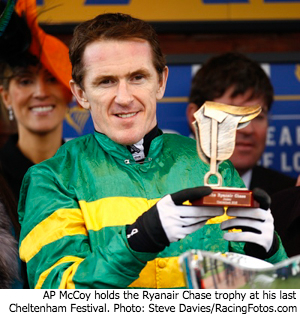 There is no precedent for a jump jockey agreeing to a press conference to discuss races that are more than a week away. For one thing, it is rash to assume one will be fit to take part when there are perhaps 40 rides over hurdles and fences to be undertaken before the big day. For another, even the racing media is not normally so interested in one jockey's book of mounts as to require an hour-long discussion of the subject.
But there were around 50 journalists, press and TV, in attendance when McCoy offered to talk about Cheltenham. It would have been more but for a last-minute change of date and location necessitated by a change in his riding plans.
While McCoy wants to help, all such events must bend to the demands of horseracing, reported his media agent, Claire Burns. "There's always been a lot of media attention around AP, but there's a balance that has to be struck because he's got his job to do and he has to maintain his focus," she said. "There have always been offers to do TV shows and radio appearances but if it doesn't fit in with his calendar, he doesn't do it. The racing absolutely comes first and he would never not take a ride in order to appear on TV.
"There have been interview requests from all around the world - we receive around 400 requests per week - but no one person can fulfil this demand. We arrange media mornings ahead of the big Festivals so AP can speak to as many media outlets as possible. It is my job to ensure his media commitments are managed in the best possible way for him."
In Britain, most jockeys announce their retirement on the spot, usually after dismounting from a winner. At the time of writing, McCoy has still not named a final date but it is likely to be at the end of April or early in May. By then, his retirement roadshow will have been rumbling on for almost three months, a sort of side effect of his determination to assert control over his own story, rather than answer continuous speculation on the subject.
"It's been an incredible thing, this farewell tour," Burns said. "Whenever he rides at a course, it could be the last time he's ever going to ride there and the courses have been flooded with people who want to see him one last time.
"He's one of the most popular sporting talents in the country, not just because he has dominated one sport for two decades, but because of the dangers he faces every day, the pressures he's under, and his relentless drive and motivation is simply phenomenal. If you compare what he does to other sports, where there are regular breaks, he works so hard, day in, day out and it's really only the big festivals that are covered by the wider media.
"When you look at his discipline, what he goes through and how little he is able to eat, I wouldn't be able to do that and I don't know anyone else who can. He's so well respected by everybody and yet remains humble. He always takes the time to sign autographs and have photographs taken."
Naomi Lawson also has first-hand knowledge of the extent of media interest in McCoy, thanks to her work for Great British Racing, the sport's promotional wing. She talked about how he has created "cut-through" for the sport, his achievements gaining the sport more and better exposure than it has normally enjoyed.
"There's something other-worldly about his various feats," Lawson said, "and, as a character and a personality, it's made him fascinating, to the public and to various outlets that wouldn't normally cover racing.
"We work with lots of the great, fun people in the weighing room. But they'd be the first to admit that there's no one like AP. For one thing, he's never not been champion.
"I don't think anyone is sure what he'll do next but I don't think he'll be moving away from the sport. He'll still be a great ambassador for racing and he 's brilliant at any media work that he does. He's a good talker and he's got that wry sense of humour."
Before retirement, there should be at least one more very big day, when McCoy rides in his last Grand National. He is expected to be aboard Shutthefrontdoor, whose odds crashed from 20-to-1 to single figures in a matter of days when the betting market recognised the horse's probable significance. Famously, McCoy found the National terribly hard to win but he finally conquered it on Don't Push It in 2010, a success that then led to him being voted Britain's Sports Personality of the Year, the first racing figure to win that award, inaugurated in 1954.
A second National victory in the final month of his career might win him SPOTY again. Whether or no, it seems certain that there will be lots more television in his future, if Burns has her way.
"I have had many offers and have many suggestions of things he could do when he stops," she said, "but we're not even going to talk about that until he's finished riding and had a couple of weeks in the sun. He's still got a job to do, he's still winning races and he needs to try and enjoy his last few weeks riding, however hard that must be. I'm sure he is counting down the days until he has to stop, so it wouldn't be fair for me to start hounding him about what happens next."
---
Chris Cook is racing correspondent for The Guardian