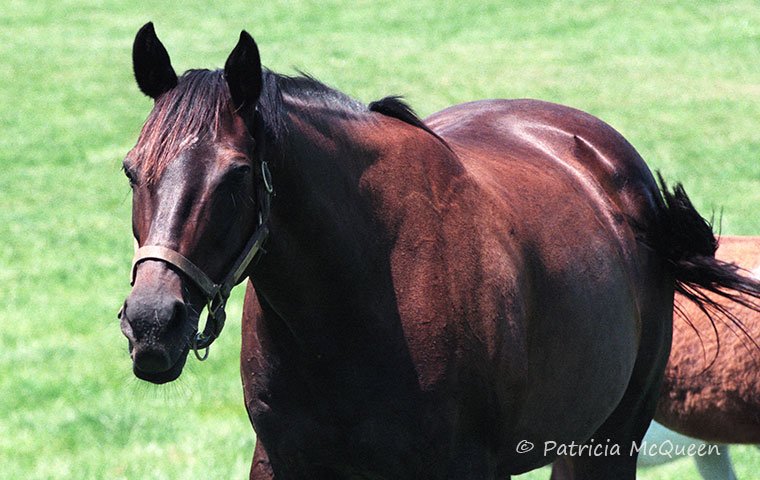 Some of Secretariat's runners were flashy, occasionally brilliant sorts who visually reminded people of their famous sire. Others, like Lady's Secret and Risen Star, were different types altogether, but they inherited considerable talent. And still others developed into hard-knocking racehorses who rewarded their connections with longevity, consistency and heart – and the occasional stakes win.

One member of the latter group was Viva Sec; coincidentally, she was handled early in her career by trainer Bruce Johnstone, who also had in his barn the flashy Secrettame.
Unlike that stakes-winning Secretariat filly, which had her sire's looks, the bay Viva Sec was "a pretty straightforward kind of horse, small and tough", recalled Johnstone, who passed away in February. "She was broad with a real good kind of Quarter Horse rear end on her. She wasn't very imposing, but you didn't dismiss her because she wasn't attractive or didn't look athletic. When you led her over, nobody looked past her."
Viva Sec was bred in Kentucky by Malibu Stables; she was born on March 29, 1978.
Her sprinter's heritage came from her dam, multiple Graded stakes winner Viva La Vivi. Best at six and seven furlongs, that filly was known to enjoy a cup of morning coffee with her trainer Harold Hodosh. As a broodmare, her first three foals were all fillies by Secretariat: the winner Viva Aviva, Viva Sec, and the unraced Viva's Lady.
Viva Sec was the mare's only stakes winner, and, while Viva Aviva didn't have the racing talent, that one did end up as a prolific producer – a family trait – with 16 named foals, including G2 stakes winner Viva Zapata, plus another stakes winner and a stakes-placed runner.
Viva Sec brought $225,000 as a yearling at the Keeneland summer sale in 1979, and was one of four horses, including Secrettame, sent to Johnstone by Villa Blanca Farm. He was the private trainer for the new operation, owned by Venezuelan Jose Sahagun.
"He was a really terrific guy," remembered Johnstone. But, with an oil crisis in his native country and other economic woes, Sahagun's entrance into the American Thoroughbred market was short-lived and ended abruptly in 1982.
The trainer unveiled Viva Sec at Saratoga on August 14, 1981, about a month after Secrettame made her debut a winning one at Belmont Park. The little bay rallied from well back under jockey Angel Cordero but fell about 1¼ lengths short, finishing third in the seven-furlong maiden. A change of tactics in her next race, a seven-furlong affair at Belmont, saw her on the lead early, but she was second best to eight-length winner Heavenly Match. As an interesting aside, Heavenly Match was out of The Bride, the full sister to Secretariat born in 1969 who was part of the fateful coin toss that sent her to the Phipps family and Secretariat to Meadow Stable.
Start of a streak
Shortened to six furlongs, Viva Sec broke through on September 9 with a neck victory at Belmont Park. This time, she was well placed early, drew off to a five-length lead in the upper stretch, and just lasted to hold off I Pass. The victory launched a five-race win streak for Secretariat's daughter, who took two straight six-furlong allowance races at Aqueduct in October before trying stakes company for the first time in the Dark Mirage on November 21.
Prepping for that race, Viva Sec worked five furlongs in :59⅗ on November 15, finishing "full of life", according to the note in the Daily Racing Form, which called her a "formidable contender" for the Dark Mirage. Formidable she was in her first stakes race, racing just off the pace set by Companionship early before engaging Sweet Revenge, who had taken over at the top of the stretch. The two fillies battled it out to the wire, with Viva Sec on the inside prevailing by a head in 1:10 over a muddy track.
In his column, the Form's Joe Hirsch wrote that the Dark Mirage was "one of the most exciting sprints of the entire year".
Johnstone was quoted in Hirsch's column: "There is no question Viva Sec had to work for it. It was a great race to win and a hard race to lose. I can't tell you how delighted our people were in winning, and the best part is that she came out of the race in good shape." The young trainer and the filly's connections had extra reason to be delighted – it was the very first stakes win for everyone concerned.
Viva Sec had earned some time off, getting a brief holiday in Aiken, South Carolina, before returning to Johnstone's stable at Hialeah Park. In early February, the trainer told the Form's Jack Wilson that the little filly who had shown a lot of heart in the Dark Mirage was "progressing steadily and should be ready to start in about three or four weeks".
Right on time, that start came in a six-furlong allowance at Aqueduct on February 26, 1982 – her fifth win in a row. Less than two weeks later, she tried Graded stakes company in the G3 Correction, a race her dam won in 1975. Odds-on at 4/5, she couldn't catch the front-running Matching and settled for second over a sloppy track. A close fourth in the G3 Distaff followed two weeks later.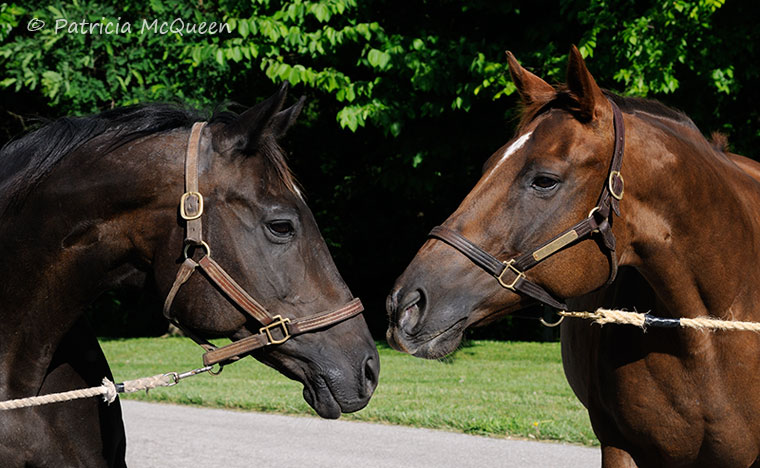 After a short break, Viva Sec returned in a Saratoga allowance race on August 4, finishing second in a game effort to Expressive Dance. As another aside, the winner was by Secretariat's stablemate Riva Ridge out of Exclusive Dancer, making her a half-sister to Travers winner General Assembly, one of Secretariat's best sons. And later that same day, a 2-year-old Secretariat filly named Weekend Surprise won the Schuylerville for her first stakes win; seven years later, she produced A.P. Indy.
A second in another allowance race at Saratoga was followed by two wins at Belmont for Viva Sec. The second was a one-mile off-the-turf event on September 22; it was her first effort beyond seven furlongs. Johnstone had wanted to try her on the turf, but the weather didn't cooperate. As scheduled, she was the Form's best bet of the day: "Viva Sec, one of the most consistent performers on the circuit, tries the turf for the first time. The hard-hitting filly has excellent speed and should be hard to catch going a mile." Her turf debut would have to wait, but she obliged the bettors anyway and won the race by 1½ lengths on a good main track.
A second in the Grey Flight on October 2 was followed by her last start for Villa Blanca Farm, in the G3 First Flight at Aqueduct on November 7. She was part of a three-horse entry for the owner, along with Secrettame and Raise 'n Dance, but she would finish sixth behind winner Number.
Viva Sec was sold at the Villa Blanca dispersal at Belmont Park on November 23; the buyer at $750,000 was Robert Brennan's Due Process Stable, and the filly was sent to Florida with trainer Reynaldo Robles.
A new beginning
After a brief freshening, she embarked on an ambitious campaign at age five in 1983, making 18 starts from March 12 through December 9. Unplaced in two Florida starts, Viva Sec found some comfort back in New York. A third in the G3 Bed o'Roses on April 9 was followed by five more consecutive in-the-money finishes, including a second in the Cicada Stakes.
She got back to the winner's circle in a Belmont allowance on July 11, and followed that with a third in the Imperatrice Handicap. Interestingly, she had placed in two stakes named for former Meadow Stable horses – Cicada was the farm's three-time champion filly and Hall of Famer, while Imperatrice was Secretariat's second dam.
Viva Sec continued to race well, winning another allowance race in September and placing in others. Her only off-the-board finish during this time was a fourth in a turf race at Belmont.
Then came a repeat engagement in Aquduct's Grey Flight on October 26. Second in the race in 1982, she would not be denied in 1983. Lagging behind early in the six-furlong race, she closed strongly to wear down the favorite I'm In Time to win by a neck.
In his column in the Form, Hirsch wrote, "When Robert Brennan's Viva Sec is retired at season's end, Brennan's broodmare band will be enhanced considerably by her addition. The 5-year-old daughter of Secretariat showed courage and quality Wednesday by coming from last in a field of seven to win the Grey Flight for fillies and mares."
She improved on another 1982 effort in her next start, this time in the First Flight, beaten a little more than a length while finishing fourth, despite being nearly stopped by a tiring leader. Writing in the Thoroughbred Record after that effort, Steven Crist called her "one of the steadiest stakes-class campaigners this year".
Viva Sec finished unplaced in three more starts to finish out her career, and was sent to the farm after her last race on February 25, 1984. Her record shows ten wins in 35 starts, with ten seconds and six thirds, for earnings of $307,022. The durable filly had two stakes wins to her credit and was stakes-placed five times.
A remarkable family
The mare's first four foals were bred by Due Process, and then she was sold to Carl Icahn's Foxfield at a dispersal in January 1989, fetching $330,000.
Although Viva Sec never produced a stakes winner herself, five of her first six foals were stakes-placed runners. Several of her daughters would go on to produce stakes winners, including Escrow Agent, dam of multiple G1 winner Vicar. Her 1998 foal, the unraced, Viva La Viva, is the second dam of G1 winner Itsmyluckyday.
In all, Viva Sec produced 15 foals, 11 starters and nine winners. Several years ago, Rob Whiteley, who had guided Foxfield's commercial breeding and racing programs, recalled fond memories of Viva Sec, calling her one of "the most consistent producers of high quality that I have ever been around … amazingly special in disposition, intelligence, toughness and talent."
She passed all of that along to her offspring. One, Vivalita, had such a will to live that as a yearling, she overcame a severe neurological condition to become a loving mother, and she produced mostly winners among her own foals, including a stakes winner and stakes-placed runner.
Tom Evans and Pam Clark, at Trackside Farm, where Foxfield kept mares, have also had several of Viva Sec's descendants. "Viva Sec was a useful Secretariat mare," said Evans a few years ago. "All of her offspring and her daughters' offspring have always scored near the top of our conformation scores as foals. It's probably been one of the most remarkable families with consistency throughout."
Viva Sec lived out her days with Christine Hansen at Montessori Farm in Kentucky, and died at the age of 30 in 2008.