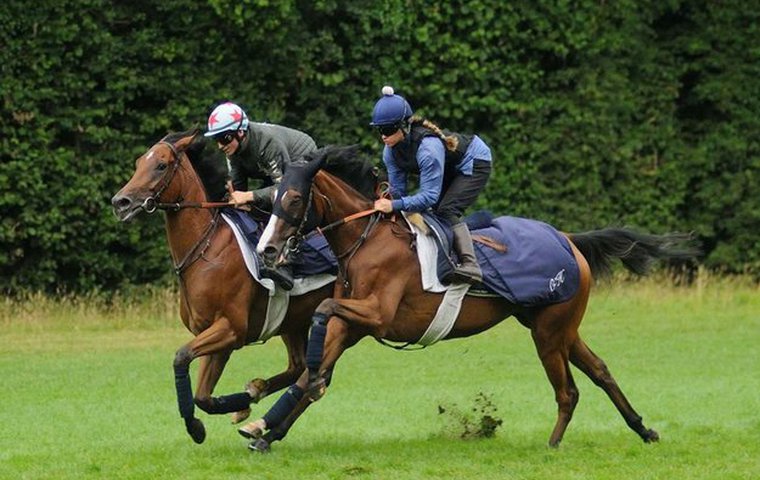 The successes of Criquette Head-Maarek and her dual Arc winner Treve (a gallant fourth in the race yesterday) have not only thrilled fans throughout the world, they have also been a massive inspiration for women in racing. Head-Maarek has proved time and time again over the past four decades that female trainers can do it at least as well the men, and the Treve era has acted as a large 'Go' sign for young women hoping to follow in her footsteps.

Head-Maarek, of course, isn't the only one to have risen to the top and remained there for many years. Gai Waterhouse in Australia, Jessica Harrington in Ireland and Linda Rice in the United States, among others, have also become giants of the profession.
At Head-Maarek's base in Chantilly, France, the momentum is as strong as anywhere, as Sally Ann Grassick found when she talked over lunch in the nearby town of Lamorlaye with three young women just starting out on promising training careers.
----------
Carla O'Halloran
Brought up in Spain, O'Halloran, 29, followed an unusual path into racing. She started show jumping at an early age at Mijas Racecourse, near Malaga, and the close proximity to the sport led to her taking out an amateur jockey's licence. She was champion female amateur in Spain in 2003 and in Italy in 2007, after she moved there at the age of 18.
After four years in Italy, she arrived in Chantilly in 2008 to work for trainer Alain de Royer Dupré, and she there rode as a professional. What was originally planned as a short holiday turned into a more permanent move.
"I wanted to travel so I could learn more about training around the world before setting up back at home in Spain," she said. "Unfortunately racing is not very healthy there at the moment, so it made more sense to base myself in France. Racing is more professional here than in Spain.
"I started training [in Chantilly] on August 1st last year, and I now have 12 horses in training for owners from all over Europe. To date, I have trained one winner and been placed six times."
Carina Fey
German-born Fey followed a similar path on her way to becoming a trainer. The 28-year-old, brought up near Frankfurt, rode ponies as a child but fell under racing's spell after a visit to a racecourse.
"I spent a week with a trainer soon afterwards, and that was it," he said. "I knew this was what I wanted to do. I took out my amateur jockey's licence but never rode as an amateur as I decided to become an apprentice straightaway.
"I won a Listed race in Germany, which was the highlight of my career, and was placed twice at Group 3 level. I lost my claim in Germany and decided that I needed to gain some experience abroad, so I came to France in 2007.
"I rode for trainers such as Mathieu Boutin, Elie Lellouche and Thierry Doumen before I had a serious accident riding out one morning.
"For three years I tried everything possible to be able to ride in races again, but the insurance companies refused to cover me even to exercise horses in the mornings due to my injuries.
"[German owners] Torsten and Bernd Raber and Harald Knieriem made a proposition to me to train some of their horses so I took out my licence in April 2015.
"I am now based in Lamorlaye with 14 horses in my care, and I have had four winners so far. Sven Goldmann is my biggest owner, with nine horses in the yard, seven of which recently arrived at once; a big day for the yard! All of my owners are German so far."
Melanie Sauer
The only one of the three from a racing background, Sauer, 33, from Dortmund, is the daughter of the late German trainer Norbert Sauer. After riding as an amateur in her native Germany, she completed the Darley Flying Start course in 2010 after placements in France with both Mikel Delzangles and Henri-Alex Pantall.
She returned to France to work as assistant trainer for Delzangles for five years.
Despite her background, it was never an early ambition of hers to be a trainer. "Completely the opposite actually," she said. "My father was a big trainer but racing was very tough in Germany at the time. Both of my parents encouraged me to find a job outside of racing, but it was being accepted into the Darley Flying Start programme that made me finally see racing as a real career option.
"From then on, I knew I wanted to be a trainer as that was the area of racing that interested me the most. I took out my licence in March this year and was lucky enough to be sent two horses by Qatar Racing.
"Unfortunately things didn't work out as planned with those fillies, but I was very proud to have been entrusted with horses by such a prestigious owner."
Sauer will soon be leaving Chantilly to return to Germany, where she will be responsible for 30 horses at Hanover Racecourse.
"I will be taking over from Peter Harley when he retires at the end of the year. It is an amazing opportunity, and the facilities at Hanover Racecourse are excellent. Although I will be an employed trainer, I will still be able to train for outside owners and I am very keen to keep my connection with France and the people I have met here."
Helpful relationships
Fey and O'Halloran are both in relationships with flat jockeys - Eddy Hardouin and Fabien Lefebvre respectively - which they both feel has been an advantage early in their training careers.
O'Halloran: "Fabien is a huge help to me, especially when it comes to finding races for the horses. That is more his area of expertise than mine. We make a good team together, and it is nice to have someone you can rely on when you are starting out.
"He rides my horses in the mornings and in races so he knows them inside out."
Fey: "Eddy is able to give me the information that I need and he knows the way I work. It is a big bonus when I can't ride the horses myself anymore, especially for keeping staff costs down when I am starting out."
Race-riding: is it an advantage?
O'Halloran: "I love riding out, and I don't think I could be a trainer if I couldn't ride my own horses. You pick up on things when you ride a horse that you might not notice on the ground."
Sauer: "It is definitely an advantage when you have to speak to a jockey after a race. We know how quickly things can change during a race, and we understand that a jockey cannot always ride to instructions. We also know how to give simple and matter-of-fact instructions without complicating things too much for the jockey."
Does it make a difference being a woman?
Sauer: "I think this job is hard for anyone in the early days, but people tend to be more impressed when they hear that a women is starting out as a trainer."
Fey: "That is definitely true. Lots of people were delighted to see me as a woman doing this job and were probably more prepared to support me than if I was a man."
O'Halloran: "I think we have qualities and faults. We have a tendency to be less tough on our horses and not to work them hard enough. Fabien has sometimes said that my horses are too relaxed at the races as I almost look after them too well.
"However some horses need that extra attention, and that is what their owners are looking for."
Sauer: "It has to be said that ours is a very physical job. The three of us are far from the strongest people around and physically the work can be very tiring. As women in racing, we tend to try and do twice as much as our male counterparts in order to prove ourselves, and that takes its toll on you.
"I have to say, though, that I have never found any discrimination in my career due to my sex. The three of us are very close. We try to help each other out when possible and we celebrate each other's successes as if they were our own.
"However many of the senior trainers around Chantilly, such as Delzangles or Royer Dupre, are just as encouraging and ready to help us if we need someone to gallop our horses with or a lift to the races."
O'Halloran: "I agree completely. Although I think of Pia Brandt (Chantilly-based Swedish trainer) as a huge role model for me for what she has achieved in a foreign country, I can also say that about Alain de Royer Dupré. First and foremost we are trainers and I believe our gender will be no bar to us having successful careers."