If Centennial Farms gave out an award based on partnership tenure, it would not only go to Fred Martin, but it would probably be named for him.

His involvement with the Thoroughbred ownership partnership dates back to the early 1990s, when Centennial's founder, Don Little Sr, approached him about buying into the organization's horses. Martin came to Centennial after having owned horses with Bert and Diana Firestone, who campaigned 1980 Kentucky Derby winner Genuine Risk among other Graded stakes winners.
He'd grown up attending Yonkers Raceway, the harness track in southern Westchester County in New York, and he wasn't far from the three Thoroughbred tracks that then operated nearby: Jamaica Race Course, Belmont Park, and Aqueduct Race Track.
"I was very much intrigued by racing," said Martin. "By the time I got to high school, I was working in the Adirondacks, and I went to Saratoga. That sealed the deal for me."
He joined the Firestones' partnership through a broker, joking that watching his horses lose was more fun than watching his stocks go down.
The first Firestone horse he was involved with was Theatrical, a multiple G1 winner who earned $2.9 million. The first Centennial horse he was involved with was Colonial Affair, a multiple G1 winner who earned $1.6 million and whose victories include the 1993 Belmont Stakes.
"With Centennial, I could meet two of my goals," said Martin. "I wanted to play near the top of the game, and I couldn't afford to on my own. Centennial offered me a chance to buy a small share of several good horses."
More recently, he's been a partner in Centennial horses Unified, a multiple Graded stakes winner now standing at stud at Lane's End in Kentucky, and Preservationist, a 6-year-old with a record of 8-5-1-2 and earnings of $572,000. "I've never missed seeing them run in New York," said Martin.
'I don't think I've ever experienced nerves like that before'
If Martin represents the continuity of Centennial partners, Samantha Campbell and her family represent their future, a connection to the much-coveted millennial demographic.
Campbell is not strictly a partner in any horses, but her parents are, making her a member of the Centennial family. In her late 20s, Campbell lives in the Washington DC metropolitan area, a short drive to Centennial's training facility in Middleburg, Virginia.
"Horse racing has always been part of my life," she said. "I've missed one Saratoga meet in my whole life. Going to the races has always been a big tradition for my family, and some of my first memories are of running around the track."
"My wife and I are long-time Thoroughbred horse racing fans," said Samantha's father, Jeff. "It's a ritual for us at Saratoga, to get up every morning and watch horses work out. During the Fasig-Tipton sale, we'd head over to the sales barns and walk around."
It was time, they decided, to own a horse.
They met Paul Mangarano at one of those Saratoga sales, and through him they became partners in Centennial's 2017 purchases. One of those horses is Mihos, a $320,000 son of Cairo Prince; he opened some eyes over the winter, winning at Aqueduct Racetrack and taking the Mucho Macho Man Stakes at Gulfstream Park next out, defeating among others Code Of Honor, runner-up in this year's Kentucky Derby.
But it wasn't only his performance on the racetrack that made Samantha Campbell choose him as her favorite Centennial horse.
"I call him 'My Prince'," she admitted. "I just had a connection with him that I don't know how to explain or articulate. He has so much personality and he's so handsome."
With that affection comes anxiety, as she learned when she attended his first start at Belmont Park last September and the Aqueduct race. "I don't think I've ever experienced nerves like that before," she said. "I had my binoculars up, and my hands were shaking so much I couldn't see anything. I had tears in my eyes and I was just a mess. I didn't know how to handle the emotions of the moment."
"Centennial allows you to be involved however you want to be," said her father. "You can participate however you want. We're all in. We go to the barns at Belmont, we go to Middleburg. We get to see the horses when they're yearlings.
"I can't say that I know the whole Centennial team well, but I've met everybody, and they make you feel comfortable enough to walk in the barn and say hi."
'The welfare of the horses is really important to me'
Karen Bartolomei is an animal lover. She grew up riding horses, and now she rescues special-needs dogs, something that she started doing to dig herself out of what she called a "black hole" following the death of her own dog. She loves the racetrack, but, for her, what distinguishes Centennial is the partnership's attention to their horses' welfare.
"I'm a little conflicted about horse racing," she admitted. "Obviously there's good and bad in the racing industry, and Centennial is filled with good people. The welfare of the horses is really important to me. Some Centennial horses have gone to Don Little's farm for their retirement, and the organization always follows the horses and tries to make sure they get good homes."
"The sport needs to police people abusing animals," she went on. "Centennial is really careful about that. It would be a deal-breaker for me if they weren't."
'We learned pretty quickly it wasn't always so easy'
Like Bartolomei, Peter Horvitz grew up riding horses, showing them until he was in his early 20s. He and his mother attended the races at Thistledown in Ohio, and his wife, Margaret O'Meara, currently rides and shows. After the death of Don Little Sr, Centennial's founder, Horvitz and O'Meara became co-owners of the farm in Middleburg and Centennial's management company.
"My mother met Don Sr and wanted to get involved in ownership," Horvitz said. "My first partnership was with her. As luck would have it, the first horse Peggy and I were involved in was Rubiano."
Yes, that Rubiano. The multiple G1 winner, the 1992 U.S. sprint champion.
He laughed. "We learned pretty quickly that it wasn't always so easy," he said.
Centennial purchases about a half dozen horses a year, and Horvitz works with Little Jr, yearling trainer Paula Parsons, and racing manager Dr Stephen Carr at the sales, selecting exclusively colts that they think have the potential to become Classic contenders.
"We have a group of about 40 or 50 people who are currently involved in a partnership or have been," he said. "On Travers Day in Saratoga, we rent a suite and invite all the partners. Everyone is treated the same, whether you own a 2.5 percent interest or a 20 percent interest."
'I don't ever want to be not involved in horse racing'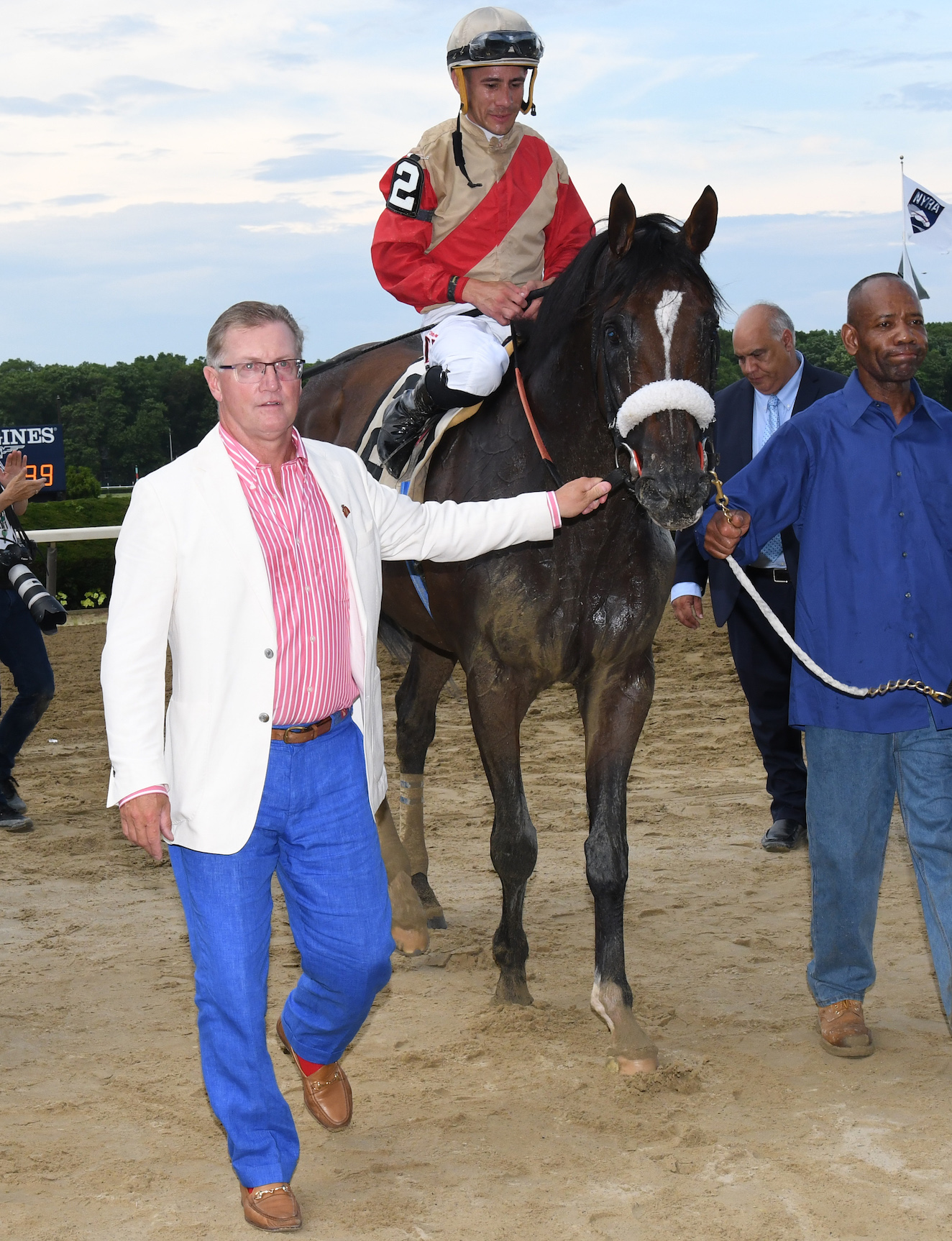 On Saturday, July 6, Fred Martin kept his streak alive, driving down from Westchester County to Belmont Park to watch Preservationist make his Graded stakes début. The road to the G2 Suburban Stakes had been a long one for the bay; beset by several injuries, he was lightly raced, but he had never been worse than third.
A handful of other partners were on hand to watch Preservationist take on the impressive Catholic Boy and soundly put him away, winning the Suburban by 4½ lengths. As Horvitz had said, the game is not always easy … but this one was worth it.
"I expected to see him win," said Martin. "As my betting tickets will attest." (Preservationist paid $9.90 to win.)
"I knew [trainer] Jimmy [Jerkens] was high on him," said Little. "We took our time, and our partners were understanding. It paid off at the end. This one's about the partners and the trainer doing the right thing."
"We're not 'horse people' per se," said Jeff Campbell. "We're just huge fans, and one of the cool things for us is that we have grown daughters, and that's the generation we want to get interested in the sport. They love it, and hopefully they'll pass it on."
"I don't ever want to be not involved in horse racing," said his daughter Samantha. "I go to Laurel Park all the time, and hopefully some day I'll be able to be more involved."
Until then, she said, "I'll have to ride on the heels of my parents a little longer."