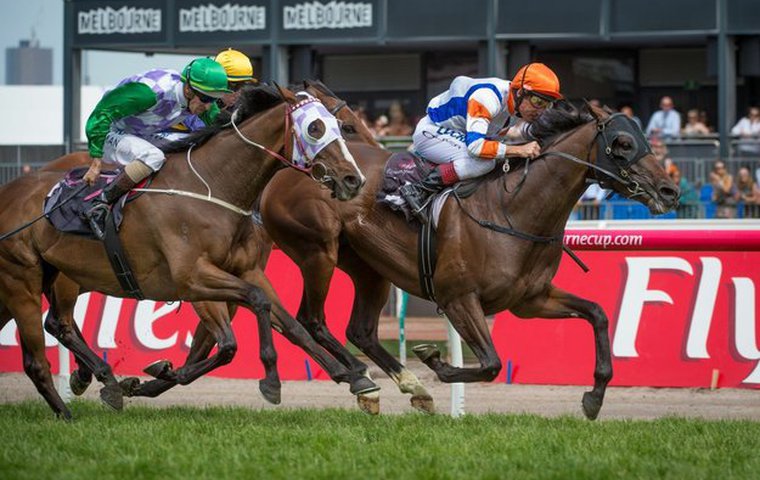 The G3 Queen Elizabeth Stakes, run on the final day of the Melbourne Cup carnival, has a long association with "the race that stops a nation." After this year's running, Gretchen Kijak wondered if that relationship still stands, and if the German-bred winner, Le Roi, might be next year's Melbourne Cup star.

"He's a serious horse, mate. He'll win next year's Melbourne Cup."
These were the words in 2012 of leading Australian jockey Glen Boss. In a past-the-post interview on national television, as he pulled up his winning mount Puissance de Lune after the G3 Queen Elizabeth Stakes on the final day of the Melbourne Cup Carnival, Boss made one of racing's biggest calls in front of an entire nation.
"I've ridden some amazing horseflesh," he said. "One champion [Makybe Diva], and this horse gives me the feel of no horse I've ridden for a long time."
Boss had piloted Makybe Diva in all three of her Melbourne Cup victories in 2003, 2004, and 2005. However, the year before her legendary "three-peat," the mare had capped a six-race winning streak with a victory in this race, the Queen Elizabeth Stakes. Traditionally, it has been a pointer toward the following year's Melbourne Cup, and that was where Boss was going with Puissance de Lune. By the next morning, the horse had leaped into early favouritism for the 2013 Melbourne Cup, 360 days away.
Not to be confused with the rich G1 Queen Elizabeth Stakes during Sydney's autumn meeting, Flemington's Queen Elizabeth is a 2,600-metre staying test held on Emirates Stakes Day, the final Saturday of the four-day Cup Carnival. It was first run in 1854 over 4,800 metres, then known as the Queen's Plate, and it has seen multiple adaptations in name, distance, and weighting conditions. In 1979, it was switched from the autumn to replace the spring's C.B. Fisher Plate (named after noted breeder Charles B. Fisher), and in 2005, it was downgraded from a G2. However, it has long been considered an indicator of Cup form for the following year.
Drawing on a deep knowledge of racing history, form expert Tony Brassel said: "The Queen Elizabeth Stakes has proved a key revealer of Melbourne Cup contenders, plus notable winners, for more than 150 years. Think marvelous long-distance horses Makybe Diva, Might And Power in the 1990s, Hyperno in the 1970s, and Rain Lover, Galilee, and Rising Fast in the middle parts of the last century. Even the immortal Phar Lap. All have won the Queen Elizabeth-Melbourne Cup double."
Sixteen horses in the Queen Elizabeth's 160 years have done the double, while more than a dozen winners of the race alone have made it into the Australian Racing Hall Of Fame, including most of the above-mentioned, and 1902 wonder-mare Wakeful, along with High Caste, who produced a hat trick of wins from 1939 to 1941.
These days, entries for the Queen Elizabeth Stakes typically include four types of horses: those that did not make it into the 24-horse Melbourne Cup, those that ran in the Melbourne Cup but did not win and are seeking group status, horses thought to be a grade below Cup contention but that are showing promise for the future, and, especially lately, imports that have been purpose-bought for the following year's Melbourne Cup and are being eased into Australian competition.
"Through various permutations in name, plus bouncing around from set weights, weight-for-age, and handicap conditions, the semi-marathon that is the Queen Elizabeth has never been lacking in intrigue," Brassel said. "Plus there's that prospect of unearthing new Melbourne Cup aspirants. Case in point, Puissance de Lune."
After his slashing victory in the 2012 Queen Elizabeth – and Glen Boss's proclamations – Puissance de Lune set off on a path for the 2013 Melbourne Cup. No Queen Elizabeth winner had ever skyrocketed into such fancy as this one did, but he was hampered by injury and never made the field. However, the 2013 Queen Elizabeth was won by the Bart Cummings-trained gelding Precedence, who ran a very creditable sixth in last week's Melbourne Cup. The Queen Elizabeth form had stood up nearly 12 months later.
So how did the 2014 race shake-up last week?
Nine horses went to post, of which seven had been nominated for Tuesday's Melbourne Cup. A few had come achingly close to making the Cup field, including Big Memory, who missed a berth by just one place. The eventual winner was Le Roi, a 6-year-old (in Australia) German-bred horse now in the yard of trainer Tony McEvoy, and he toughed out a three-way finish for jockey Damien Oliver. Le Roi had been purchased after a single start in France in 2011.
Ordinarily, the TAB markets for the following year's Melbourne Cup are adjusted after the Queen Elizabeth is run and won, but Le Roi's victory didn't make a dent this year. Protectionist, the impressive German winner of the Melbourne Cup, had been installed a AUD$14 favourite for 2015, and on Sunday morning following the Queen Elizabeth, Le Roi remained at AUD$101. He has since come down to AUD$34 in some places.
McEvoy declared that his imported stayer would be pointed toward the Melbourne Cup next year, and it appears the Queen Elizabeth was a nice pipe opener for a horse that will likely be a force in the stamina contests next spring. But like many of the latest renewals of the Queen Elizabeth Stakes, the rest of the field is also getting attention. Noble Protector, Prince Of Penzance, and Lets Make Adeal have all fared in the market for next year's Melbourne Cup.
The Queen Elizabeth remains, therefore, an oddity in the Australian racing calendar. Though an undercard for "the race that stops a nation," and a race worth a comparatively small AUD$300,000 given the richness of its peers, it is an important occasion nevertheless, an opportunity to look through a window at future staying form. Commentators, form addicts, and history buffs watch it every year with elevated interest, recalling its honour roll in hope of extracting a future champion. Although, as Puissance de Lune proved in 2012, the next big star is always just a start away.