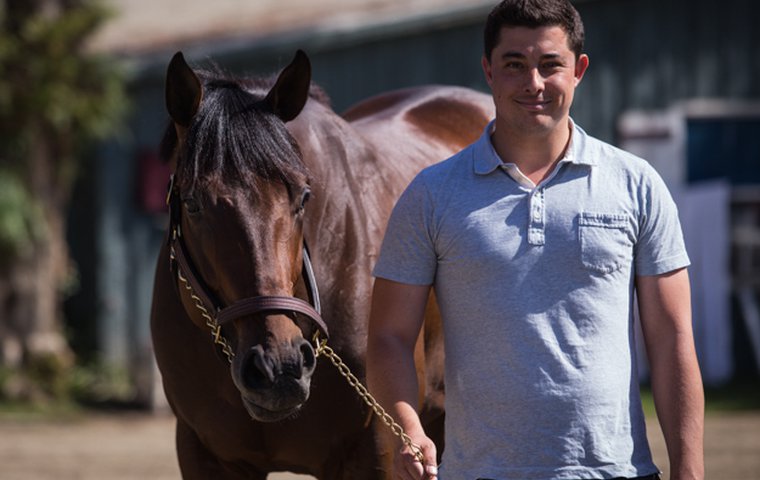 If the heat from housing in his barn one of the few horses thought capable of derailing Bob Baffert's Kentucky-bound gravy train is getting him a little warm under the collar, Simon Callaghan isn't letting on.

"Not yet," Callaghan said in his Santa Anita office at the end of a quiet Monday morning, the remark accompanied by a cannon of shaky laughs that did much to dispel what conviction was originally intended.
"Ask me the same question nearer the day," Callaghan then admitted, the laughs gone, replaced by a smile that betrayed remnants of a few restless nights already.
A quick swivel of the head revealed Callaghan's Derby hope and horse in question, Firing Line, further along the barn disappearing into a hay-net. If Firing Line's ears were burning, they weren't affecting his appetite.
"[Firing Line's] got a few workouts left to get through, so let's just hope we get him there in one piece. That's the priority at the moment. Naturally you're going to feel a little bit more pressure. He's a horse that a lot of people believe in, and he's going there with a serious chance."
Those serious chances grew exponentially at the beginning of April when Dortmund, Firing Line's old nemesis, couldn't have been more impressive in winning the G1 Santa Anita Derby if he'd crossed the finish line and turned back around to offer the hapless stragglers a shoulder to lean on.
In horse racing as in all sports, great rivalries are a drug that keeps fans coming back for more. With Firing Line and Dortmund, many have gotten hooked early.
The first time the duo crossed swords was in the G1 Los Alamitos Futurity last December. That day, Dortmund, Firing Line, and Wayne Lukas' Mr. Z thundered down the home stretch in a cavalry charge to the wire, the reverberations from which could be felt all the way down in San Diego. Dortmund prevailed by a head over Firing Line, and a new sporting rivalry was born.
Their next face-off came in the G3 Robert B. Lewis Stakes at Santa Anita the start of February. That day, both horses arrived baying for blood. And after another stretch battle that left those lucky witnesses reaching for the oxygen masks, Dortmund again only just nosed Firing Line out of the winner's circle.
After the Robert B. Lewis Stakes, Callaghan decided that if his young star was ever to flip the coin on Dortmund, an intervention was needed.
Like many a precocious talent, Firing Line is keen for all to bear witness to his abilities – a fine quality for the afternoon, less so for the morning. In an effort a keep a lid on Firing Line's bubbling enthusiasm during training, Callaghan carefully selected quiet windows to take his colt to the track. Even then, the poor exercise rider was returning to the barn with arms of stretched bungee cord, the trainer in tow with an ever-growing headache.
A change of exercise rider had a divine effect, however. With fresh hands at the rein, Firing Line quickly learned to settle, composed of a morning when before he could quickly un-cork. So much so that by the time of the $800,000 G3 Sunland Derby the middle of March, Firing Line was the epitome of a gentlemen.
"I think it's all about him maturing, and I think that's what he's done from race to race, he's just matured and learned to relax a lot more," Callaghan said.
"We've been working hard. The main thing is, before his first race he was breezing really quickly. I think for longevity, you can't keep breezing in 58 [seconds] or 59, or else it will eventually just catch up with you. We slowed his works down a lot. And with that, he became more relaxed in his daily gallop."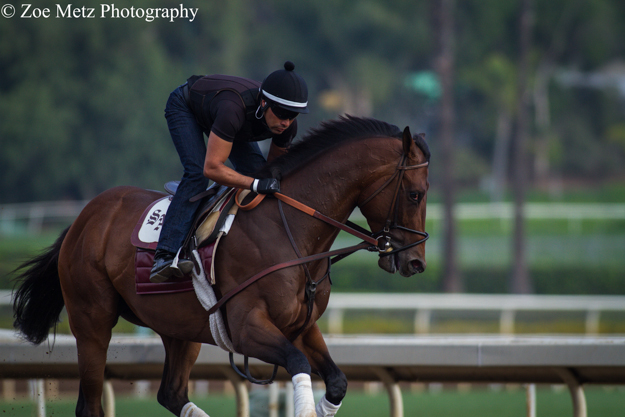 Firing Line gallops at Santa Anita. Photo: Zoe Metz
Given Firing Line's more tractable behavior of a morning, Callaghan expected something juicy at Sunland Park, with no Dortmund and no Dortmund-like imposters in the line-up. Callaghan got what he expected. Firing Line shot away from the field to win by 14 ¼-lengths.
"Obviously, running against Dortmund before and then running against these level of horses, it was something that we hoped we would see. And I think he almost had to do it very impressively to put himself into the Derby picture.
"I think that's going to give him every chance to get the Derby distance," Callaghan added. "A mile and a quarter for any 3-year-old, it's a long way. But I think the way he's matured and grown up, he's definitely become a much more relaxed horse in the mornings, and he's transferred that to the races."
When talk turns to the first Saturday in May, Callaghan's words are underpinned with palpable confidence.
Callaghan doesn't, for example, envisage the melting-pot atmosphere of Churchill Downs will prove a problem. "We've done a lot of paddock schooling with him here. He was really calm and collected in his last race. There were a lot of horses acting up around him, and he just walked out onto the track as cool as could be."
As for the race itself, Firing Line's recent display of grandma-friendly behavior means that he doesn't necessarily have to sit close to the pace, as he did in the Sunland Derby. "I think we just did that more because he was the best horse in the race and we wanted to keep it simple."
Callaghan is, however, aware that much is contingent on the draw.
"I think in the Derby we'd love an outside post, and I think to see this horse at his very best would be to see him sit off horses and relax in behind and just kind of stalk them – that's where you'd see him at his best."
"Can he beat Dortmund next time?"
"I think he can."
As for the other opposition, Callaghan's thoughts again gravitate towards the Baffert barn.
"American Pharaoh is obviously an incredibly talented horse." But Callaghan wonders whether this precocity might prove American Pharaoh's undoing.
"Sometimes when a horse is that fast and talented, you don't know whether he can get the Derby distance, as with a lot of them. I think it's a really deep year. I think it's a really good group of 3-year-olds this year."
If there are any weaknesses to exploit in American Pharaoh and co., then there's no practitioner in the saddle better able to find those Achilles' heels than Gary Stevens, who has ridden Firing Line his last two starts and has already booked his flight east.
"Gary's already been there and done it. He's won three Derbies. His experience is going to be vital in such a big race. I think with Gary, he instantly had a lot of belief in him. He's ridden him his last few races, breezing him in between. He's always known he's a very special colt, I think."
"He's as good as anything I've sat on headed into the Kentucky Derby four weeks out," said Stevens over the telephone, confirming Callaghan's suspicions. That Stevens holds Firing Line in that kind of regard speaks volumes coming from the guy whose Derby mounts have included the likes of Winning Colors, Thunder Gulch, and Point Given.
Putty in his hands is how Stevens describes his mount in the Sunland Derby. A little bit miscalculated is how he discusses his ride in the Robert B. Lewis Stakes.
"That's one of the beauties about the prep races. I learned a little something about one of the main competitors in Dortmund. In the Derby, there'll be some different strategies going into it."
As for what those different tactics are, Stevens is keeping mum. But as stacked with talent as he thinks the Derby is this year, he believes that his mount is headed into the race with stellar claims.
"He's very mature for a young 3-year-old, and that probably the most positive thing he's got going for him," he said. "I'm not worried about the distance… We've got three weeks or so to go and he's got to stay sound and healthy, but that's Simon's job. My job is easy. Simon's doing a helluva job right now and I'm just enjoying it."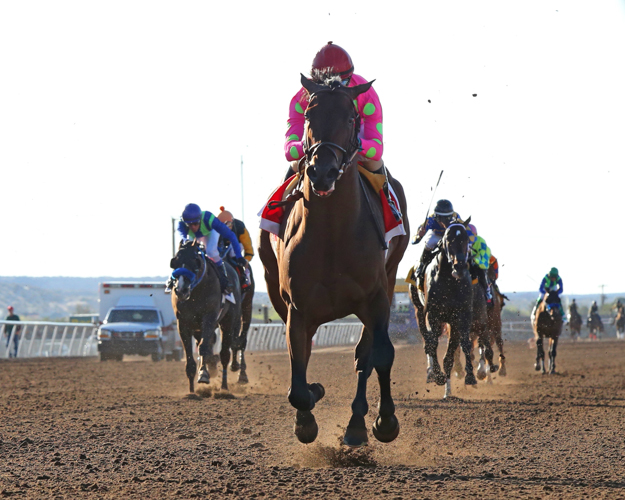 Firing Line and jockey Gary Stevens win the G3 Sunland Derby by 14 1/4 lengths. Photo: Coady Photography.
Callaghan's rise as a stateside trainer of note has been as swift as it has been unsurprising – unsurprising, that is, given his pedigree in the industry. The son of Newmarket trainer Neville Callaghan—a legendary figure in the town, as noted as much for a mercurial way with people as for a memorable way with horses — Callaghan's transatlantic lifestyle can be traced all the way back to his racing education.
After spells working for Richard Hannon in Lambourn and for Todd Pletcher at Palm Meadows, Florida, Callaghan returned to the U.K. to assist his father, eventually assuming control of the operation at the tender age of 24. After two successful years at Newmarket, Callaghan heeded the words of the Village People and went west in 2009.
Once settled at Santa Anita, Callaghan enjoyed the support from some big hitters in the business, including Michael Tabor and Anthony Ramsden. He didn't squander the opportunity, swiftly ratcheting up a host of notable victories with the likes of multiple G1 winner Dubawi Heights, Gamely victress Belle Royale, and the lovable rogue Slim Shadey.
What has been important for Callaghan is to shake off a perception that accompanies many ex-European trainers stateside: That they are more adept at preparing horses for the turf than dirt. But whatever doubts may have still lingered were swept away last year when Callaghan readied Fashion Plate to victory in a pair of G1 dirt races, the Santa Anita Oaks and the Las Virgenes Stakes.
"We started off with a lot of turf horses, because that's what a lot of our clients originally thought we'd get the success doing. Now, the majority of our barn are dirt horses. We've had more Grade 1 winners on dirt than turf now – it's kind of nice.
"It's been a gradual process," he added. "But I think getting top class dirt horses—particularly 3-year-olds—is what you aspire to have. It's such a big part of the industry in America, the 3-year-old crop, so it's nice to have a horse like [Firing Line]."
Owners Arnold and Ellen Zetcher are the connecting thread between Callaghan's top dirt performers, Fashion Plate and Firing Line.
"They're great people to work with. I'm obviously very thankful for their support. And obviously, it's very nice that we've had a lot of success together. They're really passionate about the game and the industry."
Despite the promise of a long and fruitful season ahead, it would be a fair assessment to say that Callaghan's thoughts at the moment rarely stray far from Churchill. Between now and then, Callaghan plans to keep Firing Line at Santa Anita for all scheduled workouts before shipping to Kentucky five or six days before the race. I ask whether, as the day gets nearer, he allows himself to get swept up in the hype.
"I think you always have dreams, but you also know how hard it is to get a horse of this caliber, and you know how hard it is to get to a race like the Derby. Naturally, you dream about it, but until you get a horse like this, it's hard to think of it as a reality. We're still a long way out. Nearer the time I think we might start dreaming a bit, but I think at the moment we'll just keep our feet on the ground."