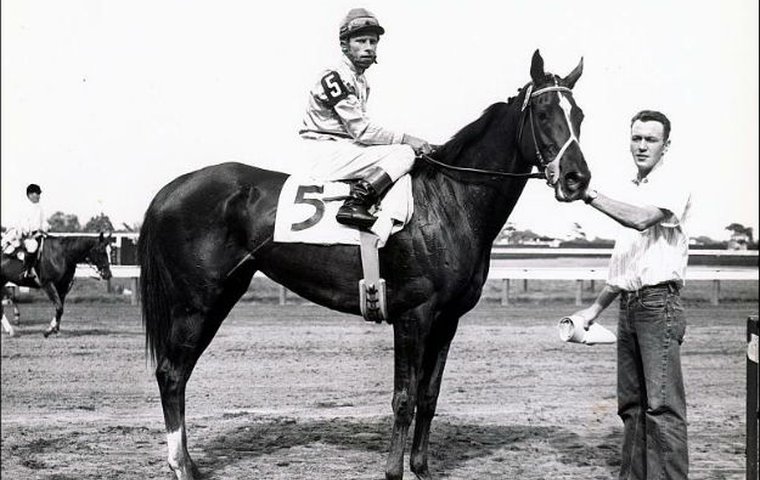 Fillies so rare in the Kentucky Derby, but here's one who gave it a good go

Only 40 fillies have competed in the Kentucky Derby since its first running in 1875. The inaugural race featured two, Ascension, who finished 10th, and Gold Mine, who was 15th and last.
Just three fillies have managed to wear the garland of roses: Regret in 1915, Genuine Risk in 1980 and Winning Colors in 1988. A handful have tried since. Before Genuine Risk there was a 21-year gap when no fillies ran in the race. Only a single distaffer faced the Derby starter in the 35 years between 1945 and 1980. Her name was Silver Spoon.
An appropriate name, considering her background. She was bred and owned by Cornelius Vanderbilt Whitney, son of Harry Payne Whitney, who coincidentally owned and bred Regret.
Foaled on March 6, 1956, at Whitney's farm in Lexington, Kentucky, Silver Spoon was by 1948 Triple Crown winner Citation. Hardly a success at stud, Citation sired a mere 12 stakes winners, including 1956 Preakness winner Fabius.
Silver Spoon's dam, Silver Fog, also bred by Whitney, was by 1936 Epsom Derby winner Mahmoud, who Whitney had imported to his farm in 1940. Gray like her sire, Silver Fog won five races from 19 starts, and Silver Spoon was the seventh of her 13 named foals. Silver Fog was also the dam of Silver True, who produced stakes winner Silver Buck, sire of 1997 Kentucky Derby and Preakness winner Silver Charm.
Impressive debut
Among Silver Fog's other offspring, Yellow Mist was the great granddam of 1982 Kentucky Derby winner Gato Del Sol, and the great-great granddam of G1 winner Rock Hard Ten; Mrs Cat was the granddam of 1980 Melbourne Cup winner Beldale Ball; and Silver Bright was the dam of G1 winners Banquet Table and State Dinner.
A dark chestnut who stood 16.1 hands, Silver Spoon walked with a pronounced hitch in her left hind leg, likely the result of being kicked by another mare as a foal. Because of this, there was a question whether she would be able to handle turns in races.
This wouldn't be a problem in her first start, a $3,500 six-furlong maiden claiming race at Belmont over the straight Widener Chute on September 23, 1958, the final year that unique course would be used. She won by six lengths over 27 others and was ridden by Eldon Nelson, who would go on to win the 1972 Preakness on Bee Bee Bee. She had been entered for a sale on October 6 but, when Whitney heard about her victory, she was quickly withdrawn.
She made her career debut for trainer Sylvester Veitch, father of Alydar's trainer John Veitch, but after her maiden win she was sent to California to Robert L. Wheeler, conditioner of Whitney's west coast string.
Hall of Famer Wheeler grew up on his father's cattle ranch in Nebraska and began race riding at age 11 on half-mile tracks in Nebraska, Montana, South Dakota and Wyoming. He became too heavy and at 14 started galloping horses for Ben Jones at Woolford Farm in Kansas, including 1938 Kentucky Derby winner Lawrin.
Santa Anita Derby favorite
He tried rodeo riding, quit after too many injuries, then turned his hand to training in California. He trained 56 stakes winners, including Bug Brush, Taisez Vous, B. Thoughtful, and 1982 champion older female Track Robbery.
Silver Spoon won her first start in the Golden State, a six-furlong allowance at Santa Anita on December 30. Ray York was in the irons. Born in 1933, York won the Kentucky Derby in 1954 aboard Determine, the first gray to win the race. He retired in 1992, although he rode once more - in 2000, to become the first jockey to ride in seven different decades.
In just over five weeks at the beginning of 1959, Silver Spoon reeled off three stakes wins at Santa Anita: the 6½-furlong La Centinela on January 7, the Santa Ynez over the same trip three weeks later, and the 1 1/16-mile Santa Susana (since renamed the Santa Anita Oaks) by 11 lengths on February 18.
Then came her biggest test, racing against males for the first time in the $147,300 Santa Anita Derby at 1 1/8 miles on March 7. The crowd of 57,300 made her the 3-2 favorite in the field of 10. She drew off under York's strong urging to prevail by 2 ½ lengths in a moderate 1.49, with eventual Preakness winner Royal Orbit second, becoming the second of only three fillies to win the race. She was on her way to Kentucky.
She was profiled in the March 23 issue of Life magazine, and appeared on the cover of the April 27 issue of Sports Illustrated, when that publication gave horse racing a great deal more prominence.
Attempt at history
A week before the Derby she ran in the seven-furlong Stepping Stone purse at Churchill Downs and had her unbeaten record snapped, finishing third behind Sword Dancer and Easy Spur. Trainer Wheeler was quoted as saying that she apparently didn't like the track, but she still took her place in the Derby line-up.
The 85th running of the $165,000 Kentucky Derby on Saturday, May 2, was televised on the CBS network to 230 stations across the United States and Canada. The Daily Racing Form devoted plenty of space in their special Derby supplement to the filly's attempt at history, even reproducing Regret's Derby chart and reprinting an article about her from the May 2, 1937 edition.
No filly had attempted the Derby since Misweet finished 12th of 16 in 1945. That Derby, won by Hoop Jr, was the only time the race was run in June, due to a wartime ban on racing that wasn't lifted in time for the race to be run as usual in early May.
It was one of the hottest Derby days ever: 94 degrees as they entered the gate. Favorite in the 17-runner field was Meadow Stable's First Landing, who would go on to become the sire of Riva Ridge. Silver Spoon was a shade under 11-1.
The last time Ray York rode her
The filly broke alertly, was taken back by York and raced in midfield before moving up to third turning for home. In the stretch she couldn't keep pace with the duelling leaders Tomy Lee and Sword Dancer and was passed by First Landing and Royal Orbit near the wire. They finished in that order, Tomy Lee defeating Sword Dancer (sire of Horse of the Year Damascus) by a nose, with Silver Spoon only 3 ½ lengths behind in fifth.
Bred in England, Tomy Lee was the first Derby starter for his 71-year-old trainer Frank Childs, and was ridden by Bill Shoemaker for his second Derby victory.
The filly put in a good effort, but Ray York would not be riding her again.
In her next start after the Derby, she won the 1 ⅛-mile Cinema Handicap at Hollywood by 4 3/4 lengths, leaving Derby winner Tomy Lee in her wake in fifth. Bill Boland was in the saddle.
She was shipped back east for the July 11 Delaware Oaks, where she finished second as the 2-5 favorite, two lengths behind Coaching Club American Oaks winner Resaca.
Following a win in an allowance at Monmouth, she was third behind Royal Native and Indian Maid in the Monmouth Oaks. After running fifth at Saratoga she was put away for the year.
Championship honour
Silver Spoon and Royal Native were each named champion 3-year-old filly in different polls, in the days before the polls were combined to form a single year-end championship.
Her 4-year-old campaign started on the first day of 1960 at Santa Anita, when she was fourth in the Las Flores Handicap. Three weeks later she won the Santa Maria under 127 pounds, then took the Santa Margarita toting 130. Eddie Arcaro was aboard for both victories.
She tried males again in the Santa Anita Handicap at 1 ¼ miles on February 27, but after being carried wide on the final turn only managed fifth behind Linmold, who she had beaten at three.
She didn't run again until Hollywood in May, but she raced there three times in 10 days: an allowance (second), the Sequoia (second, giving winner Liberal Lady 10 pounds) and back among the boys in the $111,300 Californian (fourth).
She was back to winning ways in the one-mile Milady in June, scoring again under 130 pounds, giving 23 pounds to Tritoma in second and 12 to third-placed Honeys Gem, then captured the 1 1/8 mile Vanity under John Longden in July.
'Intelligent and curious'
After finishing a close second in a one-mile prep at Arlington, she went to post the favorite for the 1 1/8 mile Arlington Matron on August 13, but reared as the gates opened and finished third behind Royal Native, her co-highweight at 128 pounds.
She didn't run again until the Beldame in October. The winner was Berlo, who would be named champion 3-year-old filly, with Royal Native second and Silver Spoon fourth.
She closed out her career with an inauspicious fifth of eight in a $7,500 allowance going seven furlongs at Keeneland behind Indian Maid and Royal Native, who earned champion older female honors.
She retired with 13 wins from 27 starts and earnings of $313,930. She produced seven foals, four of them winners, with one stakes winner, Inca Queen, winner of the Demoiselle Stakes and the Columbiana, Top Flight and Sheepshead Bay Handicaps, and the dam of stakes winners Exile King and Hail Bold King.
Once described as intelligent and curious, with a tendency to pull herself up in races when she was well in front, Silver Spoon died in January of 1978 and is buried at Gainesway Farm, which was once part of the C. V. Whitney Farm. She was inducted into the Hall of Fame the same year.
Sources
American Racing Manual, 1961
A Second Quarter-Century of American Racing and Breeding, 1941 through 1965, The Blood-Horse
The Blood-Horse magazine, July 2, 1960 issue
Chicago Tribune online newspaper archives
Daily Racing Form online archives
Matriarchs, Volume II: More Great Mares of Modern Times, Edward L. Bowen, Blood-Horse Publications, 2008.
Racing Hall of Fame website
Sports Illustrated, April 27, 1959, 'The Slot Machine Derby', Whitney Tower
The History of Thoroughbred Racing in America, William H. P. Robertson