He enjoys posing for selfies with people he's just met, but he doesn't want anyone trying to hang out with him. He's described by the man who knows him best as "like a big kid", but he's also known to be explosive. He can threaten to be aggressive, but then will be kindly obliging.

He has a happy-go-lucky approach to life most of the time, but his trademark move is to track down and devastate rivals with deadly precision. He thrives in an environment of tranquility, but performs to the cheers of many thousands.
Meet Arrogate, the world's highest-rated racehorse of 2016. While his deeds on racetracks have become renowned around the globe, his unique nature has been overshadowed by his rocketing rise to superstardom, which could peak in the $10 million Dubai World Cup tomorrow.
Trainer Bob Baffert, who sometimes compares his relationships with the great horses he has conditioned to that of a parent with his children, has tried to shield the massive gray son of Unbridled's Song somewhat from excessive public attention in order to continue to bring out his best qualities in racing.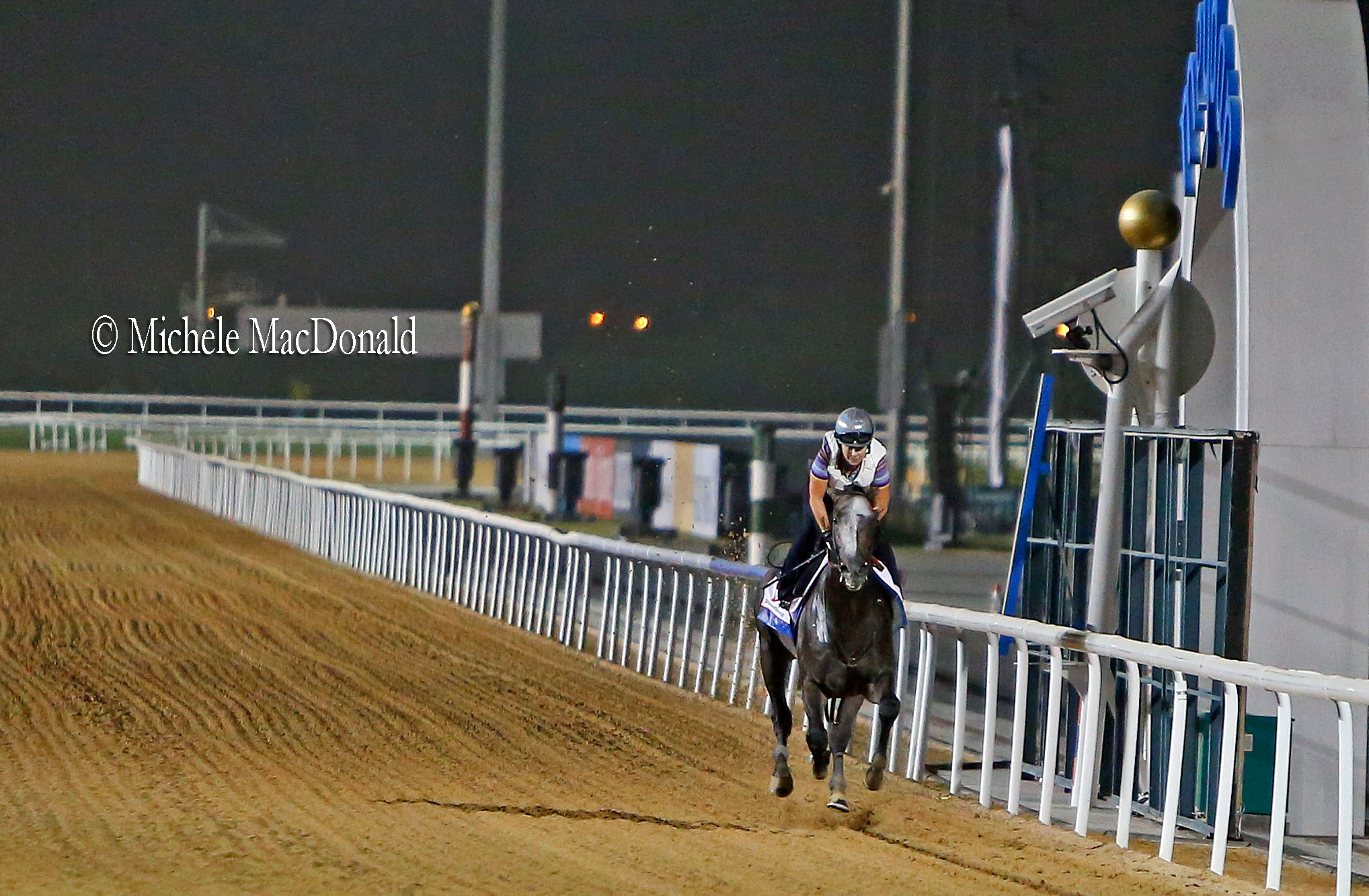 "We have to be really careful with him. We spend a lot of time just keeping him relaxed," Baffert said after watching Arrogate gallop at Meydan Racecourse yesterday.
"He's like a big kid," Baffert said, choosing his words carefully, kindly protective of the colt who is not cut from the same exceptionally gentle cloth from which Triple Crown winner American Pharoah emerged. "It's really not fair to compare them.
"Pharoah was loving — that's why I let everyone touch him. I can't do that with this horse. And we don't want him to get too stressed out."
Make no mistake: Arrogate is not a mean horse. But he is all racehorse and all electric energy, and Baffert and his assistants, Jimmy and Dana Barnes, have made it their priority to try to keep the Juddmonte Farms color-bearer as calm as possible so that he reserves his strength for races.
Shopping for a potential stallion
Baffert's connection with the colt goes back to September 2014, when he, Juddmonte's American manager Garrett O'Rourke and bloodstock agent Donato Lanni saw him in the Keeneland yearling sale consignment of his breeder, Clearsky Farms. They were shopping together because Prince Khalid Abdullah had decided to hire Baffert to train a small group of yearlings that the trainer would help select at auction, with the idea of developing them into major winners who could go on to be stallions at Juddmonte's Kentucky farm.
"He was very well balanced," Baffert recalled of Arrogate at Keeneland. "And being by Unbridled's Song, they tend to be fast and muscley but they can be a little top heavy, and he didn't look like that type. He had good bone and just a really good look to him. When I first saw him I said, 'Wow.'
"And I have to buy a gray horse every time at Keeneland, so he was my gray horse," Baffert added.
As O'Rourke reflected, the Clearsky Farms consignment included two attractive Tapit colts that were on many buyers' short lists, including the half brother to Baffert's Breeders' Cup Juvenile winner New Year's Day.
A standout at the sales
"I just remember being there the last time — Donato, Bob and I — just looking at them. We looked at all three of the colts and Arrogate just showed himself really, really well. That's when it kind of struck us that this guy is the nicest of three. Luckily for us, he was the first one through the ring and we got him; the other two made huge money (the Tapit half brother to New Year's Day sold for $2.2 million and became multiple Grade 2 winner Mohaymen, while the other Tapit colt sold for $1.1 million).
"[Arrogate] was bigger than the other two, not as heavy and he was a lovely, fluent walker," O'Rourke continued. "I'm not taking anything away from the other two; they were lovely colts as well. But it was easy to land on Arrogate because he was a very good looking colt. We weren't looking at him there and saying he's going to be the best racehorse in the world, to be honest. But you have to take your chances."
With O'Rourke sitting underneath the press box at Keeneland, he bid $560,000 and landed the colt, who was the first foal out of multiple stakes winner Bubbler, by Distorted Humor. Catching O'Rourke's eye on the catalog page was the third dam, champion Meadow Star.
Goofy and immature
The colt was sent to Juddmonte's farm in Lexington, where he was broken under the supervision of the farm's yearling manager, Scott Walker, and schooled on Polytrack and turf courses until the spring of his juvenile season.
"He was never any trouble that I remember," O'Rourke said. "Those colts, when they get fit as 2-year-olds, they're immature and they're like any teenagers — they have a goofiness about them. But he was never in any manner difficult, although he could turn it on a notch when he wanted to. He was a bit impatient but not to an extreme."
O'Rourke cannot remember who among the Juddmonte team chose the name Arrogate or why. Names for the horses are submitted by many on staff but often chosen personally by Prince Khalid or his family.
Whoever came up with the name, it certainly fits in many ways. Arrogate means 'to claim or seize', and the colt has turned the racing world into his own domain. Not only was he the highest-rated runner globally for 2016, he also is the highest rated runner ever to travel from America to compete in Dubai.
Metamorphosis
But, in those early days at Juddmonte, no one particularly pinpointed him as the very best of what always is a top-class group of horses, and O'Rourke doesn't remember any special comments from the riders of that generation of youngsters.
"If you ask them now, they'll all tell you they [thought he was special], even the ones that never rode him say that they did," O'Rourke said with a laugh. "He was a very, very nice prospect, but obviously we've got a hell of a lot of well-bred horses. It's not unusual to have a whole a bunch of them that we really like, and he was one of them at the time."
Arrogate was dispatched to Baffert in the spring of his 2-year-old season, but, after some training in California, he was sent back to Juddmonte with sore shins. O'Rourke and Baffert agreed not to rush the promising colt.
During his respite back at the farm, Arrogate went through a metamorphosis.
"I think he probably needed the time, and he really did fill out by the time we sent him back [to Baffert] the second time. He really had developed into a most magnificent individual. He was always good looking, but he just transformed in that period of time," O'Rourke said.
The day Dana Barnes first rode him
"There was no looking back after that. We didn't have to get any feedback from jockeys or riders at that stage. You could see it in him — he was pretty exciting. He had that huge stride and he just did things easily."
When Arrogate returned to the Baffert operation in California, there was no immediate recognition of him as a potential superstar. Like Juddmonte, the Baffert stable is full of good horses and all have their merits.
But it didn't take long for Arrogate to stand out among all the other budding young talent sent to the Hall of Fame trainer.
"I didn't know anything about him until the day I got on him," said Baffert's assistant and top rider, Dana Barnes. "But when I first galloped him, I was like 'Whoa, this horse is really nice!'
Barnes recalled that she told her husband, Jimmy, who handles and travels with Baffert's best runners, "I'm keeping this one."
Safety strategy
As a young colt, Arrogate was "go, go, go all the time", Dana Barnes said, and his power and tornadic energy were nothing short of breathtaking.
"He was very tough. You'd better be tied on when you got on because he would jam to the racetrack. He was all go, go, go when he first came in. But the way he galloped! He was such a nice mover, you were like, 'Wow, this horse is really nice."
Due to his strength and energy, Barnes said she designed a strategy to keep him safe and controlled.
"I was concerned, and I would take him really early when there weren't many horses out there [on the track]. If he saw another horse in front of him, he was going to catch them. He was nothing like the way he is now. He wouldn't stand, he wouldn't stop — he was just go, go, go.
"From day one, the way he moved — he puts his head real low and he moves with a huge stride. When I first got on him, I thought, 'I hope this horse doesn't get too tough' because I could tell he could really run. That was always my worry that he was going to get too tough once he got really fit."
High-octane nature
There's a reason Barnes has ridden so many G1 winners for Baffert, horses including 1998 and 2001 Dubai World Cup winners Silver Charm and Captain Steve and multiple classic winners Real Quiet and War Emblem, and personal favorites such as Game On Dude and Hoppertunity. Baffert frequently gives her a mission: get horses with talent who might be a bit too tense or headstrong to settle down in their training.
In her work with Arrogate, Barnes has tried to let him stop and stand on the way to the racetrack, relaxing as much as possible, taking his time. She is as light as possible with him, encouraging him to be the same way in return, and she gives him a certain freedom to be himself, as long as he complies with her wishes.
"We have a deal," she said, chuckling. "You can do what you want, as long as it's not too drastic."
In his first start, which came in a six-furlong maiden special weight event at Los Alamitos Race Course on April 17, 2016, Arrogate's high-octane nature did not work to his benefit.
No pressure
"He was a maniac," Barnes recalled. "He lost his mind in the paddock and then he got away from the pony."
After breaking slowly in the race, Arrogate's natural running ability allowed him to finish well for third as the heavy favorite, only a neck and a half length behind the winner, Westbrook.
"Then he got a little bit sick; he got a little temperature. So, he had like a week off and we kind of started over with him," Barnes said. "It was around the time of the Kentucky Derby, so Jimmy and Bob were gone quite a bit, and it was kind of nice because we could sort of start over and there was no pressure. We didn't have to worry about anything. And I think that really helped him — that little time off where we could kind of just start over and just relax.
"Once he figured out that standing and looking around is okay, then he settled down. Now he is so much easier to deal with," she said.
Arrogate has streaked through all six of his subsequent races, including his record-breaking Travers Stakes victory, his Breeders' Cup Classic defeat of 2016 American Horse of the Year California Chrome and then his rout of the field in the inaugural $12 million Pegasus World Cup Invitational Stakes.
Anxious at times
Once again, he has undergone a transformation, changing from the maniac maiden into the most highly regarded horse in the world in less than a year — and all of that is due in large measure to the tranquil environment the Baffert team has developed around him.
"The main thing about him in the barn is that you want to keep him quiet. He can get jacked up very easily," said Jimmy Barnes. "We keep him quiet; we use earplugs when he trains, when he runs, when we have him out of the barn. All of that is to try to keep everything calm. I think calmness is very important for him.
"You've got to pay a little more attention when you're handling him just because he gets a little anxious at times. You don't really know when he's going to do it because at other times he's fairly calm."
Arrogate has varying reactions to people, but he clearly does not want anyone just hanging around his residence.
"He doesn't like it when people stand in front of his stall. He gets upset," Dana Barnes said. "It's okay if you walk up and give him a carrot, but if you're just going to stand there, you'd better be feeding him something. He's really funny about that. He doesn't like people standing in front of his stall at all."
"With American Pharoah, you could stand there and stare at him all day long," said Jimmy Barnes. "You can stand in front of Arrogate for just a few minutes and he'll eat a few carrots and then he starts pitching his head around and getting a little nervous, so I keep people away. Visiting time is maybe two minutes."
'He loves people'
Yet when Arrogate walks out to the track for his morning exercise, he enjoys seeing people.
"If someone is standing there, he'll walk right up to them. He loves people. Every day someone will walk up and say, 'Can I get a selfie with Arrogate? And they'll jump in and he's like, 'Whatever,'" Dana Barnes said.
In general, Arrogate has a happy disposition, no doubt encouraged by the consideration he receives from Baffert and his team.
"He's just a really happy, good-feeling horse. You can tell on his days off — he can get kind of rambunctious in his stall. It's so funny because he can turn it on and turn it off in a snap," Dana Barnes said.
He's the same way with a rider on his back. Although he rarely gets too strong with Barnes anymore, Arrogate takes pleasure in unleashing his physical power.
"He'll be really relaxed and just jogging along really nice, and then you turn around to gallop and he will kind of stand for a second. Then he'll squeal and just take off. He doesn't give you any warning he's going to do that," she said. "And, if a worker comes by, he'll kind of buck a little bit. He's pretty funny. When he leaves the barn, he'll like jiggy-jog and jerk his head around and bounce all the way to the racetrack."
Three particular qualities
Baffert and his team point to three qualities in particular that make Arrogate a great racehorse, in addition to the obvious component of his raw speed and ability to carry that speed over 1 ¼ miles.
1. Mental strength
Now that he has matured and been encouraged to be calm as he approaches his work, Arrogate has proven to have a great mental strength for racing. He handles pressure superbly, both in his training and during all the hoopla and heat of the moment of competition.
As Baffert and jockey Mike Smith have pointed out, Arrogate can 'switch off' in the middle of race, unfazed by what other horses are doing around him, and then respond instantly when asked to run.
"Sometimes you don't know if a great horse is born that way or develops into it — probably some of both," said O'Rourke. "When they get around pressure, some can boil over. But he seems to be enjoying it."
2. Stamina
Arrogate has a vast reservoir of stamina; thus far, he has never seemed to weary, either during or after his races.
"He never gets tired. After the Breeders' Cup, just the day after, they had to put a lip chain on him just to walk him," Dana Barnes said. "It's kind of like he thrives on racing. He never, never has acted even remotely tired or worn out."
Following his Pegasus victory, Arrogate took on an even more confident demeanor. "It really went to his head. He thought he was hot stuff after that," she said, adding that the colt also flourished physically, putting on weight before his trip to Dubai.
3. Huge stride
But the quality Arrogate is most known for is his ground-swallowing stride. Combining his outstanding physical mechanics with his ability to instantly respond to his rider's wishes, he can move "from zero to 60" in a flash, Barnes said.
"He just loves the game and man he just moves. His stride is very unique," declared Jimmy Barnes.
"When they retired Pharoah. I needed some therapy and he came along, and I said this can't be true, he can't be that good. And yet he keeps on going," observed Baffert.
"He's got an incredible length of stride, probably the longest stride I've ever seen on a horse. And the thing is about him is he can get to a horse quick. He likes to run after a target, and he's so quick.
"Arrogate is just a different kind of horse. He's a big, long-striding horse with incredible talent."