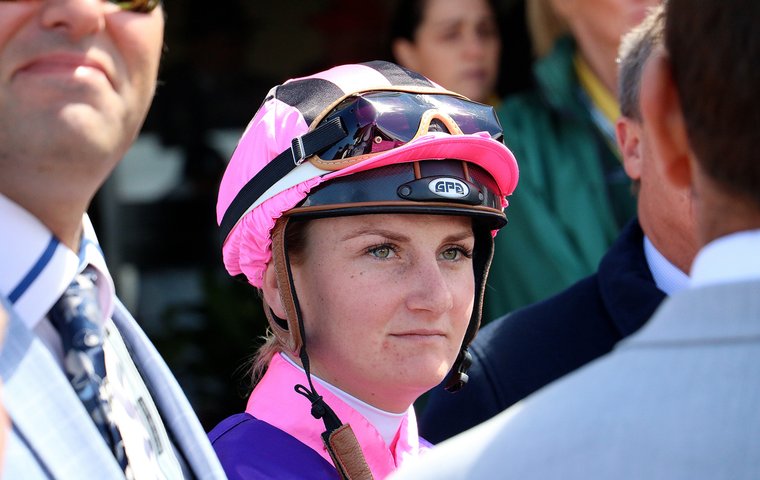 Progress is slow, very slow, and at first glance it may not look like there's been any at all, but the standing of female jockeys worldwide has been gradually improving. The TRC Global Rankings can supply the evidence.

Back in July, we took a snapshot of the status of women in the jockeys' standings. There were just 18 of them in the top 500, with the highest, Australia's Katelyn Mallyon, at #159. That number has fallen to 16 in the current edition of the rankings, but there's a significant positive in that virtually all of them have strengthened their positions, as the table here shows:
FEMALE JOCKEYS IN THE TRC GLOBAL RANKINGS
The headline acts here are:
Mallyon (+11 ranking points since July 9), now world #129. She went close to winning the G1 Ladbrokes Stakes at Caulfield on Johannes Vermeer for Aidan O'Brien in October on the same day that she won a G2 on Super Cash;

Josephine Gordon (+11), whose breakthrough year in Britain includes two G3 wins. She is now the world's third highest-ranked female rider;

Tiffani Brooker (+10), who became one of this week's highest climbers worldwide in any category (gaining 7 pts week on week) when landing her second G3 of the year at Doomben on Saturday;

Samantha Spratt (+9), the highest-ranked of the five New Zealand jockeys in the standings. She rode Hasahalo to win the G1 New Zealand 1000 Guineas at Riccarton Park last month.
Look at the column on the right of the table. Only one rider, former NZ champ Lisa Allpress, has lost points in the last five months - and only one point at that. Perth jockey Lucy Warwick has stayed on the same mark, and the other 14 have all improved their totals (South Australian 21-year-old Jamie Kah and renowned Canadian Emma-Jayne Wilson have both re-entered the top 500 having been just outside it in July).
This across-the-board improvement is because generally many female jockeys are getting slightly more rides in Group or Graded races than they were in July. They may largely be booked for outsiders, which usually finish down the field, but this is clearly trending on an upward trajectory. The simple fact that they are appearing in the better races more often is registering with the TRC algorithm.
Perhaps this shows that more owners and trainers are willing to give females a chance, although this may certainly be a case of different trends in the two hemispheres. It won't have escaped your notice that 12 of the 16 riders in the table are from either Australia or New Zealand. Women don't get many good opportunities in the best races down under, but they get a lot more there than they do in Europe and the U.S (and certainly a lot more than they do in the Far East).
Indeed, Anne Sanguinetti is the only American in the top 500, all her points coming courtesy of her partnership with G3 scorer Code Warrior, the only horse she has ridden in Graded races in the current three-year window of the rankings.
It's difficult to see much progress here from the country that produced Julie Krone and Rosie Napravnik.
The four jockeys who were in the top 500 in July but are not there at the moment are the retired Napravnik, famed Aussies Michelle Payne and Clare Lindop, and U.S.-based Brit Sophie Doyle, who has 882 points, which is two more than she had on July 9 but is not quite enough now to keep her in the top 500. Doubtless she will return.
Of course there are several impressive female jockeys who have not had the opportunities to make a mark in Group and Graded action. Not yet anyway. Riders like Samantha Collett, who leads the New Zealand Premiership with 40 winners so far this season, and fellow Kiwi Danielle Johnson, who has been third, third and second in the last three Premierships and is currently lying sixth. Neither has so far had the chance to make a mark in the races that count towards the TRC rankings.
While Aussie Zac Purton was winning the Longines International Jockeys' Challenge in Hong Kong yesterday ahead of elite riders like Silvestre De Sousa, Pierre-Charles Boudot, Hugh Bowman, Flavien Prat and Ryan Moore, Collett and Johnson were getting ready for the ambitiously titled Jockeys' World Cup Prelude at Ellerslie, New Zealand, next Wednesday. They will make up a New Zealand all-female team with Samantha's cousin, Alysha Collett (who is joint eighth in the table above).
Jamie Kah is another leading female who will be taking part at Ellerslie, having been drafted into the Australian team alongside Melbourne's Damian Lane and expatriate New Zealander Jason Collett (Alysha's brother), who is now based in Sydney.
Kah, who replaces the suspended Blake Shinn, has enjoyed a whirlwind rise to the top of her profession and created a slice of South Australian history by becoming the first jockey to win three John Letts Medals, which are awarded in recognition of achievements at South Australian meetings.
Last season, Kah set a new national mark for the most wins by a female jockey of 130 and was her state's Jockey of the Year and took the awards for leading metropolitan, country and provincial rider.
Top of the South Australian Metropolitan Jockey's Premiership with 23 winners so far this season and currently fourth on the Australian Jockey's Premiership with 55, Kah has a career tally of 553 winners.
She is increasingly in demand, but don't expect to see her branching out just yet. "I've had terrific support from trainers and people are asking me what I'm going to do, but I'm happy in Adelaide for the moment, it's a great lifestyle," she said.
The six-race Ellerslie series includes a New Zealand men's team (Matt Cameron, Michael Coleman and Chris Johnson) and an apprentice's team (Shaun McKay, Sam Weatherley and Ben Allen).
Click here for a list of all last week's biggest TRC Global Rankings points gainers.
Click here for a list of all the week's Group and Graded winners.