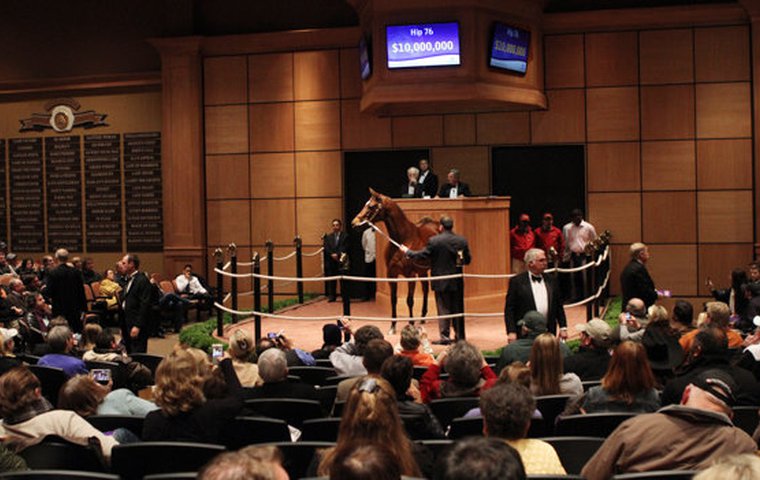 Founded in 1898 by William B. Fasig and Edward A. Tipton, Fasig-Tipton has become one of America's most powerful sales companies.

Today, it boasts a diverse calendar of high-profile boutique sales, two-year-old auctions in Florida, Maryland, and Texas and a number of other sales that cater to regional markets.
Yet as North America's oldest auction house, it also owns an enviable history, one that is laden with iconic graduates ranging from Man O'War, who sold in 1918 at the Saratoga Sale, to other breed-shapers such as Raise A Native, Seattle Slew, Danzig, and Natalma.
Since May 2008, Fasig-Tipton has been under the ownership of the Dubai-based Synergy Investments, a company headed by Dubai businessman Abdulla Al Habbai, who purchased the auction house from a group of shareholders led by the Hettinger family.
Following the company's sale to Synergy Investments, the importance of attracting new faces to racing and improving customer focus were identified as long-term goals by company officials. And it wasn't long before some of those plans were in motion, with Fasig-Tipton reducing the time between selling and payment for horses sold at that year's Kentucky July Yearling Sale.
"Sale houses are small companies who are the custodians of a product," said Terence Collier, director of marketing, "and the corporate policy reflects the personalities of their people. Our entire philosophy revolves around maintaining key relationships with people, the vendors, and sellers.
"Since we came under new ownership, we have sought professional advice and input from outside management consultants," he said. "The overriding theme arising from that has been the importance of continuing to build relationships."
Powerful rebranding of various sales - the Kentucky Selected Mixed Fall Sale became simply "The November Sale" – was another measure taken following the company's sale in line with a particularly dynamic approach to marketing. The promised increased customer focus also came to fruition. As presenting partner of the 2012 Breeders' Cup at Santa Anita, Fasig-Tipton went to extreme lengths to facilitate the attendance of interested participants at that year's The November Sale, staged two days later in Kentucky, by securing a special charter flight from Los Angeles to Lexington.
At the track, a strong presence has been maintained by high-profile race sponsorship. For instance, from 2009 to 2012 Fasig-Tipton backed the Fountain Of Youth Stakes, run at Gulfstream Park in the month prior to the prestigious Florida Sale at the nearby Palm Meadows Training Center. Since 2009, the company has hosted the Fasig-Tipton Festival of Racing ahead of their August sales in Saratoga, a celebration of Fasig-Tipton's strong ties to New York racing ahead.
In the meantime, the Kentucky, Maryland, and Saratoga sale grounds underwent extensive upgrades. The Kentucky office and sales pavilion were transformed from a single-story structure into a building of three levels, in part to accommodate a growing staff. Saratoga also underwent an extensive redesign.
"Improving those facilities was a major expense," Collier said. "But apart from improving the various physical fronts of the company, new ownership has allowed us to focus further on key sales and develop those markets, in particular The November Sale. And with that, the management sells those flagship sales with confidence, in particular internationally."
An early visit to Fasig-Tipton for Michael Donohoe of BBA Ireland, Ltd. in 2006 resulted in the $60,000 purchase of Idonea, subsequently a Listed winner at Dusseldorf. Since then, the Co. Kildare-based agent has become a regular European face at the company's sales, both in New York and Kentucky.
"The team there look after you very well," he said. "Their hospitality is second to none and that is right across-the-board.
"Their facilities have improved enormously in Kentucky and New York. I liken the Kentucky grounds to Goffs – it's very easy to work with the barns being so near to the sale ring."
Synergy Investment's purchase of Fasig-Tipton coincided with the final heady years of the bloodstock market, which included the record $16 million sale of The Green Monkey to Demi O'Byrne at the 2006 Calder 2-Year-Olds in Training Sale. In fact, the first November Sale under Synergy's ownership in 2008 was highlighted by the sale of Better Than Honour to Southern Equine Stables for $14 million, a world-record price for a broodmare.
But as with the bloodstock world in general, Fasig-Tipton was not immune to the effects of the recession, which hit the industry so hard from late 2008. However, last year was a particularly successful one for the company, with Fasig-Tipton turning over close to $231 million in total sales, up 21 percent from 2012 (a year that was boosted by the $10 million sale of Havre De Grace at The November Sale).
One vendor to enjoy a particularly good November Sale last year was Three Chimneys Farm in Kentucky, who sold $9.675 million worth of horses including Love And Pride for $4.9 million to Borges Torrealba Holdings.
"Two things set Fasig-Tipton apart," said the farm's President Case Clay. "The team's hustle and their 'make it work' approach to recruiting and selling. I have also never had an experience with Fasig-Tipton in which they were not flexible to our or our clients' needs."
SARATOGA
Top-class racing and elite yearlings combine to make The Saratoga Sale one of the most prestigious auctions of its kind worldwide.
A boutique event staged over two evening sessions that coincides with Saratoga Race Course's August meeting just blocks away, The Saratoga Sale is followed by the New York Preferred Yearling Sale, a thriving auction on the Fasig-Tipton calendar that is confined to New York-breds.
Both sales are staged in the Humphrey S. Finney Pavilion, which was opened in 1968 and underwent major renovations shortly after Fasig-Tipton's sale to Synergy Investments. The multi-million dollar project was carried out in two stages and comprised a redesign of the pavilion, expansion of the restaurant, and construction of a new walking ring and horse-holding area.
On the track, business remained normal as Fasig-Tipton's flagship sale continued to churn out top-class runners, a tradition that stretches back to Man O'War, a graduate of the 1918 Saratoga Sale.
Saratoga graduates Cross Traffic and Midnight Lucky each garnered Group 1 honors in 2013, taking the Whitney Handicap and Acorn Stakes respectively. In February, they were joined on the roll of honor by Lochte, winner of the Gulfstream Park Turf Handicap who sold to Newmarket-based agent Anthony Stroud for $475,000 in 2011.
A regular European visitor to Saratoga, Stroud also signed for the 1000 Guineas and Irish Oak heroine Blue Bunting in 2009.
Another European agent who regularly makes the trip is BBA Ireland's Donohoe.
"If someone said to me 'I would like to buy a top yearling at a place that is fun,' I would definitely take them to Saratoga," he said.
"It's a little like Royal Ascot. It's great fun. You have top-class racing, there are lots of parties and a few celebrities are in town from New York. And to top it all off, the cream of the American yearling crop are on offer."
Its location in relation to Saratoga Race Course is also a major advantage.
"A lot of the American trainers are based at Saratoga for the meeting and so are the owners - they can just walk across the street," Donohoe said. "So obviously it's that much easier to attract buyers."
The Saratoga Fall Mixed and Horses of Racing Age Sale was introduced in 2012, but despite its short history, already boasts a Grade 1-winning graduate in the aforementioned Lochte, sold for $60,000 to Carolyn Vogel last October.
DYNAMIC MARKETING
Fasig-Tipton has long been a forward-thinking company that employs an aggressive approach to its marketing.
It was one of the first sale companies to champion the use of interactive web-based catalogues and embrace the concept of supplementary entries - 66 late additions were accepted to the 2014 Kentucky Winter Mixed Sale in the weeks following publication of the original catalogue.
Accomplished graduates are celebrated via a "Horse of the Week" page on the Fasig-Tipton website, where the achievements of each horse can be viewed on film, on some occasions complete with comments from the consignor or buyer. The page is an integral part of "Fasig-Tipton TV", where promotional videos, such as footage of the $10 million sale of Havre De Grace, and under tack videos (including archives) can also be viewed.
Fasig-Tipton also maintains a prominent presence on Twitter and encourages industry players to keep up to date with news through its e-newsletter.
FASIG-TIPTON FACTS AND FIGURES*
----------
KENTUCKY (Company Headquarters)
Location:
Fasig-Tipton Company, Inc.
2400 Newtown Pike
Lexington, KY
Kentucky sales held:
Kentucky Winter Mixed (February)
The July Sale (July)
The October Sale (October)
The November Sale (November)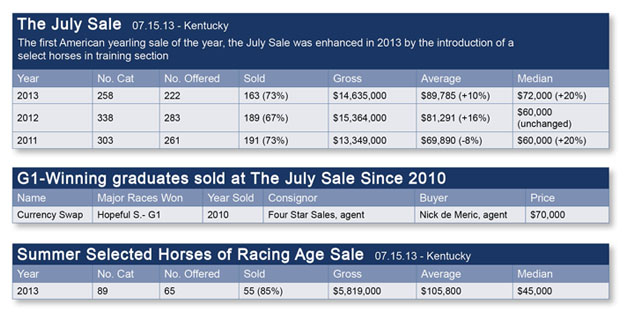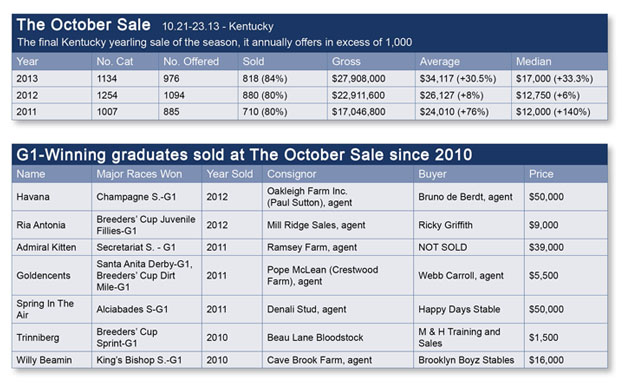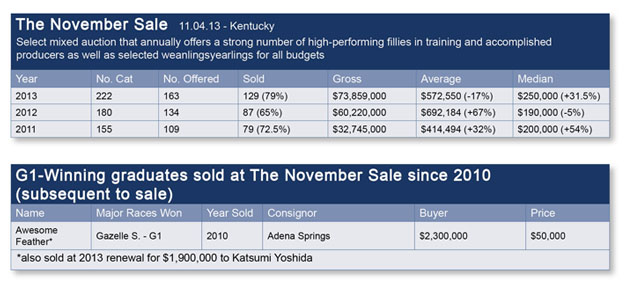 FLORIDA
Location:
Peter Penny
Ocala, FL
Sales held:
The Florida Sale (March)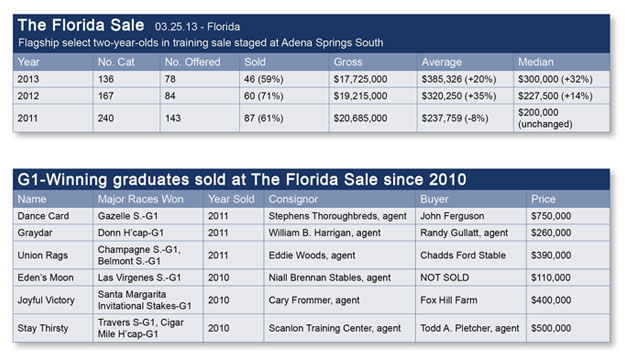 MIDLANTIC
Office Location:
Fasig-Tipton Midlantic
356 Fair Hill Drive, Ste C
Elkton, MD
Sales held:
Midlantic Two-year-olds in Training (May)
Midlantic Fall Yearlings (September)
Midlantic December Mixed (December)
Sale grounds:
Maryland State Fairgrounds
2200 York Road
Timonium, MD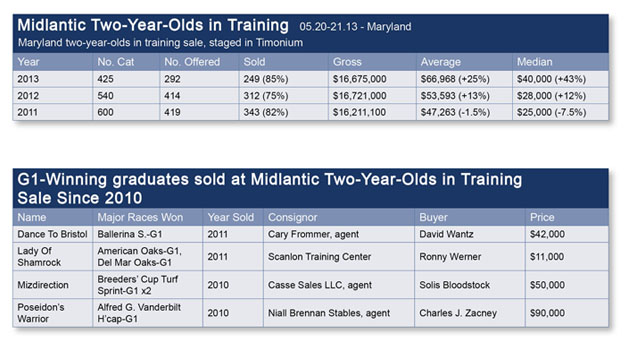 SARATOGA
Office Location:
Fasig-Tipton Saratoga
East & Madison Avenues
Saratoga Springs, NY
Sales held:
The Saratoga Sale (August)
New York Bred Preferred Yearlings (August)
Saratoga Fall Mixed and Horses of Racing Age (October)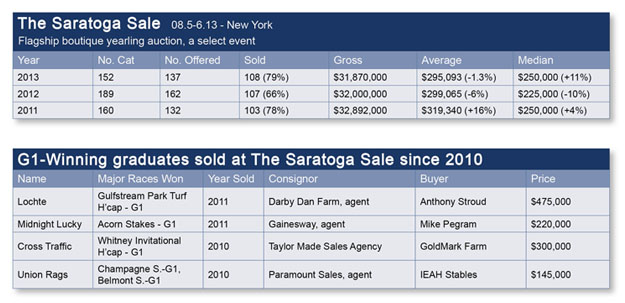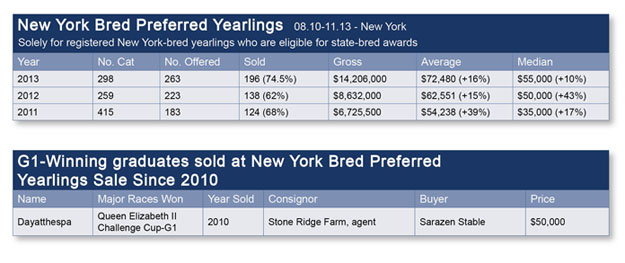 TEXAS
Office Location:
Fasig-Tipton Texas
1000 Lone Star Parkway
Grand Prairie, TX
Sales held:
Texas Two-year-olds in Training (April)
Texas Summer Yearlings (August)

EXECUTIVES
Boyd Browning, President and CEO: bbrowning@fasigtipton.com
Dan Pride, Executive Vice President and COO:dpride@fasigtipton.com
Terence Collier, Director of marketing: tcollier@fasigtipton.com
General Information: info@fasigtipton.com
---
* All sale figures from 2013