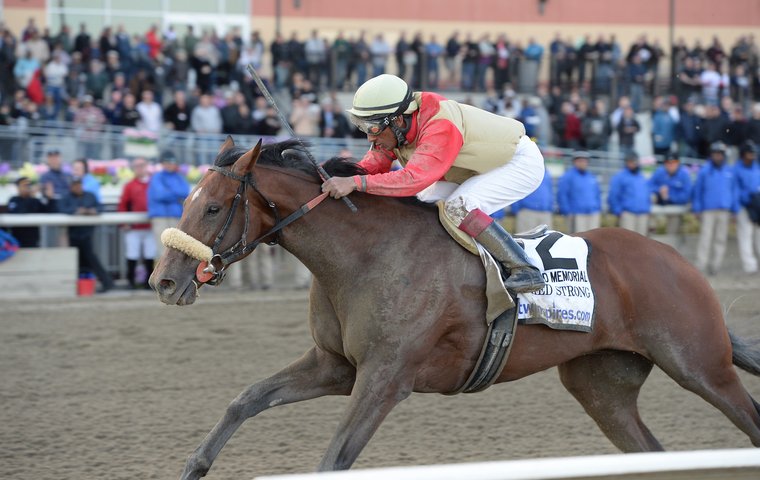 "Campaigning elite athletes in partnerships for more than 30 years." Find your way to the Centennial Farms website, and this is the tagline that you will greet you. It's also the philosophy with which Don Little Jr., president and co-owner of Centennial, opens a conversation in the track kitchen at Belmont Park.

"In any successful business, you want to compete at the top end," he said over a late breakfast of coffee and a bagel with cream cheese. "We knew we wanted to race at the top level, in races like the Belmont Stakes and the Kentucky Derby."
Originally based in Ipswich, Massachusetts, an upscale coastal town known for its beautiful beaches on the Atlantic coast, Centennial was founded by Little's father, Don Sr. With a background in the investment business, Little was well aware of the tax benefits of owning racehorses — which were considered a financial asset like, to borrow his son's examples, an oil well or a building — and he used them as a selling point when he decided to establish his own racing partnerships in the early 1980s.
A little bit of Kentucky
A world-class polo player, Little Sr. and his sister, Patricia, had grown up with horses; their mother had ridden steeplechasers, and there is some good-natured family dispute about whether it was Don or Patricia who first ventured into Thoroughbred flat racing.
"Dad had his own racehorse when he was 16," said Little Jr. "He used to spend his racing days at the little fair racetracks in Massachusetts. I ended up galloping racehorses on the property, like he used to do."
"The property" was the farm they built in Ipswich, a Thoroughbred retirement and lay-up facility for horses that had raced at Boston's Suffolk Downs track. It was while working there that Little Jr., known as 'Doo' to pretty much everyone, met his wife Holly, who did equine physical therapy and ultrasounds.
"We marketed the farm as a little bit of Kentucky in New England," he said. "We built the fences to look like a Kentucky farm."
It takes its name from an old barn, dating to the late 19th century, that the family had rented for its polo ponies. Centennial's tan and red silks recall the colors of the local Myopia Hunt Club, another nod to history and tradition.
But there was nothing old-fashioned about Centennial's business plan. With years of investment experience, Little Sr. used his connections and his expertise to appeal to possible partners, emphasizing the tax benefits.
"Those benefits really helped as we were starting," said Little Jr. "We had 600 clients back then."
Then came President Ronald Reagan's 1986 tax overhaul, along with the realities of making a long-term commitment to Thoroughbred racing, both of which sent partners flying from the racing game and required Centennial to re-think its strategy. It had begun by focusing on fillies for their residual breeding value when their racing careers were done, but, realizing that the partners didn't necessarily have the patience for that and that they wanted the excitement of being at big races, Centennial stopped purchasing fillies and turned exclusively to colts, a decision that proved instrumental in the partnership's success.
Belmont victory
By the late 1980s, Little Jr., who like his father played high-level professional polo, had decided he didn't want to pursue a career in the banking industry, and he started cold-calling current Thoroughbred owners, inviting them to become a part of Centennial. Many of them, including some of the sport's oldest families, said "yes", and within a few years, they were standing in the winner's circle for an American classic when Centennial's Colonial Affair won the Belmont Stakes in 1993.
As much a part of Centennial as the Little family are Dr. Stephen Carr, the business's racing manager, and Paula Parsons, its yearling trainer. Both are lifelong horse people whose relationship with Centennial goes back to its founder.
Carr and Parsons travel to the major yearling sales in Kentucky and Saratoga, with an occasional stop to consider 2-year-olds in training; they seek colts with marketable pedigrees, looking ahead to possible stallion careers, horses with the potential to run long on the dirt, buying six to eight horses each year.
"After pedigree, we place a big emphasis on conformation and the look of the horse," said Carr, a veterinarian and former show rider and polo player. "We're looking for a horse that's well-balanced with a correct leg and good appearance about himself.
'A special way'
"The most important thing is that the better horses have a special way about them. That's what you really need. Horses like Unified and Wicked Strong — they were different from the rest of the horses."
They are among Centennial's recent successes, both multiple Graded stakes winners, both now standing at stud, a process that Carr oversees.
As Centennial horses begin to learn to be racehorses, they go to Middleburg, Virginia; initially based at the prestigious Middleburg Training Center, they now train at Centennial's own farm, which borders the center.
"Don Sr. was interested in having a home for Centennial down here," said Parsons, speaking from the farm. "He wanted a space that he could have investor parties, and a home for the business down here, not just an office in Boston."
It was Parsons who discovered the farm for sale out riding one morning, and Little and three partners purchased the 65-acre facility. It's currently owned by Little Jr., Peter Horvitz, and Margaret O'Meara.
Centennial yearlings go straight from the sale to Middleburg, where they attend what Parsons calls "grammar school".
"We break them, they learn to go to the racetrack, they gallop, they do gate work," she said. "We start speed work later in the spring, getting them to the point that they're ready to go to our racetrack trainers, Jimmy Jerkens in New York and Rodney Jenkins in Maryland."
"We're willing to take our time and do the right thing by the horse," said Carr. "We put them in the best spots to be successful, instead of running just for the sake of running."
Education time
"Part of the skill of doing this is knowing how much training an individual horse can take at what stage of his life," explained Parsons, who has also spent a lifetime around horses. "Some are more mature, some are physically stronger, some are bred to be early horses. I proceed with all of them until they tell me I need to stop, then we back off or give them some time off before starting up again."
The horses are turned out every day, and the 15-minute walk from the barn to the track builds fitness and stamina; the geography of the farm also contributes to the young horses' development.
"They go through the countryside, and they might see a fox," said Little Jr. "They might see a deer. That's education time."
Another benefit to the farm's location is one that Little Sr. might not have foreseen when he purchased the place, but that in today's equine landscape is among its most important.
"We were ahead of the curve in finding good homes for retired horses," said Carr. "I think our owners appreciate that."
Animal lovers
"So many Thoroughbred owners are so intent on getting every last 25 cents out of every horse that, even if their trainers wanted an opportunity to re-home the horse, they couldn't," said Parsons. "Our owners really care about the horses; Centennial is made up of animal lovers."
And with Parsons' connections in and experience with the local equine industries in Virginia, she's had great success placing former Centennial runners as show horses, steeplechasers, and fox hunters."
Little Jr. and his father, who died in a riding accident in 2012, chose their racetrack trainers and Centennial staff based on their experience with horses; they wanted people who had ridden horses, who had worked with them physically, who knew the equine athlete. That's why their first trainer was the late H. Allen Jerkens, himself a former polo player, and why their horses are now with Jerkens' son and Jenkins. It's part of what distinguishes Centennial from other partnerships, now a ubiquitous part of the racing landscape, and it goes back to the Little family.
"Horses," said Little Jr., "have been in our blood for generations."
"This is a family," said Parsons, noting that some of the farm employees have been there for decades. "We're all here for something far beyond our paychecks. It makes a huge difference."