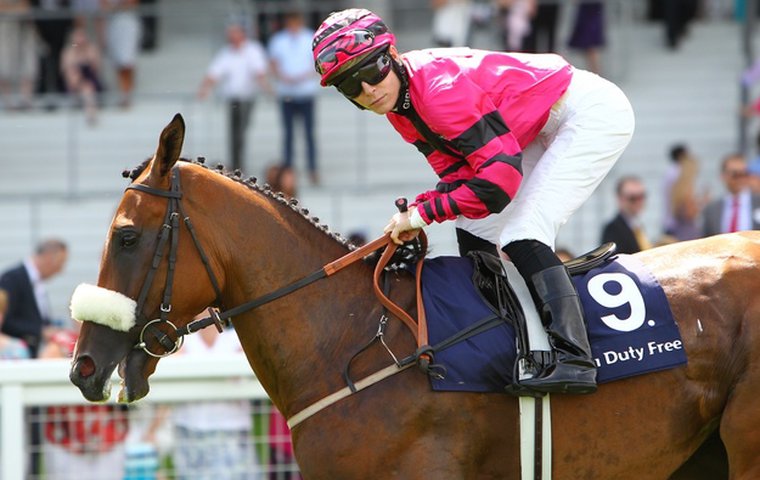 This year marks jockey Emma-Jayne Wilson's 10th in the saddle. The Woodbine-based rider rocked the Canadian racing scene in 2005, winning 175 races and more than $7.4 million in purses. She was awarded a Sovereign Award as Canada's top apprentice and earned an Eclipse Award as North America's top apprentice rider.

The 33-year-old rider hasn't only made a name for herself on the racetrack. She has received widespread recognition for her contributions to countless community and charitable endeavors over time, earning Wilson a faithful fan following.
Wilson gave the racing public a glimpse of her potential when she won three times from 31 mounts in 2004, with her first win coming aboard Ali Olah at Fort Erie Race Track in August.
One year later, she became the first woman and only the third apprentice (Sandy Hawley and Mickey Walls were the others) to win the Woodbine riding title. Wilson continued her winning ways in 2006, leading all Woodbine riders in wins (144). She also won nine stakes en route to her second consecutive Sovereign as Canada's top apprentice. That same year, Wilson became one of the first female jockeys to participate in the Shergar Cup at Ascot.
In 2007, she became the first female jockey to win Canada's most famous race, the Queen's Plate, aboard Mike Fox.
She rode at Fair Grounds in the winter months of 2007 and 2008 and became the first North American female rider to be granted a license to compete in Hong Kong, where she rode in February and March of 2008.
Wilson won 70 races and $3.8 million in purses in 2010, despite missing a significant portion of the season after an injury suffered in an August spill.
In 2011, Wilson returned with a vengeance, finishing third in the Woodbine standings with 135 wins in 836 starts, including graded wins with Windward Islands in the Nijinsky; and City Wolf in the Durham Cup. She also ventured to Pimlico and won the Female Jockey Championship.
Two years ago, Wilson, guided Hunters Bay to victories in the G3 Eclipse and Dominion Day Stakes setting up a memorable second-place run to Wise Dan in the G1 Woodbine Mile. Last season, she captured a trio of G2 events, including the Nijinsky Stakes with So Long George.
The Ontario native earned a new English following this August when competing at Ascot as the leader of the "Girls" team at the Shergar Cup. The riding competition, which pitted teams of four jockeys from Europe, Great Britain and Ireland, and the rest of the World in a six-race showdown, proved to be a nail-biter. Wilson won two of the six races and lost a third race in a thrilling photo finish.
Chris Lomon interviewed Emma-Jayne Wilson on Oct. 30.
----------
You began your riding career 10 years ago. What were your expectations - how long you thought you'd ride, how many races you wanted to win, what races you wanted to win, etc. - when you first started?
"It's interesting that you'd ask that because it's something I've been thinking about. When I first began riding, it was all about dreaming the dream. My parents really encouraged me when I decided to pursue a career as a jockey. I thought if I rode in five races and finished last in all of them that I could say that at least I gave it a shot. If it's not meant to be, at least I could say I was a jockey for a time. As time went on, I realized there were prospects and promise for me to have a solid career."
What were some of the best pieces of advice you received early on and from whom?
"My parents have always been there for me at every turn. They told me that whatever I happened to do, to give everything of myself and to give 100 percent every single day. I think the best advice – and I'm not sure it was advice, but rather something that motivated me – was hearing some people say girls couldn't ride. That was very motivating to me. I thought, 'Are you kidding me?' I wanted to show people that wasn't true at all."
You formed a special bond with fans from the very start. What are the biggest reasons behind that connection?
"I have to admit it that I didn't notice that connection right away. What I think people saw was someone following their dream and having that complete joy and happiness about it. I felt so lucky and I think people felt that. I feel that truly resonated with fans. What that bond did was enable me to feel even more grateful for what I was doing. I was a fan way before I started as a jockey. And I'm still a fan to this day."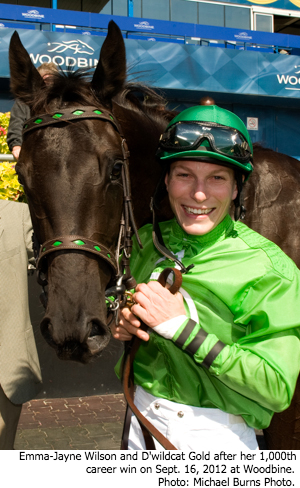 Each time you've been injured, hundreds of people have reached out through social media, calling the racetrack, etc., looking to get an update. How does that outpouring of affection make you feel?
"It's obviously a very tough circumstance to be in, in not being able to do what you love. But, it really took me aback when I found out that people felt this need to reach out, asking about how I was doing, wanting to send their 'get well' wishes to me. It's something I'm extremely grateful for, to have that type of relationship with fans."
You've been a passionate promoter of the sport since day one of your career. Why is that an important part of what you do as a rider?
"It really comes down to loving what I do, loving the sport, and wanting people that come out to the races to come back again. That's what we should be doing for our great sport. Of course, we won't get the same media coverage as the NFL, NHL, NBA, and other sports, but if we can do anything to showcase ours, to shine the light on how truly great it is, I think it's a no-brainer that we promote it as much as we can and the best way we can."
You've also supported several community and charitable partners of Woodbine. Your time is very precious, yet you always find time to help others, a lot of times without any fanfare. Talk about your desire to make a difference within the community and with others.
"Woodbine is invested in so many worthwhile charity and community endeavors, and it's something that is important to me, too. There are those who aren't as fortunate as others, and it makes you reflect on your own life and career. It makes you not take any of what you have, professionally or personally, for granted. It also inspires you to want to help people find their path, to reach out and lend a hand whenever you can.
"Working with Ernestine's Women's Shelter was extremely gratifying for me. When I went to visit the shelter, it really took me aback to see people what these women were going through. It was comforting to know they had somewhere to go to get assistance and aid. I've been very lucky to have met some truly wonderful people over the years."
If you weren't a jockey, what do you think you'd be doing?
"It would have to be something with horses, for sure. When I was 16 or 17, I was conflicted and confused as to what I wanted to do, something I'm sure a lot of kids that age struggle with. I thought about becoming a veterinarian or maybe even a blacksmith. As long as it had something to do with horses, I was interested. Then, I came to the conclusion I wanted to be a jockey. It was something about that high-speed competition that really resonated with me. And that's what I focused my energies on."
How often do you relive your milestone Queen's Plate win?
"It's a constant for me. When I'm talking to you right now, I'm in my office and I'm looking at my whip from the Plate. I also have one of the shoes Mike Fox wore that day. There are plenty of reminders each and every day. When I'm out and about, people often ask me about it. That always brings me back to the last eighth of a mile, to that moment when I was out there saying to myself, 'I think we can do this. I think we can win the Queen's Plate.' Wherever I happen to be, whoever happens to mention it, it's always a great feeling to look back on that race."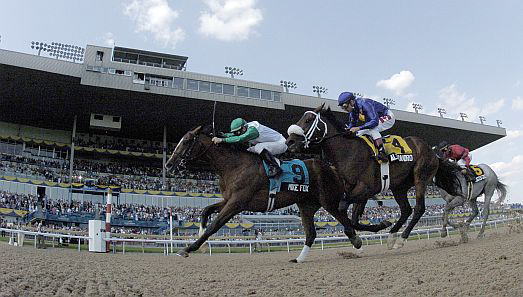 What motivates you every morning?
"The horses and the people. When I get up every day, I know I'm going to see those cute horse faces, that look of willingness to give it their all. That's something that I'll never get tired of. I love that feeling of being at the racetrack, seeing people so dedicated in what they do. There are so many people behind the scenes who work tirelessly, who have such a great passion for the sport. It's why I always have a smile on my face when I'm driving to the racetrack."
What's the one race on your radar that you want to win?
"I got a taste of what the Breeders' Cup is truly all about when I finished second [in the 2011 Juvenile Turf] with [33-to-1 longshot] Excaper. Winning a Breeders' Cup race would be the one that stands out for me. It would likely be on a Canadian-bred or Canadian-connected horse and to win a race where I'm representing Canada and Woodbine would be a fantastic feeling and accomplishment."