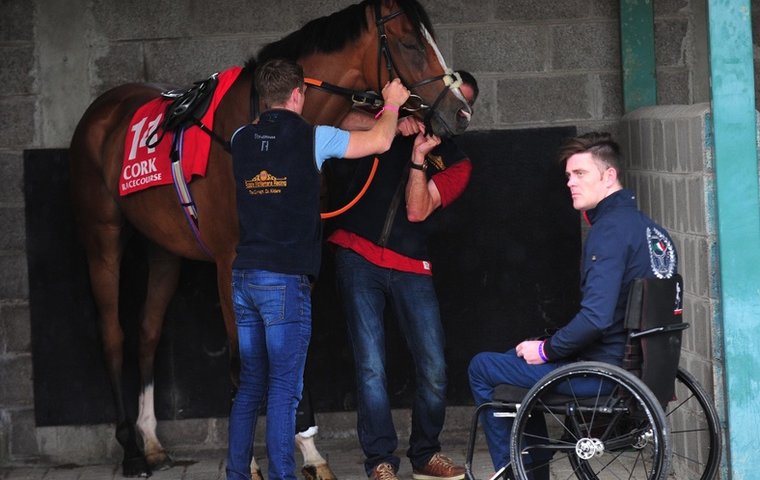 The goodwill and support were virtually unprecedented when Robbie McNamara saddled his first runners as a rookie trainer at Cork Racecourse last month. And it became an evening of huge celebration throughout Irish racing when his first runner came home in front.

The dream start continued as McNamara's four runners produced two winners and a second that Friday evening. Not bad for a former jockey who was left paralysed from the waist down after a serious fall just 15 months earlier.
The whole of Irish racing - professionals and fans alike - rallied behind the popular 27 year-old Limerick native after that fall over hurdles at Wexford Racecourse in April 2015.
McNamara enjoyed a successful career as an amateur jockey in Ireland with over 150 winners, despite being 6ft 3ins tall and struggling with his weight.
He had only recently turned professional when the fall came - on the eve of the Aintree Grand National. While the primary concerns in the weigh-room were that he would miss the ride on former Cheltenham Gold Cup winner Lord Windermere in the big race the following day, word soon filtered through that his condition was far more serious.
Testing time for the family
McNamara's injuries included eight broken ribs, multiple fractured vertebrae, a punctured lung and internal bleeding in his chest and stomach.
This was just two years after Robbie's first cousin, renowned amateur jockey John Thomas McNamara, was left severely paralysed from a fall at the 2013 Cheltenham Festival.
It has been a testing time for the entire McNamara family, and John Thomas passed away at home on July 26 at the age of just 41 after suffering complications from his injuries.
"I have to admit that it all hit me fairly hard," confides Robbie McNamara. "I had a fair idea that I was paralysed in the first few weeks after the fall, and I started planning my career as a trainer in my head from my hospital bed.
"However things went downhill around seven weeks after that day, and it went completely out of my head as everything became a real battle for survival. I was mentally in a very bad place for a good while."
McNamara went into the National Rehabilitation Centre near Dublin and worked on getting fit and mentally sane again. "It wasn't until I came out of there five months after the fall that I started thinking about training again," he says.
Partnership with Dermot Weld
"I have always wanted to be a trainer, even before I started riding. My father, Andrew senior, has always had around 35 horses in training and had some good results, including winning the Kerry National and finishing placed in the Aintree Grand National.
"I always had ponies growing up. There are photos of me in nappies on horseback! I started hunting when I was around five years of age and rode out my first racehorse at 10. I took out my amateur licence when I was 16, and I remember leaving my Geography Leaving Cert exam [final school exams in Ireland] an hour early to ride in the bumper at Clonmel!
"I finished school on a Tuesday and the next morning I was in Dermot Weld's yard on the Curragh to start work for him."
McNamara encountered a way of training racehorses completely different from anything he had seen before when he began working for the master of Rosewell House, but the unlikely pair struck up a successful partnership that resulted in an impressive 40 percent strike rate over nine years.
"It was fascinating to see how good flat horses were trained, and we got on very well together," he says. "He had very few jump horses, but anything he had was good and we had over 100 winners together, including Silver Concorde in the Cheltenham Festival Bumper.
Lessons from watching Willie Mullins
"I was always watching what they were doing with the horses in Weld's yard. The thing he focused on the most was the mental well being of his horses. He wanted his horses to be relaxed and happy. A lot of his exercise riders were older, so I found myself riding anything difficult and it was a big thing for him that I got the horses to relax and not pull too hard in their work."
McNamara tried to ride out for as many trainers as possible while he was riding - because he wanted to learn from them for his future career as a trainer. "I wanted to see what they were doing and, more importantly, what they were not doing," he says.
"From Willie Mullins, I learnt about fitness levels. It amazed me how much base work his horses do before they even start being trained properly. Their core fitness is incredible and his success proves how important that is when training racehorses. I think if you combine both of those top trainers' approaches with healthy horses then you won't be too far off the mark."
McNamara has set up his new business on the famous Curragh training centre and currently has 23 horses - for both flat and jumps - in his care.
The advantages of the Curragh
He began training this spring in a rented yard attached to the Irish Equine Aqua Centre. "The facilities available to me are second to none," he says. "I have full use of the swimming pool, water walker, lunge ring and numerous paddocks where I am based, not to mention the top-class gallops on the Curragh.
"I didn't really ask anyone for advice before I decided to set up on my own. It was early September, the sales were over and it was going to be hard to find good staff before the winter, never mind the fact that I had to learn to live independently in a wheelchair, so I set myself the date of May 1 to give me the time to get organised properly."
Being based on the Curragh was a major advantage. "I know the Curragh so well from riding here and I know how to train here," he says. "I think it is better to be centrally based when you are a small trainer starting out as it is hard to attract owners and staff if you are further out, unless you are a big operation.
"Getting good staff was my number one priority. It is nice that I have some of my friends working and riding for me. It makes it even more special to do it as a team. I have two good young riders in Conor Brassil and Ricky Doyle, and I'm glad I can give them chances to repay their hard work.
Support from leading jockeys
"Good friends of mine from when I was race riding, such as Bryan Cooper and David Mullins, have been in to ride out and help too. Joseph O'Brien even came in one morning to ride out, but I didn't offer him a job as I think he was just trying to learn a bit from me, and he is getting a bit too fat to be riding anymore!
"It definitely is an advantage having ridden in races as not only do I know the jockeys so well but also which tracks will suit which horses. I firmly believe in "horses for courses and jockeys for horses".
"It is definitely easier for someone on my position to get a good jockey to ride for them. I think if another young trainer had rung up Ruby Walsh to ride their fifth ever runner, he would have laughed at them!"
It cannot be easy for a young man in his 20s, who led such an active sporting life, to find himself embarking on a demanding new career from the confines of a wheelchair, but McNamara has never been one for pity.
"It took some adaptation, but I have it all running very smoothly now," he says. "I do the board the evening before and I have a very good head lad and team of staff to help me out. I oversee everything, but I know I could go away for a week to the sales and everyone would know their role to play.
Specially adapted quad bike
"I am around the yard in my chair all morning, and then I get into the jeep to go out on the gallops and watch the horses. I have a specially adapted quad bike so I can go up the fields to see the horses if needs be.
"My ambition for the future is get more owners and improve the quality of horses even further. I am lucky to have an enviable group of owners, including Dr Ronan Lambe, Michael Worcester and Paul McMahon."
McNamara rode around 60 winners for Dr Lambe during his amateur career, including two Cheltenham Festival successes, so it was particularly special for him that his first winner at Cork last month, Chadic in a two-mile maiden hurdle, carried Dr Lambe's colours.
"There is plenty of room here for me to expand in the future," McNamara says. "I have lots of nice horses for sale for anyone who wants to join our list of owners! We don't cut corners here, and I firmly believe that, if you keep doing the small things right then the bigger things will fall into place.
"It is true that it is tough for anyone starting out in this job. My older brother, Andrew [also a former jump jockey], started training at the same time as me so we understand what the other is going through. We competed against each other for years on the racecourse, but I know we now cheer each other's winners home louder than anyone else."
Robbie's brother was far from the only person roaring home that first winner, and this young man's vast experience and resolute determination leave no doubt that there will be many more for his well-wishers to cheer on in the future.