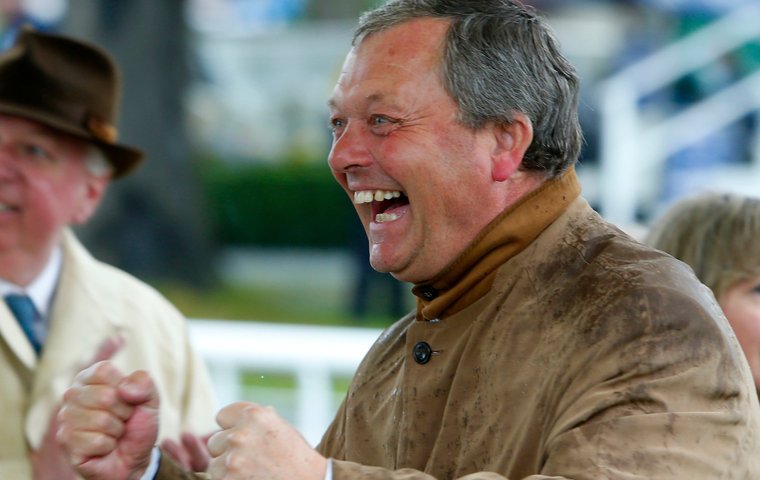 For trainers the length and breadth of Britain, the majority of last week was spent coming to terms with the fact that there would be no domestic races for their horses for at least six weeks.

It was therefore uplifting, amidst such widespread distress, to see a broad smile upon the face of British trainer William Haggas as he walked alongside his string on Newmarket Heath last Saturday morning after the stable's current flag-bearers down under, Addeybb and Young Rascal, had recorded a G1–G3 double overnight under young British jockey Tom Marquand at Rosehill in Sydney.

Great British Racing International spoke with Haggas and assistant trainer Harry Eustace, currently in Australia with the horses, to find out more about this latest display of impeccable international race planning, how the decision was made to campaign the two horses overseas and how the trainer and his assistant juggle responsibilities when separated by no less than 12,000 miles.

William Haggas is widely regarded as one of the most respected members of Britain's training ranks. From his Somerville Lodge stables in Newmarket, where he has been based since he launched his training career in 1987, he has sent out six Classic winners including the 1996 Epsom Derby winner Shaamit and 2011 Epsom Oaks winner Dancing Rain. More recently, Haggas trained the talented but ultimately ill-fated Irish Oaks champion Sea Of Class.
The trainer's CV is peppered with overseas success stories. In recent years, he has celebrated back-to-back G1 Prix de la Foret wins in 2018 and 2019 with One Master, as well as victory in the 2018 G2 Belmont Gold Cup with The Queen's homebred Call To Mind.
Saturday's exploits were particularly significant for the trainer, as Addeybb's triumph in the Ranvet Stakes represented his first G1 success outside Europe. The fact it was paired with a tenacious victory for Young Rascal in the G3 N E Manion Stakes on the same track a little over an hour earlier made it all the more memorable. The two horses scooped more than £250,000 in prize money between them.
The remarkable double meant a five-point gain for Haggas in the TRC Global Trainers' Rankings. He now stands at #25 (up from 29). Marquand, who is 22 on Monday, was the highest climber across all categories in the rankings last week, gaining ten points and 40 places to reach a career high of #100. Addeybb was his first G1 winner.
Watch Addeybb's stirring G1 victory at Rosehill
Now over 30 years into his training career and with his reputation set in stone, Haggas, who cut his teeth as assistant to both John Winter and Sir Mark Prescott, is relishing the challenge of formulating international campaigns for a stable of quality horses sent to him by a loyal base of owners.
"We've travelled a lot over the years and much more now that we've got a stable of better horses," he explains. "Before, when you had the odd nice horse, you campaigned it in England to gain recognition, win money and stakes races here.
"But now we have a good squad of horses, some of them deserve to run internationally if the owners are up for it, and that's a big if, as it is very expensive and not straightforward."
So how exactly does a trainer arrive at the costly decision to venture overseas in pursuit of international honours?
Haggas quickly points out that the financial risk is just one of many factors that must be taken into account. How an international trip fits in – or indeed does not fit in – with the season back on home turf is another.
"The other thing is if you go for a long time – we always knew with this Australia trip that it was going to knock out the first six months of the year and that is an important factor," he reflects.
Then, of course, there are the factors that are specific to the individual horses. On his thinking behind an Australian campaign for both Addeybb and Young Rascal, the trainer explains:
"They both like slow ground and every [Star] Championships that I've watched live has been run in torrential rain. So they can get rain in Sydney.
"Addeybb loves soft ground. Well, you think of an international area where he can get it – certainly not in Japan or Hong Kong or America, possibly in France and possibly in Australia. So, after he won at Royal Ascot last year, I floated the idea over Sheikh Ahmed's team and said this is what I'd really like to do."
"Young Rascal was a bit different," he continues. "He got an invitation to Hong Kong, which is an all-expenses paid invite, so we took him there and it was remarkably fast ground. Usually it's actually a bit slower than it was, but it was very fast, and he didn't jump out of the stalls and didn't really race until the end, but it was interesting to travel him. He was a bit shaky going out there but, after he had run and when he flew back, he was much better.
"So, from then I thought, well, what if he went to Australia? They would suit each other, because they could work together – one stays and the other doesn't work at all – and provided the owners would buy into giving it a go … well, Bernard Kantor is as international as anyone I know, so he was up for it, and Sheikh Ahmed was up for it, so we went for it.'
Young Rascal's battling G3 success
When it comes to the race planning itself, Haggas is unbridled in his praise of Adrian Beaumont at the International Racing Bureau (IRB) in Newmarket. Despite having 'a pretty good idea of what's going on, particularly in the Far East', he admits to frequently relying on Beaumont's expertise in identifying suitable international targets.
"Every trainer's greatest ally is Adrian Beaumont," he says. "If you're thinking of trying to find a Group 3 race for a filly in America, you ring him and within 24 hours you have a list as long as your arm of possible opportunities. He knows exactly how it goes. He is invaluable to anyone who uses him."
Of course, dispatching horses around the world also relies on a trainer having a sufficiently strong team around them. Haggas is in the fortunate position of employing three assistant trainers, meaning that he could afford to lose Eustace to Australia for several weeks. The fact that Eustace's brother, David, is based in Australia as co-trainer with Ciaron Maher (the pair are world-ranked 18 in the TRC standings) and is thus in a position to recommend vets, farriers and physios, was also an encouragement.
"You need the horses and the people as well," Haggas explains. "You need people to know the horses and to be able to tell when they're on song, and it's similarly important to be able to tell when they're not on song, because running a horse when he's not right can be a disaster."
Based on what we have seen so far of both Addeybb and Young Rascal down under, it certainly appears that they are in highly capable hands, and it is clear there is no one surer of that than Haggas himself.
"This is Harry's fifth season with us, so he knows what we like. Times have changed a bit now: we get daily reports from him, pictures of them both, they're weighed every day, and we had a blood test certainly every other day for the first week.
"We are in the know, but I can't say to [Harry], 'give him a gallop here, give him a gallop there'. I can't train them because I'm 12,000 miles away. He's a good man and he knows how we do it."
For Eustace, this vote of confidence from his boss has afforded him the opportunity to step up to a new level of responsibility that will stand him in excellent stead when he one day embarks on a training career in his own name.
"Having that relationship and having the trust from him to back my judgment, that's what has been so nice about it,' the assistant trainer reflects. "He has been incredibly good at allowing us to get on and do what Safid [Addeybb's work rider] and I think is right, and luckily it's paid off.'
Uncharted waters
Of course, this is not Eustace's first experience of travelling horses overseas on behalf of Haggas. Nevertheless, his current excursion to Australia represents a venture into previously uncharted professional waters and a chance to put his independent handling skills to the test like never before.
"Most international trips are a week, so the horses do all of their work at home, they get on a plane, they land the Saturday, Sunday or Monday before they're due to run on the weekend," he says. "That sort of travelling is all just about checking that they're healthy, that they've travelled okay, and then getting them to raceday.
"Here, we were three weeks from arrival to running and we're three weeks again until their next intended races, so there's a bit more training involved. There's more decision-making about how much work the horses should do and that sort of stuff.
"That's always invaluable – that's the sort of experience you can't fabricate, you can only get once you've actually done it.'
As is so often the case in life, it sounds as if the key to success has been keeping things simple, as Eustace has replicated as closely as possible the horses' routine back home in Newmarket: they are fed at the same time, stretch their legs on the turf at Canterbury each morning and continue to enjoy a lengthy pick of grass in both the mornings and the evenings.
Stepping-stones
Their respective races last Saturday were, admittedly, only intended to be stepping-stones to their main targets on April 11 (the AU$4 million G1 Longines Queen Elizabeth Stakes for Addeybb and the AU$2 million G1 Schweppes Sydney Cup for Young Rascal) on the second Saturday of The Championships, an exercise in sharpening them up both physically and mentally.
But, with racing in Australia looking increasingly under threat with each day that goes by, Eustace is relieved that his charges delivered on their first attempts.
"It was a funny one because we came down very much with the plan that it was the two runs, and that the second were the bigger races," he says. "It was always in the back of our minds that they were going to improve for the run. I was hopeful they would run well, but it was just whether they were straight enough first time up to go and do themselves justice. Luckily they were."
Like many people the world over, Eustace is now having to sit tight and await further instruction from the authorities before he can plan his next move. In the meantime, he and the team back home will no doubt be grateful to have the memory of Saturday's double to lift their spirits.