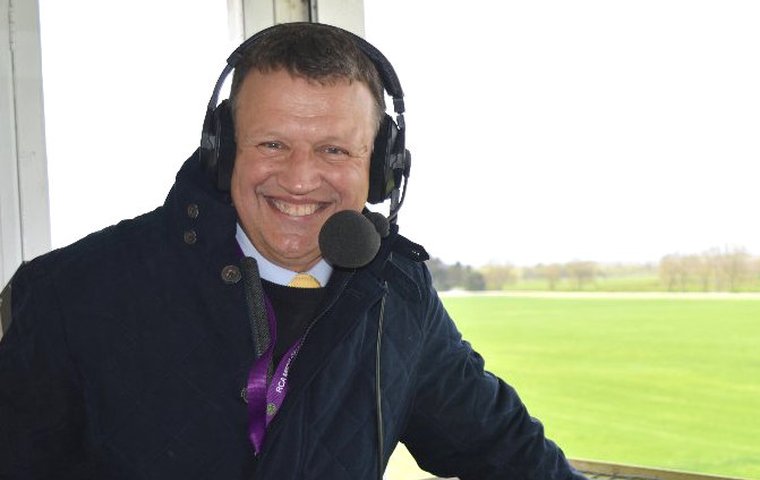 International sport is no longer restricted to the few in attendance, and the quality of today's live stream has never been more important to a global audience. Next week's Saudi Cup is being beamed across the world to the homes of most international Thoroughbred racing fans, and the person charged with calling the world's most expensive race will be UK-based commentator Richard Hoiles.

The 54-year-old is the current voice of racing in Britain through his work with host broadcaster ITV, which has seen him call every race at Royal Ascot, all the English Classics, the Grand National and a host of seminal festivals and races across the calendar.
But he has plenty of international experience too. He had a two-year contract with the Hong Kong Jockey Club in the late 1990s, has called races in Japan and Canada, and has worked extensively in Dubai.
Hoiles had an unusual start in racing, after a career as an accountant ended abruptly during a recession. A love of the sport and an advert in trade paper The Sporting Life saw him gravitate towards the commentary box in 1992, when he began work for SIS. The betting-shop service wanted to replace the slightly stuffier racecourse commentaries of the past with a fresher style, and Hoiles and his contemporaries helped modernise and cultivate their craft to what is now the assumed style.
What is your favourite type of race to call?
It would have to be the one that you would enjoy watching as a lover of the sport: whether it has got a particularly historic achievement, or two or three horses coming at the line in perfect union, stretching every sinew.
It is probably a race that gets your blood up as a fan, and it doesn't matter whether you are in the stands or the bloke screaming into the microphone. Ideally three clear so there isn't a fourth one that comes to spoil the party!
You want the crowd response, particularly as a racecourse commentator. The ability to feed off the crowd is really important.
Horse racing is full of idols throughout its rich history. Who are your idols behind the microphone and on the track?
Behind the microphone is quite interesting. It quickly dawned on me that we [in the UK] were behind the rest of the world, so I think that if you were looking at the people that changed the course of commentating in this country, I would have to say JA McGrath.
He came in from Australia with a different turn of phrase that was more entertaining. I then started to listen back to some of the other Australian commentators. Maybe because it was radio – in which you have to paint more pictures – but their use of language was far more colourful than the stuffier English style.
Bill Collins' description of the 1986 Cox Plate between Our Waverly Star and Bonecrusher was amazing (see video below). He was very much on the entertainment side - accuracy has to underpin it all, but good use of language can add a good bit of colour and depth.
As racecourses became more commercial, McGrath broke down the barriers and that younger style began to gain a foothold. As it did, the older style began to sound a little dated. It was just a different generational approach.
The person who taught me the most in racing is [multiple South African champion jockey] Felix Coetzee, who was riding in Hong Kong when I was working over there. We became great friends – when he rode, I felt like I did. I knew exactly where he was going and why. Watching him gave me much more confidence as a commentator.
My favourite horse is [late 1980s jump racing star] Pegwell Bay because he got me into racing at the time. Of the ones I called, it has to be Sea The Stars because he just did it and kept doing it. Repeat. Repeat. Repeat.
You have called racing in Dubai and Qatar. What is your perception of racing in the Middle East, and how do you think the Saudi Cup will fit into the calendar and narrative?
My experience is extensive in Dubai, less so in other jurisdictions. I was in Dubai with the carnival virtually from the onset, more as a presenter than a caller, until about three years ago.
In the region, there is a natural affinity for horses - it is, of course, where the Thoroughbred originates from, but it also in the day-to-day culture.
The hard part is to then workout how you can make a plausible racing jurisdiction, which does require investment. I think that the difference between where Dubai is and where Saudi would like to be is that Saudi Arabia has almost a stronger platform to build something than Dubai did. Dubai was funded by HH Sheikh Mohammed and his personal dreams, desires and investments.
While that might be the case for Prince Bandar and the current Saudi regime, it is interesting that they are looking in a far more holistic way about it being an industry that can provide employment and a breeding industry. Godolphin does do this but on a more international basis. One gets the impression that the Saudi approach is to try to maintain it more within the country.
Unlike other sports, the fact that men and women compete in an even field possibly has significant ramifications for the modernisation, liberalisation of Saudi society. Certainly it represents something that would be unusual there.
You mentioned female participation. There is, of course, an innovative seven-a-side male-versus-female jockeys' challenge on Friday (February 28). How important do you think that it is for the event? How much are you looking forward to calling it?
I am looking forward to calling it greatly. Jockey challenges are nothing new – and are usually won by the person who gets the best horses and doesn't cock it up, rather like a Formula One season!
As a result, it is more than likely that maybe one or two races – or even the champion – will be lady rider. While it can be frustrating for them to be described a lady rider, clearly the ramifications for it occurring in Saudi would be significant.
I think that, for those that have been sceptical about the reasons for the race, the fact that they are taking such a strong stance is very important. While we wouldn't want to make a fact that it is a first female rider – it will also be the first turf race – it hopefully points very firmly in the direction they want to travel and how important they want that to be.
What are the differences and challenges in calling a turf and a dirt race?
My dirt experience would really be limited to Nad Al Sheba in Dubai. I have called a lot of synthetics, but I am going to treat them differently to dirt because I think that in the spectrum synthetics tend to resemble grass in the way they race.
By and large, dirt races tend be more attritional, with a premium on getting into a position and running rivals into the ground. The kickback element in any dirt race counts against most of those coming from behind – if you don't want any kickback, you have to go wide and therefore cover more ground.
Generally, dirt races are run at an even tempo, which favours those horses that are closer to the speed. They are not won by blinding changes of pace, like in turf races, so it tends to unfold in a more attritional 15-round heavyweight boxing scenario than two flyweights dancing around a ring.
One thing that I have noted on the Saudi track is how this doesn't seem to stack up like a traditional U.S. track. It doesn't have a lot of kickback – it has a very high local sand content – and some of the horses that have been winning there are confirmed UK turf horses.
It will, however, be interesting to see what happens when you put the Americans on that surface. Will they go that bit faster? Will it then resemble a U.S. dirt race? Or, will it be different and be ideal for the [European style] closers?
This will be very interesting for the cumulative American challenge and how the jockeys will ride it. While I am aware that it is a dirt race, I am fully prepared for it to play out more like a synthetic-type race.
One challenge you will have in Saudi Arabia is calling the local races. Can you tell me a bit about that?
The enjoyment of calling races is obviously doing the big ones: the world's richest race, there isn't anything bigger than that! However, the far greater challenge actually is always lower down on the cards.
If you are lucky enough to call the best races, you know the horses and you are hoping to find some nice turns of phrase that encapture the importance of the event, but the 18-runner domestic races with difficult names to pronounce and riders that you don't know will be far more of a challenge.
It would be very wrong to go into the Friday thinking that you are just having a run-out for the Saturday. From my point-of-view, Friday will require significantly more work.
As the commentator for IMG's international feed, you will be talking to different audiences all over the world. How will you go about explaining to all the different viewers who the international contestants are, without dumbing down?
It gives you the chance to sell people's stories, although for their own audiences it can, of course, sound a bit patronising. You do have to appreciate that the American audience wouldn't necessarily know a massive amount about say Charlie Appleby. Just as the UK audience would probably need reminding of all of Bob Baffert's achievements.
You just take it down and don't get too specialist. You try to treat it a little more holistically right the way across the board, rather than being too partisan.
You will also be handling the public address: how will you explain things to a local Saudi audience, who perhaps might have a limited knowledge of racing?
That is a bigger challenge - how to use the PA effectively - and is something that we won't get right fully in the first year.
The importance is not to make it wall-to-wall sound and to choose what you want to say in terms of adding some interest and creating little pen portraits of the jockeys, for example.
This will not only be the inaugural Saudi Cup but your first stint at this track. How important is the position of the commentary box, and have you checked whether it is in the correct position for you?
A, it is important and, B, I haven't yet!
I don't think that I would get much choice in moving it, but I believe that it is pretty good. The key thing with commentary boxes is height and ability to see. I am very relieved to see that the 1,800-metre strip is on a spur on the one-and-only bend – I think that it is designed on Belmont Park. That is very clever and gives it a USP when contrasted with Dubai.
We will probably get more cameras than we do domestically. I don't know, and Friday will be a voyage of discovery for all of us – particularly that first domestic race.
What are you looking forward to most about the event?
First and foremost, the experience. As someone who has grown-up loving the sport, you can come at it from lots of different angles. [We will be watching] a nation trying to develop an industry in an almost non-financial way, whereas so much of Hong Kong, for example, is driven by the enormous Tote turnover.
Here [in Saudi Arabia], betting doesn't come into it at all. It is, therefore, all for the love of the horse and the competition. Sure the [large] prize money is available, but that is not what underpins it all.
Yes, I am looking forward to the $20 million race, but I am more interested in the experience - not just the two days' racing, but a couple of days beforehand. So, I can come away with a real feeling of what is going to be achieved.