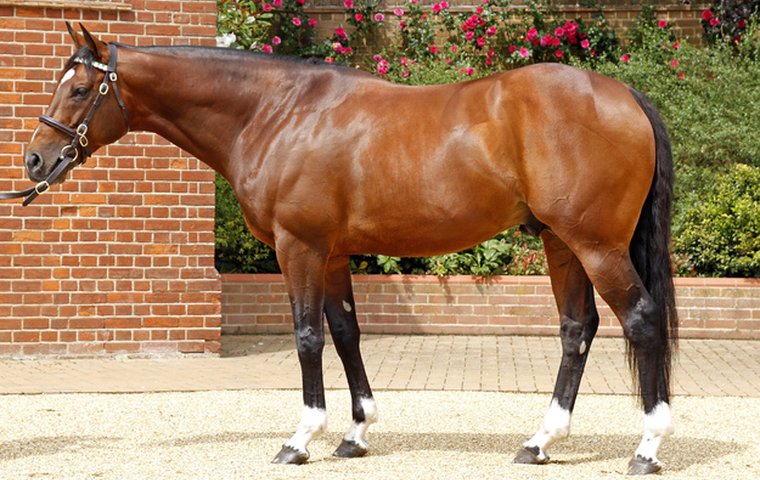 There was barely standing room in the Goffs sales auditorium as the filly out of Finsceal Beo made her way into the ring last November. Al-Eile Stud's homebred was widely tipped to be the star of trading during that grey day, not only as a good-looking physical specimen out of a classic-winning mare but as a first-crop daughter of one of the greatest horses ever seen: Frankel.

In front of a packed crowd, the chestnut filly attracted an astonishing opening bid of €1.5 million from German breeder Philip Stauffenberg before selling for €1.8 million to agent Dermot Farrington. The price was an Irish record for a foal at auction.
The transaction went some way to satisfying the immense interest in Frankel's progeny that had begun with the arrival of his first foal, a colt out of G3 winner Chrysanthemum, at Coolmore on Jan. 11, 2014.
It continued at the Goffs London Sale in June with the sale of a colt out of Crystal Gaze who sold alongside his dam for £1.15 million to M.V. Magnier. Several weeks later at the JRHA Select Sale in Japan, a Frankel half-sister to top Hong Kong runner Gold-Fun sold for 96,000,000 yen to Toshio Terada. She was the dearest filly to change hands at that sale.
Not every Frankel foal lived up to expectations at auction last winter - pricey buybacks included a colt out of G1 winner Lahaleeb who was retained for €650,000 and a half-brother to classy sprinter Swiss Spirit who was retained for 350,000 guineas. However, by the end of the season, Frankel could boast a sales average of £609,971 for four foals sold worldwide.
Such intense interest is the result of a phenomenal racing career that attracted the attention not only of racing enthusiasts but the general public, many of whom were caught up in Frankel's natural flamboyance and association with the much loved Sir Henry Cecil.
Frankel's unbeaten march through a 14-race career was the longest winning sequence seen in Europe since Ribot, foaled in 1952. His average winning distance was 5.4 lengths and 25 individual G1 winners were left trailing in his wake. At the end of his career, Timeform awarded Prince Khalid Abdullah's colt a rating of 147, the highest in the organization's history.
Every one of Frankel's performances was visually impressive, but among the most memorable was the 2,000 Guineas at Newmarket, in which he burned off the competition in a display of sheer relentless galloping to win by six lengths. The Queen Anne Stakes at Royal Ascot, also over a mile, was won by 11 lengths while he never came off the bridle to win the Juddmonte International, his first attempt over 1 mile 2 furlongs, by seven lengths.
Superlatives were naturally piled upon Frankel when it was announced that he would retire to stand at Juddmonte's Banstead Manor Stud in Newmarket for the 2013 season at a fee of £125,000. But it was probably Sir Henry Cecil who summed it up best when he said: "He's the best I've ever had and the best I've ever seen. I'd be very surprised if there's ever been better."
By one of the world's leading stallions in Galileo, whose sons at stud include New Approach and Teofilo, and out of a listed-winning sprinter in Kind, herself a Danehill member of one of Juddmonte's best families, Frankel has the pedigree to support his race record. Unsurprisingly, he has covered outstanding books of mares since his retirement to stud.
A first book of 133 included 38 G1 winners and 25 dams of G1 winners. In fact, the progeny of the mares covered by Frankel in his first two seasons at stud have won 111 black-type races since 2013.
Juddmonte Farms sent him 24 of their own mares in that first season, notably Binche, dam of G1 winners Proviso and Byword; Clepsydra, dam of G1 winners Timepiece and Passage Of Time; and multiple G1 winner Midday and her dam Midsummer.
Top racemares Dancing Rain, Danedream, and Vodka were also among his first book as were the dams of Dubawi, Lope De Vega, Power, and Shackleford.
"All our Frankel yearlings have three main attributes," said Philip Mitchell, general manager of Juddmonte Farms. "Frankel has given them all added strength, the most amazing laid-back temperament, and probably of most importance they share his easy, athletic walk [which has been compared to that of a panther].
Now the industry is gearing up to watch the first Frankel yearlings go through the ring. The Arqana August Sale in Deauville on Aug. 15-17 kicks off proceedings with six yearlings, four of whom are consigned by Lucien Urano's Ecurie des Monceaux.
A handful of Frankel yearlings are expected to represent the stallion at Keeneland in September. At the time of writing, Goffs were slated to catalogue five to their Orby Sale while, according to Tattersalls officials, Frankel will have a "double figure" representation at Book 1 of their October Sale in Newmarket.
"He is a horse who did so much for racing, so it is really something for Monceaux to be selling four yearlings by him at Arqana," said Ecurie des Monceaux director Henri Bozo. "We have supported him strongly throughout his career, including this year when we sent four mares. He has so many things going for him plus he stands at a farm, Juddmonte, who are particularly successful at making stallions.
"Each of the four Frankel yearlings we have has a good walk and attitude. While they're not sleepy, they are easy to deal with."
The first Frankel to go under the hammer at Arqana will be lot 41 from Monceaux, a colt bred by Qatar Bloodstock out of the G2 winner Danceabout. Monceaux will also sell lot 117, a colt out of G3 winner Noelani, herself an Indian Ridge sister to top sprinter Namid; lot 125, a colt out of Piping, herself a Montjeu half-sister to Arc hero Sagamix and G1-winning 2-year-old Sagacity; and lot 127, a half-sister to listed winners Pacifique and Prudenzia (the dam of Irish Oaks heroine Chicquita).
"The Danceabout colt is very strong," Bozo said. "He has a deep girth, good hindquarters and is a good mover. He's very correct with a nice head. He looks precocious to me.
"The colt out of Noelani looks like a speed horse. He's from a fast family and you can see [damsire] Indian Ridge coming through. He is quite a spectacular type - very strong but a good size and with scope."
Bozo is particularly taken with the colt out of Piping, who was bred by Monceaux in partnership with Qatar Bloodstock and Skymarc. "The Piping colt looks more like a classic horse," he said. "He has a lot of class, a lovely head and is a good mover.
"And the filly out of Platonic is a good, strong sort. Again, she is a lovely walker with a very good attitude."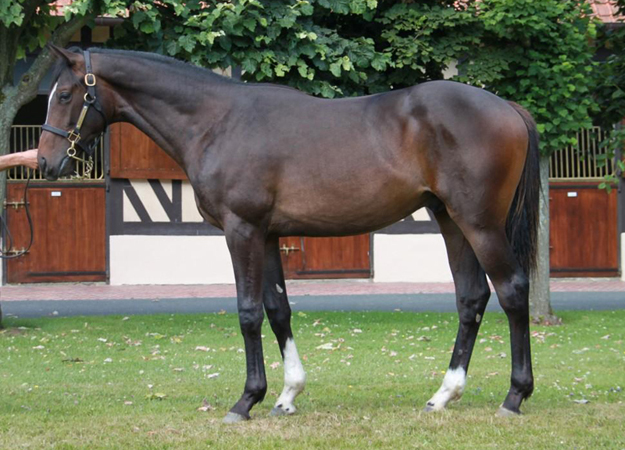 Monceaux have led the vendor standings for the past three renewals of the Arqana August Sale - they turned over €8.727 million last year - and with a draft of 31 yearlings this time around, including those by Galileo and Dubawi, they look poised to feature strongly once again.
"My view is to stay strong in one country," said Bozo when asked if he had considered diverting any of the Frankels to Britain and Ireland. "French breeders have a product to be very proud out. We've done very well here and I feel, if we start sending yearlings to Newmarket, that people might start to question where the best ones are going.
"Arqana do a very good job in attracting buyers, and it looks like the Frankel yearlings have attracted worldwide attention already."
The Frankel sextet at Arqana is completed by lot 159, a half-sister to G1 winner Stacelita from Haras des Capucines, and lot 165, a half-brother to G1 winner Naaqoos from Haras du Mezeray.
Among the Frankels who will be catalogued to Book 1 of the Tattersalls October Sale is a colt bred by Cheveley Park Stud out of their G1-placed Heaven Sent, a Pivotal sister to G1 winner Megahertz.
"He's a quality bay colt who is a May 21st foal," said Cheveley Park Stud's managing director, Chris Richardson. "He's a classy, well balanced individual. He has a better constitution than some of the progeny from this mare to date and has a positive and purposeful way of going."
A colt bred by Andrew Rosen out of his G1 winner Icon Project is also slated to go through Book 1 as are three from Newsells Park Stud: a bay filly out of G1 winner Dynaforce, a chestnut colt out of the G1-placed Noahs Ark, and a bay colt out of Listed winner Latin Love, who is said to particularly resemble Frankel.
Highclere Stud, meanwhile, will offer a bay colt out of their star mare Model Queen, the dam of G1 Betfred Sprint Cup winner Regal Parade and G3 winner Entifaadha.
Michael and Reiko Baum of Man O'War Farm, Frank and Jane Lyon's Summer Wind Farm, and John and Jerry Amerman are among the American breeders with a first-crop Frankel yearling.
The Amermans sent their G1 winner Balance, a half-sister to the great Zenyatta, to Frankel and are retaining the resulting colt. He has already been named Brooklyn Bobby in honour of Frankel's own namesake, Bobby Frankel.
"The Amermans raced with Bobby Frankel and were very fond of him," said Headley Bell of Mill Ridge Farm, which boards Balance and her colt. "In fact, that was a real impetus for breeding Balance to him.
"A trainer has not been chosen but he is a lovely colt with a real swagger about him. He is balanced, powerful through hip and shoulder, and very athletic."
Rarely in any time of racing history has a first crop of yearlings been so keenly anticipated. Expectations for Frankel's progeny are sky high but in turn, no stallion has arguably been given a greater chance to succeed.