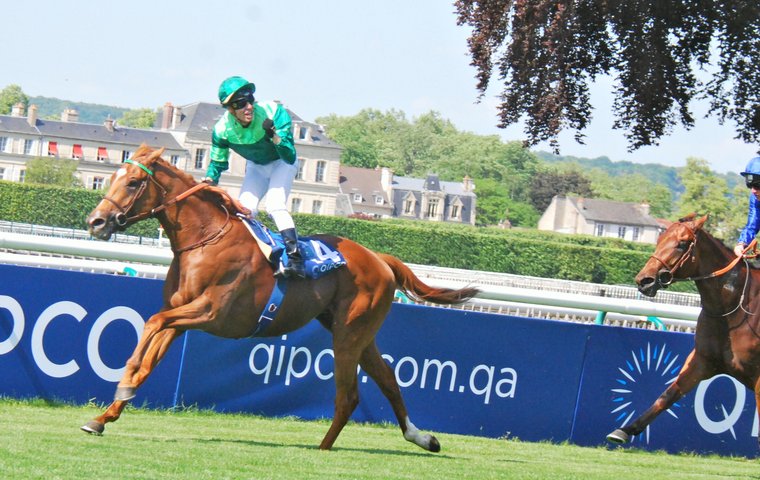 The bloodstock world will descend on Deauville later this month as they go in search of the next Sottsass or Wings Of Eagles.

Set against a backdrop of seaside glamour, the Arqana August Sale has long been a key destination for the world's leading buyers. Its roll call annually boasts an array of G1 winners, making it the premier yearling sale of France, and as such the boutique catalogue can be relied upon to contain a depth of representation from many of Europe's leading sires.
In addition, as the traditional curtain raiser to the European yearling sales circuit, it acts as an important barometer for the market that lies ahead.
Arqana are currently riding high off the back of the 2017 collection of August yearlings, a group that includes Peter Brant's Prix du Jockey Club winner Sottsass, Coronation Stakes winner Watch Me, Irish Oaks runner-up Fleeting and Prix Chloe winner Suphala. Their success follows an Arqana tradition of talent celebrated in recent years by the likes of Wings Of Eagles, Almanzor and Belardo, while the 2018 catalogue is already following suit as the source of Arizona and Royal Lytham, successful in the Coventry and July Stakes respectively.
Arqana have catalogued 338 yearlings for this year's renewal on 17 - 19 August while another 147 have been entered for the V2 sale, source of French Guineas winners Olmedo and Teppal in its time, on 20 August.
Key indicators out of last year's sale failed to keep pace with the preceding year, at which a record average price of €165,587 was set. But the average of €159,939 for 230 yearlings sold was well ahead of that recorded in 2016, while 11 youngsters sold for in excess of €500,000.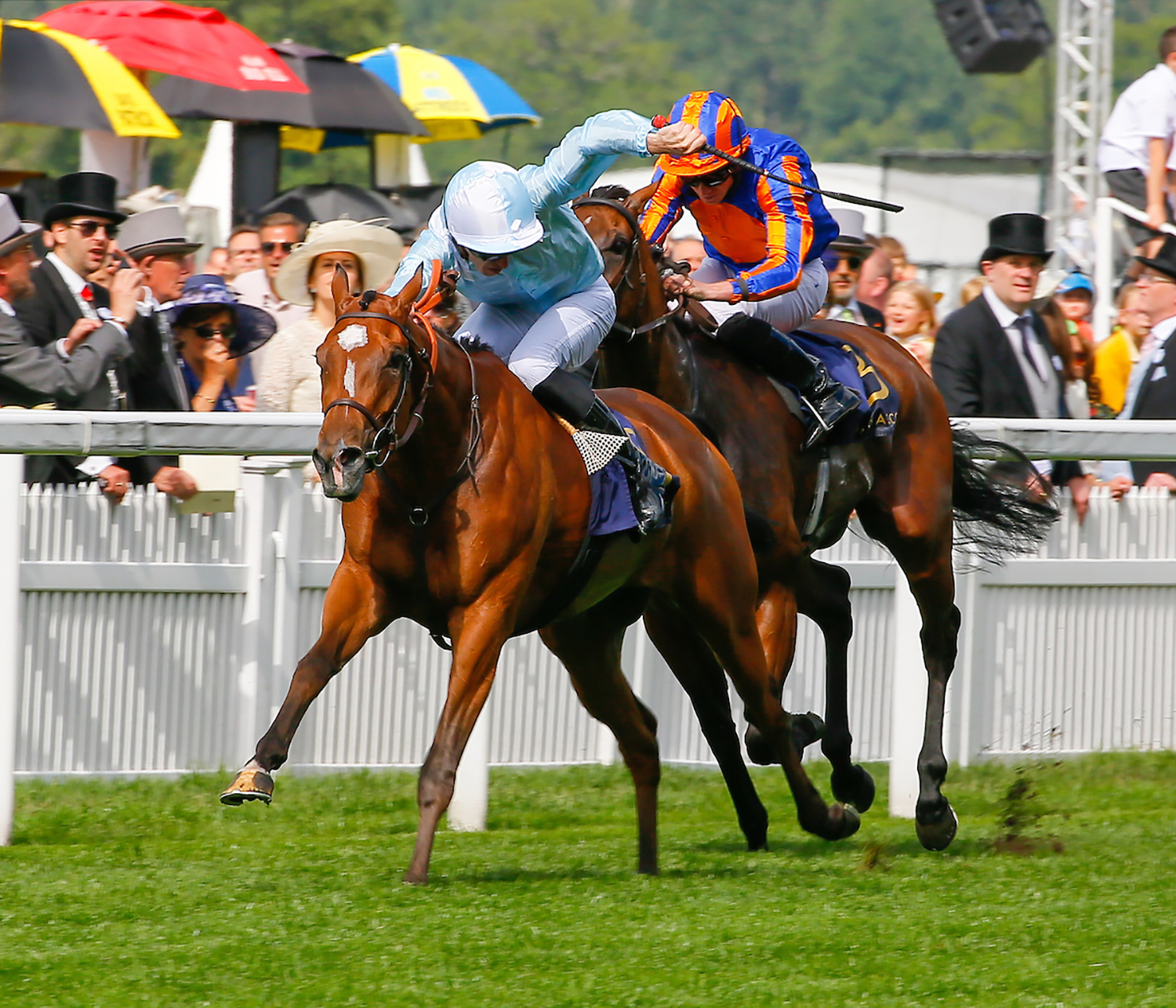 They were led by a €1.4 million Dubawi colt out of Irish 1000 Guineas heroine Just The Judge knocked down to Ballylinch Stud out of La Motteraye's consignment; now named Swift Verdict, he is in training with John Gosden.
What was notably encouraging regarding last year's sale was the level of international investment. American buyers, in particular, have targeted recent renewals - Gidu and Aunt Hattie are just two examples of current stakes performers sourced out of the sale specifically to race in the U.S. - and last year was no different as Deuce Greathouse went to €850,000 for the American Pharoah filly Lashara, who is currently in training with Mark Casse at Saratoga. Justin Casse also paid €810,000 for a Galileo filly from Haras des Capucines.
Galileo is once again well represented, this time as the sire of eight yearlings including a colt out of G3 winner Steip Amach (23). As for Dubawi, he boasts two entries, among them a colt out of Falmouth Stakes winner Giofra who is also a brother to the €1.55 million sale-topper of 2017.
American Pharoah, Dark Angel, Frankel, Gleneagles, Kingman, Lope De Vega, No Nay Never, Sea The Stars and Siyouni are among the other big-hitters with representation in a catalogue that also features members from the first-crops belonging to Shalaa, The Gurkha, Harzand, Belardo and New Bay.
Monceaux's influence
Past renewals of the Arqana August Sale cannot be truly assessed without an appreciation of the importance of Ecurie des Monceaux, the vendors of Sottsass, Magic Wand, Intellogent, National Defense and Lope Y Fernandez in the past five years alone.
Monceaux, managed by Henri Bozo, have topped the vendor standings every year since 2012. During that time, they have sold 11 seven-figure yearlings, headed by Parabellum, a Dubawi colt out of Pacifique who set a new sale record of €2.6 million when sold to John Ferguson in 2015.
Monceaux head to Arqana armed with yet another outstanding draft of 33 yearlings, among them the Fastnet Rock half-brother to Sottsass and Sistercharlie.
"I think we have a strong group," says Bozo. "Many of them are by proven stallions. We're trying to reduce the chance factor as much as possible, and so we try to come to the sale with yearlings by proven stallions or out of proven mares. And if not, then by exciting young stallions."
The half-brother to Sottsass, himself bought by Michel Zerolo's Oceanic Bloodstock on behalf of Brant for €340,000 in 2017, is catalogued as lot 21. He is the fifth foal out of Starlet's Sister, whose first, Sistercharlie, recently carried Brant's colours to victory in the G1 Diana Stakes, her fifth win at the top level.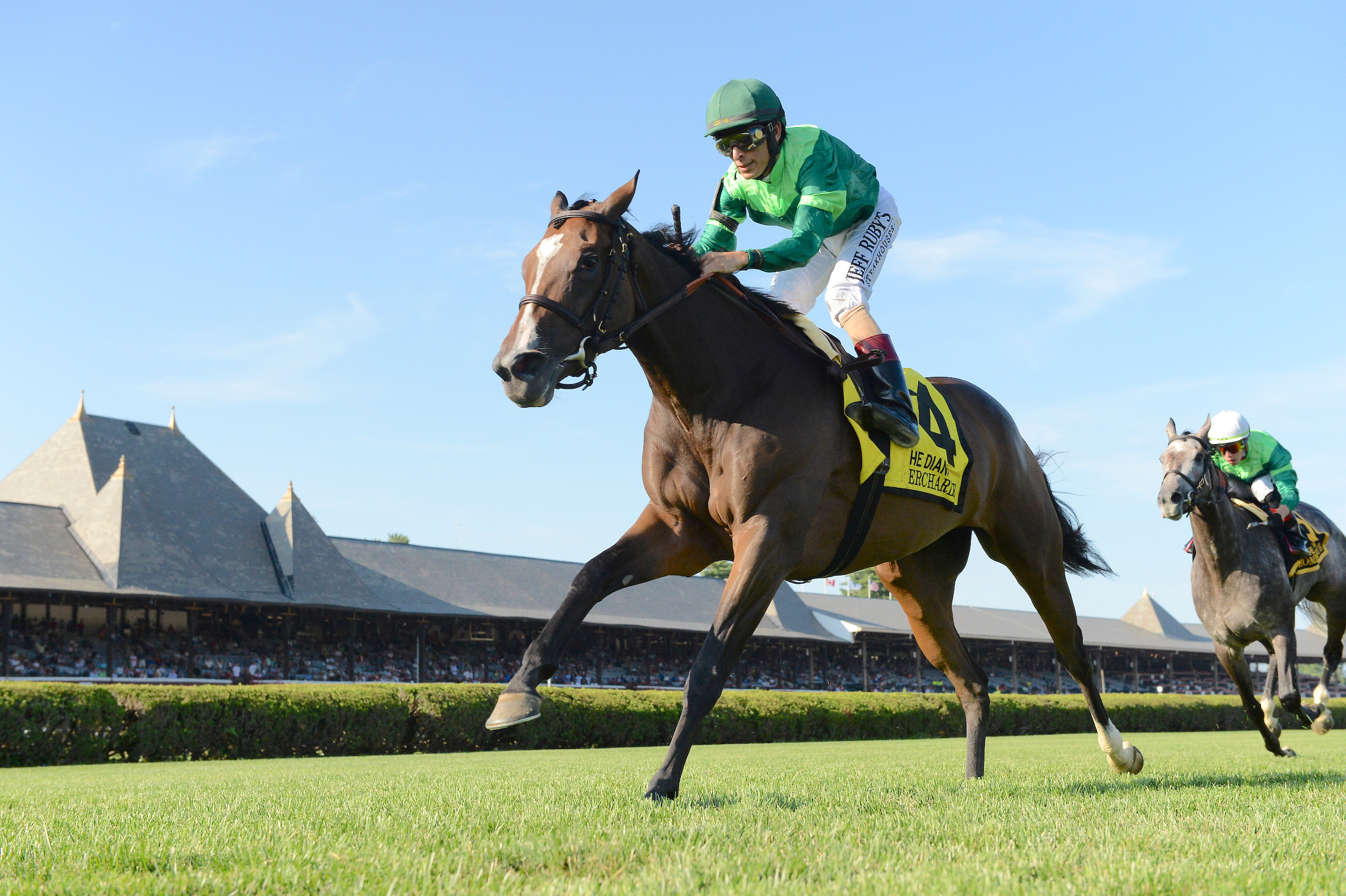 "The Fastnet Rock colt is very exciting on paper and as an individual himself, he's a serious horse," says Bozo. "He's mature, a good mover and genuine, and he's by an excellent stallion in Fastnet Rock, who obviously works very well with Galileo. I look forward to selling him."
The placed Starlet's Sister is a Galileo sister to G3 winner Leo's Starlet and from that old Pillar Stud family of top miler Noalcoholic.
"We were offered Starlet's Sister by Hubert Guy," he says. "She didn't win, but she's a Galileo from a classy middle-distance family and we thought we'd take the chance. She seems to throw horses who are very willing - they are happy, uncomplicated individuals who like the job - and I think she's another case of the Galileo magic at work again."
Nor would it be a true August Sale without some kind of representation from Monceaux's excellent Platonic family. Monceaux and Skymarc Farm paid 'just' 100,000gns for Platonic in 2004, since when her clan has thrown almost €13 million worth of Arqana yearlings.
The family will be to the fore this time around via lots 147, a Galileo colt out of Platonic's winning daughter Prudente, described as a 'smashing first foal', and 148, a Dubawi half-sister to Chicquita and Magic Wand.
"The Dubawi filly is a lovely quality individual," says Bozo. "It is a family of enormous quality that performs at Group 1 level year after year."
He adds, "We are also excited to have four by Kingman to sell [lots 16, 116, 129 and 131]. We haven't seen many young stallions start in the same way as he has. They have that turn of foot but they're not just speed horses as they stay well too. He's a great asset to Europe."
Monceaux also has a well-connected quintet to sell by the red hot Siyouni, himself the sire of Sottass.
"We've also supported Siyouni for a long time now," says Bozo. "He's getting a lot of 2-year-old winners in England as well as France, but I think the best is still to come with him. He seems to be able to get July 2-year-olds and French Derby winners, colts or fillies."
Monceaux were one of only two vendors to sell an American Pharoah at auction in Europe last year in the aforementioned Lashara, and they return to the fray this time around with another daughter of the American icon in lot 13. Bred by the G B Partnership, she is the second foal out of the listed-placed Soho Dancer.
"The American Pharoah is out of a Galileo mare," says Bozo. "Obviously the sire is showing great promise and this is a Classic type of filly with scope and movement."
The draft also includes a brother to the G2-placed Lope Y Fernandez (60) and a three-parts sister to National Defense (48) from the first crop of top 2yo Shalaa. She is the first of three by her young sire catalogued under the Monceaux umbrella.
"We're very enthusiastic about Shalaa. Our yearlings by him have scope and quality," says Bozo. "We used him in his first year and consistently since. Invincible Spirit is obviously a very good sire of sires and Shalaa is a very good looking horse with lots of speed."
He adds, "I'm optimistic by nature but I'm very happy with our yearlings. More and more, people seem to be looking for quality, both in pedigree and the individual, and it is a hard job to manage to offer all that. But a lot of very good horses come out of Arqana every year, and I think ultimately that they represent good value for money."
International presence added by Gouffern
Adding a welcome international flavour to this year's sale are the presence of five yearlings from Haras de Gouffern et de La Genevraye in conjunction with leading American consignor Taylor Made Sales.
The partnership was officially unveiled last September as part of an arrangement between Taylor Made and Gouffern alongside its commercial arm, International Thoroughbred Consultants (ITC), which is headed up by Gouffern president Jean-Pierre de Gaste.
"I've been working with Taylor Made and Duncan Taylor for many years," says de Gaste. "In fact, I knew his father, Joe, when he was the stallion manager of Gainesway Farm.
"We have worked together a lot, especially within the Middle Eastern market, and when Alexandra Saint Martin [bloodstock manager of Haras de Gouffern] joined us, she proposed the idea of building upon that relationship with Taylor Made.
"She suggested building a partnership with yearlings. The idea of giving Taylor Made exposure in Europe was pleasing to them and so we start this year with a draft of five."
He adds, "Our consignment is small but we want to start slowly and go step by step. This is very much a long-term plan, with the idea of presenting different options to Taylor Made customers."
In keeping with the partnership's international outlook, Gouffern will offer colts by Giant's Causeway and Union Rags; the Giant's Causeway colt, lot 92, is from the final full crop of his champion sire and a half-brother to listed winner Royal By Nature while the Union Rags is out of the listed-placed Palazzo Babe (315).
"The Giant's Causeway colt is a lovely individual who reminds me of his damsire Empire Maker," says de Gaste. "He is a marvellous walker.
"The dam is already proven and his granddam, Mysterious Lina, was a French listed winner, so it's a good European family that will suit the European market.
"The Union Rags looks a lot like his damsire Rahy. Physically, he is an European type of horse, which is why we selected him to go to Deauville."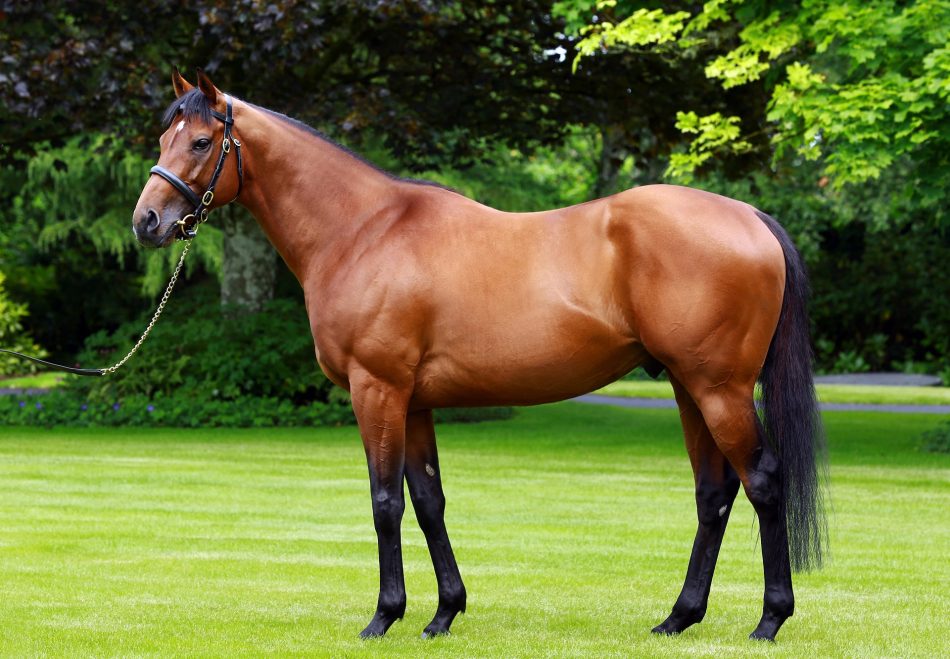 The draft also contains a colt by leading European first-crop sire Gutaifan in a grandson of blue hen Saganeca (159) and a colt from the first crop of The Gurkha who hails from the popular Souk family (184).
"Gutaifan is doing exceptionally well and so we're very pleased to be selling one by him," he says. "It's a fantastic family and his dam Sakarya is a three-parts sister to Shastye, the dam of Grand Prix de Paris winner Japan, so it's also very current.
"The colt by The Gurkha is probably our star. He's built like a miler, as he's bred to be, and comes from a very live, strong family responsible this year for Magic Wand and Channel."
A current family also lies behind the final member of the draft in lot 281, an Iffraaj half-brother to G3 winner Queen Of Bermuda and recent juvenile scorer Mia Diva. He is described as a colt with the looks typical of his successful sire.
"This is about creating something new, a bridge between the USA and Europe," says de Gaste. "We're not afraid of change - new ideas are good for the industry. There are plenty of good opportunities for American-breds in Europe, as we see every year with the number of American horses that sell at the European breeze-ups.
Quality for Coulonces
Focus on quality remains key to Anna Sundstrom's Coulonces Sales. Based at Haras du Grand Chêne in Normandy, Coulonces' fruitful association with the Arqana August Sale has featured the sales of Havana Grey, Home Of The Brave and Peace Envoy, although the team are probably best known for their role in selling six-time G1 winner Laurens at the Goffs UK Premier Sale in Doncaster. Therefore it is no surprise to see her sire, Siyouni, feature prominently in their 11-strong draft slated for Arqana later this month.
"We have two Siyounis and they're both extraordinary," says Sundstrom. "The filly is the closest to Laurens that we've had and the colt is a fantastic individual."
The filly, lot 57, is a daughter of listed winner Baino Rock and was one of the highlights of the Arqana February Sale when sold for €160,000 to High Valley Equine, while the colt, lot 74, hails from the Aga Khan family of Darshaan.
Zoffany is also represented as the sire of a 'high-quality' half-brother to listed winner Look Around who is out of Prix Morny runner-up Magic America (120). Another particularly well regarded entry is the Helmet colt out of Lakota Treaty (290), who is described as an 'exceptional individual with excellent movement and a good mind'.
"The plan over the past couple of years has been to take the numbers down and focus on quality," says Sundstrom. "We've had some fantastic horses come out of Arqana but what is really pleasing are the number of good horses that we've had in different countries. That has been very rewarding."
Optimism at Montaigu
That is a feeling that the team at Haras de Montaigu can also identify with as the breeders of 2017 Derby hero Wings Of Eagles. Aliette Forien's farm sold the son of Pour Moi for €220,000 to M V Magnier at the 2015 renewal and return this year with a Gleneagles relation among a draft of 11.
"Wings Of Eagles was extremely rewarding for the stud as no French horse had won the Derby since Sea Bird," says Sybille Gibson of Montaigu. "We had thousands of messages about him and I feel that breeders were proud that one of them made it!
"When he was born, we felt he was different from the others - easy to say after the Derby but he was beautiful, almost perfect, very sure of himself, extremely clever and a good mover. He's always been our 'petit préféré'."
Gibson nominates lot 93, the Gleneagles colt out of the listed-placed Gyrella, herself an Oasis Dream half-sister to Wings Of Eagles, as one of the highlights of their draft. She says, "He is very athletic and an exceptional walker. This is the fantastic Rotina family that my parents bought years ago. The funny story is that Rotina was entered in the sales after producing her first foal and my parents decided to buy her back, having without explanation felt uncomfortable in selling her. It was a good choice as Rotina became the base of their breeding operation, producing six stakes winners including Belle Et Celebre, Whortleberry and Ysoldina, the dam of Wings Of Eagles."
Gibson adds: "We also have a beautiful and strong colt by Shalaa (130) out of listed winner Mojo Risin. He's very much a Shalaa and looks a lot like his sire."
Gibson also notes that their Le Havre filly (50), is 'gorgeous and a very good walker', while lot 151 is an 'elegant' Australia half-sister to G3 winner Rocques.
"We feel that with strong pedigrees and well conformed horses, one can manage to compete at the high level," says Gibsons. "However, we feel that the middle and small markets will become more and more difficult."