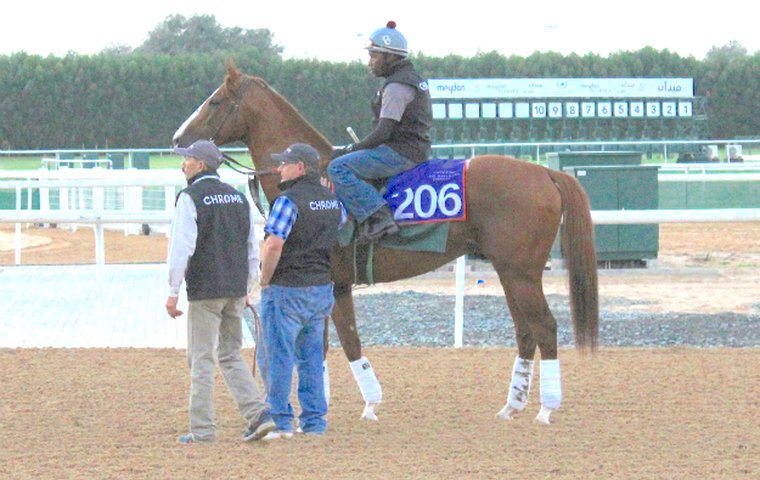 The calendar had turned to 2016 less than two weeks earlier, but on the afternoon of Jan. 9, the return of one of racing's biggest stars in recent years made it feel like 2014 once again.

Two years ago, American Pharoah was just a precocious 2-year-old and it was California Chrome who was the darling of a legion of devoted fans known as "Chromies." A California-bred with humble, blue-collar roots, California Chrome won the Kentucky Derby and Preakness and commanded enough respect that he was voted the 2014 Horse of the Year despite finishing third in the Breeders' Cup Classic.
A year later, fortunes were reversed. American Pharoah captivated the nation by completing the Triple Crown sweep that had narrowly eluded California Chrome and became the sport's biggest star in decades. California Chrome, meanwhile, faded into the background during an all-too-brief 2015 campaign as injuries brought his season to end after a runner-up finish in the Dubai World Cup on March 28, leaving him with a record of two starts and two second-place finishes during his quiet reign as Horse of the Year.
"You have to forget about (2015)," trainer Art Sherman said. "It was a bad situation."
----------
The unfair burden of expectation on California Chrome
Read Nick Luck's view
----------
The memories of that injury-plagued season melted away on Jan. 9, when the dual classic winner triumphantly returned from a nine-month hiatus with a 1 ¼-length victory in the G2 San Pasqual that moved jockey Victor Espinoza – who was also American Pharoah's regular rider - to say: "The way Chrome ran today is how he ran before. He's one of the best horses I've ever been on. I am so proud of him."
Added majority owner Perry Martin: "It brought back a lot of good memories. We had some high expectations heading into the race and they were all fulfilled."
Innovative program to appeal to breeders
Yet, as much as the $200,000 San Pasqual served as a time machine back to 2014, it also introduced some new elements to 2016's California Chrome 2.0 reboot.
There's a matter of new, bright silver silks, with "Chrome" spelled out on the front and back, which generated some criticism on the internet and Twitter for including the horse's name. Martin read the snarky remarks, but the "haters" picked on the wrong guy in Martin.
"I get all kinds of negative feedback about the silks, but it's a simple thing," said Martin, who owns Martin Testing Laboratories just outside Sacramento. "This year is about the horse, not two dumb-asses. I think it's appropriate that we put the name on the silks. If people don't like it, my advice is go in the corner and do jumping jacks. The owners are the only ones who have to like it, and I like it."
Far more importantly, the silks reflect a new ownership team called California Chrome, LLC that has grown substantially in recent months through an innovative program to boost the horse's appeal to breeders.
The DAP Racing team, which stood for Dumb Ass Partners, dropped out of the picture last year, when the bombastic Steven Colburn sold his 30 percent share of California Chrome to Taylor Made Farm in July.
"They're sharp guys," Martin said about the family-run Taylor Made operation. "They're thoughtful. We talk at length about things and we see eye-to-eye on most things."
Looking to his future as a sire
A few months after the sale, Taylor Made and Martin changed the ownership dynamic by each agreeing to give up 10 percent of their stake in California Chrome and offer 10 breeders the opportunity to purchase a 2 percent share of the homebred, giving them a proportionate share of horse's earnings for the rest of his racing career, as well two breeding seasons with the son of Lucky Pulpit throughout his life at stud.
Though Martin and Taylor Made President and CEO Duncan Taylor declined to reveal the breeders involved or the cost of each unit, they both said all 10 shares have been sold.
"The main reason for bringing him back was to encourage some of the top breeders in Kentucky to get involved in him," Martin said. "So we put together a special package for them.
"I sold 10 percent and Taylor Made sold 10 percent so that people can get involved while he's still racing and perhaps make a big share of their money back through purse money alone. To allow them to come in we made them promise they would send two of their very best mares to California Chrome. So we're not only looking toward his future at the racetrack, but his future as a sire as well and we brought on a whole bunch of excited partners in the process."
While California Chrome's breeding career involves 2017, at the present time the main focus for Martin and Taylor Made and their team of new partners surrounds a return trip to Dubai, which is already off to a more harmonious start than last year's journey.
A year ago, Martin wanted to ship Chrome to the Middle East well in advance of the World Cup to train over the track, but Colburn and Sherman wanted to stay in California and face Shared Belief in the San Antonio. Martin gave in and the reigning Horse of the Year ran second to Shared Belief and then shipped to Dubai less than two weeks before the race.
'We did it the wrong way last year'
This time around, California Chrome arrived in Dubai on Jan. 22 and current plans call for him to race on Feb. 25 in a mile and a quarter prep at Meydan Racecourse in advance of the $10 million World Cup on March 26.
"Last year Art and Steve wanted to keep running against Shared Belief," Martin said. "I said 'I think we should take our horse to Dubai and race over there. It will be better for him.' They said 'What about the rivalry? What about horse racing? We have to save horse racing.' So I acquiesced.
"Now that I saved horse racing, I want to do what's smarter. I'm keeping my eye on the big picture. My goal wasn't the San Pasqual. That wasn't the one we wanted. We want to win the Dubai World Cup and we're focusing better on that this year."
"I said it then and I'll say it now," he added. "I think we did it the wrong way last year. We brought him over about 10 days before the race and it wasn't enough time for him to acclimate to everything. Doing it this way and getting a prep race into him will make a world of difference. I have Art on my side this year. He didn't want to go last year, but then he was treated like a prince over there and he's happy to go back."
Unlike last year, when California Chrome shipped from Dubai to England following the World Cup to prepare for a start in the Prince of Wales's Stakes at Royal Ascot in June, which never materialized due to a hoof bruise, the 5-year-old will return to the United States after the World Cup and after a few months of rest will begin working toward the second half of the season.
The appeal of Santa Anita
Claiming he didn't see a need for traveling outside California in the summer or fall, Martin said the $5 million Breeders' Cup Classic at Santa Anita (Nov. 5) has been targeted as his champion's final race before heading to a new life at stud.
"Having the Breeders' Cup at Santa Anita makes it a lot better for us," Sherman said. "He loves Santa Anita. He could go also go to the Pacific Classic and few other spots. The main thing is the horse and how he comes out of everything. It's so hard to make a plan months in advance with Thoroughbreds. It's almost impossible."
The events of last year illustrated the folly of devising rigid plans as California Chrome's futile trip to England was followed by plans to race on turf in the Arlington Million. That, too, never happened as a cannon bone bruise kept him out of the race and ultimately ended his season, though not his career.
"The bone bruise was not serious. It was in the initial stages and if we were going to retire him at the end of the year, we could have continued to race him in 2015," Martin said.
"But I couldn't do that. I have to do what's best for the horse and, if he needs time, give him time. The vet looked at the x-rays and said horse had the legs of a 2-year-old. He made 18 starts in 23 months and they couldn't find any degeneration in the joints. For a horse that raced that much, it was phenomenal.
"The bone bruise was caused by inactivity. American racehorses spend 23 hours in a tiny stall and they are grazing animals. They were meant to move and constantly be in motion, and the trip to England mitigated some of the bone bruising.
The benefit of his stay in England
"His routine was totally different in England. He'd be saddled and then it would be a 45-minute walk just to gallop. He'd gallop for a bit and then it would be a 45-minute walk back to the barn. Then, after a bath and being fed, he would go out into a grassy paddock area, where he could munch on grass for an hour and be more like a horse. I think it actually did him some good to go to England, though I'm not as much of an expert as some of the people on internet blogs."
While the injuries kept California Chrome sidelined, Martin's often stormy partnership with Coburn finally crumbled under the weight of diverse personalities and arguments over where and when to race their Kentucky Derby winner.
"Steve's a great guy and so is Perry," Taylor said. "But my dad always told me a good horse will test a person. You don't realize what it's like until you have a horse like this. This horse is owned by the public and you need thick skin. Everything you say can create a wildfire in the media if you're not careful about what you say."
Though Coburn and Martin still own a few horses together, the strain between the two owners eventually led to Coburn leaving the California Chrome partnership.
"It wasn't emotional for me. It was simply a financial decision for him because the horse wasn't running," Martin said. "As long as I did what Steve wanted, everything was fine. When I put my foot down and said 'No, I want to go this way', there was no discussion because I wouldn't get a chance to discuss it.
"He was a difficult person for me to deal with. Like when we did the breeding that resulted in California Chrome. He said I think we should breed our mare (Love the Chase) to a California sire named Marino Marini. I said 'Why?' He said, 'I saw an ad in the Daily Racing Form and it was a real nice ad.' I said, 'Were there any other nice ads in the Daily Racing Form?' He said, 'Yeah.' I said, 'Why don't you like those horses?' He said, 'Marino Marini is a grey horse and Carolyn (Colburn's wife) likes grey horses.' I said, 'Ok, thanks for the input. Let me think about it'."
Aiming to create more believers
With Taylor Made as a partner, Martin has high hopes for California Chrome as a sire prospect. While the son of an $8,000 dam and a sire whose live foal fee stood at $2,000 might not be regally bred, Taylor points out that California Chrome's dam is line bred to both Ogden Phipps' champion mare Numbered Account (3 x 3) and the famed La Troienne and also hails from Swaps' female family, which has produced five Kentucky Derby winners since 1929.
"We are as excited about his breeding career as we are his racing career," said Taylor, whose company has launched a website www.TheChampIsBack.com to promote California Chrome.
"The more races he wins, the more believers he's going to create. He is also a very sound horse. Racehorse owners are craving a horse like him. He started in May as a 2-year-old at 4 ½ furlongs, won the Kentucky Derby at three at a mile and a quarter. The only thing he hasn't done is win the Belmont Stakes, but he ran a helluva race."
Being involved in a horse's racing career is hardly the standard operating procedure for Taylor Made, yet, when the chance to become involved with California Chrome presented itself, Duncan Taylor saw it as an opportunity that was too good to pass up.
"Unfortunately I'm not a billionaire, so I have to be nimble and flexible to be able to get a top stallion prospect," said Taylor, who already stands Astrology, Graydar and Northern Afleet at his Nicholasville, Kentucky, farm. "I think it's a blessing we got this horse at the right time. Steve wanted to sell, we liked him and were there to step in. It's new for us to race someone like him, though it's not something we were opposed to."
Now Taylor and his family will be along for the ride to Dubai and wherever else California Chrome takes them during a year in which the multiple Grade 1 winner will attempt to become the first horse to win multiple Horse of the Year titles in non-successive years since John Henry in 1984 and 1981.
Sherman on American Pharoah
California Chrome, with earnings of $6,442,650 after 10 wins in 19 career starts, also needs about $4.1 million to surpass Curlin ($10,501,800) as North America's all-time leading money earner. He could take over that coveted spot during his stay in Dubai.
With some luck, he might also become the first Kentucky Derby winner to capture the Breeders' Cup Classic at five or older, which would bring down the curtain on his career in a manner filled with joy as well as touches of irony. You see, it could be fate's way of making amends for last year when California Chrome was unable to square off with American Pharoah in what would have been a race for ages.
"I would have loved to seen him at his peak running in last year's Breeders' Cup Classic," Sherman said. "It would have been a different type of race. I'm not taking anything away from American Pharoah but he would not have been galloping along alone on the lead with California Chrome in the Classic. Pace makes the race and they just let him gallop around there. I won't say he could have outrun American Pharoah, but knowing Chrome, it would have been a different ballgame."
Fans of both horses will long debate what would have happened had the two horses met, and Espinoza side-stepped that controversy by saying "no mas" when asked after the San Pasqual to compare his two most famous mounts.
"American Pharoah and California Chrome are too hard to compare, I won't," Espinoza said.
Yet for Martin there are no regrets about what might have been. He's very much at peace with the hand he was dealt a year ago.
"I thought about what might have happened in last year's Breeders' Cup, but not for long," Martin said. "I'm a realist. Last year was American Pharoah's year and it was appropriate that people talked about him. I think it's a good thing we were not involved. What if we beat him? That would have been terrible. Not for us, but racing needed to have its champion."
While racing lost its rock star when American Pharoah was retired after the Breeders' Cup, it regained a beloved champion when California Chrome returned in January in hopes of scripting the final chapters in a storybook career that suffered from some writer's block last year.
As the website reminds everyone, it's like 2014 once again. The Champ is indeed back.