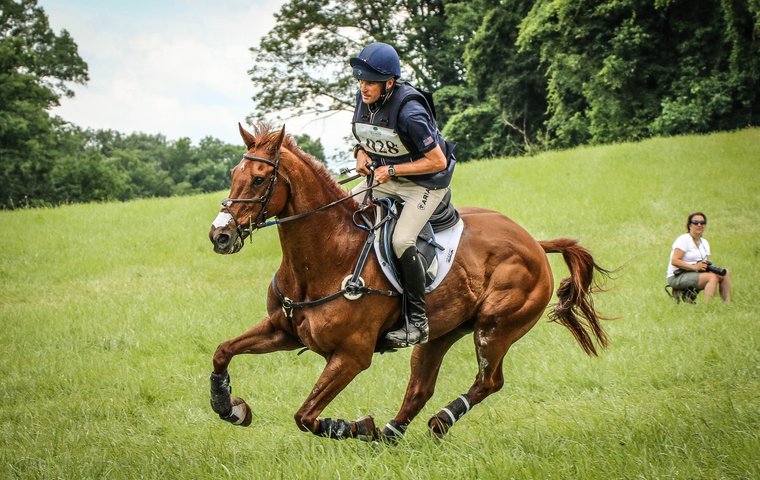 Eleven years ago next month, a chestnut son of Out Of Place was offered deep into the marathon Keeneland September yearling sale. Bidding stalled out at $24,000, meaning Hip No. 3495 failed to meet his reserve, and he was led back out of the ring unsold. Bidders weren't necessarily wrong that day — Blackfoot Mystery, as he was later named, turned out to be a hopeless racehorse — but it doesn't mean the Thoroughbred was without talent.

Currently, the world is watching him, as he and rider Boyd Martin represent the United States in eventing during the Summer Olympics.
With his success, Blackfoot Mystery has become a poster child for the aftercare movement within racing, and there is a good reason for it. No matter how Rio plays out, it is pretty hard to argue against a horse who earned his way onto an Olympic team.
His path to such a monumental achievement started well before the re-homing of racehorses was as high profile as it is now, but the publicity he is getting highlights how far the industry has come.
Born for the track
Blackfoot Mystery's dam, True Mystery, was an honest racehorse. She retired a stakes winner and was never worse than fourth in 13 career starts. Several years later, John O'Meara purchased her for $72,000 at the 2002 Keeneland November breeding stock sale. He planned the mating that resulted in Blackfoot Mystery in 2003, and the chestnut was born in Kentucky the following April.
True Mystery's now famous son was less than gifted on the track and made only three starts for trainer Jesus Mendoza and owner Christopher Drakos. In June 2007, during his career debut, Blackfoot Mystery broke poorly and never made it out of last place during a maiden claiming contest at Hollywood Park. One month later, he put in the "best" performance of his brief career, finishing sixth of nine at the same venue and pushing his career earnings to a meager $1,200.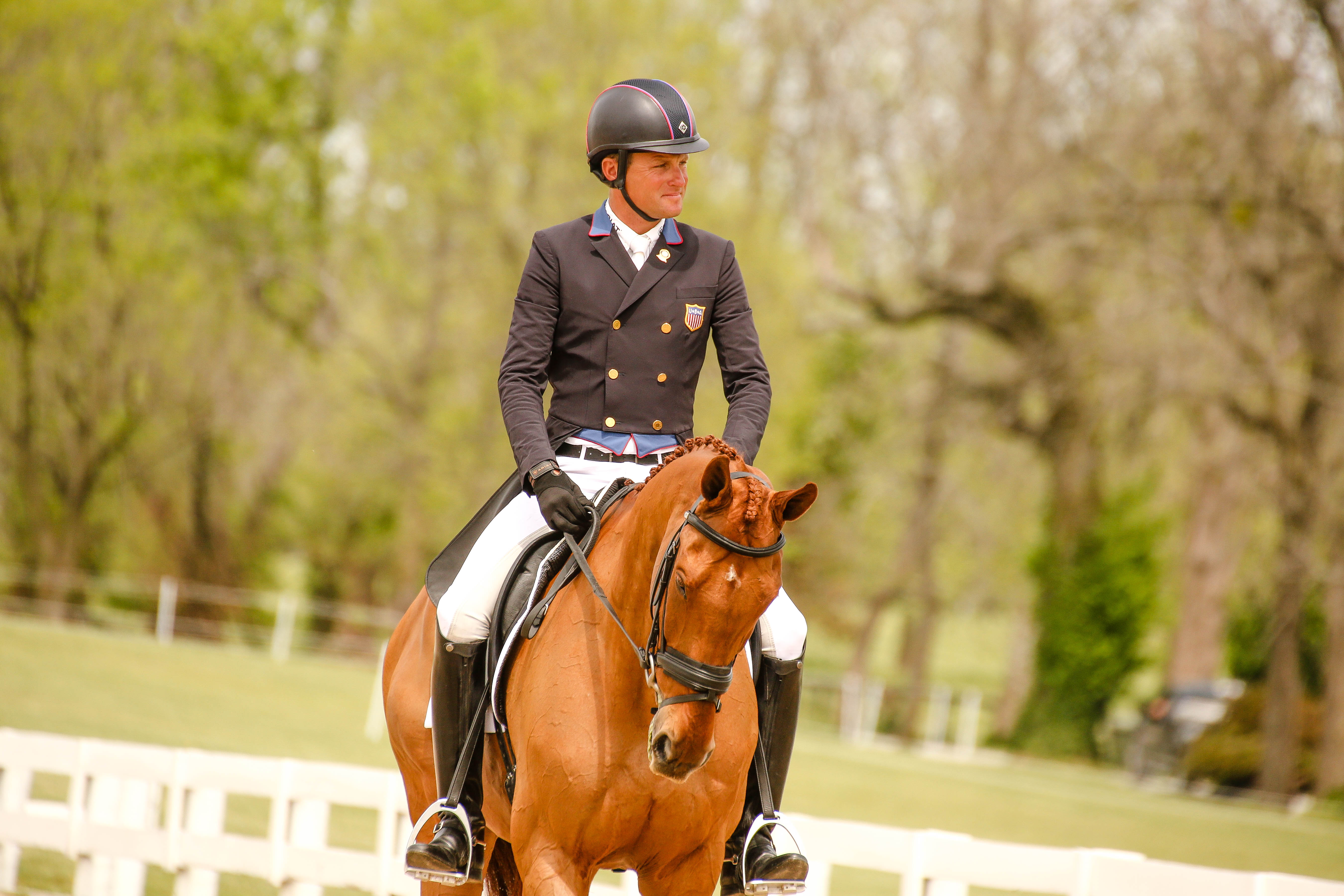 It was then that Mendoza did what was best for his charge — he found him a new home. To do that, he called Leigh Gray, the founder and president of the Thoroughbred Rehab Center. Gray came out to see the good-looking chestnut and ended up adopting him from Mendoza that day.
"Blackfoot Mystery was sound, had no injuries, and his disposition was very laid back," said Gray. "I trusted Jesus when he told me I would really like him. I'm thrilled how well Blackfoot Mystery has done. He is very talented. Having a horse come through my program and go on to make the Olympic team is a dream come true."
Gray eventually placed Blackfoot Mystery with Lisa Peecook, an eventing rider and trainer. Peecook competed the large but gifted gelding before selling him to Kelly Prather. While in Prather's care, Blackfoot Mystery continued to excel, and it was then he caught Martin's eye. On learning Blackfoot Mystery was for sale for the right price, Martin assembled a syndicate, purchased the gelding, and now, a year later, the pair are in the Olympics.
Talented, laid back, requires cookies
Martin competed in the 2012 Olympics in London, and has had redemption on his mind ever since. His horse at the time, Otis Barbotiere, was withdrawn from the competition prior to show jumping due to injury. The Olympian knew getting Blackfoot Mystery, who is more affectionately known as Big Red, to Rio was going to be hard, but not impossible.
"It's a wonderful feeling knowing you're going to compete in the Olympics again, but for me personally, I don't want to just be a participant, I want to put in a great performance," said Martin. "We purchased Big Red a year ago thinking of him as a prospect for Rio, and obviously we were on a very short timeline to build a partnership and get him qualified. But he's ticked every box and been brilliant every step of the way."
After competing successfully together at several events, Martin and Blackfoot Mystery solidified their chances for Rio with their performance at the prestigious Rolex Kentucky Three-Day Event, which is held at the Kentucky Horse Park in Lexington every April. It is a four-star event — the sport's highest designation — making it the only one of its kind in the western hemisphere and one of only six such competitions held annually worldwide.
The pair found themselves in 34th place after dressage but put in powerful efforts during both cross country and jumping to finish sixth overall. In June, the United States Equestrian Federation named Martin and Blackfoot Mystery as one of the four athlete-and-horse combinations making up the U.S. Olympic eventing team.
"I think his success reminds everyone in the world that a good horse is a good horse," said Martin. "It doesn't matter what its breeding is or what its former job was. If I can find a good moving and jumping Thoroughbred that beats every horse out there, I'll take it no matter what its background. Big Red is a magnificent horse and has unbelievable athleticism, scope and power in his jump and plenty of movement."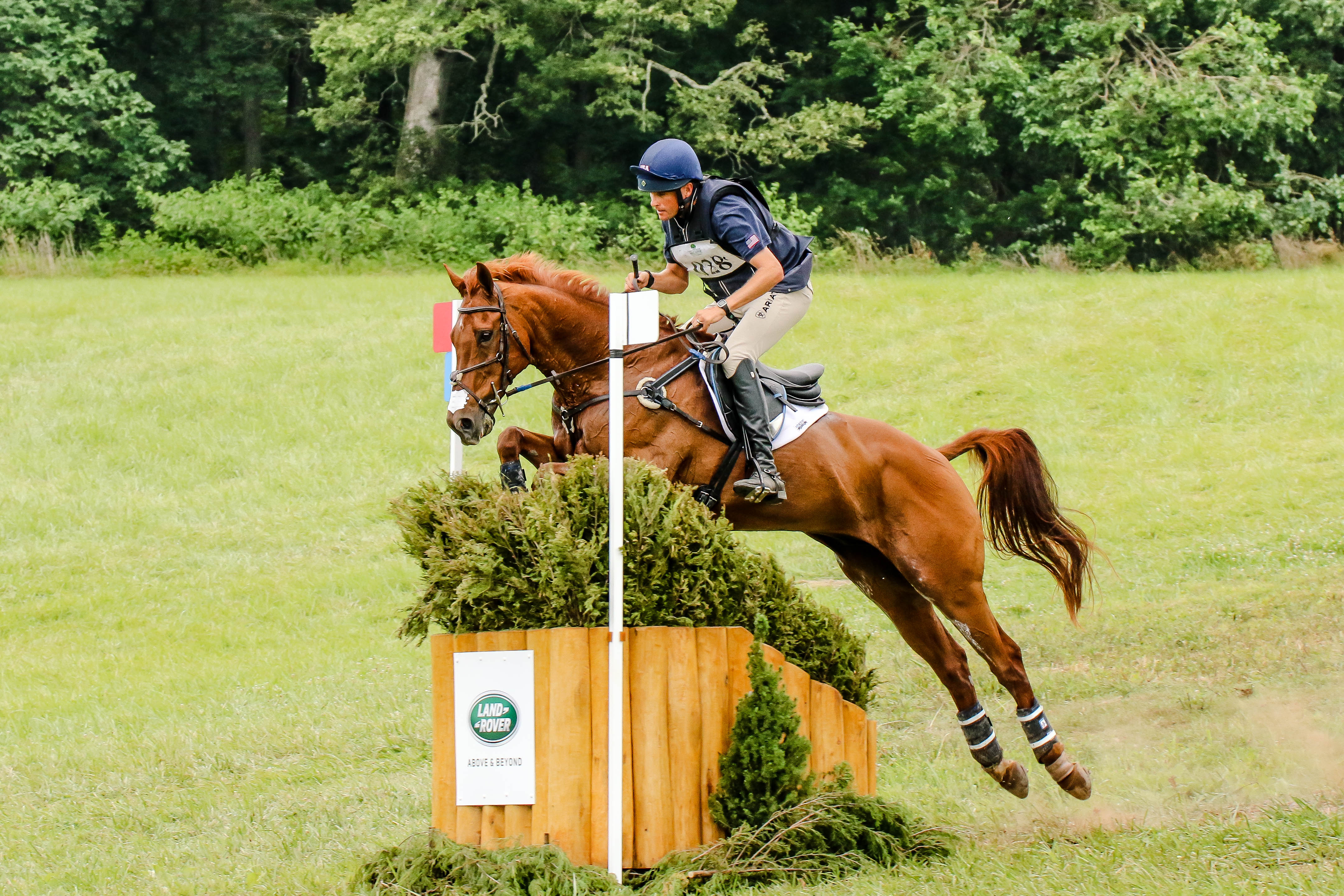 Blackfoot Mystery, who at 12-years-old has finally grown into his 17.2-hand frame, might be a force to be reckoned with when he is competing, but his temperament remains as congenial as it was when he was a failure on the racetrack. With one exception.
"He's pretty laid-back in the barn, and he's easy to have around the farm," said Martin. "He does, however, get pretty wound up if you put him in a field and don't give him a cookie. He likes Purina cookies — all of the flavors."
Industry-wide growth
Blackfoot Mystery has come a long way since the day he went unsold at Keeneland, and so has American racing when it comes to ensuring its equine athletes are re-homed in a public and responsible way.
In 2012, the Thoroughbred Aftercare Alliance was formed to accredit, inspect and award grants to approved aftercare organizations using industry-wide funding. Gray's Thoroughbred Rehab Center is now one of 56 organizations across the U.S. and Canada that have been granted accreditation and receive funding.
"Off-track Thoroughbreds can do many things, and Blackfoot Mystery is a shining example of that," said Gray. "The Thoroughbred has been bred for hundreds of years to be an athlete. These traits give the horses drive and determination to do the tasks we ask them to perform. They are good at so many disciplines, not just racing."
The same year the TAA was formed, The Jockey Club announced the Thoroughbred Incentive Program, which encourages the retraining of Thoroughbreds into other disciplines on completion of careers in racing or breeding. Blackfoot Mystery's success at Rolex — he was the highest-placed ex-racer in the competition — also meant he got to claim the T.I.P. Award for the event.
Obviously, aftercare isn't just a pressing issue in America, and at the beginning of August, the International Forum for the Aftercare of Racehorses (IFAR) was announced and will include representatives from Australia, France, Britain, Ireland, Japan and the United States.
Furthermore, another ex-racer representing in the Olympics is Summon Up The Blood, a winning son of Red Ransom who competed in the United Kingdom and went through the charity Retraining of Racehorses when his racing days were done. He is part of Brazil's eventing team with rider Carlos Paro.
Eventing began on Saturday, and Summon Up The Blood sits in joint 33rd place after dressage, with a score of 47.30. Blackfoot Mystery is just behind him in 35th with a score of 47.70, which was a personal best. Cross country takes place today, while jumping is tomorrow.
The success of both horses is a credit to everyone along the way who saw their potential beyond the racetrack. Now, they are getting to prove it not just to equestrians, but to the millions worldwide who get transfixed by the Olympics.
"It's one of the few times we compete for a team and a country and, with that, there is added pressure," said Martin. "You're riding for your country, not just yourself and your owners, and the repercussions of success or failure are magnified hugely in this scenario."