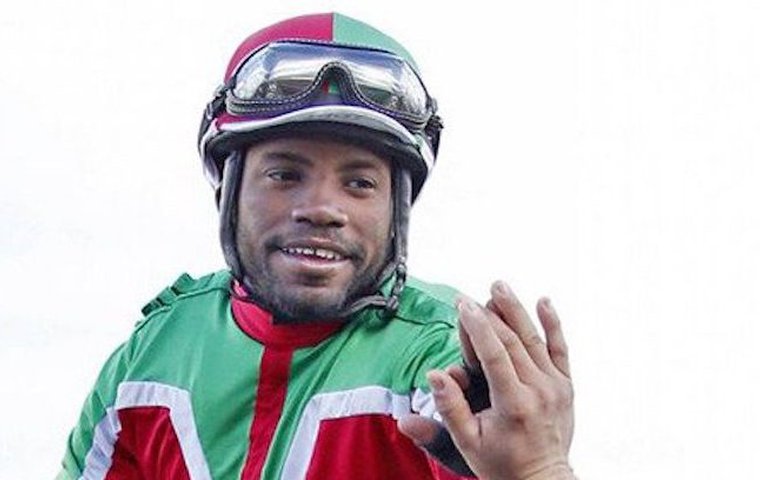 It has been ten years since the publication of 'I Dedicate This Ride' by Frank X Walker, a former Poet Laureate of the Commonwealth of Kentucky. Walker immersed himself in the lore of Isaac Murphy, regarded as one of America's greatest riders, and crafted a book-length series of verses attributed not only to the jockey, but also to the people who were closest to him during his meteoric life of just 34 years.

The verses are not direct quotes, for the most part, although there were passages taken from letters and periodicals of the era. Walker trades in the most valuable currency a writer can muster – what he writes might not be the proviable facts, but it sure is the truth - like this, from Murphy:
You've got to be patient and skilled to slip through
the windows and doors that blink open during a race.
But it don't hurt if your horse has already
made up its mind to win
before you ask permission
to climb aboard.
Murphy won 44 percent of his 1,412 races and three of the 11 Kentucky Derbys in which he rode. His finest mounts included Hall of Famers Salvator, Firenze, and Emperor Of Norfolk.
As a small black man in a very white world that was traumatized by the Civil War and abolition of slavery, Murphy, as reflected in the verses of Walker, navigated the treacherous terrain by adopting the manner of a somber gentleman. Still, he lived on a narrow ledge of acceptance for what he could do on horseback, and heaven help him if he should ever fail to win:
They call me mechanical, stoic and all business
at the track, but riding a horse fast is easy
compared to my toughest job — holding rein
over the large, angry, bitter colored man
that lives inside.
The first shots of the Civil War were fired on April 12, 1861, at Ft. Sumter in South Carolina. Four days later, Isaac Burns Murphy was born in Fayette County, Kentucky. Murphy's father joined the Union Army in order to earn freedom for himself and his family from the Kentucky slave owner who benefitted from their labors.
From the dawn of America, slaves were commonly used as trainers, jockeys, and stable hands to fuel the economy of Thoroughbred breeding and racing in slave-holding states, as this passage reveals from a report presented to the Louisiana Historical Society in 2017. The reference is to a famous New Orleans match race between the marquee runners Lexington and Lecomte at Metarie Racecourse in 1855:
"That race, and the racing culture as a whole, also took its toll on slave communities," the report read. "Besides the inherent dangers of working with horses, in lieu of cash, slaves were gambled away at the races. Tracks typically had pens to hold slaves used as collateral wagered by their owners.
"The enslaved horsemen undoubtedly saw these wagered slaves, perhaps sometimes their friends or relatives, anxiously awaiting the races' outcomes which would upend their lives. Ironically, the fate of the slave collateral depended upon the skills of the equally enslaved horsemen."
Built on slave labor
Thoroughbred racing was not the only American industry built upon the peculiar institution of slave labor, though for the purposes of these pages it's the only one that matters.
In post-war racing, freed slaves continued to populate the ranks of jockeys and trainers, but their numbers diminished as Jim Crow took hold and it became clear to the white side of the fence that there was only so much prize money to go around. Murphy:
When white riders still loyal to Confederate ideas
started to show up at the track, it got more dangerous.
Some would kick and punch and use their whips on us
more than their mounts. They would try to run
black riders into the fence or cut us off all together
sometimes knocking our horses to their knees
and us to the ground. But the bloodier racing got,
the crowds got louder and more excited.
I Dedicate This Ride should be required reading for anyone who yearns for a deeper understanding of American racing's oldest roots. Walker's verses drip with the kind of detail cherished by racetrackers who have been raised on aphorisms like "Don't squeeze the lemon dry" (Horatio Luro) and "I make 'em go where I've already been" (Johnny Longden).
"Leave your fears at the starting line," says Murphy. "If you must be afraid, be afraid a losin'."
Rocco Bowen was afraid he'd never ride a racehorse again, and he had a right. He went down one morning at Emerald Downs when a rein broke on a worker, in early September of 2018. He sustained a concussion and separated shoulder, but he was quick to return and rode until the meet ended, that September 23, racking up his third straight title with 109 wins.
Refusal to quit
Over the ensuing months, as Bowen gave himself time to rest and heal, what was apparently undiagnosed nerve damage rendered his right hand weak and almost useless.
"It got to where I would drop a two-liter bottle of apple juice," Bowen said. "It didn't happen all the time, but when it did I would get a shocking pain from my back to my neck, like electricity. I had doctors tell me I was finished, I should quit and take the insurance. No way I was gonna do that. I'm supposed to be riding racehorses."
No one doubts his word. From his childhood on the Caribbean island of Barbados, Bowen gave in to the powerful attraction of horses. A brief stint at jockey school put him on board local Thoroughbreds, after which he made the leap to British Columbia, where he began his official career at Hastings Park.
From there, Bowen bounced around, to Assiniboia to Turf Paradise to Portland Meadows, until he found a home at Emerald Downs, south of Seattle, in 2012. He matured as a rider, became a known quantity, and in 2014 Bowen cracked the 100-win threshold for a season. He never looked back … until last year.
The journey of healing took Bowen to Oregon, where he spent most of 2019 at therapeutic physical labor, tending to his son's horse and wondering about the future.
"I went off by myself," Bowen said. "There were no miracles. I had people pulling me in a lot of different ways. But all I wanted to do is see if I could ride again."
Youthful enthusiasm
By the time 2020 came around, Bowen began to believe a comeback was possible. Even as the restrictions imposed by the spread of the coronavirus swept the country, Bowen was making plans for a resumption of his career, this time in the Midwest.
He rented an apartment near Arlington Park, secured his license on May 11, and began galloping horses. Soon, he reconnected in Kentucky with his mentor, retired jockey Joe Steiner, for further physical therapy and counseling. They put a ring around the upcoming Indiana Grand meet, secured a top agent … and jumped.
Rocco Bowen returned to riding on June 4 at Belterra Park near Cincinnati – 620 days after his last mount at Emerald Downs – and finished second aboard a horse named Dingdingdingding. The following day, also at Belterra, he won a one-mile event for $4,000 claimers by a neck on Hyndford, a son of Street Cry.
"The purse was $7,500, but it felt like it could have been $750,000," Bowen said. "I was so happy, but I also know I've still got a lot of work to do, especially on my legs."
Bowen turned 31 on May 23. He figures he's past being referred to as 'the kid' among his peers and glad of it, although his effervescent personality is fueled by an enthusiasm that can only be described as youthful.
He is also returning at a time of civil unrest brought on by America's ever festering wound of racism. The modern racetrack offers at least some shelter from the institutional prejudices infecting the culture outside the stable gates, but racing's skirts are hardly clean. Black jockeys were all but missing from the North American landscape for much of the 20th century.
In this century the names of Kendrick Carmouche, Kevin Krigger, Barrington Harvey, Kerwin John, and Deshawn Parker have revived the historical line leading back to riders like Isaac Murphy, Jimmy Winkfield, and Willie Simms, all members of the Thoroughbred racing Hall of Fame.
Even so, Bowen knows he'll always stand out in a crowd of North American jockeys because of the color of his skin. Sometimes it can get ugly.
"It bothered me a lot when I was younger, but now I just let the comments roll off my back," Bowen said. "If they call me the 'n' word, I say, 'That's the worst you can call me? I been called a whole lot worse. Walk on by.'
"We get cut, we all bleed the same color," Bowen added. "People who want to act like that are unhappy, and I'm the happiest right now that I've been in five years. I mean, I've got my first mount at Churchill Downs this week. How amazing is that?"
Bowen was not familiar with the legend of Isaac Murphy. Then again, neither are a lot of Caucasian and Latin American jockeys. It's a short book, so they all should have time to read it between races. Walker ends I Dedicate This Ride with his own Praise Song to Murphy's legacy, concluding:
I dedicate this ride to a man
whose life's work was a blueprint
for anyone, black, white or brown,
hoping to build something better,
hoping to fulfill their own potential,
to use all their gifts and blessings
in an honorable way.