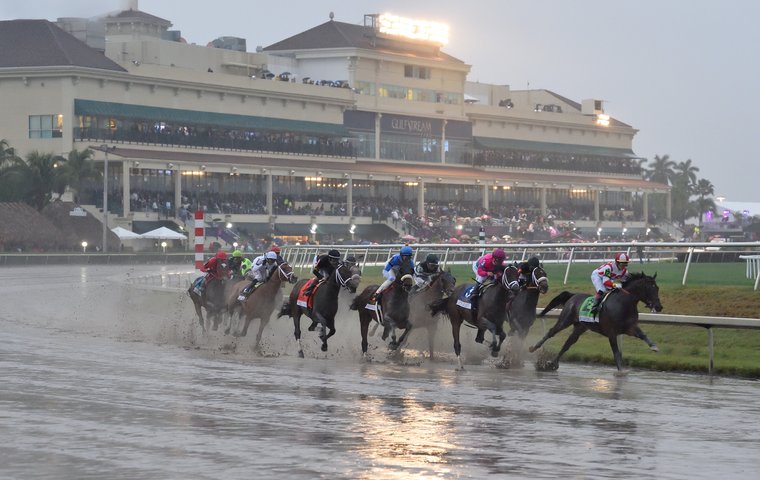 When the Pegasus World Cup was launched in 2017, owner William K. Warren Jr liked the idea of a $1 million buy-in for a $12 million race. "I liked it. You should put your money where your mouth is," he said.

Of course, Warren did not have an inkling about running a horse in the Grade 1 mile-and-an-eighth stakes with the costly entry fee. "I never would have imagined we'd be in it," Warren said.
Even as recently as August, when Warren worked out a stud deal that called for his prized runner City Of Light to be retired in 2019 and head to stud at Lane's End Farm in Kentucky, he did not include the Pegasus among the financial 'kickers' he would receive from Lane's End if his colt won a major race.
"When we sold the breeding rights to City Of Light," Warren said, "we were trying to figure out what kind of bonus to put in for winning certain races and my son, Andrew, said 'How about the Pegasus?' I told him, 'That's too far for us."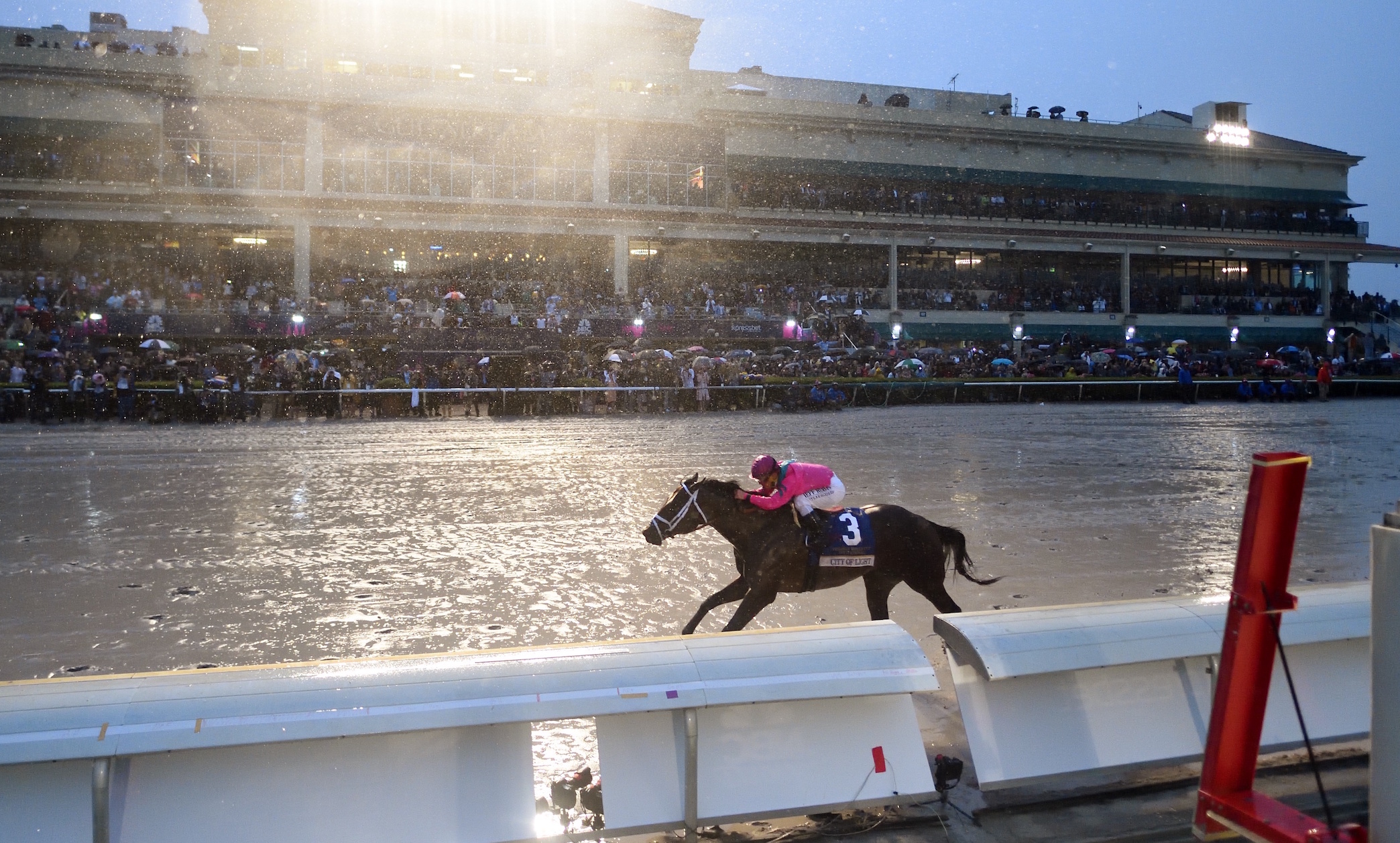 Little did Warren know that yesterday, when the Pegasus expanded from a race into a series, he would not only put up $500,000 to run a horse in the $9 million Pegasus but actually win it over a rain-soaked sloppy track at Gulfstream Park by the largest margin in the race's short history and earn $4 million.
"I feel very fortunate my trainer [Michael McCarthy] took his time developing City Of Light. He didn't run him every three weeks," William Warren said after City Of Light's 5¾-length romp in the mud. "I had great confidence in this horse. The weather bothered me. If it was a dry track, it would have been perfect."
Raindrops or not, Pegasus Day III and the debut of the Pegasus World Cup Invitational Series was a perfect ending for City Of Light, who will begin his life at stud in about a week, and an equally perfect beginning to the initial $7 million Pegasus World Cup Invitational Turf, which was won by Klaravich Stables and William H. Lawrence's Bricks And Mortar, whose victory in a multi-million race seemed even more improbable back in the summer.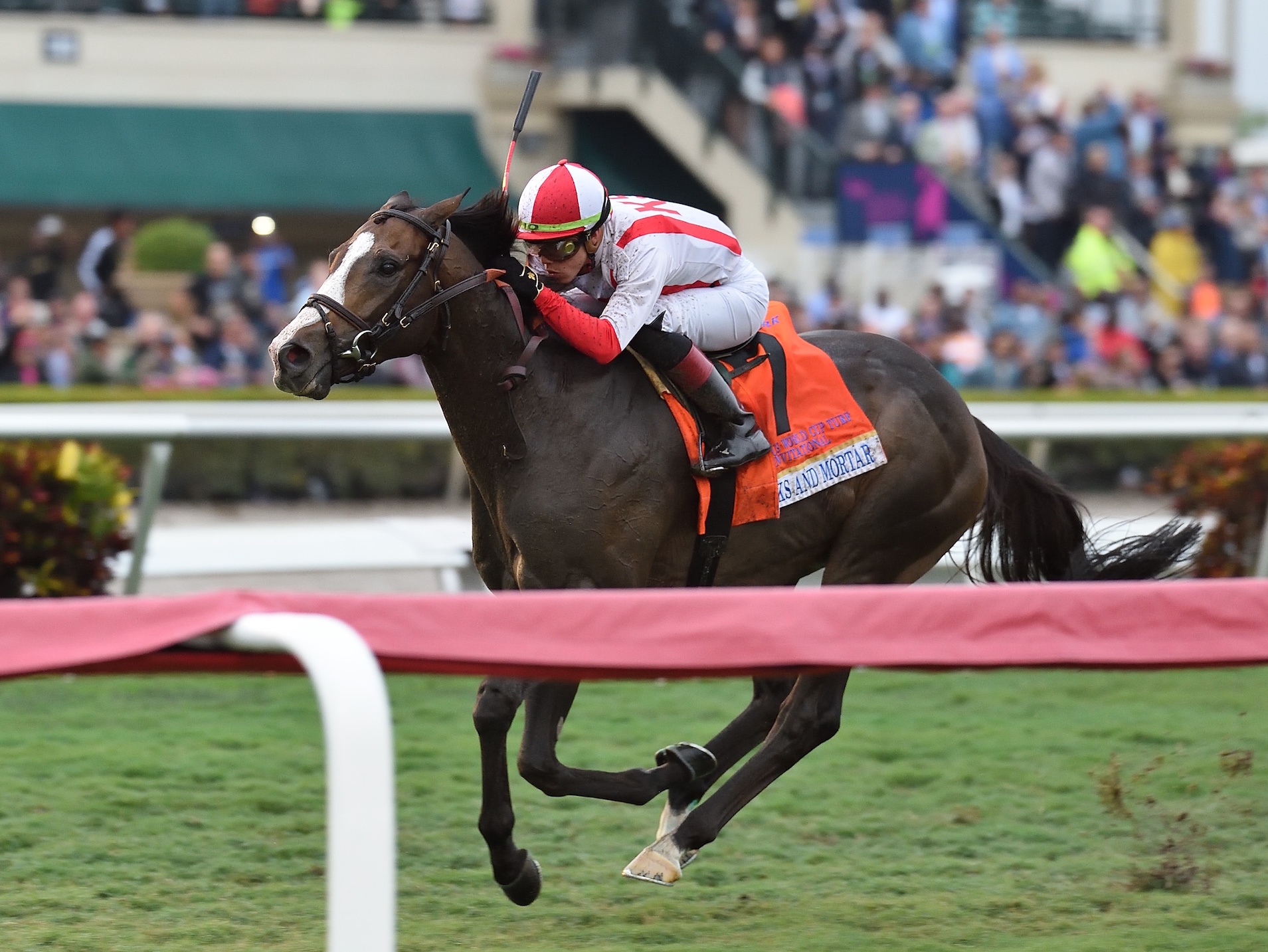 The 5-year-old turf runner trained by Chad Brown was actually unraced from Oct. 7, 2017 until Dec. 22, 2018, and, in his second start after that 14-month layoff, he posted a 2½-length victory in the Pegasus Turf, earning $2,656,250 for his connections.
"It was electric," Lawrence said.
Though water and electricity do not mix, day-long rain did not really dampen a day that showed how two Pegasus races can in some ways be better than one.
Saturday's Pegasus Dirt marked the first time in three editions that the race did not feature the reigning Horse of the Year.
Gun Runner, filled that role last year, as did California Chrome in 2017 with another a budding superstar, in Breeders' Cup Classic winner Arrogate, among his rivals.
This time around, 2018 Horse of the Year Justify is already at stud, but there was a still a pretty good match-up with Accelerate, the BC Classic winner and Horse of the Year runner-up, taking on City Of Light, who was coming off a victory in the Breeders' Cup Dirt Mile and was the only horse to beat Accelerate in seven 2018 starts.
City Of Light beat Accelerate in the Oaklawn Handicap last April and the only time in an 11-race career that he did not finish first or second was in the mile-and-a-quarter Gold Cup at Santa Anita, when he checked in third behind Accelerate.
The Pegasus field also included challengers such as Gunnevera, who was second in the BC Classic, Audible, who was third in the Kentucky Derby, and Bravazo, who was second in the Preakness and the G1 Clark Handicap, as well as Seeking The Soul, the BC Dirt Mile runner-up, who was second to City Of Light, by a wider margin, once again in the Pegasus.
For fans of the game, the Pegasus certainly had an intriguing battle between City Of Light and Accelerate, which City Of Light, the second choice in the wagering ($5.80), won decisively in 1:47.71 as Accelerate faded in the stretch to finish third. It also boasted a field loaded with more talented horses than in past years. Yet, without Justify, something was missing in terms of star power and the Pegasus Turf helped fill the bill.
It's unlikely anyone who took part in either Pegasus race will land in the Hall of Fame, a place where past Pegasus stars California Chrome, Arrogate and Gun Runner are likely to wind up, but together the two races worth a combined $16 million – the same purse total as last year's Pegasus Dirt – made for a highly entertaining day.
The two races also seem destined to provide some excitement insurance for those years when very good-but-not-great horses turn out for both races.
Which happened on Saturday.
Excellent betting race
The Pegasus Turf was not launched until September and had a rocky start as racing schedules were already mapped out for the top American and European runners. Gulfstream and Stronach Group officials struggled to find 12 starters.
They came up with ten, though none was a finalist for the Eclipse Award as last year's outstanding turfer.
Yet, in this instance, the Pegasus Turf proved to be an excellent betting race.
Bricks And Mortar was the second choice and paid $7.60. Yet the competitive and well-balanced nature of the field was best reflected in having seven of the ten starters break from the starting gate at odds of 9/1 or less.
"It's just a big race," Lawrence said. "It's a big, tough race. It's why we're in the game - because there's a lot of tough races and the other didn't go so well for us [Klaravich and Lawrence's Patternrecognition finished last of 12 in the Pegasus Dirt]."
The Turf also expanded the Pegasus' horizons to overseas.
Aside from eight American runners, there was Magic Wand, an Irish filly, and Aerolithe, a mare from Japan.
The trip was worthwhile for Magic Wand, owned by Coolmore Partners and Markus Jooste, who earned $796,785 for rallying in the stretch and finishing second to Bricks And Mortar.
For Aerolithe, not so much.
The Japanese runner was second behind 42/1 pacesetting longshot Fahan Mura in the early stages of the 9½-furlong Grade 1, but then came up empty on the far and dropped back after being steadied. She finished ninth, beating only Fahan Mura.
"I was very disappointed, to be honest, because she got away from the gate very sharply," said jockey Florent Geroux, whose mount was one of three starters at 9/1. "I got a great position. I was laying second off the filly on the lead, so I was in the perfect spot and it didn't feel like the pace was going crazy fast. I felt like I was controlling things. When Catapult [who finished fourth] came next to me, she had no response. She just gave up right away."
It wasn't the anticipated result for Aerolithe's connections, yet Magic Wand's showing should encourage at least some Europeans to mark down the Pegasus Turf on the calendar for their top horses. Considering the conditions of the race, even Japanese horsemen might give it another try.
Fate of the no-Lasix runners
Both Magic Wand and Aerolithe – along with Channel Maker, who finished fifth – received a seven-pound weight allowance for racing without the anti-bleeding medication Lasix. As females, Magic Wand and Aerolithe also received an additional five-pound break in the weights. That meant they both carried just 112 pounds, compared to 124 pounds for seven of the eight males, and the lighter weight assignment no doubt helped Magic Wand, who was fourth in the Breeders' Cup Filly and Mare Turf on Nov. 3 in her last start.
All in all, given the rain and the MIA status of a Horse of the Year, there was indeed reason for optimism. The memories of the initial year's financial fiasco, with the $1 million entry fee and some owners claiming they lost more than $800,000, are distant and in the rearview mirror.
This year's structure may have not been perfect, but it was a step in the right direction and the talk of another race, perhaps for fillies and mares, in the near future may improve the purse/entry fee ratio even more.
Yet, at the very least, for a race that owners like William K. Warren Jr. didn't expect to be in a few years ago, the Pegasus has taken a nice step forward in Year 3. Finally, after two years of post-race complaints about the structure, the curtain has gone down on the Pegasus on an encouraging note and talk about a bright future is finally apropos.