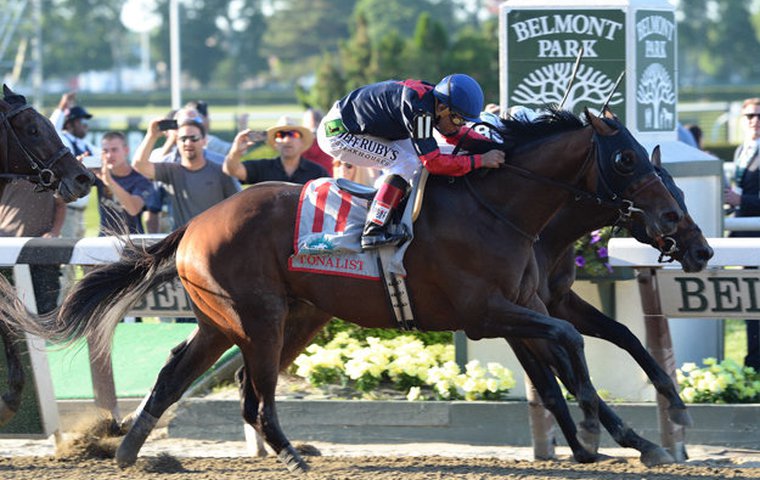 This week, our editorial content will focus on riders around the world. From profile stories to pieces addressing some of the issues riders face in the morning, the afternoon, and at the conclusion of their careers, we will take a closer look at the human athletes so central to our sport.

As one of the most accomplished and respected jockey agents in North America, Ron Anderson is certainly worthy of the superlative nickname -- "Super Agent" -- the media has given him.
Now in his 42nd year as an agent, Anderson's riders have combined to win 26 Breeders' Cup races, 11 Triple Crown events, including four Kentucky Derbies, and four Dubai World Cups.
Anderson, 60, currently handles the riding assignments for Joel Rosario. Ranked second behind John Velazquez in money won in graded stakes in 2014, and second to Javier Castellano in overall purse earnings, Rosario's mounts last year earned more than $21 million.
The 29-year-old native of the Dominican Republic is the latest among a who's who of jockeys whose careers have flourished under Anderson's masterful direction. Anderson's star-studded client roster has included Hall of Famers Jerry Bailey and Gary Stevens, the late Chris Antley, Garrett Gomez, and Corey Nakatani.
Rosario's star has ascended since his association with Anderson began in August of 2012 at Saratoga Race Course. As a team, they have won the 2013 Kentucky Derby with Orb; the 2014 Belmont Stakes with Tonalist; and the 2013 Dubai World Cup with Animal Kingdom.
Anderson receives 25 percent of Rosario's earnings, which generally amounts to 10 percent of the owners' share of the purse.
The agent isn't self-deprecating when he discusses his fabled career, but neither is he boastful.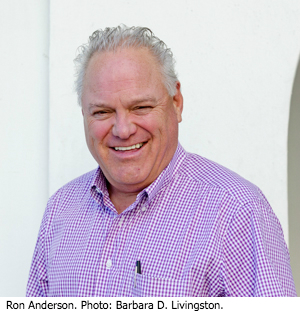 "I'm good, and I'm lucky, too," Anderson said in a recent interview. "I've had a lot of the right guys. Most riders in the [jockeys'] room can win on the best horse. But the guys I've had could win on the second, third, and sometimes the fourth-best horse in a race."
Anderson said the jockeys who are capable of winning in situations when they might not be on the best horse, possess skills that are inherent.
"There are a lot of good riders, but to be an elite rider, I honestly think it's a sixth sense that can't be taught," he remarked. "Theirs is just an innate ability. They can get on a horse for the first time, and they can sense the animal and the situation . . . make split-second decisions."
The eldest of four children, Anderson grew up in El Monte, a Southern California city famous for its Legion Stadium, which drew the Beatles and The Beach Boys to its stage. But for Anderson, his hometown represented a gateway to nearby Santa Anita Park.
Anderson's parents -- his father built elevators and his mother was a housewife -- were frequent weekend visitors to Santa Anita and enthusiastic $2 bettors. Anderson received his indoctrination to the track when he was 5 years old, and was immediately smitten. Anderson recalls sprinting out of bed every morning to grab the Los Angeles Times from the front porch to see how many races his idol, Willie Shoemaker, won the day before.
As a teenager, Anderson tinkered with the idea of becoming an attorney. But after a brief foray at a local community college, he traded school books for a condition book and took his first rider, Robert Howard, at Santa Anita in 1973.
The agent received his first big break in 1980 when he began booking mounts for veteran rider Fernando Toro. Anderson said so much of what he has learned about his trade can be traced back to his tenure with Toro, who provided the agent with his first Breeders' Cup victory in 1984, in the inaugural running of the Mile with Royal Heroine at Hollywood Park.
"If I'm considered good, it's because of my 10 years with Fernando," he said. "He was older, so he could explain all the horsemanship aspects of the game to me. I knew people, knew how to approach people, knew how to read the [Daily Racing] Form. But I didn't understand anything about the animal."
It also was Toro who instilled in Anderson the importance of making the final call as to which horse his jockey should ride.
"Fernando told me if he had to pick [between] horses, he wouldn't need me," Anderson recalled. "I remember him saying, 'If you want to ask me my opinion, fine. I will tell you what I think of each horse. But you're going to make the determination of what to do.'
"So, I became programmed then to do what a lot of agents can't do, make a decision," Anderson said.
Decision-making is part of Anderson's daily routine, and some days, the stakes are higher than others. Such was the case in the winter of 2013, when Anderson signed a two-race contract with ownership group Team Valor International. The commitment called for Rosario to ride the previous year's Kentucky Derby winner, Animal Kingdom, in the Gulfstream Park Turf Handicap and then the Dubai World Cup at Meydan Racecourse.
Signing that contract meant Anderson was relinquishing his hold on Orb, a promising 3-year-old who was trained by Shug McGaughey, and a colt the agent was extremely high on. Rosario had been aboard Orb for his first five starts and had won two races on him.
On the same day Rosario captured the $10 million World Cup on Animal Kingdom, Orb, with John Velazquez aboard, ran nine rivals off their feet in the $1 million Florida Derby.
As luck would have it, Velazquez opted to ride Wood Memorial winner Verrazano in the Kentucky Derby for trainer Todd Pletcher, and Rosario was reunited with Orb. Riding in just his fourth Derby, Rosario guided Orb through the slop to win the 139th Kentucky Derby by 2 1/2 lengths.
Yet for every story like that, there are others with less palatable outcomes, Anderson said.
While booking mounts for Garrett Gomez, Anderson said trainer Steve Asmussen offered him the mount on Curlin, a 3-year-old who had won a maiden race at Gulfstream Park in breathtaking fashion during the winter of 2007. Subsequent to that victory, Stonestreet Stables purchased Curlin and Asmussen's call to Anderson came shortly after the colt arrived in his barn. Anderson had to decline because of a prior commitment. Robby Albarado ended up being partnered with Curlin, a two-time Horse of the Year, for the duration of his racing career.
"I wasn't lucky in that situation," Anderson said ruefully.
Gary Stevens, who was with Anderson from 1990 to 2000 and won two Kentucky Derbies during that time -- Thunder Gulch in 1995 and Silver Charm in 1997 -- said the agent did much more for his career than just putting him on the right horse.
"He had me slow down a lot," said Stevens, who briefly retired for the first time in 2000 because of nagging knee problems. "I was overworking myself a lot. I quit working so many horses in the morning, and I started focusing all my energy in the afternoon. He got me to the point where I could focus on my riding and not worry about my business. Ron had that side of it covered. A lot of times you don't know that, and as a jock you might be your own best agent by going out there and hustling, but I didn't have to do that when I was with Ron. He took me to a different level."
The story of how Anderson came to be Stevens agent is illustrative of how technology has changed the way the agent does business. In 1990 there were no smartphones, but Anderson understood the importance of "being connected" and said he was among the first agents to carry a pager with him at all times.
"One day, I was leaving Santa Anita to go back to my home, and a number popped up on my pager," Anderson recalled. "I didn't recognize the number. I drove to my house and called the number, and it was Gary Stevens. Gary said, 'You should come by my house, I need to speak with you.' We met and he hired me that day.
"Now, with cell phones, to be perfectly honest with you, you don't have to go knocking on too many doors," he continued. "If someone wants me, they can text or call me. So it has completely changed what I do and how I do it."
But make no mistake, Anderson isn't sitting home on his couch simply waiting for incoming phone calls or texts. This time of year, he is actively scoping out who Rosario will ride come the first Saturday in May.
"There is no race on the planet that is like the Kentucky Derby," Anderson stated. "People who have never seen a racetrack before, and you mention to them what you do, the first and only thing they say to you is, 'Have you ever won the Kentucky Derby?' So for me, that is the most elite race, bar none."
To that end, Anderson is currently analyzing 3-year-old races from all around the country, combing through pedigrees, looking for the stamina necessary to be effective at 10 furlongs, and talking to trainers about which horses are on their radar for the Kentucky Derby.
"It's kind of like putting a puzzle together," Anderson said of his hunt for a Derby mount. "You're watching all these maiden races; you're watching all these stakes. You're liaising with a lot of trainers. Even back at Saratoga, I was asking trainers, 'Do you have any stars, do you any superstars here?' I'm always kind of digging and knocking on doors to see what is there. I want horses to be 'in the game' and not 'on the bubble.' I want them to be in the discussion. You don't want to get hung up on a horse you don't really think has any chance. If you look at the Derby [results] over the years, being open sometimes is much better than being tied up."
Case in point: Anderson picked up the mount on the Bob Baffert-trained Silver Charm in the 1997 Santa Anita Derby, after rider Chris McCarron jumped off to ride eventual third-place finisher, Hello, for his longtime client, trainer Ron McAnally. With Stevens aboard, Silver Charm finished second in the Santa Anita Derby, and followed with victories in the Kentucky Derby and Preakness. The colt was second, beaten less than a length in the Belmont Stakes. Ironically, Silver Charm's Triple Crown spoiler, Touch Gold, was ridden by McCarron.
"I knew that McCarron was going to be tied to McAnally, so I knocked on Baffert's door before the Santa Anita Derby, and I ended up on the horse who nearly won the Triple Crown," Anderson said.
Along with his easy-going personality, Anderson is also an optimist. It's a trait he says serves him well in a business where the losses tend to pile up a lot quicker than the wins.
"I am the most positive person in the world," he said. "Look, if I ride 10 horses, and nine of them get beat, I'm only focusing and dwelling on the winner. I'm not a negative person. I learn from my mistakes, but you can't dwell on them, because you'll never be any good if you do."