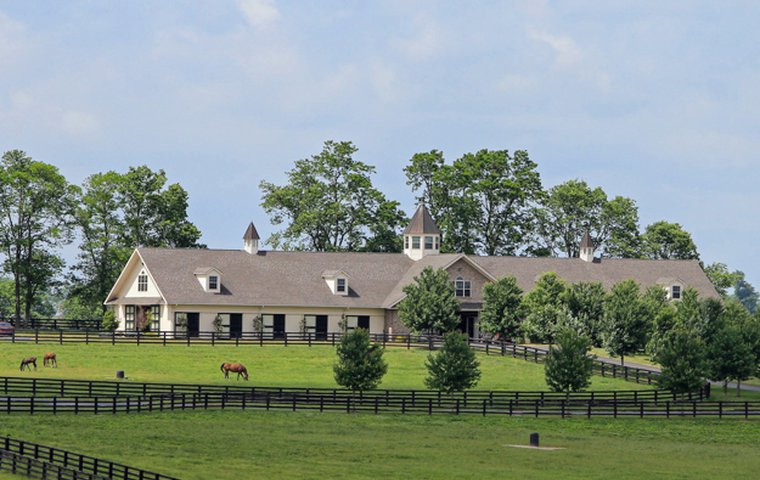 Even when she was just a young child, Jane Lyon knew exactly what she wanted to do in life.

"When I was a little girl and anyone asked me if I could do anything in the world what would it be, I'd say, 'Raise some really good horses in the Kentucky Bluegrass,' " Lyon recalled. "Well, I had never been to the Bluegrass at that time — it was just a dream — but I had watched Secretariat win his Triple Crown races and always loved horses."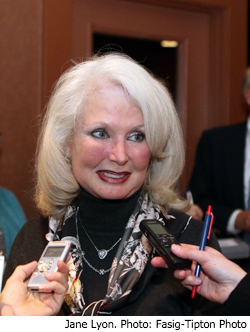 Lyon's dream has blossomed into a reality that few could dare to imagine. Today when she looks beyond the white pillars of the quintessentially Southern-style manse of Summer Wind Farm in Georgetown, Kentucky, which her husband, Frank Lyon Jr., purchased in 1995 to fulfill her vision, she sees mares and foals strolling over 800 acres of lush spring grass.
These mares are not just any mares; the Lyons' exclusive band of about 30 includes fine bloodstock pearls, some costing more than $1 million each and representing globally desirable bloodlines.
In the farm's two-decade history, Summer Wind's mares and their offspring have often reached the top of the commercial market, with the Lyons' accomplishments including breeding and selling the highest priced yearlings at both the Fasig-Tipton Saratoga and Keeneland September yearling sales in 2009.
But the most exciting times for Summer Wind may be just beginning as Jane Lyon's dream is reaching all the way to American racing's most hallowed ground.
Lyon can walk to one of her paddocks today and feed carrots to a strong-bodied chestnut mare with big, expressive eyes and a white blaze who is quick to offer nickers and nuzzles. This is Littleprincessemma, the dam of potential Triple Crown champion American Pharoah. Cavorting by the mare's side is a strong bay Pioneerof the Nile colt, the full brother to the Kentucky Derby and Preakness Stakes winner trying to become the first runner in 37 years to capture the elusive trio of American Classic races.
"We feel so fortunate," Lyon said, reflecting on acquiring the now 9-year-old Littleprincessemma and her in utero foal for $2.1 million at the Fasig-Tipton November sale. A daughter of Yankee Gentleman, the mare was consigned by Taylor Made Sales Agency on behalf of Ahmed Zayat's Zayat Stables, which bred and races American Pharoah.
"When we bought Littleprincessemma, American Pharoah was injured and had just been withdrawn from the Breeders' Cup," Lyon said, noting that she could not have predicted what the colt, later voted champion juvenile male for 2014, would achieve this year. But it was clear that he had made his young dam a significant producer.
"Last year at the sales, I said, 'Ok, I want a producer.' You can look at all these pretty Grade 1-winning mares and that's great, but I also want some that already are proven that they can produce," she said. "That's how Littleprincessemma came on our radar screen. Obviously, American Pharoah already had won two Grade 1s as a 2-year-old, so we knew she was a Grade 1 producer—and there are not many of those around.
"Aside from that, when I looked at her, I was blown away because she is absolutely beautiful. We always have a very strong conformation component in our assessment because we believe you can have a really nice horse, but If it doesn't look good, [buyers] are not going to pay you what you probably should get. So, after checking those boxes, we were just thrilled to get her.
"And," Lyon pointed out with a lilting voice, "the rest might be history."
Summer Wind Farm is essentially a family affair, as Lyon works closely with her daughter, Karen Bailey, who serves as broodmare manager and is well known as the founder of the Kentucky Wildlife Center located near the farm, and Mark Moloney, the farm manager and Bailey's husband. Under the business plan — formed when Frank Lyon, who has been involved with banking and other ventures in the couple's home state of Arkansas, bought Summer Wind -- the farm's mares are bred with intentions of selling the offspring.
With more interest in American Pharoah's career than anyone other than Zayat and his family, the Lyons team has attended the Kentucky Derby and the Preakness and intends to be at Belmont Park to witness the colt's bid for history on June 6.
But whether American Pharoah captures the Triple Crown or not, Littleprincessemma and her foal still will be highly valuable individuals. Littleprincessemma is back in foal to leading sire Tapit, and is carrying a filly.
"It's very exciting," said Jane Lyon, who divides her time between Summer Wind and the family home in Arkansas. "I'm kind of partial to fillies because I feel like a filly has got a future, if she is bred well, whether she runs in graded stakes or not. And I will eventually keep a filly out of Littleprincessemma, so this may be the one."
American Pharoah's full brother, born on Feb. 13 emblazoned with a white stripe and four white socks, is already something of a bloodstock celebrity, with photographs of him traveling around the world via the Internet. Lyon has named him Irish Pharaoh (using the correct spelling rather than the inadvertently misspelled version submitted by the Zayats to The Jockey Club for his champion brother) on the suggestion of Moloney, a native of Tipperary.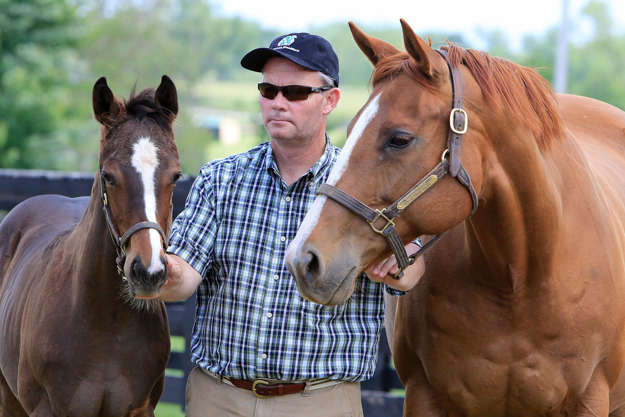 "I adore him! He's got a look, doesn't he? He's like a little tank," Lyon said of the colt, who Moloney described as "a big, strong, powerful colt who has good bone and is a good mover."
"Mark is the one who came up with the name Irish Pharaoh," Lyon continued. "I thought 'That is really a cute name,' so I named the colt that and Mark said, 'Well you know if you name him that, we'll have to keep him.' Mark is very, very conservative with his praise — the best I can hope for when I ask him how the foals are is that he'll say, 'They're all right,' so that gave me my first clue that he thought this colt might be something special."
Although there could be nothing more special than the immediate family members of a Triple Crown winner, there are many other horses at Summer Wind that can be considered exceptional. A yearling colt by Frankel out of the Lyons' homebred multiple graded stakes winner India (Hennessy) appeared like a budding equine Adonis even while just standing in his paddock on a recent morning; his muscular chestnut frame glinting in the sun.
Moloney also pointed out G1 winner Sweet Lulu (Mr. Greeley), a $3 million purchase at the same Fasig-Tipton sale that yielded Littleprincessemma and who delivered a robust War Front colt in January; G1 winner Careless Jewel (Tapit), a $1.85 million purchase at the 2013 Fasig November sale who foaled a handsome son of Tiznow in April; and Dark Sky (Storm Cat), a full sister to multiple French G1 winner Nebraska Tornado and a $1.5 million acquisition from the 2011 Keeneland November sale who foaled a Distorted Humor colt in March.
Serenely grazing in the same paddock with Sweet Lulu was Love Me Only, the Sadler's Wells half sister to champion and leading sire Giant's Causeway who was a $2.1 million purchase at the same auction as Dark Sky but who became the focus of high-profile Fayette County (Kentucky) Circuit Court trial last October. For Summer Wind, the Love Me Only situation was the extreme opposite of the highs the Lyons have experienced with Littleprincessemma, as Love Me Only was diagnosed with chronic laminitis soon after her purchase.
The Lyons' subsequent lawsuit against consignor Eaton Sales and Coolmore partners, which had owned the mare, asserted that her condition had been concealed partly through treatment with phenylbutazone at the sale. A jury could not make a decision in the case, however, and Jane Lyon said there has not been any kind of subsequent resolution.
But in keeping with the ups and downs of the sport, the foal Love Me Only was carrying when she was acquired by Summer Wind — a Sea The Stars colt eventually named Storm the Stars — recently won a listed stakes in England and is G3-placed for Sheikh Juma Dalmook al Maktoum.
"Right now we have the mare stable," Jane Lyon said of Love Me Only. "She just had a beautiful Smart Strike filly [born on Feb. 14]. We will continue to monitor the mare constantly and just pray that we can keep her stable."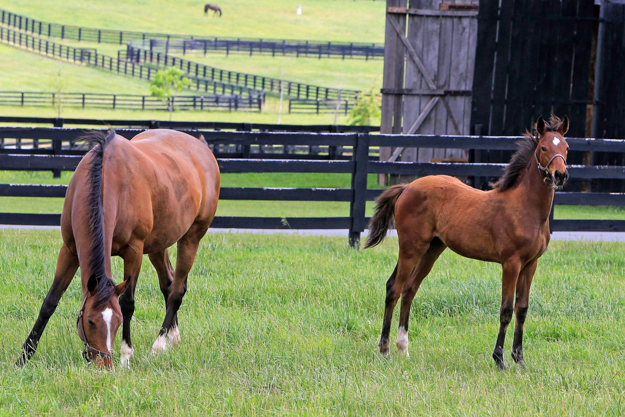 Lyon pointed to another upside after the draining litigation experience and disappointment at Love Me Only's diagnosis.
"As long as we have been in the business, there have always been situations that perhaps you don't get the full story, but I think the industry is trying very hard to rectify that," she said, noting that a consignor at last year's Fasig-Tipton November sale volunteered that a mare Summer Wind was interested in was being given bute. After the mare was examined by a veterinarian, Lyon and her team decided not to pursue her.
"I think the fact the consignor of the mare came forward without us asking and told us his mare was on bute is an indication that people are beginning to listen. And that makes me very happy because I think we need to do everything we can to help this business, not tear it down," she said.
Behind Summer Wind's wrought-iron gates, which are adorned with distinctive gold lions, Lyon and her family quietly go about doing everything they can to enhance the lives of their horses. In addition to reacquiring some male horses that Summer Wind has sold in the past and providing them with a peaceful retirement, Lyon zealously protects her mares.
"I have retired a number of my mares because if they have an issue, like if they have a bleed [following foaling] or have colic surgery and they are a little bit older, I'm not willing to take a risk that they will die the next time we breed them. So I have got a whole pasture full of fat, happy old mares," she said with a hearty laugh, adding seriously: "It's important to me."
Lyon and Bailey, who currently is pursuing a Ph.D. at the University of Georgia while working with the Southeastern Cooperative Wildlife Disease Study, share an ardent love for all animals. They co-authored books on a pair of their retired runners, "Skipingo Home: A Thoroughbred's Second Chance," about the full brother to 1998 Horse of the Year Skip Away that they bred, and "Primerica: A Home for the Brave," about a 10-year-old they rescued.
Other horses who live in the pasture they call Summer Wind's Storybook Field have their own unique tales, and Lyon hopes to write the sagas of their lives in the future.
"I've told Frank, after he bought me beautiful presents, that he didn't have to buy me anything fancy, just let me have another animal — you can't make me any happier than that," Lyon said. "He has absolutely spoiled me and has allowed me my dream."
Now that dream may take on a whole new dimension as American Pharoah races toward an immortality that would bless his dam and full brother at Summer Wind, as well as the entire sport.
"I pray that American Pharoah is successful, not just because of Littleprincessemma, but because I think the industry needs it, really needs it. We need an equine hero," Lyon said. "Zenyatta did an awful lot for the business — she had the whole world watching her — and there have been others, but this horse — everybody keeps saying he is different and he is special. I hope they're right; I hope he is."